If you're a freelancer or your work involves multitasking, you have probably already used services such as Trello and Bitrix. Now it's time to get to know Notion.
Is it possible to add a page to Notion
Notion is an app for working with information, organizing personal and work matters.
The uniqueness of Notion is that everyone decides for themselves what the app will look like and what it will be used for. Maintaining projects, using it for studying, storing recipes – all these can be done in Notion.
The developers have added the necessary tools: databases, text editor, mathematical formulas, lists, kanban boards. Just as you can build a dream house in The Sims game, you can build the perfect app in Notion.
The problem with Notion is that it's intuitively unclear what to do: the abundance of features confuses newcomers.
How to create a new page in Notion
In fact, when you first open Notion, there will already be a clean white sheet ready for you. This is where you can start your work. However, if you're already in the process and want to add a new one, there are many options for you to choose from. To create a new page, just follow this guide:tetx
Hover your mouse over the sidebar and you will see several + icons. Click on any of them.
You can also click on + New Page at the bottom of the sidebar.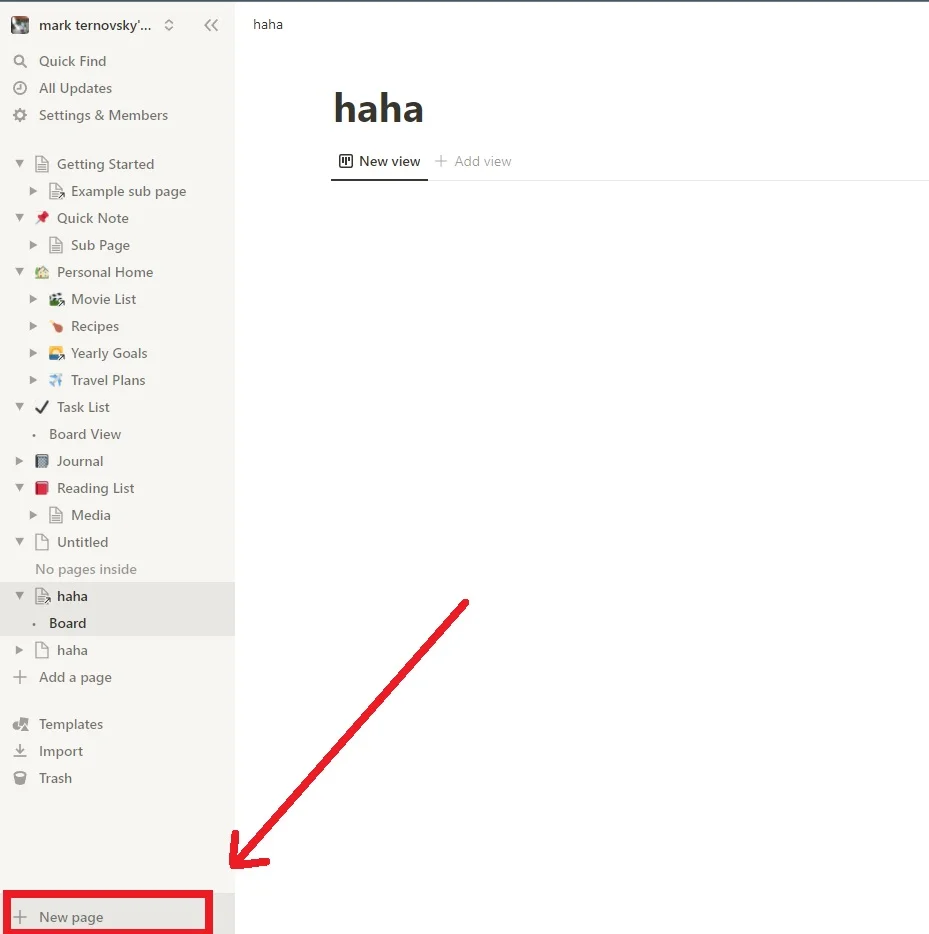 Or use the cmd/ctrl + N key combination.
A new page will appear with options for viewing templates or choosing the type of page you can create.
In the meantime, give your page a name and press enter, which will give you a new blank page.
How to customize a new page
If you have already created a page but don't know how to manage it and what to do with it next – it's very simple. In fact, the first thing to do is to decide where you want to add it. A little more detail in the guide below:
In the upper part of the screen, you'll see the Add to option.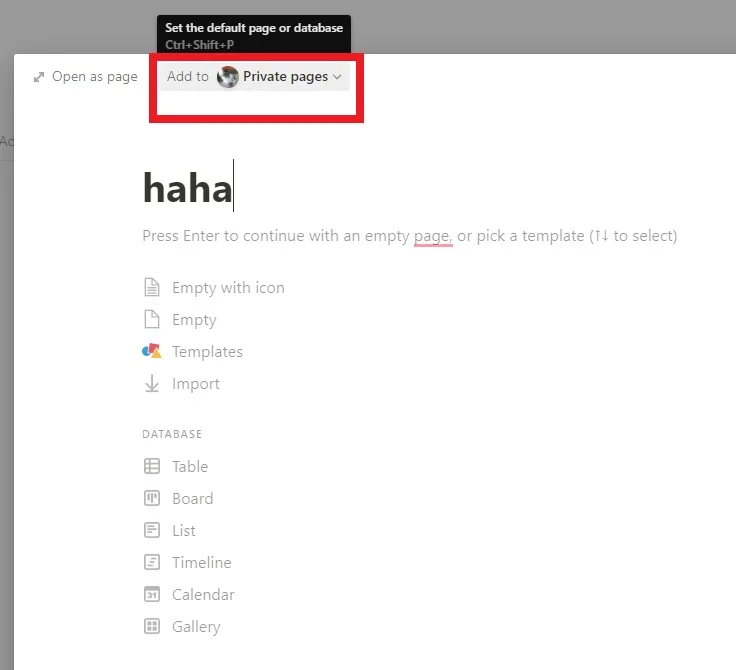 Click here and the page will be placed in the location that you select, automatically. You'll be able to see it in the master menu in the left margin.
Then, you get a few template choices to choose from. First, you can choose Empty with icon. This will create a page with a pre-selected icon. Of course, you can change the icon later.
If you choose Empty, a completely blank page will be created for you to work on.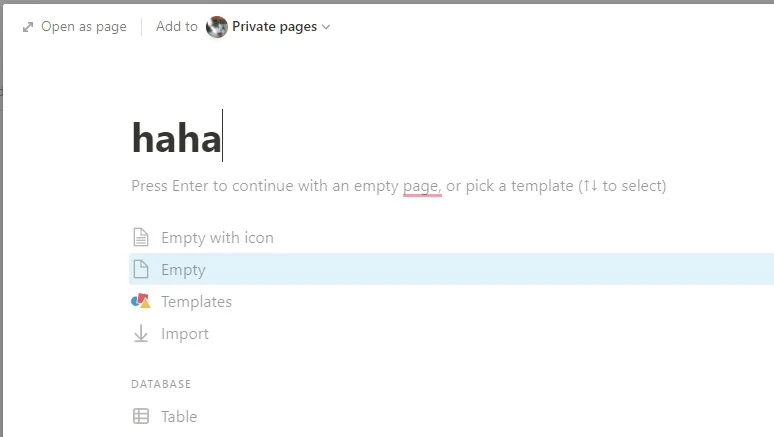 Next, you have the Templates option, which will present you with a number of predetermined templates for pages.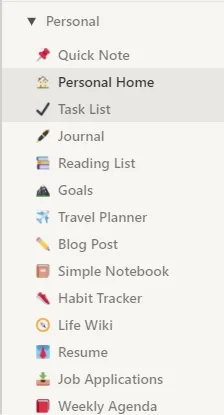 Finally, you have the Import option, which allows you to import tables, HTML documents, as well as various other third-party app documents that Notion is associated with.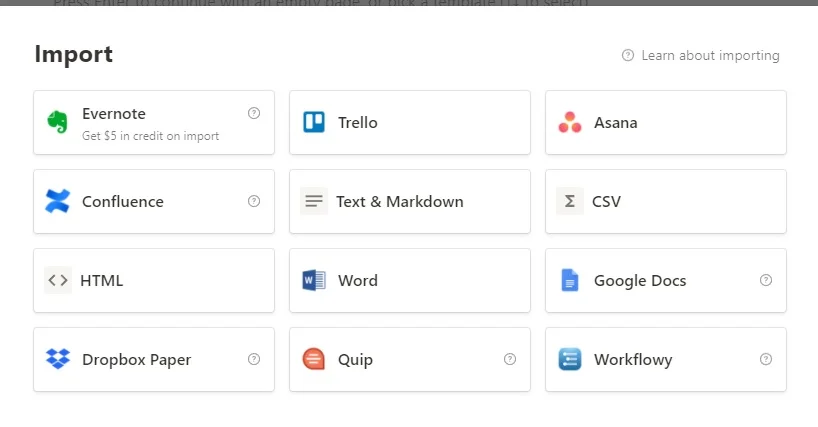 How to make a subpage
Notion uses a hierarchical page structure where you can have subpages of pages much like you can have subfolders of folders on a computer. In fact, you can have many levels of pages and subpages in Notion.
There are a couple of ways you can create a subpage of an existing page and we will cover each one in this section.
To create a new subpage is to hover over the page you want to add the subpage to. You should see an ellipsis (…) and a plus (+) sign to the right of the page name. Click the plus (+) sign to quickly add a new subpage to that page.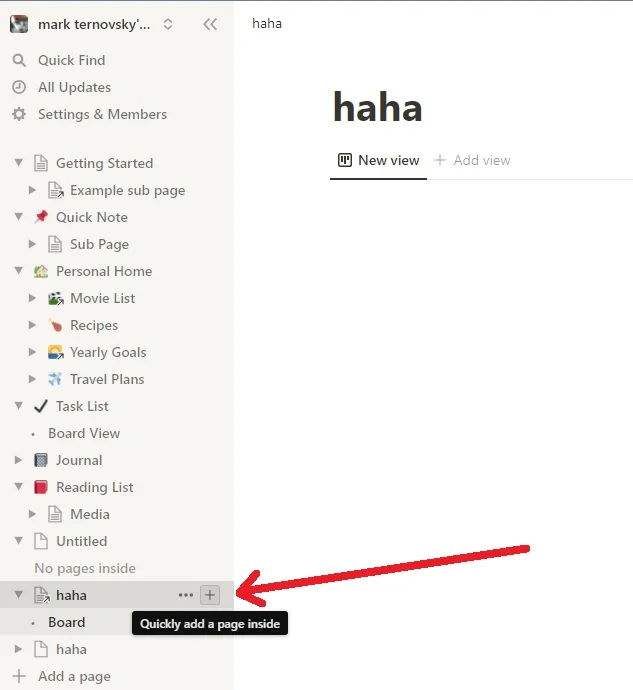 Give your page a title and hit Enter and your page is ready for use.
All in all, the app has a lot of features – this is a plus, but also a minus: without tutorial articles and videos it is difficult to understand the program.
If you still find it difficult, start with the basic functions, use the app as an "advanced" notepad. Notion will become your personal Wikipedia. When you get the hang of it, move on.
Now you know more about the basic features of Notion. This service is easy to get started, but only practice and time will help you understand the app in detail. Explore and try new things!