Whatever you may need to strikethrough in your Telegram message, the thing is that it's really easy to do both on a desktop and mobile app.
To strikethrough on the Telegram desktop app, you need to type something, highlight the needed text, right-click on it, and under "Formatting," select "Strikethrough." Additionally, you can use a shortcut. Just highlight the text and press Ctrl + Shift + X.
For me, using a shortcut is much faster and more convenient. But it's up to you.
To use the strikethrough feature on Telegram mobile app, you need to select the text, tap on it to bring up a menu of additional options, go to "Format," and tap "Strikethrough."
You can also find other formatting options in that menu, such as underline, bold, italic, etc. And each has a keyboard shortcut (if you use TG on your computer).
Check out the more detailed guide below.
How to cross out text in Telegram
As mentioned above, you can send a message with a strikethrough text on Telegram's desktop and mobile app. Let's break down both options, starting with the mobile version.
On mobile
Open Telegram and go to a chat where you want to message.
Next, type your message and select the text you want to strikethrough. You can tap and hold until the pop-up with options appear or double-tap. It depends on your mobile device.
From the menu of options, select Format.
After that, tap Strikethrough.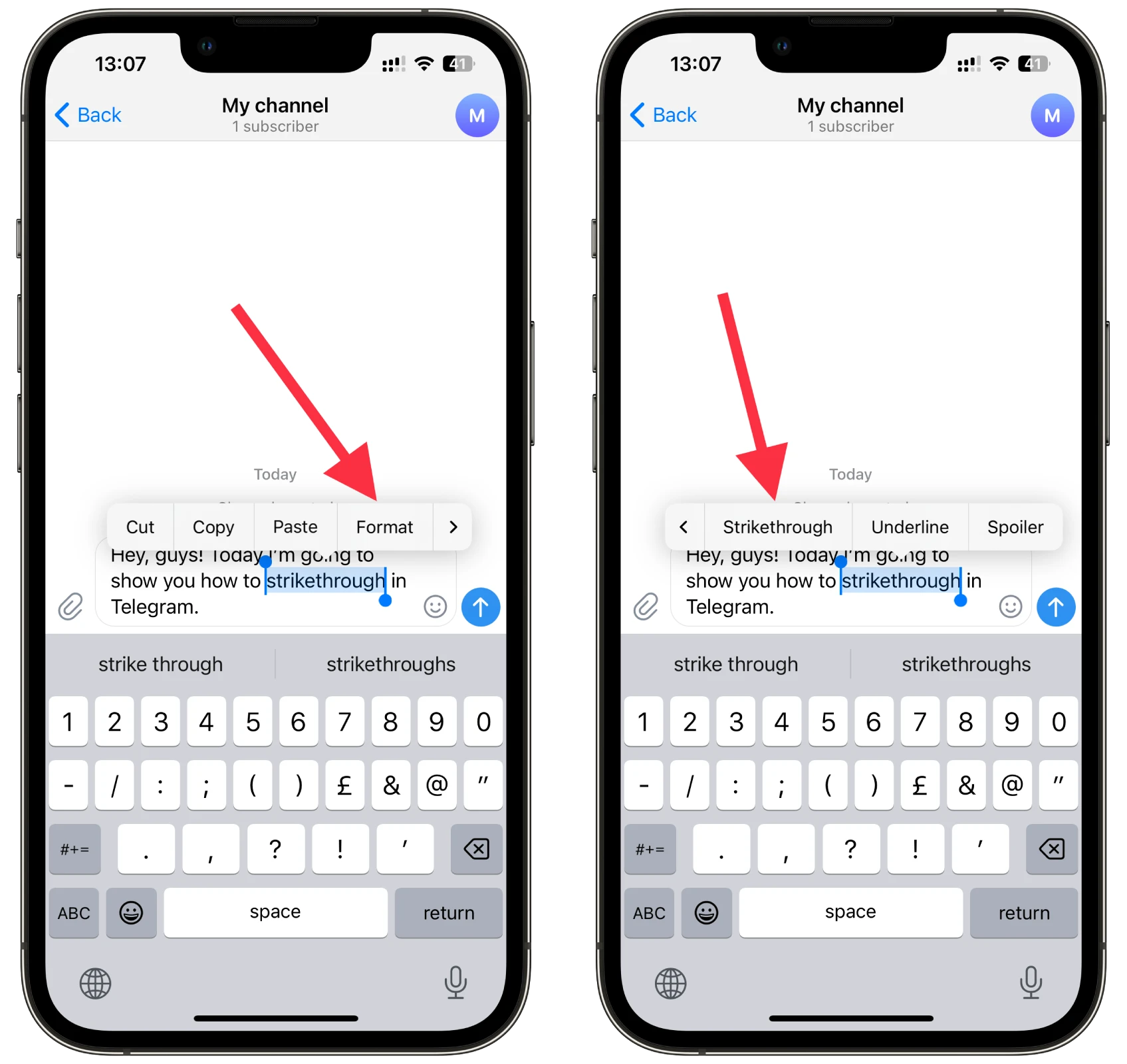 If you don't see "Strikethrough," tap on the right arrow to go to the rest of the options.
On desktop
Launch Telegram and go to a chat where you want to message.
Then type your message and highlight the text you want to strikethrough.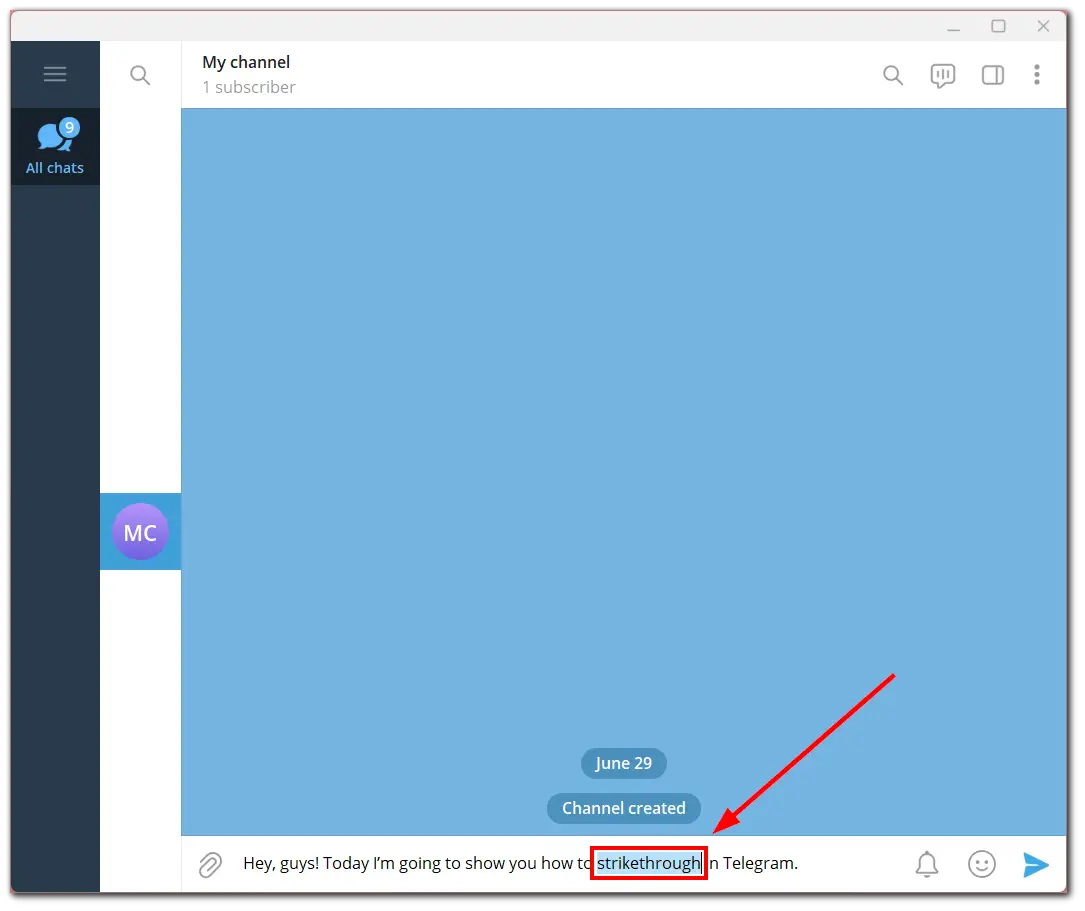 Right-click on it, select Formatting and click Strikethrough.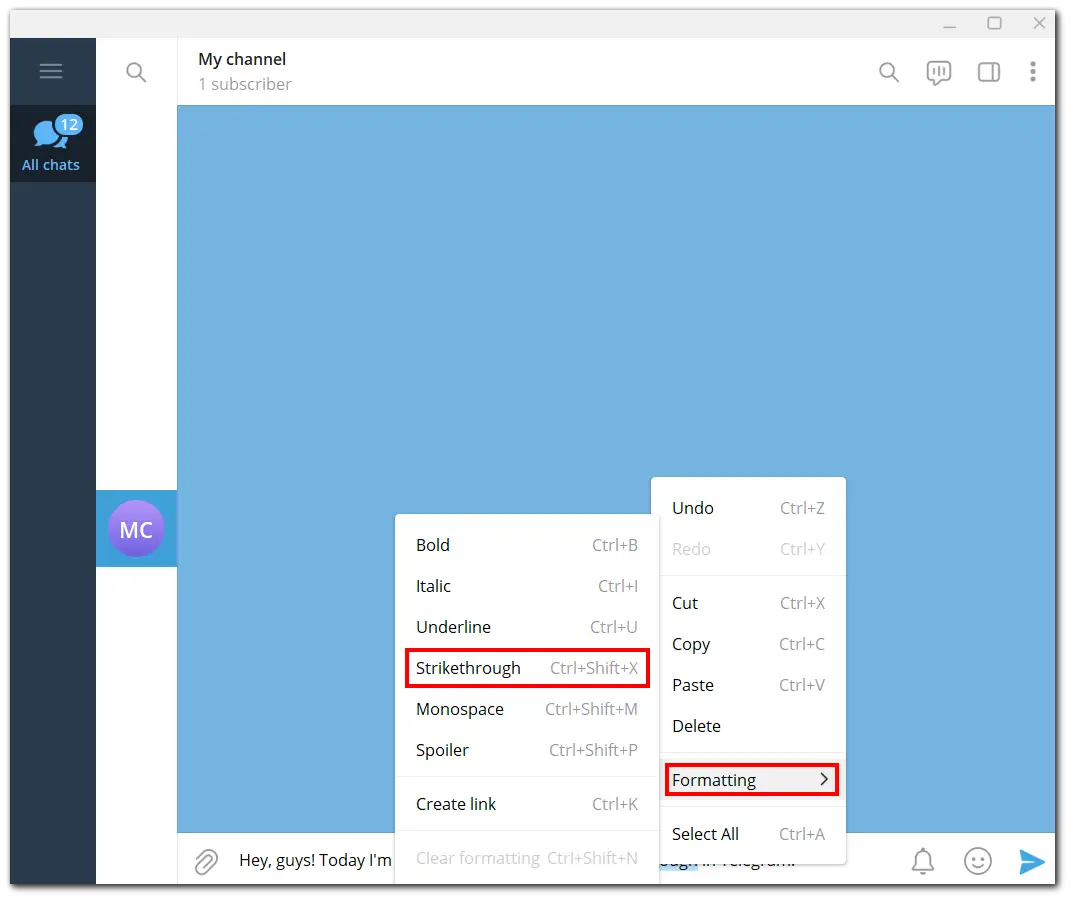 Alternatively, you can use the Ctrl + Shift + X keyboard shortcut.
Telegram automatically converts text into strikethrough text.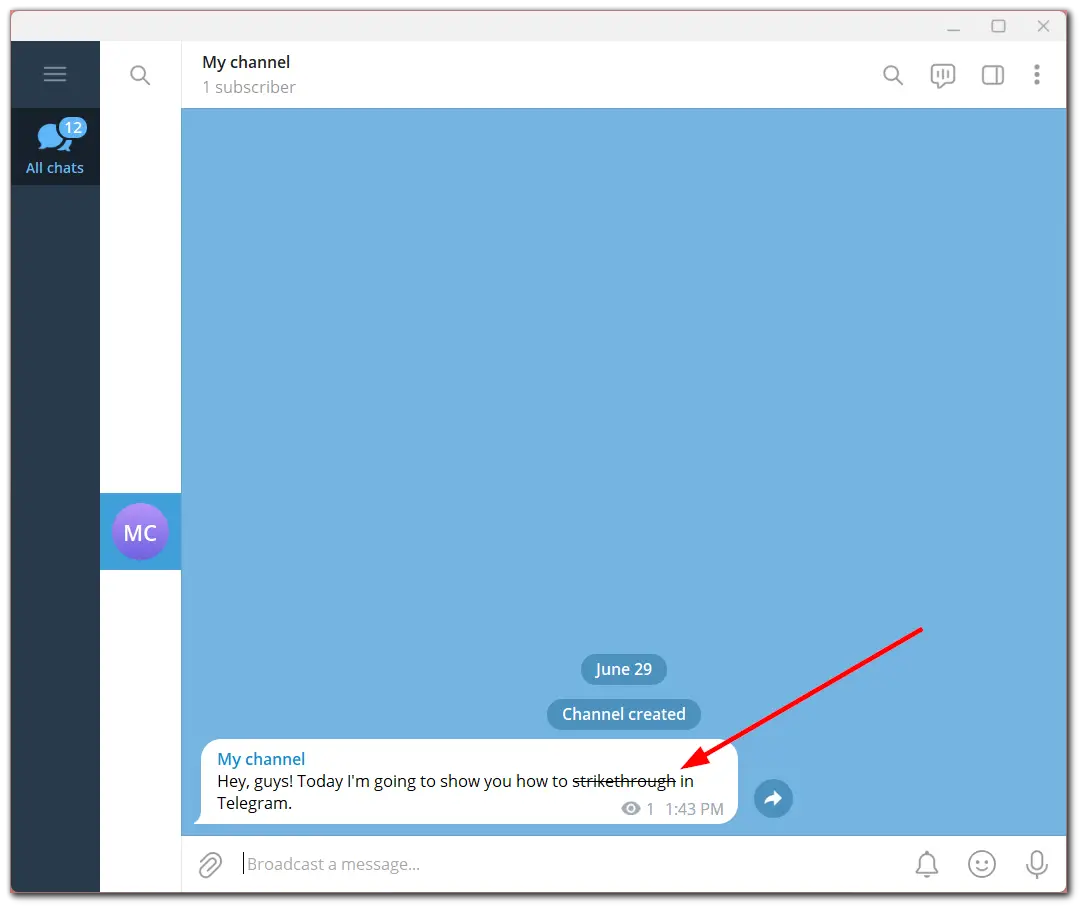 Now you can safely send a message; everyone who reads it will see the crossed-out text. But it's important to remember that strikethrough text formatting works only within Telegram. If you copy and paste the text into another app or platform, the strikethrough effect may not be retained.
Can you combine formatting options in Telegram?
Furthermore, strikethrough formatting is available for almost all text styles in Telegram. That means you can combine all of them. For instance, you can simultaneously apply italics, bold, and strikethrough formatting.
This is done in the same way as shown above with the strikethrough. You just need to select all the styles you want one by one.
Here's an example of the strikethrough bold underlined italic text.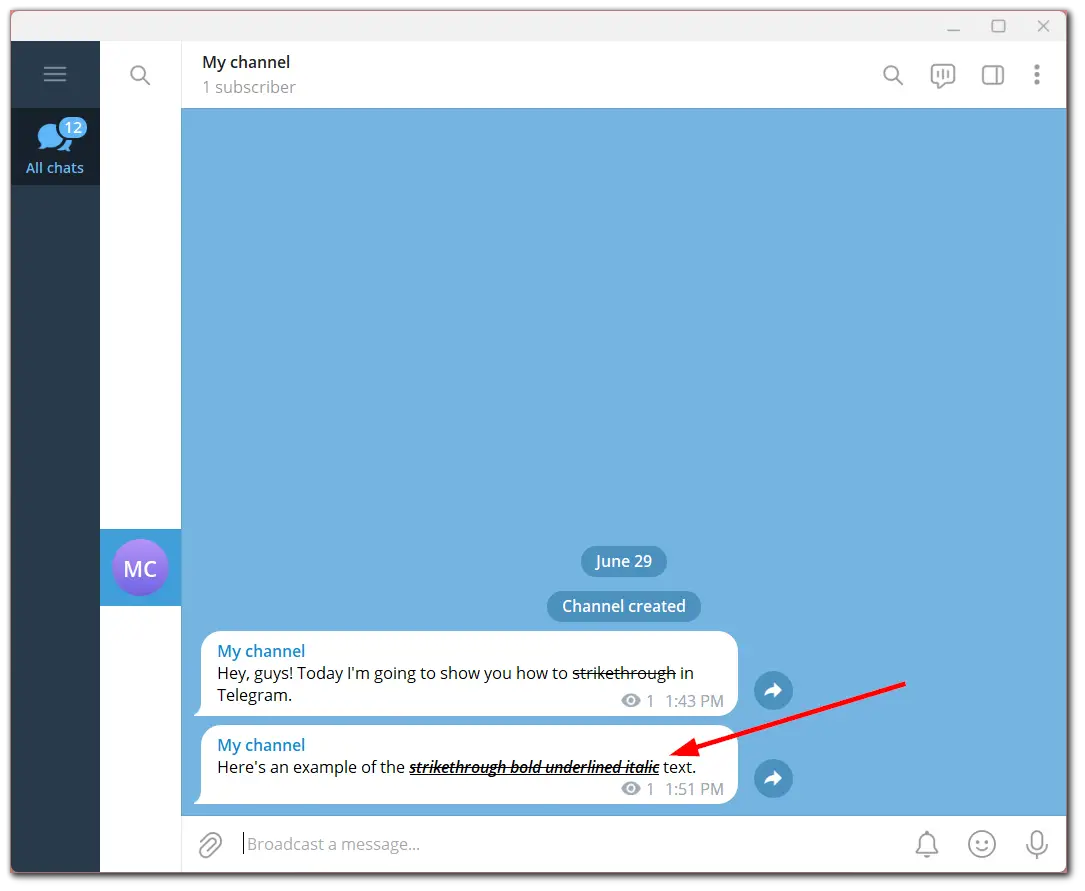 You can even apply a spoiler effect to the whole mishmash. However, there is one exception. You cannot apply strikethrough and any other formatting to the "Monospace" effect.
Shortcuts for all formatting options in Telegram
Below I have provided a table with all Telegram formatting options and their combinations to make it easier for you to remember them.
| | |
| --- | --- |
| Formatting option | Shortcut |
| Bold | Ctrl + B |
| Italic | Ctrl + I |
| Underline | Ctrl + U |
| Strikethrough | Ctrl + Shift + X |
| Monospace | Ctrl + Shift + M |
| Spoiler | Ctrl + Shift + P |
| Create link | Ctrl + K |
| Clear formatting | Ctrl + Shift + N |
Don't forget to highlight the text before applying any effect.