If you are new to Snapchat, you are probably not yet familiar with such an option as a group call. How many people can talk to each other on Snapchat on one channel? And is this option convenient at all? This is where you will find the answers to these questions.
What is a group call on Snapchat
Snapchat is a social networking application where you can share photos and videos with different animations. One of the basic concepts of Snapchat is that transmitted images and messages are available to the recipient only for a short time before becoming completely inaccessible.
But in addition to the seemingly standard social networking features, you can also make group calls in the Snapchat app. You can communicate with up to 16 people at a time. And it's really fascinating. So, here is how to start a group call on Snapchat in a few easy steps.
How to start a group call on Snapchat
If you want to start a group call on Snapchat, you have to follow these steps:
First of all, open the Snapchat app on your mobile device.
After that, search for the "Chat" option at the bottom left corner of the screen and tap on it.
Then, choose several people you would like to see in your group call via blue button at the right bottom of the screen
And tap on the "Chat with Group" option.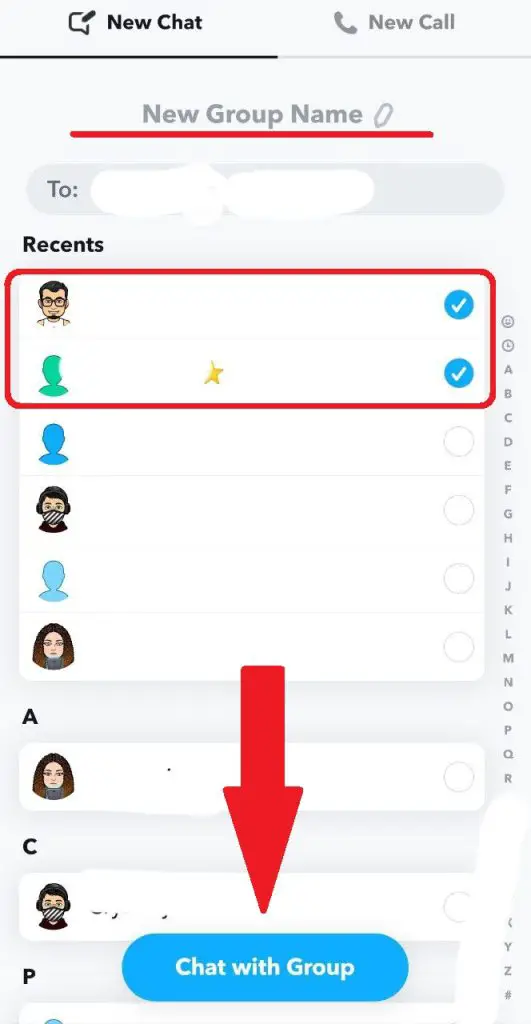 You will then be given the option to personalize your group by giving it a name. Find the video call icon at the top of the screen and tap it to start the call. Keep in mind that only 16 people can join the video call, as this is the maximum limit set by Snapchat.
Once you have completed these steps, you will be able to start a group call on Snapchat. All people added to the group will receive a notification of an incoming video call from the Snapchat app. Once people start joining a group, the bubble next to their name will turn blue. You can also put on lenses during video calls on Snapchat with multiple friends.
You have also to be aware that Snapchat can support video calls with up to 16 people, while for audio calls, you can have 32 individuals on call at the same time without any hassle.
How long does the Snapchat call last
For Snapchat videos, there is a time limit of 60 seconds, after which you start recording multiple videos. However, there is no time limit for Snapchat video calls, and they can continue indefinitely (or at least until the battery runs out).
If you're wondering if Snapchat records your video or audio calls, you should know the following. You can, of course, record a video of yourself and send it to your friends, but you can't record video calls. Neither you nor the other person will be able to record the conversation. Moreover, Snapchat also does not record video or audio calls that take place between users.
How to remove your own stickers from Snapchat
In case you don't like or don't need a sticker anymore, you can delete it. To do this, follow the instructions below:
First of all, open the Snapchat app.
Make a snap of anything you want to access in the sticker gallery.
Tap on the sticker icon to the right of the screen.
Select the scissors icon.
Tap and hold the sticker you want to delete and wait till the pop-up message appears at the bottom.
Be careful not to accidentally remove a sticker that you did not intend to remove. If you do, you will not be able to get it back. You will have to create a new one.
Now you know more about how to make group calls on Snapchat, and how many people you can invite. Group calls via Snapchat are actually a very useful option, as they give you the opportunity to get together and discuss work issues for teams, just to get together with friends when you can't do it in person, etc.
Moreover, now you can video call your friends and colleagues for an unlimited amount of time. Since Snapchat hasn't put a time limit on calls, you can talk to people indefinitely.
As already mentioned, in order to get people in one place to make a call, you need to create a Group. The application itself will ask you to create it (give the name of the Group) before the call. This group can be saved and you can also continue to write messages there, as in a public-private chat, send Snaps, etc.
It is also possible to save messages. Just press and hold on to a message and then tap Save. The thread will make a note of the save so all the people in the Group will see that you saved the message.
You can also send personal messages to Group members. Just tap on their name to send them a private message.