While receiving a gift from Amazon can be exciting, sometimes the item you receive may not be exactly what you were hoping for. Fortunately, Amazon has a specific return policy, allowing customers to return gifts for a refund or exchange. Although if you don't use Amazon often or haven't returned anything yet, this process can confuse you. Let's examine these rules and see what you need to return your gift to Amazon.
What is Amazon's Gift Return Policy
Amazon has a gift return policy that allows gift recipients to return items for a refund or exchange within 30 days of receiving the gift. The policy applies to most items sold and fulfilled by Amazon, but there may be some exceptions, such as personalized items or digital downloads. It's also worth noting that if the gift were made to you from your gift list, it would take up to 90 days for a refund. But this does not apply if you bought a gift from your list.
To be eligible for a return, the item must be in its original condition and packaging, with any tags or labels still attached. If the item is not returned in its original condition, Amazon may deduct a restocking fee from the refund amount.
When returning a gift a refund will be issued to your gift card balance when you return a gift. Even if another user bought the gift from another account, it would be refunded to your account.
If the recipient does not have an Amazon account, they must create one to receive the gift credit refund. Once they have created an account, the gift credit refund will be automatically applied to their account balance and can be used towards future purchases on Amazon.
How you can return an Amazon Gift
Returning an Amazon gift is a fairly straightforward process. Here are the steps to follow:
Go to the Amazon website and log into your account. If you do not have an account, you must create one.
Then go to Amazon Online Returns Center.
In the Gift Returns field, you must type in the 17-digit order number for the item you want to return.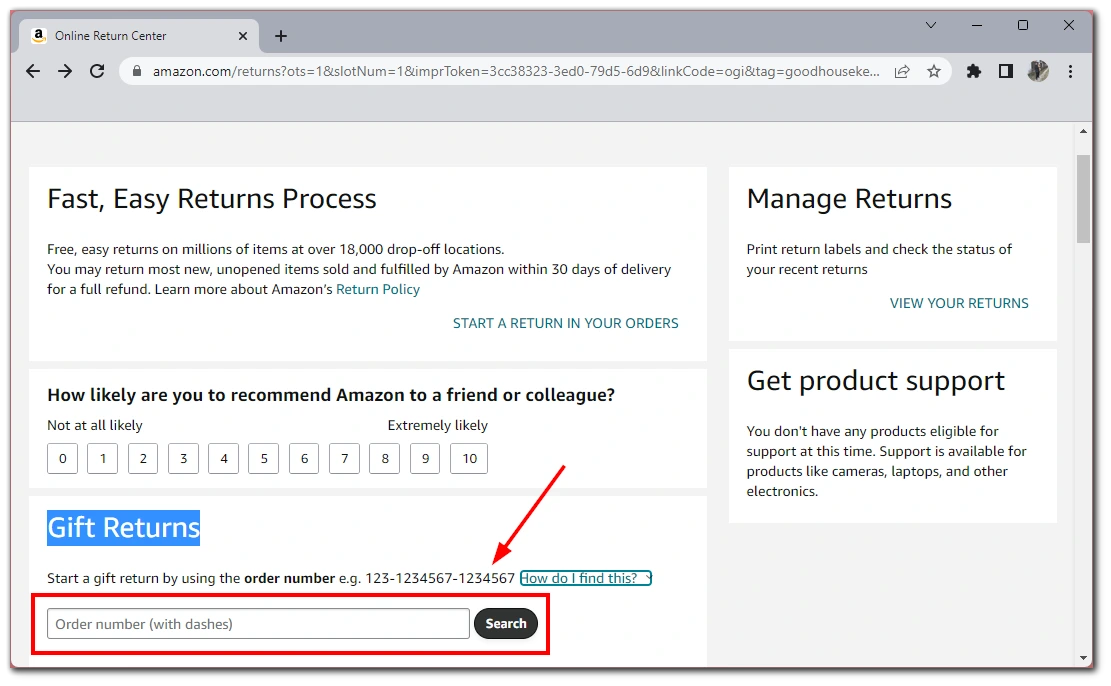 Select the item you want to return and choose the reason for the return from the drop-down menu.
Choose whether you want a refund or a replacement item. If you choose a replacement item, you will be asked to select a new item to replace the one you are returning.
Follow the instructions to print the return label and securely pack the item in a box. Be sure to include all original packaging, manuals, and accessories with the item.
Affix the return label to the box and take it to a UPS or FedEx location, or schedule a pickup from your home.
Once Amazon receives the returned item, they will inspect it to ensure it is in its original condition. If the item meets the return criteria, Amazon will issue a refund to the original payment method or exchange the item for a different one, depending on your preference.
Refunds typically take 3-5 business days to process, while exchanges may take slightly longer.
It's important to note that the return process might differ slightly if you received a gift from a third-party seller on Amazon. You should check the seller's return policy or contact them directly for instructions.
Does Amazon notify the gift giver that you refund it?
Amazon does not notify the gift giver when a gift is returned or refunded. This ensures that the recipient can make the return or exchange without feeling awkward or embarrassed.
When a gift is returned, the refund is issued to the gift credits to the recipient's Amazon account. The gift giver will not receive any notification of the return or refund, and the refund will not appear on their payment statement.
If the gift giver contacts you to ask about the gift, it's up to you whether or not you want to tell them that you returned it. If you decide to tell them, it's essential to do so politely and gratefully, emphasizing that you appreciate the gesture, but the gift wasn't quite right for you.
Can you get cash in exchange for Amazon Gift?
No, getting cash in exchange for an Amazon gift is impossible. Amazon's gift return policy states that gift refunds can be issued as a credit to the recipient's Amazon account, which can be used to make purchases on the Amazon website.
However, later you can use a little trick and buy a gift certificate for this balance, which you can then spend in another store or service. For example, you can spend this money to buy a certificate at Apple or Google Store to save on future purchases at these stores.
Can you return the Amazon Gift card?
In general, Amazon gift cards are non-returnable and non-refundable. Once a gift card has been purchased, it cannot be returned or exchanged for another gift card or cash.
However, if there is a problem with the gift card, such as being lost in transit or an issue with the balance, Amazon's customer service team may be able to assist you. You can contact Amazon's customer service through their website or by phone to discuss the issue and see if they can offer any solutions.
It's important to note that gift cards purchased from third-party sellers on Amazon may have different return policies, so be sure to read the seller's policies before purchasing. Additionally, if the gift card was purchased using a credit or debit card and there is a problem with the purchase, you may be able to dispute the charge with your financial institution.