Like subscriptions to most other services, Discord Nitro can be gifted. And you can do it just as easily, not only through your browser or desktop app but also through the app on your mobile device. But before that, let me briefly explain what the subscription includes.
If you've already learned the ins and outs of Nitro, you can skip straight to the guide.
So, there are two types of Discord Nitro: Basic and just Nitro (let's call it Premium). Basic offers very little compared to Premium. So let's take a closer look at the second option.
For myself, I have allocated some basic features: 4K and 60 FPS streaming, bigger file sharing, and Discord theme customization. Frankly, if someone gave me a Nitro, I'd be delighted already with these things. Therefore, I believe your friend will like it, too.
Well, let's move on to the guide.
How to gift Nitro on Discord mobile
If you want to gift Discord Nitro to your friend via the mobile app, you can follow these steps:
Open Discord on your mobile device and sign in to your account if needed.
Then tap on your profile icon at the bottom right corner.
Scroll down and select Nitro Gifting.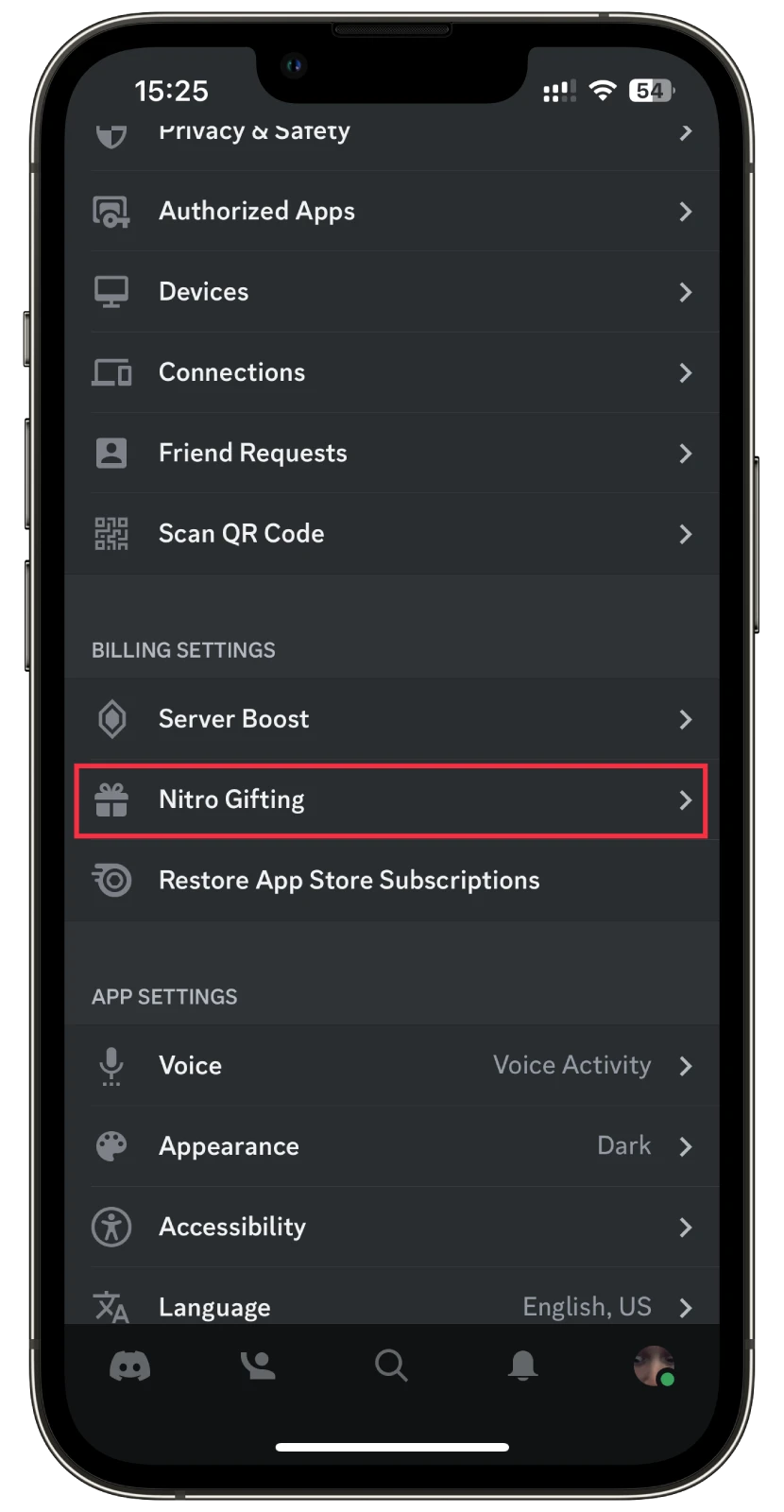 You will now be presented with various subscription options. Choose the desired duration for the gift subscription by tapping on the respective time frame, such as one month or one year.
After selecting the subscription duration, you will be prompted to complete the payment for the Nitro gift. Note that you may be required to authenticate the payment using your device's security features or enter your Discord account password.
Once successfully processed your payment, you will receive a unique, shareable link for the Nitro gift. Simply share this link with the fortunate recipient, who can claim the gift by clicking on it.
How to accept a Nitro gift on Discord
To accept a Nitro gift on Discord, follow these steps:
Look for any notifications or direct messages indicating that you have received a Nitro gift.
Tap on the notification or direct message related to the Nitro gift. This will open the message or notification details.
You should see the Accept option within the message or notification. It might appear as a button or a link. Tap on the designated option to accept the gift.
Finally, confirm it by selecting I accept.
Once you have accepted the Nitro gift, the premium features and perks associated with Discord Nitro will be activated.
Why are Discord Nitro prices varying on different devices?
I noticed a rather strange thing. The prices for both the regular purchase and the gift differ depending on the device on which you make the purchase. For example, on my iPhone, the price for the Nitro Basic gift is $3.99/month and $11.99/month for Nitro Premium (as we called it above).
At the same time, if you buy Nitro as a gift from the desktop app, the price differs by 1 and 2 dollars, depending on the type of subscription. A Nitro subscription on the Google Play Store is priced according to your region.
After comparing, I concluded that buying Discord Nitro through the app on a PC or web browser is the most cost-effective.
Here, I have gathered some key factors that affect the price:
Regional Pricing: Discord may adjust the pricing of Nitro subscriptions based on regional factors such as currency exchange rates, cost of living, and market conditions. This allows Discord to offer more competitive pricing in different regions, making the service accessible to more users.
Platform Fees: App stores and platforms, such as the Apple App Store, Google Play Store, or gaming console marketplaces, often charge a fee to developers for hosting and distributing their applications. Discord may adjust the Nitro subscription prices on different devices to account for these platform fees and maintain profitability.
In-App Purchase Policies: Each platform has policies regarding in-app purchases and subscriptions. These policies may impact the pricing structure of Nitro subscriptions on different devices. Platforms like Apple may require developers to use their in-app purchase system and adhere to specific pricing guidelines, which could result in different prices compared to other platforms.
Marketing and Competitive Strategies: Discord may employ different pricing strategies for its marketing and competition plans. They may offer temporary discounts, promotional pricing, or exclusive deals on specific devices or platforms to attract new users or incentivize existing users to upgrade to Nitro.
It's worth noting that the exact pricing variations on different devices may change over time as Discord adjusts its pricing strategies, responds to market conditions, or updates its agreements with platforms.
To get accurate and up-to-date pricing information for Discord Nitro, it's best to visit the official Discord website or refer to the pricing details provided within the Discord app on the specific device you are using.
What are Discord Nitro's features?
Discord Nitro opens up many possibilities in chat rooms. For example, you can upgrade your emoji, exchange files over a set limit, and stand out from the gray masses.
Here is the full list of features:
Custom emoji and stickers anywhere: Use custom emoji and stickers from any server you are a member of, anywhere that emoji can be used.
Bigger file sharing: Upload files up to 500MB in size.
HD streaming: Stream high-quality video and audio, up to 4K resolution and 60fps.
2 free boosts: Nitro users get two free boosts, which can be used to level up servers and unlock additional features.
Animated avatar: Get an animated avatar on your profile and chat.
Profile banner: Add a banner to your profile.
Custom tag: Choose a custom tag, which appears after your username in chat.
Nitro badge: Get a badge on your profile that shows you are a Nitro subscriber.
Custom video backgrounds: Add custom video backgrounds to your video calls.
Join up to 200 servers: Join up to 200 servers, while free users are limited to 100.
Longer messages: Send messages up to 4,000 characters long, while free users are limited to 2,000 characters.
If you are a Discord user who wants to get the most out of the service, then Discord Nitro is a great option. It offers a variety of features that can make your Discord experience more enjoyable and productive.