Apple released its new iOS 16 with the new presentation. With it, the company added a lot of features to its devices. This includes the ability to edit or delete text in iMessage on your iPhones, iPads, and Macs.
However, there are a few restrictions on editing your messages. You can do this without leaving the dialog box. Besides, it doesn't matter if the person you're talking to has read your message or not. This opens up many opportunities to correct your messaging mistakes.
How to edit or delete text in iMessage in iOS 16
Among the many new features in iOS 16 is the long-awaited ability to edit and undo messages. In order to edit or delete your messages on your iPhone, you just need to go into your dialog box. First, you need to understand that you will not be able to restore deleted messages and another user will see that you have edited a message. To do this you need to:
In your dialog, select the message you want to delete or edit and hold down on it.
In the pop-up list, you can see the Edit and Undo Send options.
Select the desired option and the changes will immediately become active.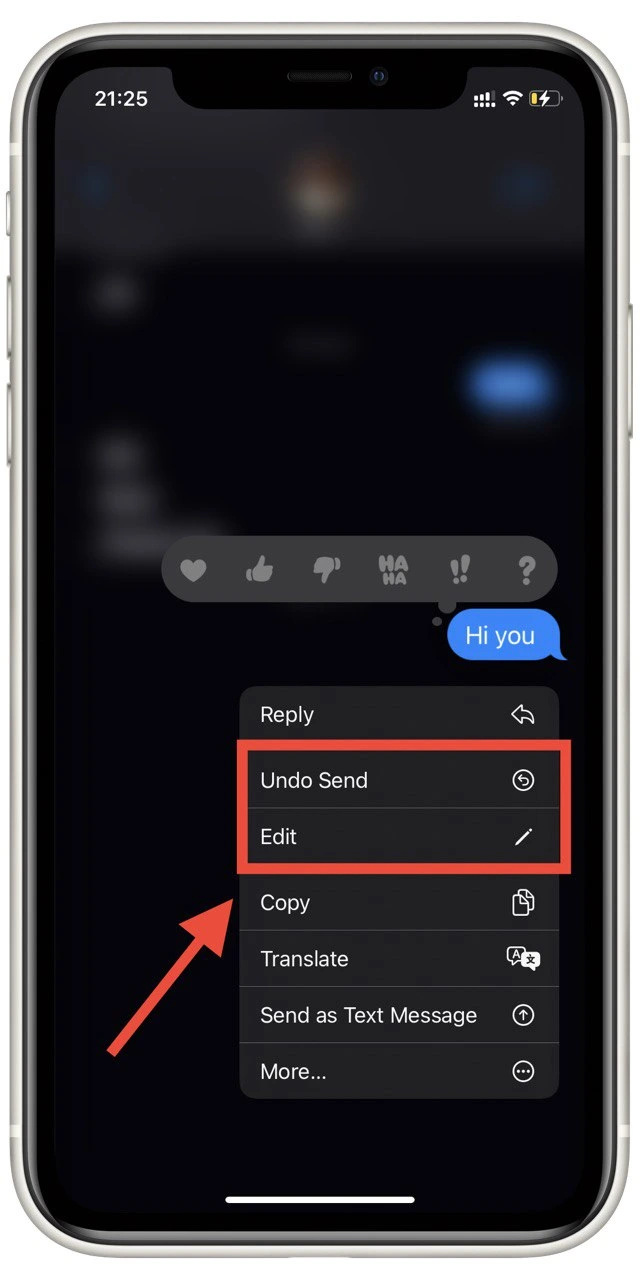 As I mentioned above, other users will see that you have edited the post. It will have an Edited caption underneath it. The user will also be able to see that you deleted the message. So you have to be careful with these functions. The thing is, other users can do the same trick on you, so now you'd better screenshot all the important information in your iMessage.
What limitations are there?
You should also be aware that there are some strange restrictions on these functions. First of all, there are time limits for editing and deleting messages. So you can only edit a message if 15 minutes have not passed since it was sent and you can edit up to 5 times. You can delete a message only if 2 minutes have not passed since it was sent.
Besides these functions don't work correctly if your friend hasn't updated his iPhone yet. In this case, if you edit your message, your interlocutor will get two messages simultaneously – an old and an edited one. And if you delete your message, your interlocutor with an old version of the operating system will still see your message.
Of course, it is also worth understanding that you can't delete messages sent to android users. Such messages usually look green, and for other iPhone users – blue. Keep this in mind during your texting.
Read also:
What other upgrades come with iOS 16
In addition, Apple has brought many other changes. Some reviewers are even saying that this was the biggest update to iOS in years. The company has added many cosmetic improvements. We also got a few system upgrades and new features. I would highlight a few of the most interesting changes.
First of all, the company has redesigned the lock screen. Finally, Apple users can now add different standard widgets to the lock screen. It is only a matter of time before other developers start adding widgets to the lock screen of their apps.
Apple has also taken care of security. Lockdown mode and Safety Check have been added to the new iOS. Together they will turn your smartphone into a real fortress, where intruders will not be able to penetrate.
And if you use your iPhone for official communication and sending important emails, you'll also be interested in the cancel emails feature. In short, you will get a whole mountain of different improvements and changes with this update.