If you need to organize your emails, then the Gmail rules are perfect for such a task. The latter is some sort of filter for your emails, which will help you manage your work.
How to create and manage rules in Gmail
An E-mail has become an integral part of many people's lives. It's through it that you can make purchases, register on sites and services, carry out correspondence and keep documentation. It so happens that you get quite a large number of different kinds of messages almost every day, and if you don't use Gmail often, you still have to receive mailings, etc. You can unsubscribe from the latter, by the way. However, here we will talk about the rules, or rather filters in Gmail.
Rules are filters, in other words, designed to filter out unnecessary emails and find what you need in seconds. For those who do business and often use Gmail, this is a great way to keep everything under control. Below will be described a little more about how to apply the rules in Gmail on different devices.
Is there a way to move emails to a certain folder
In general, you can even place specific emails in a specific folder, but you will need to configure this feature first. Here's how to do it:
Press the gear symbol in the upper-right corner of your display
Choose See all settings
Select the Filters and blocked addresses section to see the existing filters that apply to your account
Press Create a new filter
Enter the address of the emails you want the filter, the words they need to contain, and the other details from the pop-up window
Once you're done, press Create a filter with this search
From the list of options, select Apply the label x, and decide whether you want to create a new label or use an existing one
Hit Create filter, and that's all there is to it
How to create rules via Gmail inbox
And if you need to quickly filter incoming messages, the process is quite straightforward and will not take much time. Here's a short guide:
Hit the arrow to the right of your search bar
A small popup window will appear with several options. These options will determine the emails your filter will affect
Press Create filter with this search and decide what will happen when messages that match your search criteria arrive
For example, you can choose to delete, forward, or star the messages. After you make your selection, click Create filter in the bottom-right corner, and the filter will be created
How to create rules in Gmail on iPhone
Unfortunately, it isn't possible to create your own filters, i.e. rules in Gmail on mobile devices. However, don't be disappointed, because in the mobile app Gmail has the ability to insert categories such as Promotions, Socials, etc. This way you will have filters, but a little limited. Though it's better than nothing. Even with such filters, you can still find the emails you need and navigate easily.
Below is a short guide on how to add or remove tabs and inbox categories on your iPhone:
Open Gmail and press the Settings button from the menu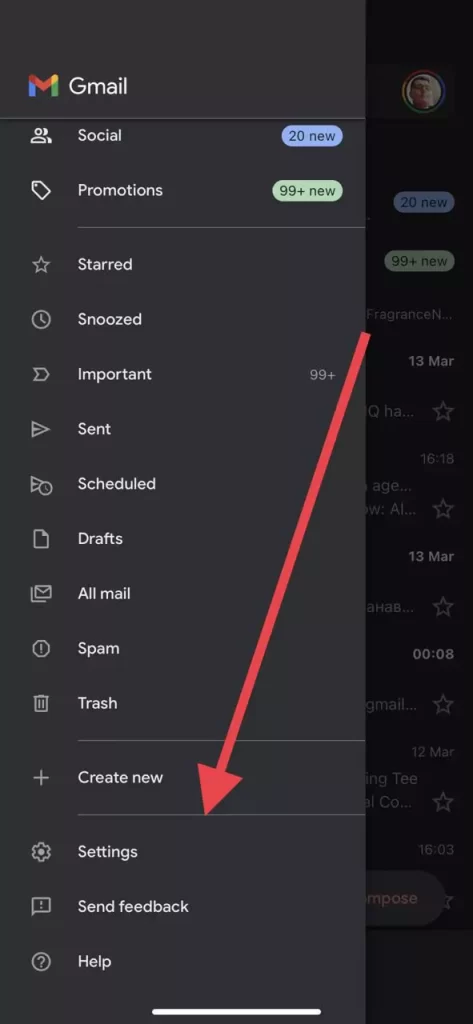 Select your account and hit Inbox Type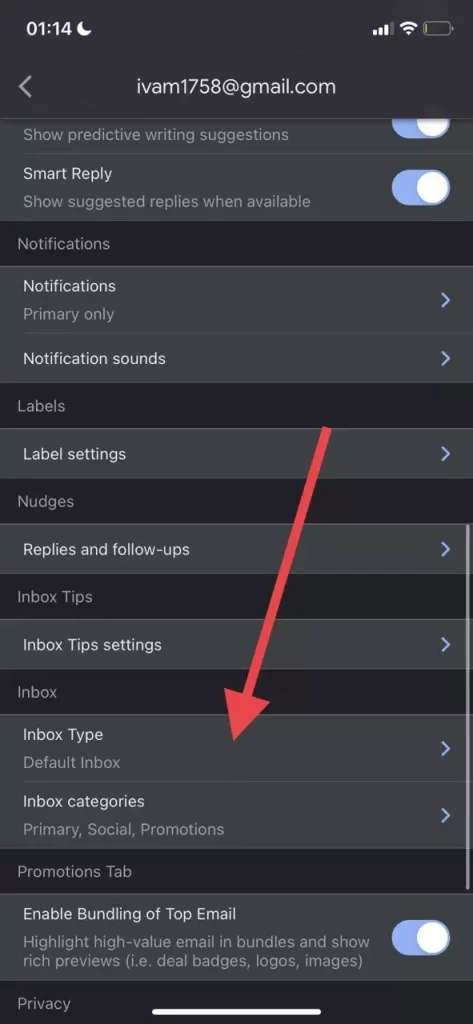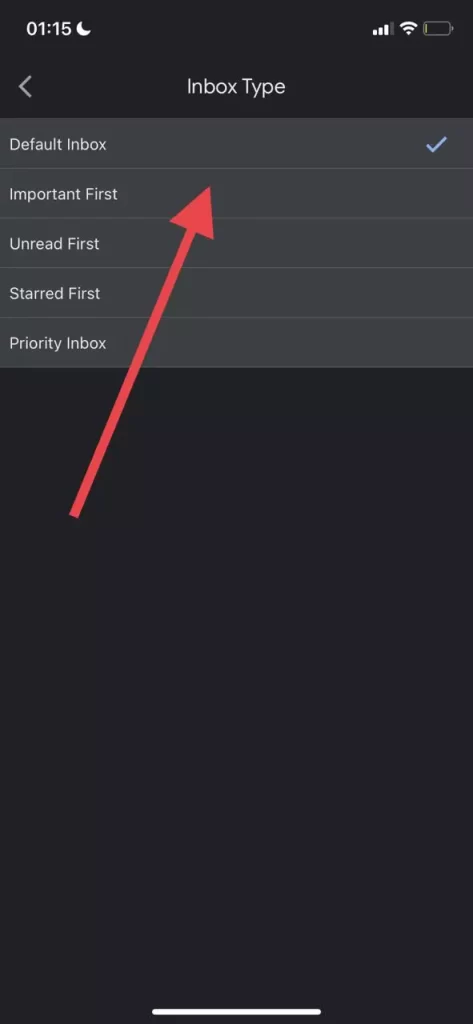 Press the Back button, followed by Inbox Categories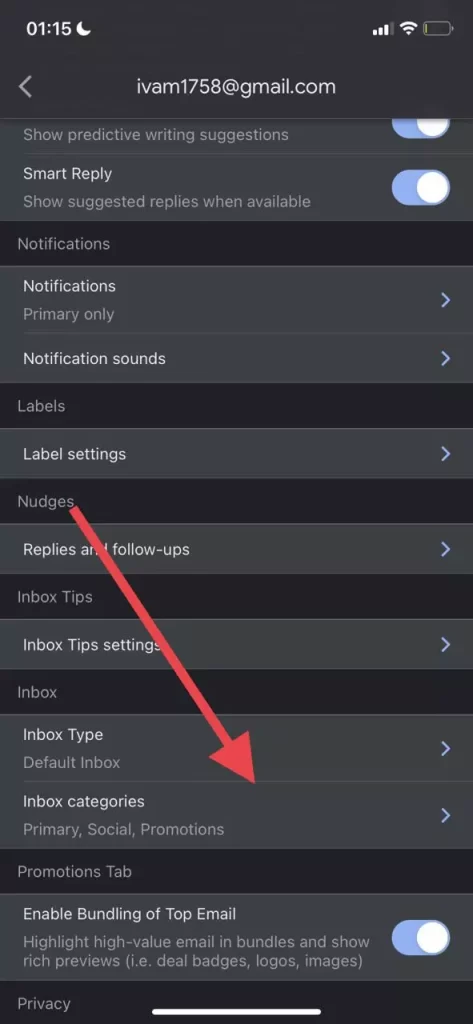 You can now remove the already existing categories and add new ones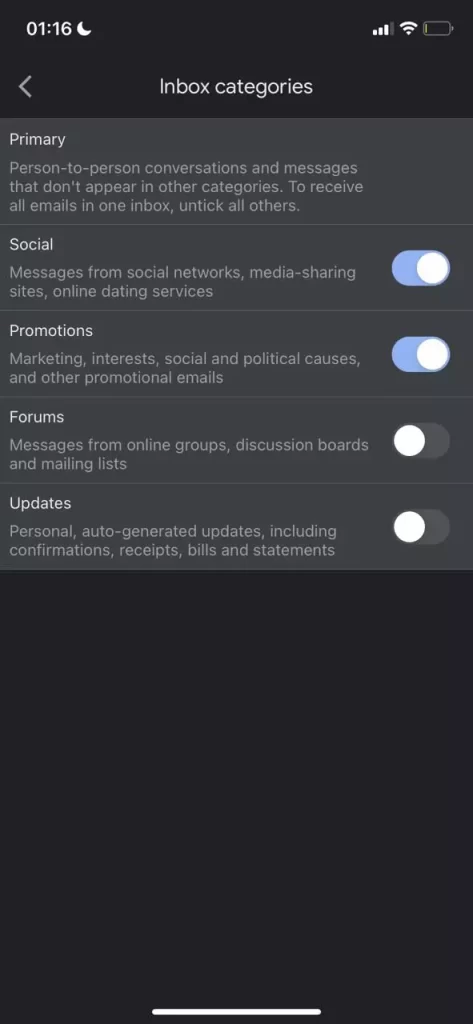 The same goes with the iPad:
Go to Gmail's menu and select Settings
Pick your account, and press the Inbox type option
Select Default inbox
Hit Back and press Inbox Categories
Start adding or removing your inbox categories
How to create rules in Gmail on Android
Just like with the iPhone and iPad, the Android version of the Gmail app doesn't currently have the ability to create rules. Of course, the developers have made sure that you can still organize your workspace and have made it possible to add labels to your emails. That is when you receive an email and it's important to you, you don't want to lose it – just add a label. Thus, your letter will have its own category. By adding a label to your email, you will not lose it and you will always be able to find it in a certain tab. Here's how to do it:
Open an email and press the three vertical dots in the upper-right corner
Remove existing labels or add new ones
You can also add labels to multiple emails from the inbox:
Select a message by touching and holding the photo or letter to its left
Select any other emails you want
Hit the three vertical dots in the top-right part of your screen and pick Change labels
Remove old labels or add new ones
Press OK, and you're all done
How to create rules in Gmail Account
Even if you're logged into your Gmail account, you can adjust the filters to your liking right away simply by using this instruction:
Log in to your account
Hit the gear symbol in the upper-right corner of the display, and choose See all settings
Press the Filters and blocked addresses option
Hit the Create a new filter button, and type in all the information you want to use as rules for your emails
When you're finished, select Create a filter with this search
How to create a Gmail rule from already existing emails
If you already have a lot of emails that need to be filtered into different categories, you can also do this with rules. Here is a guide on how to do it:
Open Gmail in a web browser
Select the check box next to the message that meets the criteria for your new rule
Select More (the three vertically aligned dots on the Gmail toolbar)
Choose Filter messages like these
Select or correct the criteria to apply to the new rule. Some options may be pre-populated with details from the selected message
Select Create filter
Select the check box next to the options that specify the behavior you want to apply to the rule. Options include Skip the Inbox (Archive it), Mark as read, Star it, and Delete it
Select Create filter to activate the new rule
How to edit or delete rules in Gmail
tGMail always gives you the opportunity to adjust or customize your workspace. Therefore, when you need to remove or edit certain rules, this option is available at any time. It will make it easier for you to manage filters and sort emails. Below is a detailed instruction on how to do this:
Open Gmail in a web browser
Select Settings (the gear icon)
Select Settings
In the Settings screen, choose Filters and Blocked Addresses
To make changes to a rule, select edit. To remove a rule so that it no longer filters your email, select delete
Now you know more about rules and how to filter your inbox. This way you always be able to find everything you need in just a few clicks. Don't forget that the more organized your work environment is, the less time you will spend looking for a file that was once sent to you or that you sent to someone. With such rules, your time will be saved.