When transferring a number to Verizon, you usually have to wait from 2 to 24 hours. If you need to check port status, you can use one of three methods. First, utilize the unique link received in your confirmation email during the port sign-up. Alternatively, visit the Verizon website to view your status. Another option involves contacting Verizon support to verify your port status manually.
While checking on the website or through support, anticipate providing your phone number and port PIN. Locate these details in the confirmation email received upon account registration.
How to see Verizon port status using the email link
To verify your port status with Verizon, click the link in the post-registration email. This link remains active throughout the verification process, allowing you to view the status without entering extra information. It offers a convenient method to stay updated on the porting progress.
How to see Verizon port status using the website
Additionally, check the port status on the Verizon website. Follow this link. A page field awaits your 10-digit phone number input. If the link does not open, go to the website (https://www.verizon.com/switch-to-verizon/) and select the "Check status" button.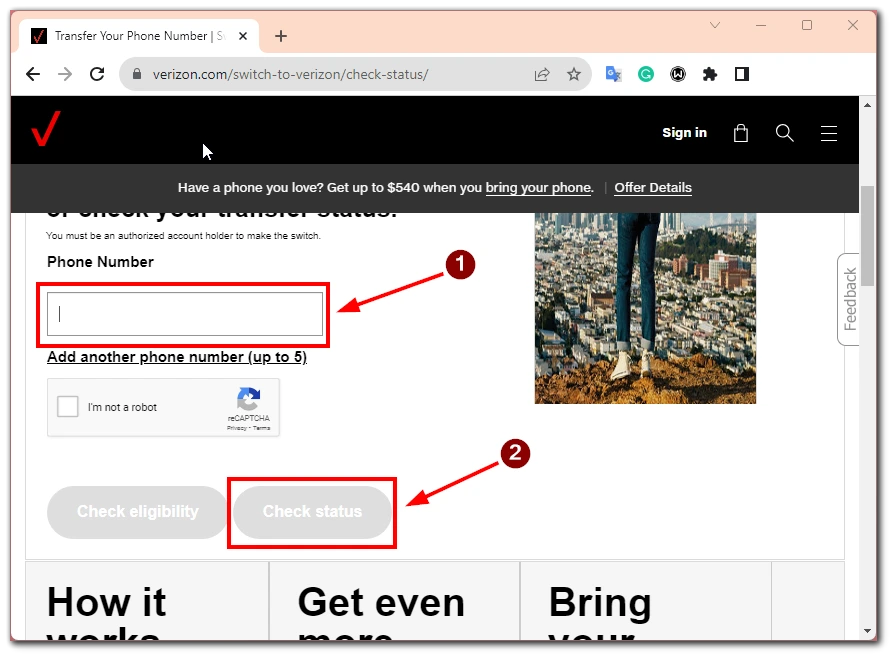 After the phone number entry, the system will request your porting PIN. This PIN, sent to the email specified during registration, should be copied and saved immediately. This PIN is needed for status verification and further site registration.
How to check Verizon port status by contacting support

If you're struggling to check the port status on the website, no worries. You can call Verizon Support at 1-888-844-7095. This is the direct number for the Verizon Port Department, where they can help answer all your questions.
Before making the call, prepare all the necessary information: your phone number, port PIN, email address, and customer number (if you have one). When you talk to customer support, explain your situation clearly and provide all the information they might need. This will make the process faster and smoother.
What is Verizon's port status?
Verizon's port status tells you where you are in the process of moving a phone number to or from another network. This is called porting, and it lets you keep your current phone number when changing phone companies. The port status lets you know if your request is still going, done, or has any problems.
Here are the different statuses you might see:
In Process: Your request is received and is being worked on.
Completed: Your phone number has been successfully moved to or from Verizon.
Failed or Rejected: Your request didn't work. This might be because of wrong account info, unpaid bills, or other issues. You'll have to fix the problem and try again.
Remember, statuses might not always be a single word. Typically, there's a comprehensive description detailing the current stage or the required actions. Unclear on the next steps? Consider searching the message content online, enabling you to address your specific situation based on available information.
How to find Verizon port PIN
Check your email and text notifications to locate your Verizon port PIN. When initiating the porting process, Verizon sends important details, including the port PIN, to the email address associated with the account. A text message containing the same information is also sent to the phone number being ported.
If you're unable to find the email or text message, or if the information is incomplete, don't hesitate to reach out to Verizon's customer service. Provide them with your account and phone number details for verification.
How long does it usually take Verizon port?
The time it takes to complete a number port with Verizon typically depends on the type of service you are porting. Here's a general guideline:
Wireless Ports: Wireless number ports usually take a few minutes to 24 hours to complete.
Landline Ports: Porting a landline number to Verizon may take 2 to 5 business days.
It's important to note that these are estimated timeframes, and the actual time it takes can vary. Ensure that you do not cancel your current service until the porting process is complete to avoid losing your phone number. Keep your old phone and SIM card until the process is finalized.