Microsoft's corporate services are top-rated. This is so because they have a user-friendly design and tight integration with other Microsoft services. For example, you can conveniently embed tables in Word documents or chunks of text in Excel. Microsoft has also made one of the most user-friendly email services. Outlook is an email service used by many companies because it's pretty secure and has a rich arsenal of all possible functions and tools. I would say that if you look at all the features, Outlook is one of the most advanced Emails I've ever used. Of course, it has a signature feature for your emails.
While I said above that Microsoft's service design is pretty user-friendly and understandable, they have a problem with the fact that their services are so overloaded with so many features that things like signing in to Outlook can be a little hard to find. Let's figure out how that works, and I'll show you step-by-step where in the settings you can find Signature in Outlook.
What is a signature in Outlook?
Let's first understand what a signature in Outlook is and how to use it correctly. If you are not interested in more information about this feature, you can skip to the next section of this article, where you will find step-by-step instructions for each platform where Outlook might be installed.
Outlook signature works just like any other email service. This feature adds an automatic signature to your emails at the end, where you can include your personal information so that recipients will know exactly who the email is from and what organization it is from.
In this Signature, you should put your data and information about your position and company (if you are writing the e-mail on behalf of a company). Besides that, you often put additional communication channels, such as your phone number or a link to your social network account. On the other hand, you may not put your name there if you're creating a signature for your account. You may even put a nickname or some strange joke or photo. It all depends on your imagination.
How to edit Signature in Outlook on the desktop app
Since Outlook is a corporate service, it is most often used in the desktop version on your computer. The corresponding application exists for both Windows and Mac. Therefore, if you need to edit the Signature on your Outlook account, you need to do the following:
First, you need to click on the File button above the toolbar.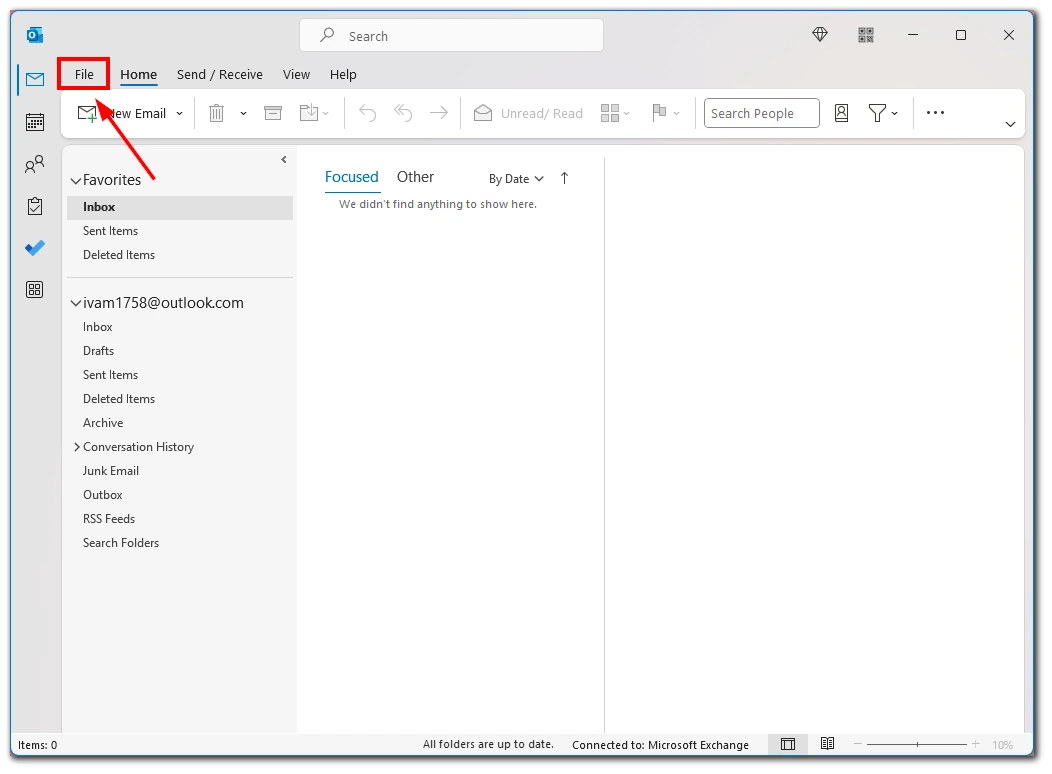 After that, you need to select Options in the side menu.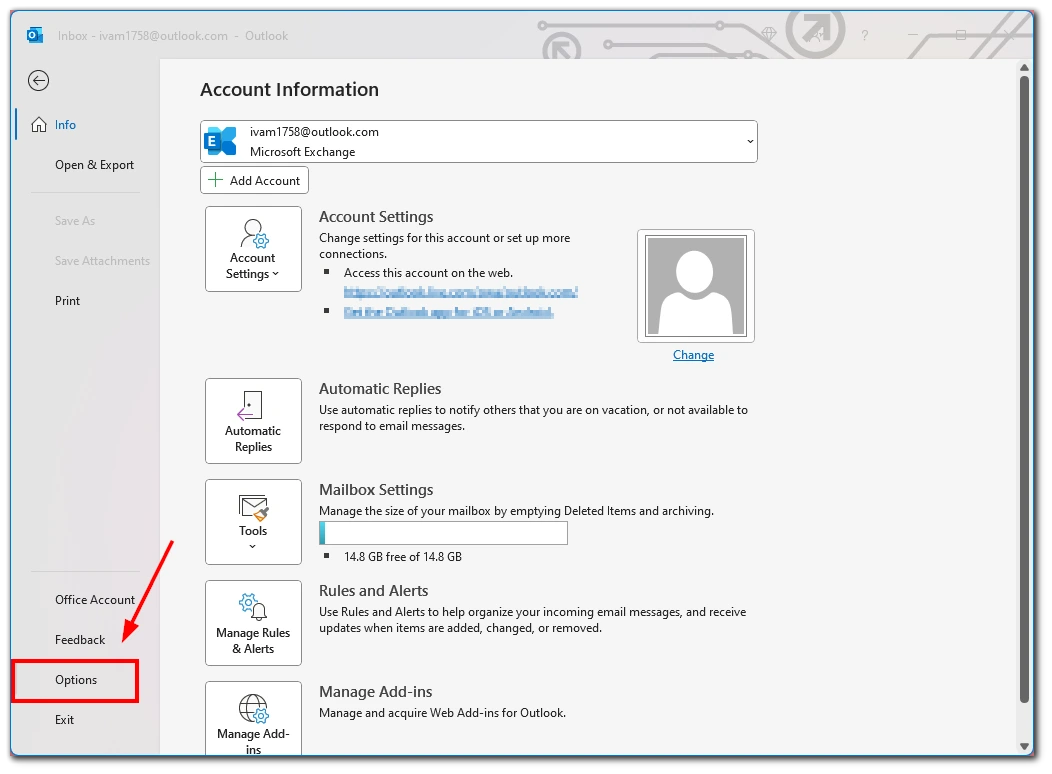 In the Settings menu, you need to select the Mail tab.
Here, find the Signatures button.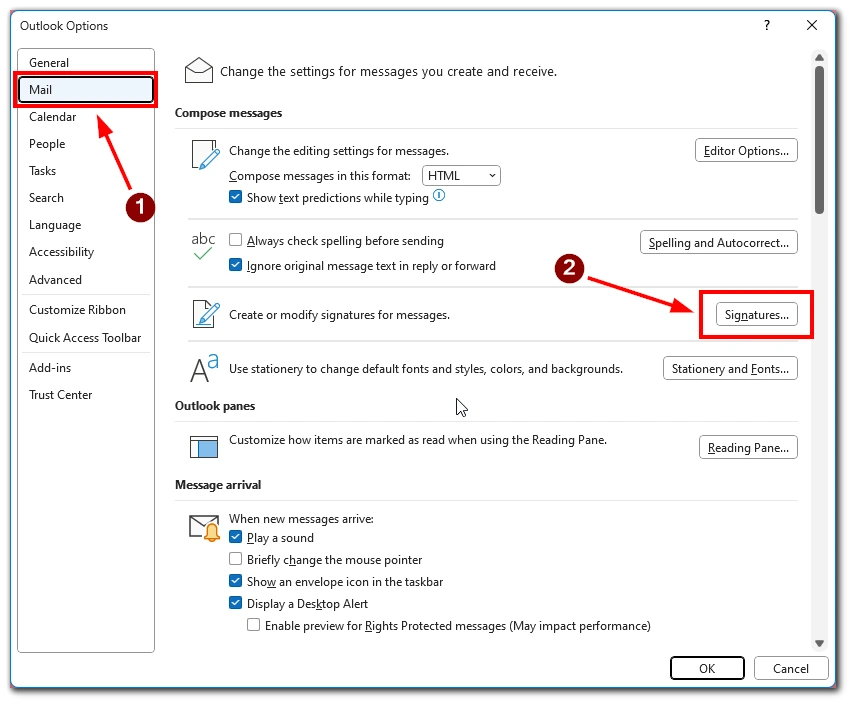 Then select the Signature you want in the Select Signature to edit window.
In the text box, you can edit the text of your Signature.
Click OK to finish and save everything.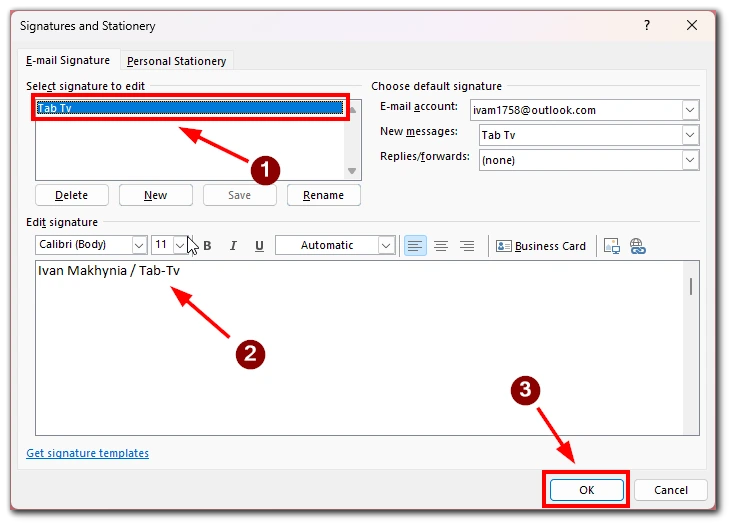 Also, in this menu, you can delete signatures or create new ones with the corresponding buttons in the menu. Note that you can completely edit the formatting of your Signature here. For example, you can change the text's standard font or thickness and height in the Signature. You can also insert different media here.
How to edit Signature in Outlook 365
In addition to the usual services in Microsoft Office, there is an online version of all these services, which can be accessed from any browser on your computer or any other device. And it is free for all users who have a Microsoft account. Here you can also edit and create various signatures. However, the steps to do this will be a little different. To do this, you need the following:
On the main Outlook page, click the View button.
After that, in the toolbar, select View Settings.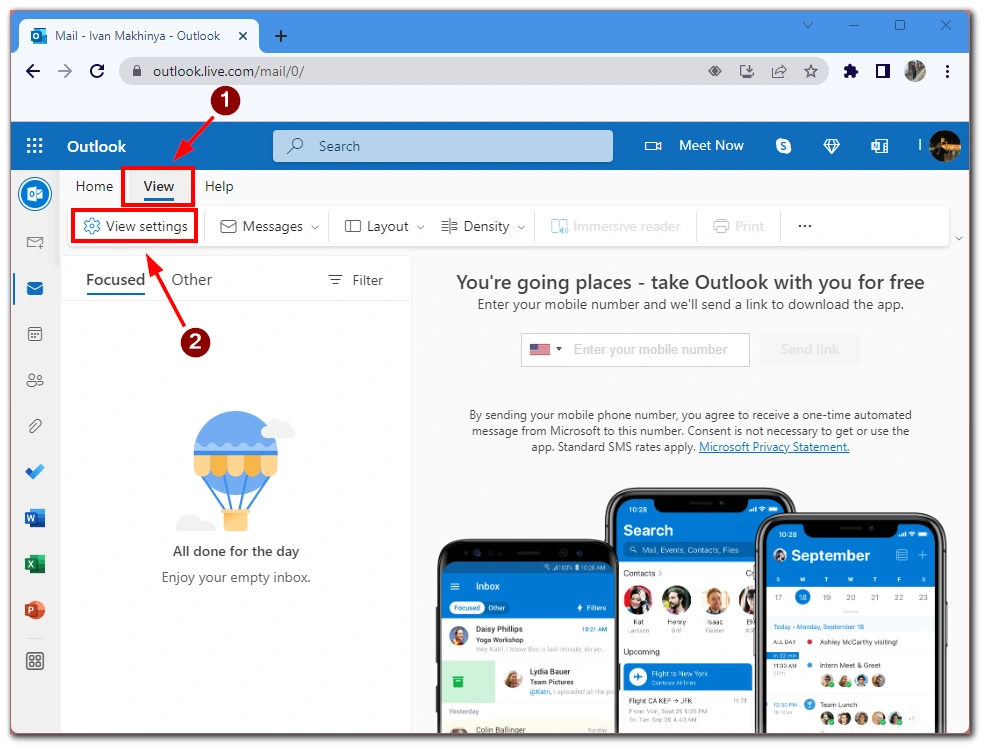 You need to go to the Mail tab in the settings window that appears.
After that, click on Compose and reply.
In the drop-down list, select the Signature you want to edit, and you can edit it in the text box below.
When you're done, click Save, and the Signature will be updated.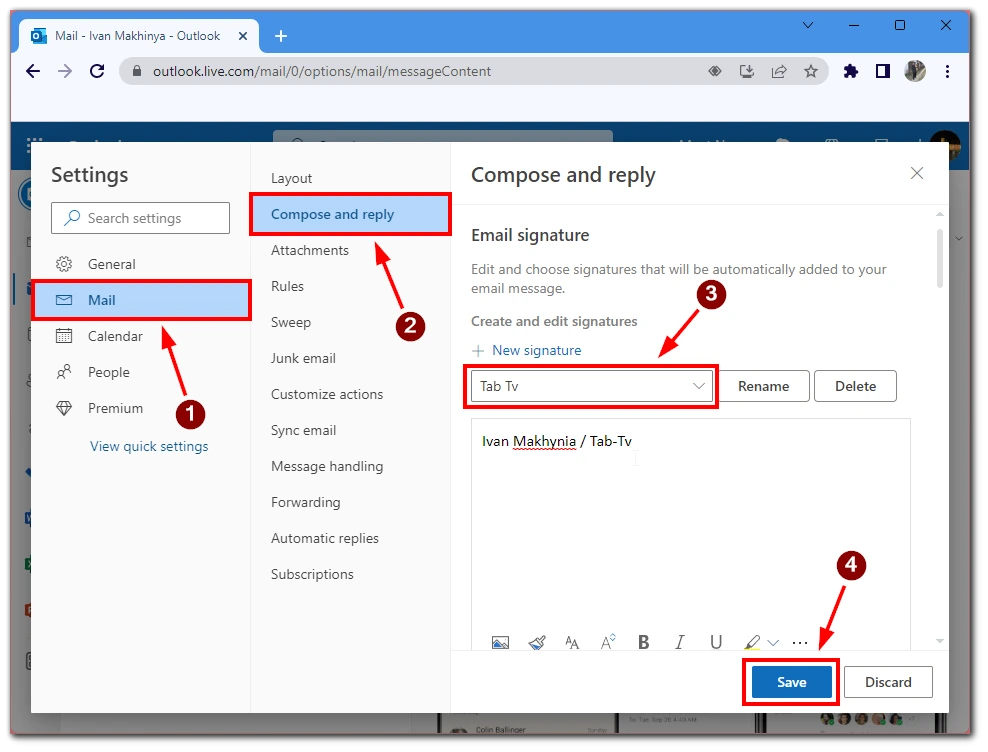 Note that the signature editing here is not as detailed as in the Desktop app. This is because all functions and tools in Microsoft 365 are stripped-down versions of services from the desktop application. So many other features of Outlook and other services will not be available here.
How to edit Signature in Outlook on mobile
Of course, Outlook is also available to users on mobile devices. No matter what operating system your device is running on, Outlook will have the same interface and functionality. To change the Signature on your mobile device, you need the following:
Click on your profile icon at the top left of the home page.
Then select the gear icon on the left side to go to the app settings.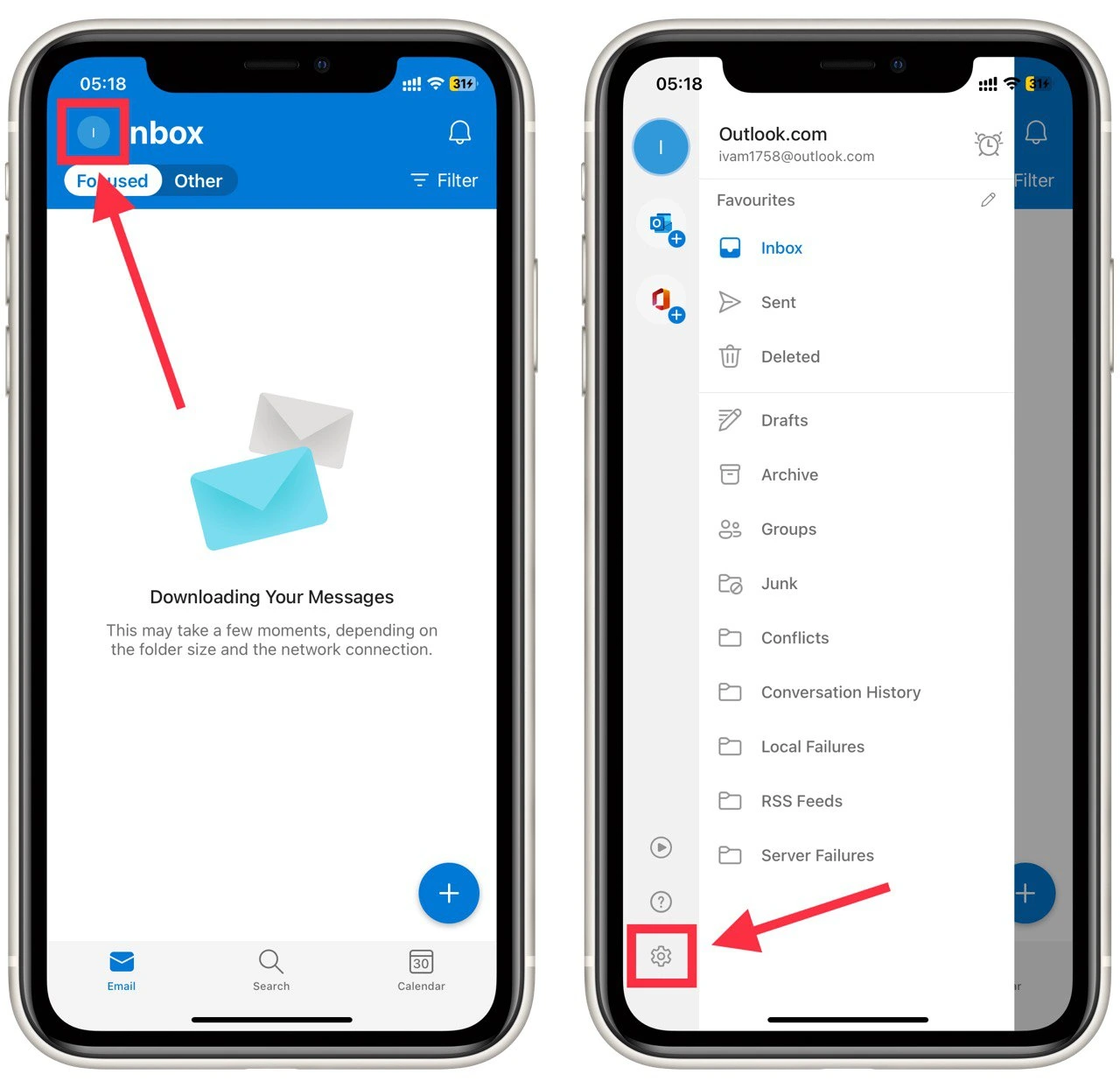 This is where you need to select Signature.
After you change the desired Signature, click on the button with a checkmark to save the changes.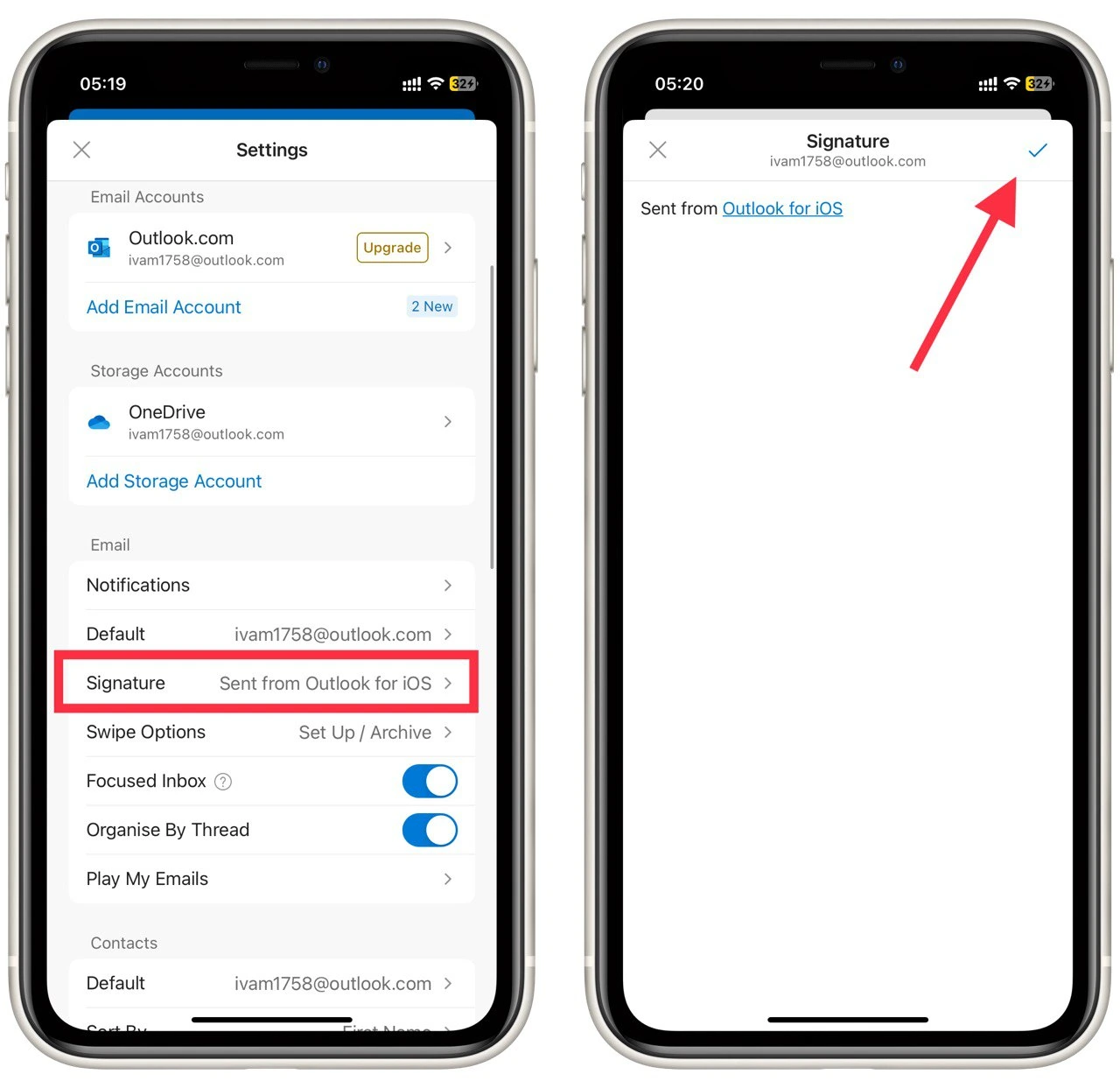 Note that your mobile device will be enabled by default signature, which will tell you what mobile operating system the message was sent from. You can go to this section right after installation and change it, so the recipients don't know that you're sending them emails from your smartphone or tablet. You can also clear the signature field to disable this feature in the app.