League of Legends is a game available worldwide. And this means you can play it in many languages. Each language has recorded all character sounds, commentaries, texts, and subtitles from scratch.
Of course, you can change it in the game to another (for example, Chinese or Spanish), but this applies to both the voice and the text. However, these settings are only available if you change your location or, in other words, your server (region) to compete with other players worldwide.
So here's how to change language in LoL.
Why do you need to change the LoL language?
You probably already know that choosing another language doesn't entail changes in the game. So there's nothing to be afraid of. The only thing that changes is the characters' voice dubbing.
For example, in Japanese, the original dubbing appeared since the first LoL version in Japan, and many people appreciate the dubbing quality compared to Spanish or English. When the game was released worldwide, the only client language was Japanese, so older players identify entirely with this language because it's what they're used to.
So if you want to change the client language, it's still your decision, and you should know that it won't affect the game mechanics. Instead, it may affect the perception of the game to some extent at first. However, you may quickly get used to the new dubbing.
How to manually change language in LoL
You should be aware that according to the rules set by Riot Games, you cannot select the language of the region in which League of Legends isn't available. However, this may not cause any problems, as this change doesn't affect your gameplay and doesn't give you any additional gameplay benefits.
If you want to make that change, you can follow these steps:
Open the League of Legends directory. By default, it is C:/Riot Games/League of Legends.
After that, right-click on LeagueClient and create a new shortcut by clicking Send to and selecting Desktop (create shortcut).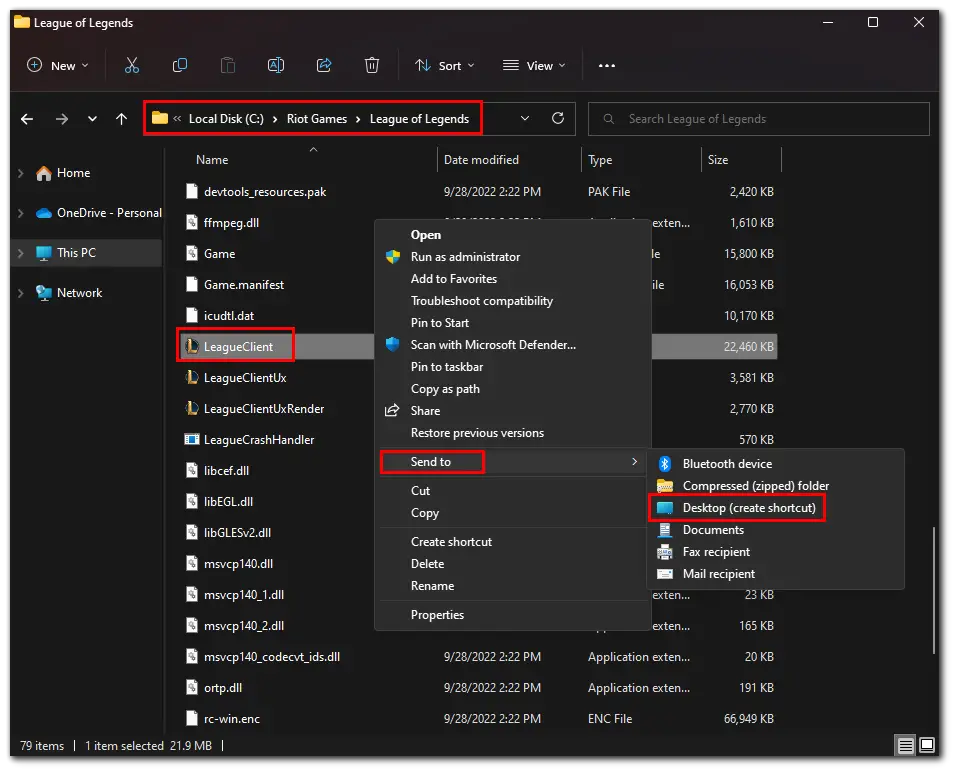 Next, right-click on your newly created shortcut and select Properties.
Then change the Target field to the desired language (type -locale=lan_REG). For example: -locale=ja_JP (Japanese).

English, en_US
English, en_AU
English, en_GB
Portuguese, pt_BR
Turkish, tr_TR
German, de_DE
Spanish, es_ES
French, fr_FR
Italian, it_IT
Czech, cs_CZ
Greek, el_GR
Magyar, hu_HU
Polish, pl_PL
Romany, ro_RO
Russian, ru_RU
Spanish, es_MX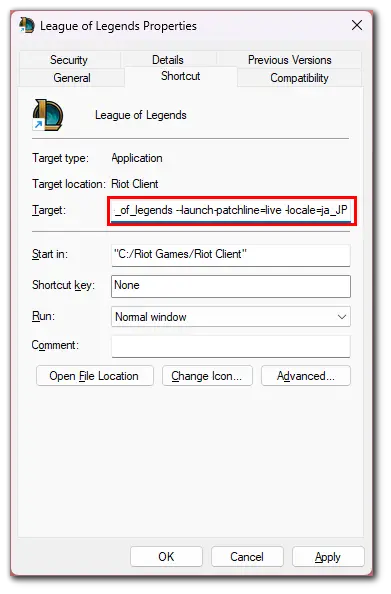 Then, go to the General tab and check the Read-only box.
Select Apply.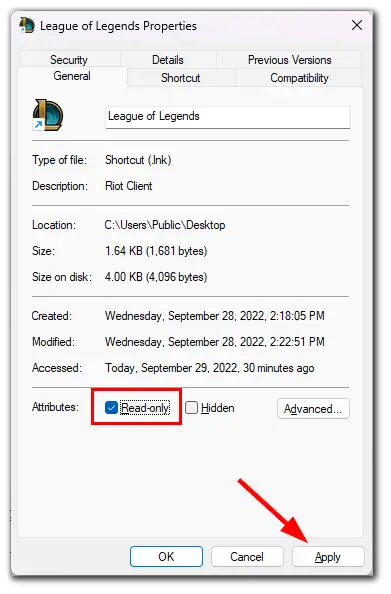 Finally, launch League of Legends using the created shortcut to enjoy the selected language.
These are all languages in which you can change your client simply by putting the appropriate code between the quotes next to the Regional Settings section.
How to change LoL game text language in Riot Client
If you want to change the League of Legends game text language in the Riot Games launcher, you can follow these steps:
Open Riot Client and sign in to your account if necessary.
After that, click on your profile icon in the top right corner of the screen and select Settings.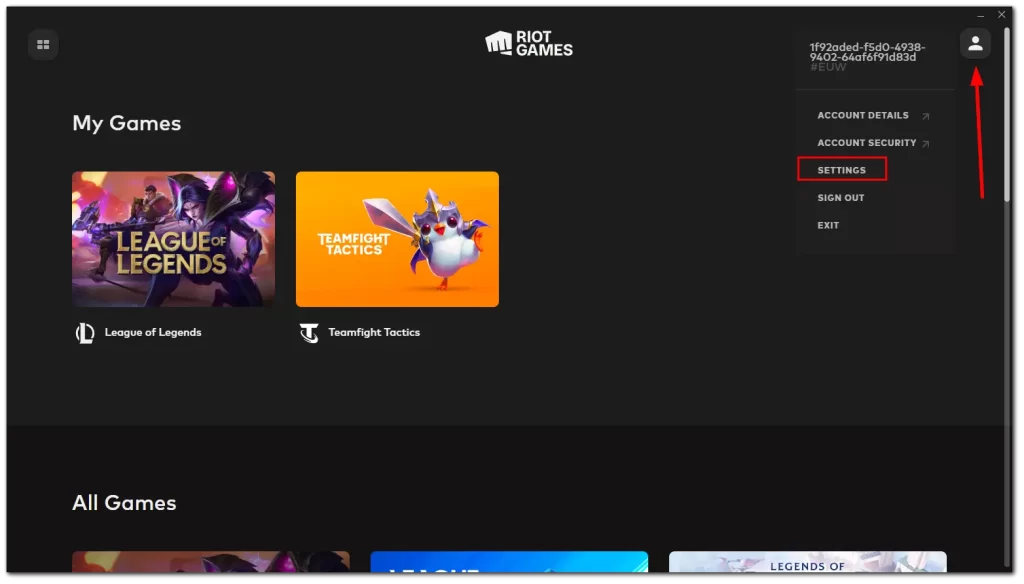 Then select League of Legends and click on the Game Text Language menu.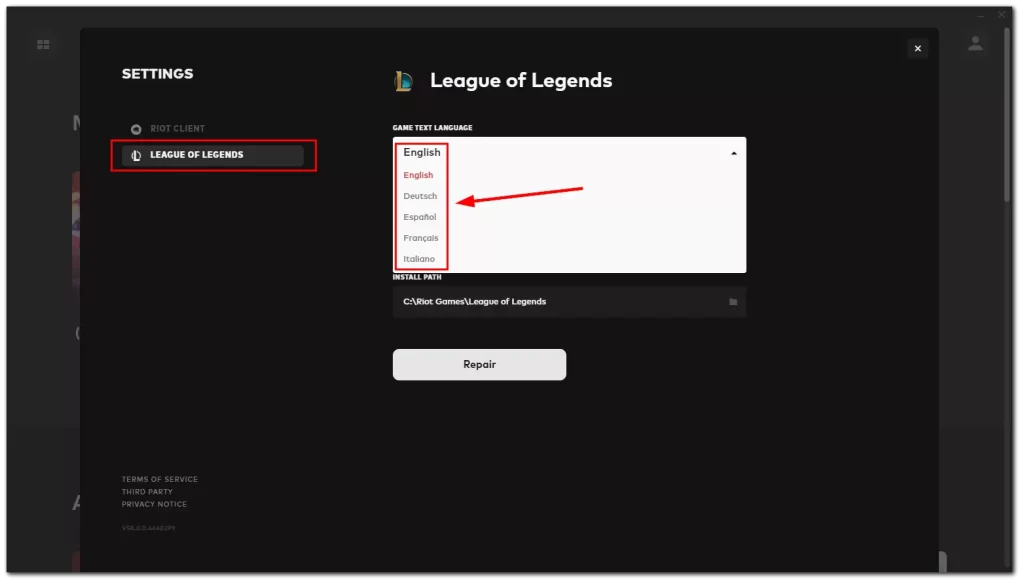 Finally, choose your language.
In the same way, you can also change the Riot Client language. Just go to it and click on Riot Client Language. Finally, select your language. You will see how it changed instantly.
How to change the region in LoL
Like any online game, LoL can be quite demanding on the Internet connection quality and latency level. Changing the region and server is necessary to switch from one network infrastructure to another and lower the ping. In this regard, the desired area is the one that corresponds to your actual location.
By 2020, you will have to pay 2,600 RP (around $20) to move. In addition, there is a shared Riot Games account for games – regardless of whether you play LoL or Valorant.
How to find out the region
If you want to know your region in League, you can follow these steps:
Open Riot Client and sign in to your account if necessary.
Click on your profile icon in the top right corner of the screen and select Settings.
After that, look at the Current Patchline box.
Now, you will see your region.
How to change your account region for 2600 RP
Unfortunately, changing the region in LoL isn't free. The only way is to create a new account. However, it is unlikely that it will work for you. For this reason, Riot decided to add the option to move for money.
Launch LoL and go to Store.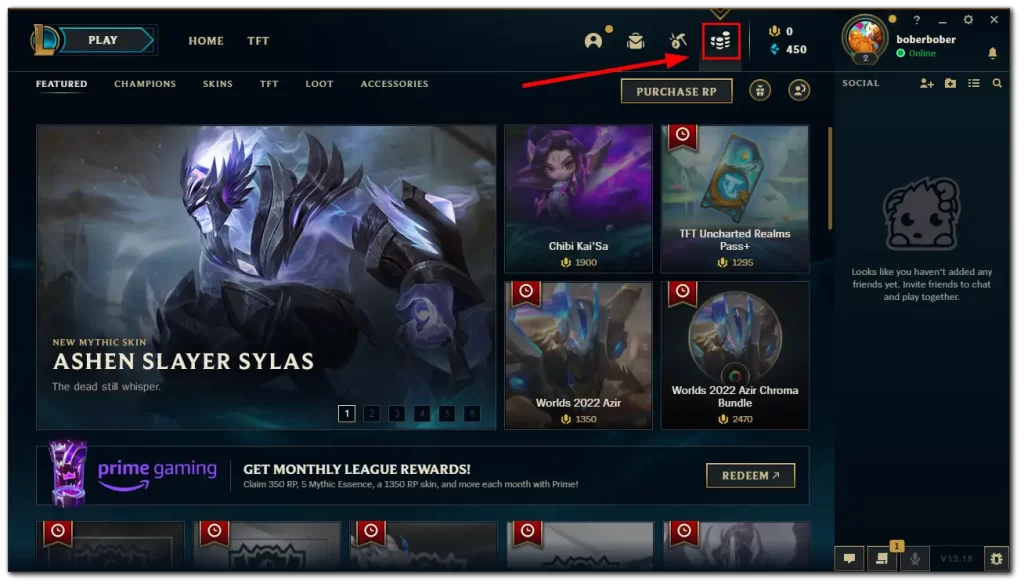 Then click on the Account button and select one of the regions.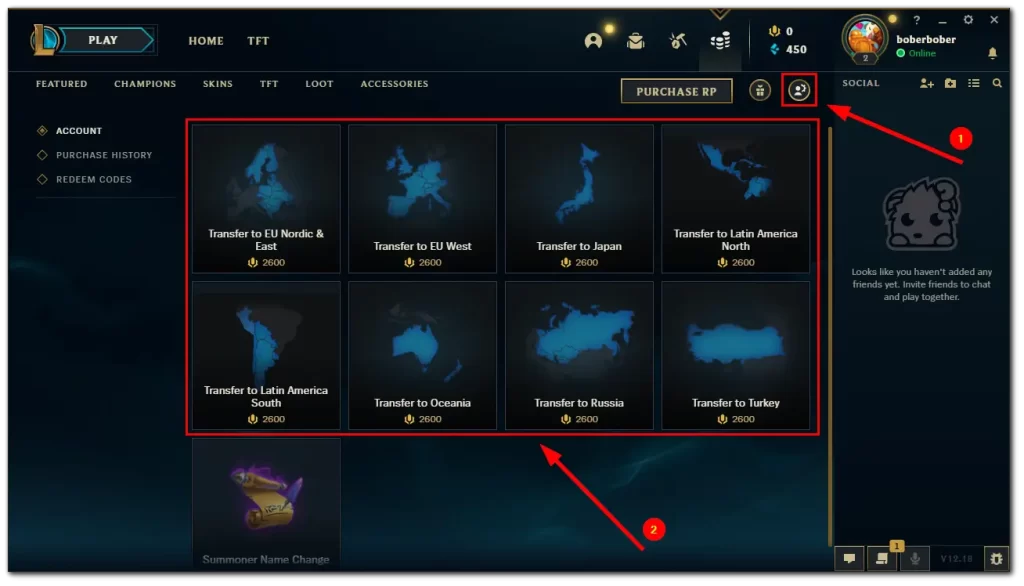 Finally, click Continue and follow the instructions.
After a few minutes, the procedure will be completed. Wait a bit and restart the client. Now you should be on a new server.
Keep in mind that if you don't have enough RP, you won't be able to transfer to another region. So, you need to purchase RP first. To do this – click Purchase RP. You will see all available RP sets for purchase.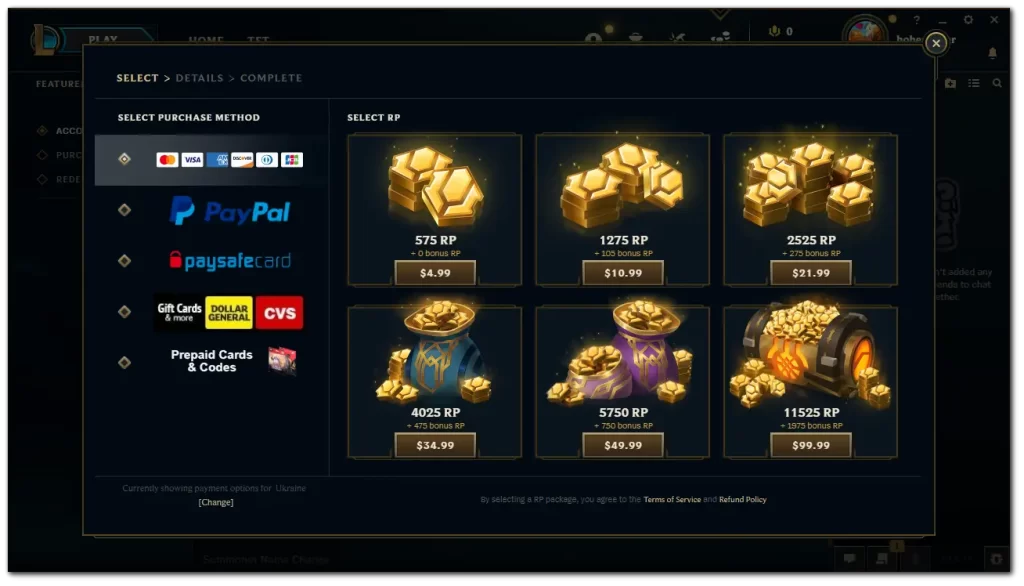 If you only need a region change, you can buy the $21.99 bundle, which contains 2,525 + 275 bonus RP. After that, you will have an extra 200 RP to spend as you wish.
What server can you switch to?
The thing is that you won't be allowed to choose absolutely any server – the movement by region has restrictions. In other words, not all League servers will be displayed in the store.
For example, you can only transfer from the NA server to EU Nordic & East, EU West, Russia, Turkey, Latin America North, Latin America South, Oceania, and Japan. You can transfer back to North America from each server by paying again.
How to change language in the LoL client
In 2020, Riot Games updated the client so that you can choose at least one of the regional languages for a particular server, but only for news. If your language is included in the set of languages for the server you are playing on, you need to do the following:
First of all, run the LoL client.
Then click on the Settings button in the bottom right corner of the screen.
Navigate to the General section and click on the News language menu.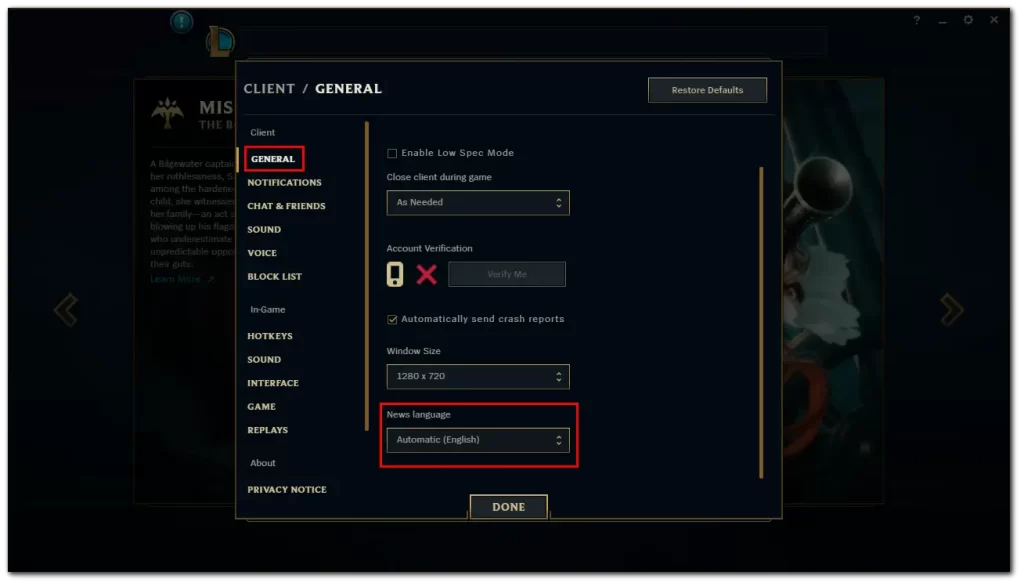 Finally, select the language you want to use.
Remember that the choice of languages depends on which server you have. If your language isn't on the list of available languages, you'll have to change servers or go into the game files to select your language. Also, be aware of the ping and other inconveniences.
Riot Games will make it easier to change the language in the client
The original LoL client was in English. When Riot Games began to expand worldwide, new languages for different regions were added to the client. Thus, your client will automatically change the language if you arrive in another country.
Of course, this makes life difficult for simple and professional players who bootcamp in a different region. Even simple things like finding items, champions, and other things can become a problem.
Fortunately, Jeremy "Riot Brightmoon" Lee claims that in 2023, Riot Games will finally allow players to choose their preferred text language in the client. It's not yet known exactly when such an option will appear. Lee reports it's still in the works, but it will come out sometime in 2023.