Binge-watching favorite shows on Netflix and waiting for new releases is undeniably one part of the average person's routine. However, sometimes you want to dilute the routine with games, and Netflix listened to consumers and launched and released several projects with games. But how to buy and get them?
Is there a chance to get access to Netflix games
Netflix is one of the most popular and recognizable streaming platforms worldwide. It already has 214 million paid subscribers as of the third quarter of 2021.
Netflix offers its users a library with millions of hours of content of all kinds. You can find the most popular movies, TV series, various shows, and all kinds of documentaries or educational shows.
It was also one of the first streaming services to release its own shows. Under the Netflix logo, dozens of different movies or TV series are released today.
The company is doing its best to constantly expand and keep up with the times. Not surprisingly, they are constantly trying out different genres and sponsoring different ideas, even from little-known filmmakers.
Also not so long ago they tried themselves in game development. Today they have already released several projects for mobile devices. They can be accessed directly from the Netflix app.
What you need to download Netflix games
If you've decided to try out what Netflix has to offer you, you'll need to get a few things first. The prerequisites for accessing these games are very simple. You need to have with you:
A compatible device:

An Android device with an operating system version Android 8.0 or higher
An iPad, iPhone or iPod Touch with iOS version 15 or higher

You will also need a paid and valid Netflix subscription
Stable Internet connection to be able to download the game
And enough space on your device for its installation.
As for some games, there are additional requirements, you can read about them before downloading. This is especially true for android phones. Before installing, make sure that your device can run the game you want.
How to download and install Netflix Games for Android devices
The process of installing branded games from Netflix can be done in two ways: Using the Netflix app and directly from Google Play Store. For both methods, you need an internet connection and an active Google and Netflix account.
How to install a game using the Netflix app
It's pretty easy to do. But note that the game will not appear on the kids' profiles on Netflix. If this is not a problem for you, then you need to:
Open the Netflix app and go to the Netflix Games section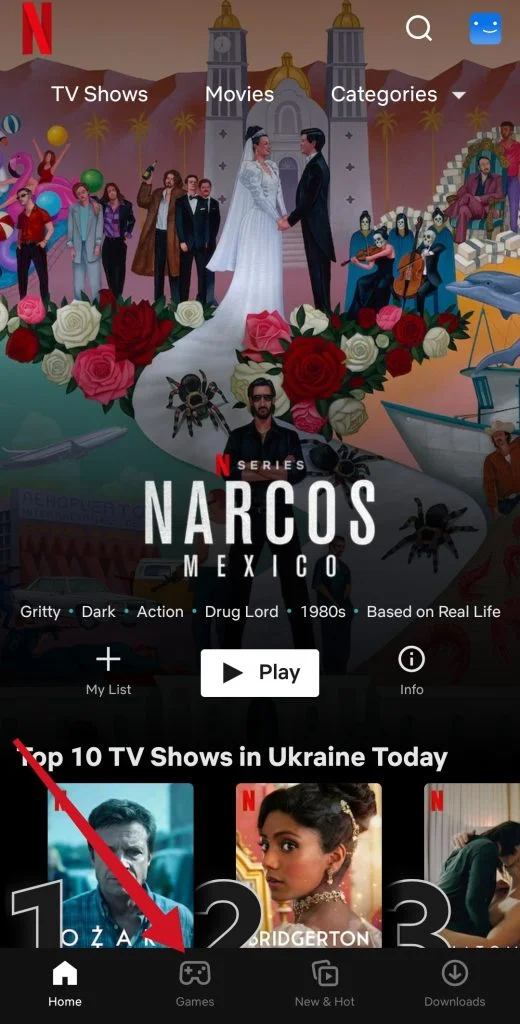 Here you can see the currently available games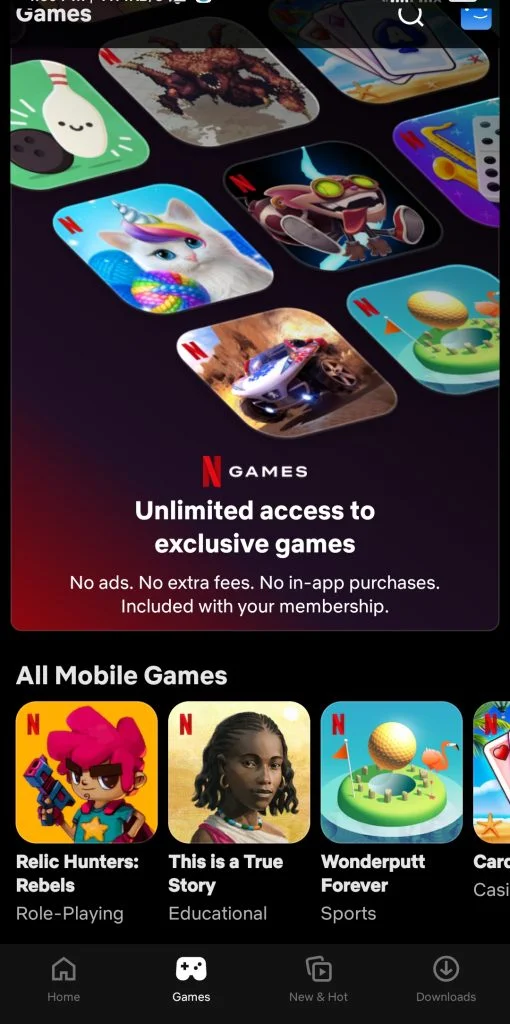 When you select a game you are interested in, click on it
Then click Get Game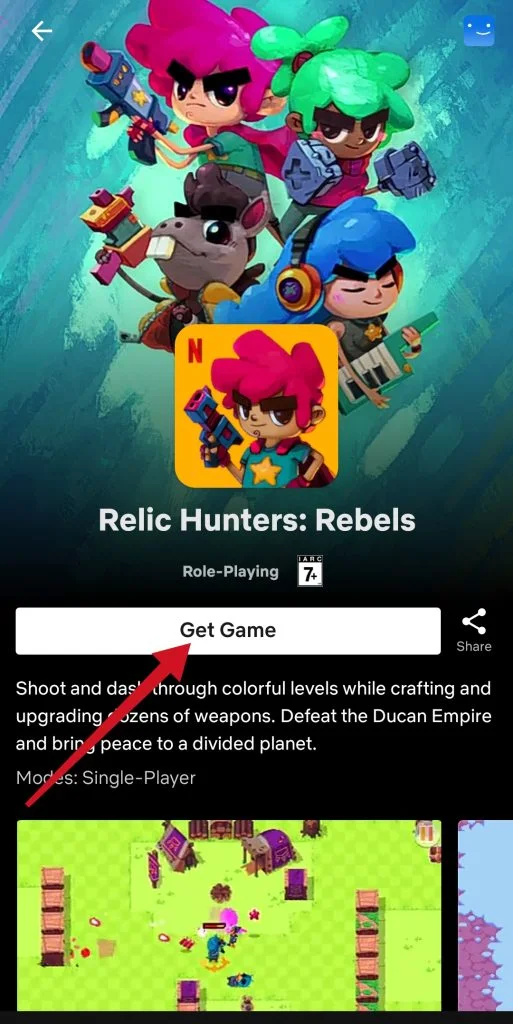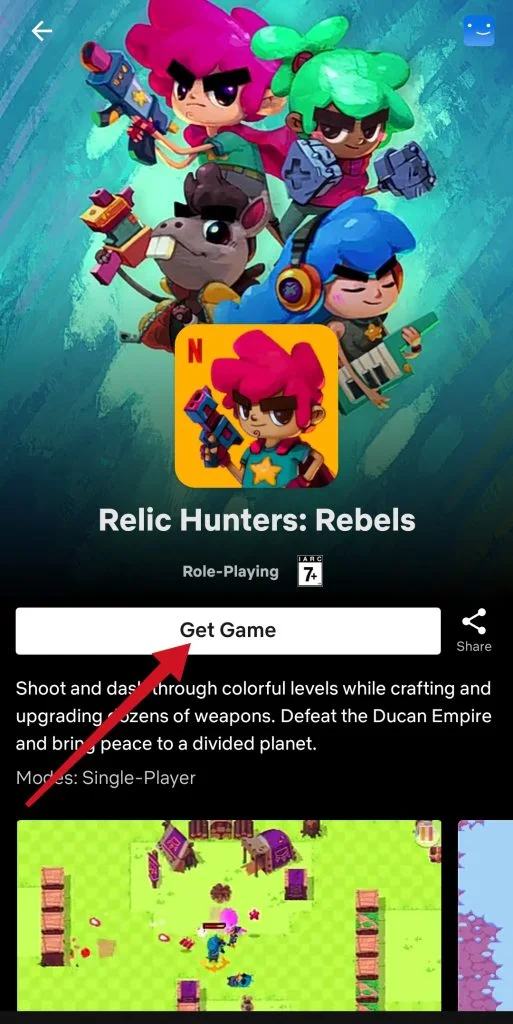 Then click on the Go to Google Play button, it will open the Play Store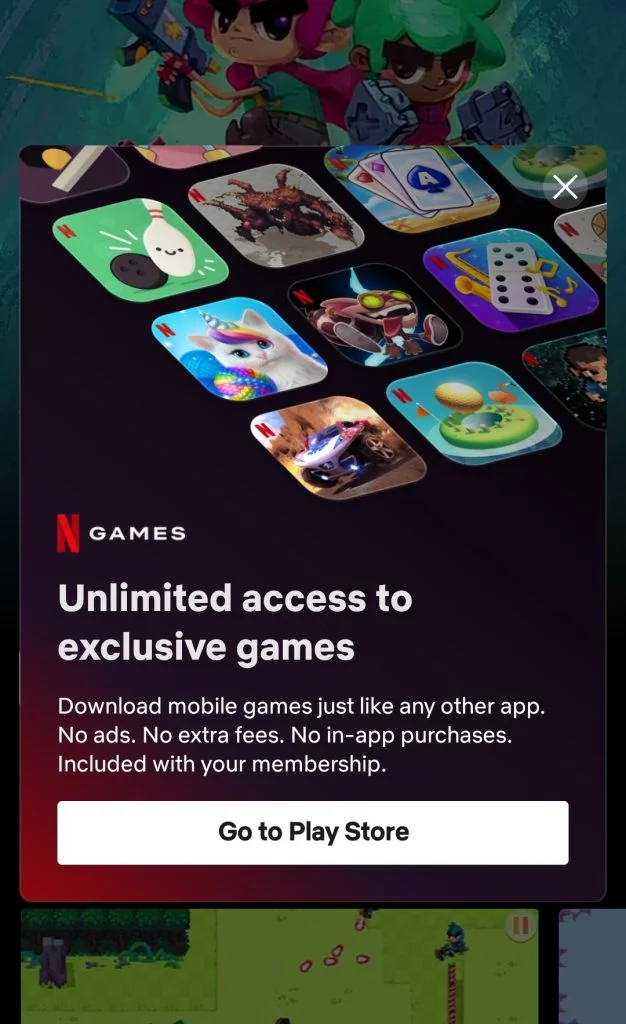 Click on Install next to the game icon.
Depending on your settings you might be asked to confirm the installation, select Accept
The game will install shortly, when the download is finished click on Open to launch the game
If prompted, tap Continue and then sign in to your Netflix account
Now you just need to choose your profile and you can enjoy the game.
Please note that after installation, the game will be available on your home screen and in the Netflix application on your device.
How to install a game using Play Store
If you can't find the game you want in the Netflix app, and you know the exact name of the game, you can install it directly from Play Store. To do this :
Open Play Store and enter the name of your game or just "Netflix games" in the search (remember, only games that are officially supported by your device will be displayed here)
Then find the game you want in the list and click Install
The game will install, and when it's done, just click Open to access it
After a game is installed, you can find it under the Netflix Games row in the Netflix app
Then just log in to your Netflix account and you're ready to play
Please note that games can be played from any Netflix profile in your account. If a game is not selectable on your account, it means that maturity settings are set below the maturity rating of the game.
How to install Netflix games on your iOS device
The installation process for iPhone, iPad or iPod is actually very similar. In the case of the Netflix app, you need to follow all the same steps as for Android, but it will take you to Apple's signature App Store. Next, you will need to:
Select Get or tap the Cloud icon
The game will start the auto-installation, also you may be asked to confirm the download with Face Id or Touch Id
After installing just click Open to access the app
You will need to sign in to your Netflix account to access the game
To install the app directly from the App Store do the same thing as for the Play Store a bit above. It will be pretty easy to do. This way you will be able to access any game from Netflix.
As you can see, Netflix has enough good games that you can run from different devices and they will be available to you all the time. That is, you can also play games from any Netflix account, just pay attention to the ratings, as some games may not run for a certain group of people.
It's also important to understand that when you start and download games, it is important to monitor the memory of your device. If it is overloaded, the game may not install. For this, you need to clean the cache or delete some unnecessary apps/files.
Now you know more about how to install and download Netflix games through different devices and enjoy not only watching TV shows and movies but also playing different kinds of games.