When choosing a TV, you may see a TV with Google TV; for example, such TVs are produced by Sony, Hisense, and TCL. You may think that it is an operating system, but it is not:
Google TV is a shell that is installed on Android. This is analogous to any Android smartphone, be it Samsung, Motorola, or Google Pixel: Android is the operating system, and manufacturers make a custom shell for visualization and control on top of Android. The Google TV interface allows the TV user to interact with the TV in a more friendly way.
 Google TV integration with other devices
Google TV is mainly for those who want to utilize Google's digital ecosystem. Google TV allows you to combine your Android smartphone, Chromecast streaming device, and TV into a single network that can include other devices such as cameras, door locks, and other smart home devices.
Google TV for TVs
Here's what you can get if you have a TV with Google TV.
Watch everything on one screen; you can find what to watch without going from app to app.
Store apps like Hulu, Netflix, and HBO.
Live streaming with over 800 channels, including Pluto TV and Tubi.
Access to apps built for Android – over 10,000. 
You can create user profiles on your TV. Within each profile, you can make lists and sort channels and apps as you see fit.
Google Assistant voice assistant
How does Google TV work?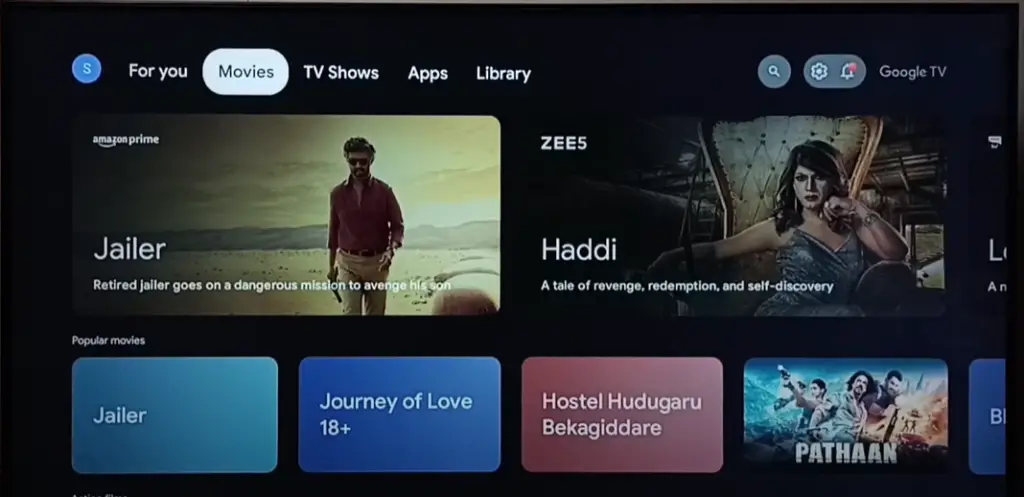 Whether you buy a Google TV-enabled TV or a Chromecast with Google TV, the experience is about the same. All Google TV-enabled devices require an Internet connection. Some devices, such as TVs, offer the option of using an Ethernet cable for a wired connection, but they all work with Wi-Fi. Setting up Google TV is pretty simple. You can download the Google Home app to your mobile device for the fastest possible experience, but you can also do it directly from your TV or streaming device. What's more, having a Gmail account simplifies the process.
Once you turn on your TV, you'll see the Google TV home screen. The home screen displays a slideshow with various movies and TV shows recommended based on your viewing preferences ("For You" tab). It may also include advertisements for the latest movie releases. Below is the "Best for You" column, another recommended content list, followed by "Your Apps ."The platform also includes a "Highlights" tab for collecting personalized entertainment information, usually news and reviews about important or upcoming games that Google thinks you'll enjoy.
Google TV uses machine learning to improve the accessibility of content targeted to the viewer. Google analyzes what you're searching for watching and suggests similar content. This allows Google to respond or provide users with accurate information about movies, TV shows, historical facts, and more. The interface is divided into several tabs that allow users to browse movies, shows, apps, and purchased content.
Google TV aims to ensure that users never have to go into apps to watch their favorite content. With a button, you can easily switch between apps or channels; you don't have to search for an app and log in every time. Google TV features multitasking, and if you open an app, it will continue to run in the background.
Parental controls are also built into the interface, allowing parents to create separate profiles for their children. The kids' profiles are tied to the parents' account, so they don't have to worry about their email address and password. There's also Google Family Link, where you can set recommendations for kids to use Google apps and devices. For example, Google TV parental controls allow parents to set screen usage times, lock and unlock profiles, and set rating limits.
Google TV updates
How often is Google TV updated? You should know that the available applications and channels list is updated automatically every time you turn on your TV.
But the Google TV shell itself is updated less often, and, as a rule, it happens together with the Android update. The initiator of the update in TVs is not Google but TV manufacturers. After Google releases an update, engineers test the new update on test TVs, looking for bugs and adapting the shell to the specific TV model. Once testing is complete, new firmware is created, which can include Android and Google TV updates, and then the update is downloaded from the TV manufacturer's servers to the TV.
How to update Google TV
The update procedure depends on the TV manufacturer. But the update path is generally straightforward and always happens through settings. Below is the update path for some TVs with Google TV:
Sony TV: Settings → Device Settings → About → System Update
Hisense TV: Settings → System → About → System Update
TCL TV: Settings → System → About → System Update.
Once the update is started, the TV OS will access the manufacturer's servers and check for updates; if updates are available, you will be prompted to download. Download the update; once downloaded, the TV will install the update.
What version of Android does Google TV run on?
Because Google TV is a shell, it works with any version of Android, starting with Android TV 10. Google TV started to be installed on TVs in 2021 when TVs were running version 10 of Android, but some devices were already running version 11. In general, no matter what version of Android Google TV is running, you won't be able to install this shell on your TV yourself.
For example, 2023 TVs will run a combination of Android 11 and Google TV. Chromecast 2023 devices run Android 12 and Google TV.