If you have a device with a DisplayPort output, such as a laptop, and you want to connect it to a monitor or TV that only has HDMI ports, you need to know some specifics about the signal transfer from DisplayPort to HDMI.
Step 1: Find out what type of DisplayPort you have
First, you need to find out what type of DisplayPort is installed on your device from which you want to transfer video. To do this, do the following.
Determine what type of port is installed – standard or mini port.
Look to see if the port is labeled D++. This is very important.
If it does not say D++, then the port does not support automatic video to HDMI conversion. You need an adapter with a chip that will convert the signal.
If it says D++, the port supports automatic conversion to HDMI. You need a passive cable.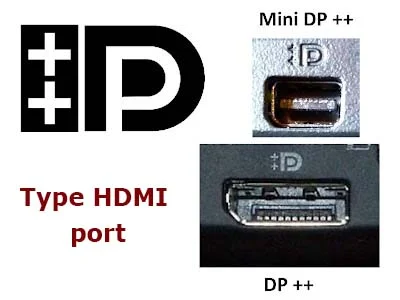 Step 2: Find the DisplayPort to HDMI cable or adapter you need.
The device does not have D++ next to the port. You need to buy a special adapter, you need an active adapter. This adapter has a special chip that converts video to HDMI format. Depending on the port size on your device, you need either mini DisplayPort or DisplayPort to HDMI.
Your device has a D++ label next to the port, in which case you only need a cable. Measure how long you need the cable and buy a DisplayPort to HDMI cable.
How to Choose the Right DisplayPort to HDMI
DisplayPort to HDMI cables and adapters are available in large quantities, to choose a quality product, follow very simple tips.

Pay attention to the description, a quality cable or adapter has gold-plated contacts, gold does not oxidize and does not lose its conductive properties over time.
Read reviews of the product by previous buyers.
If you need a long cable of 20-60 feet, that cable must be shielded.