I haven't used cash much in the last couple of years. However, I recently found myself having a few bucks in my pocket and realizing that I couldn't place an order with Uber Eats because they just don't accept cash.
I did a little research online and discovered that they do accept cash, just not in my area. That's a pretty unfortunate limitation. If you are interested in the short answer to the question, can you pay with cash in Uber Eats? Yes, it is possible, but it is unlikely you will ever be able to use it. The number of countries where you can do it is very small, and the U.S. or UK is not one of them.
Let's take a closer look at cash payments in Uber Eats.
Does Uber Eats take cash?
As mentioned, the short answer to that question is yes, but with significant regional limitations.
Regarding paying with cash on Uber Eats, it's important to note that this option is not available in all countries. Unfortunately, the United States and the United Kingdom are among the countries where cash payments are not accepted. However, in many other parts of the world, including countries like Brazil, Egypt, India, Indonesia, Malaysia, Peru, and South Africa, customers have the flexibility to pay for their Uber Eats orders in cash.
For those living in countries where cash payments are accepted, it's a straightforward process. After placing your order on the Uber Eats app, you must select the cash payment option during the checkout process. When the delivery driver arrives at your location, you simply hand over the exact amount in cash to complete the transaction. It's important to have the exact change ready since Uber Eats drivers may not carry change with them.
How to pay cash in Uber Eats
Paying with cash on Uber Eats is a simple process if you are in a country where this payment option is available. Here's a step-by-step guide on how to pay cash for your Uber Eats order:
Browse through the available restaurants and select the items you wish to order. Add them to your cart and proceed to the checkout page.
On the checkout page, you will see the available payment methods. If cash payment is accepted in your country, you should see a cash option among the payment choices. Select the cash option to indicate that you will be paying with cash.
Once you have selected the cash payment option, review your order details to ensure everything is correct. Make any necessary adjustments and proceed to confirm your order.
After confirming your order, you will receive updates on its preparation and delivery status. When the delivery driver is on their way, you will receive a notification with the estimated arrival time.

It's important to have it ready to hand over to the delivery driver. Uber Eats drivers may not carry change, so having the correct amount will ensure a smooth transaction.

When the delivery driver arrives with your order, hand them the exact cash amount. The driver will verify the payment and complete the transaction.
Remember, Uber Eats encourages cashless transactions for safety and convenience. Cash payments are an option to accommodate customers in regions where cash is commonly used or preferred.
In which countries Uber Eats accepts cash
Countries where Uber Eats accepts cash payments:
Brazil
Egypt
India
Indonesia
Malaysia
Peru
South Africa
Please note that the availability of cash payments may change, and it's recommended to check the Uber Eats app or website for the most up-to-date information regarding payment options in your location.
While cash payments are not currently accepted on Uber Eats in countries like the United States and the United Kingdom, the service may introduce this payment option in the future to accommodate the preferences and needs of customers.
What payment options are available in Uber Eats other than cash
Uber Eats offers various payment options to cater to the needs and preferences of its customers. Here are some of the payment methods available on Uber Eats, apart from cash:
Card Payments: Uber Eats accepts credit and debit cards from major providers such as Visa, Mastercard, and American Express. Customers can securely link their cards to their Uber Eats account and conveniently pay for their orders with a few taps on the app.
Digital Wallets: Popular digital wallets like Apple Pay and Google Pay are accepted on Uber Eats. Users can make seamless and secure payments using their linked payment methods by adding their digital wallet accounts to the app.
PayPal: Uber Eats supports PayPal as a payment option in select countries. Customers with PayPal accounts can link them to their Uber Eats app and use their PayPal balance or linked cards for a convenient and secure checkout process.
Venmo (US only): Uber Eats integrates with Venmo, a popular peer-to-peer payment platform in the United States. Users can link their Venmo accounts to the Uber Eats app and pay for their food orders using their Venmo balance or linked funding sources.
Uber Gift Cards: Uber Eats accepts Uber gift cards, which can be used to pay for both Uber rides and Uber Eats orders. Customers can redeem their gift card balance by applying it to their Uber Eats account during checkout.
Uber Cash: Uber Cash is a digital payment method allowing users to load funds into their accounts and use them to pay for Uber rides and Uber Eats orders. Uber Cash can be purchased through the app, received as rewards or promotional credits, or obtained through specific partnership programs.
In addition, Uber also has different regional services for payment. For example, in Poland, you can pay with BLIK (a payment system with a bank app without a card).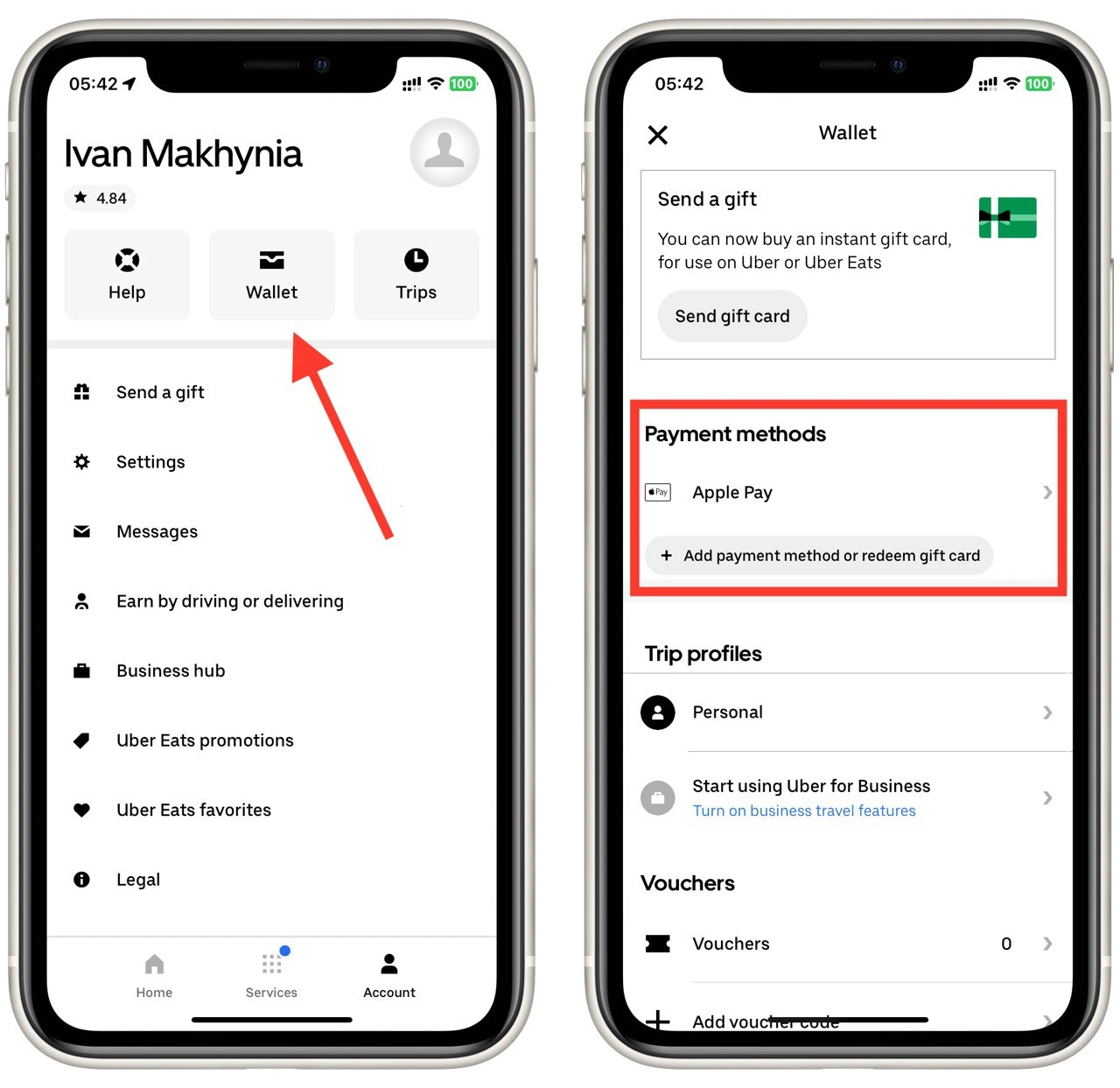 The best way to check the payment methods available in your region is to use the Wallet button in the Profile tab.
What is Uber Cash?
Uber Cash is a digital payment feature that Uber offers and is integrated into various Uber services, including Uber Eats. It allows users to preload funds into their Uber account, which can then be used to pay for rides or food orders on Uber Eats.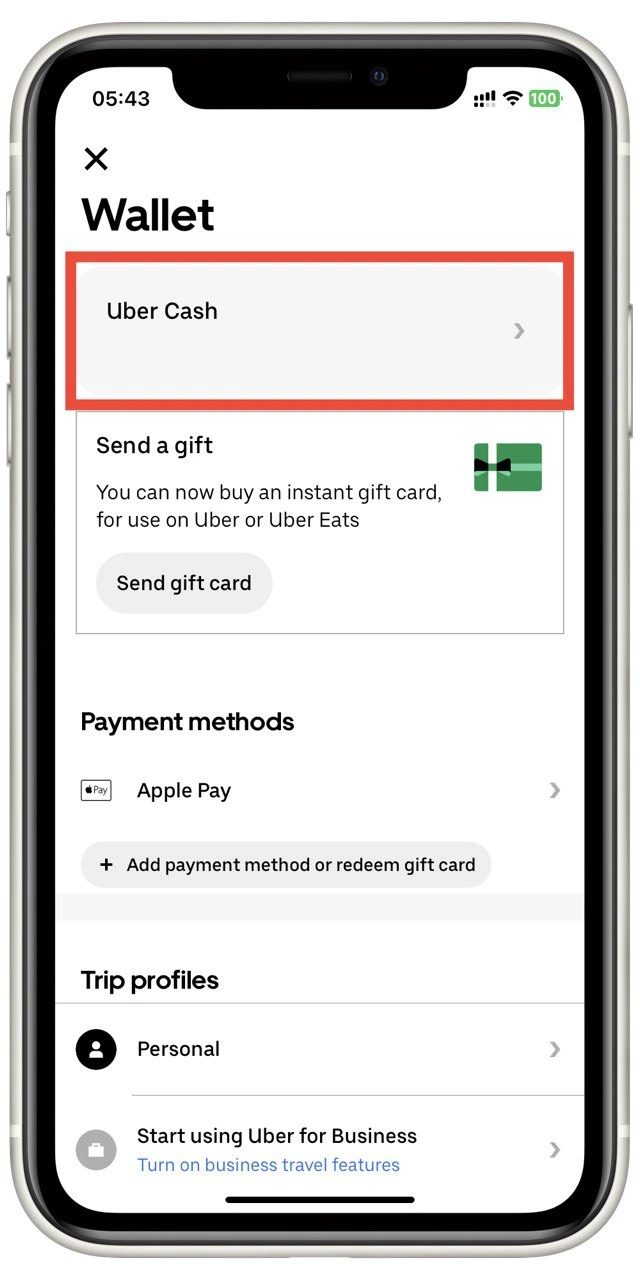 With Uber Cash, users can add a specific amount of money to their account through direct purchases or by receiving credits and rewards. These funds are stored in the user's Uber Cash balance and can be accessed whenever they use Uber services.
One of the primary benefits of Uber Cash is its convenience. By preloading funds, users don't need to worry about having enough money on their credit or debit cards at the time of payment. It streamlines the checkout process and ensures a smoother experience for Uber Eats customers.
Should you tip your Uber courier with cash?
Uber Eats provides an in-app tipping feature that allows customers to add a tip for their delivery driver directly through the app. This feature provides a convenient and transparent way to show appreciation for the courier's service. When placing an order, customers can select a predetermined tip amount or enter a custom tip.
However, it can be an alternative option if you prefer to tip in cash. Cash shipping allows you to provide a physical gratuity directly to the courier upon delivery. Some customers prefer cash tips as they give them a sense of control and allow them to hand over the tip personally.
It's important to note that Uber Eats drivers typically receive the full amount of tips provided, regardless of whether they are given in cash or through the app. The in-app tipping feature ensures drivers receive the tips they deserve for their service.