The use of wireless devices has long been commonplace for many users. Various Bluetooth headsets or speakers, as well as multiple watches or, for example, Bluetooth fitness trackers.
You can connect most of your smart devices to your phone using wireless Bluetooth technology. It can be done relatively quickly and conveniently.
But what if you're out with a friend and want to let them listen to your favorite song? In the past, you could give them one of your earphones. But many users have begun to wonder if connecting two pairs of headphones to the iPhone simultaneously is possible.
Is it possible to listen to music using two pairs of headphones on one iPhone?
If you want to share your headphones with a friend to listen to music together, e.g., in a busy airport or cafe, you have given him one of your earmolds. However, this nuisance is a thing of the past, thanks to a new function in your iPhone.
Not so long ago, Apple introduced a feature called Audio Sharing. This feature allows you to connect two pairs of headphones to one device and use them to listen to the same audio track simultaneously.
The cool thing about this feature is that both users can have separate volume controls when they use it. So if you like to listen to music at low volume, and your friend always turns the volume up to maximum, it won't be a problem for you.
This feature was released without much publicity. It was added to iOS 13. Apple said in a statement, "With the latest version of iOS or iPadOS, you and your friend can listen with AirPods or wireless Beats headphones to audio from your iPhone or iPad.
How to use the Audio Sharing feature
To use this feature, you must have your iPhone, iPad, or iPod touch. Also, this function will only work correctly with headphones: AirPods, AirPods Max, AirPods Pro, or Beats.
List of compatible Apple devices and Bluetooth headphones for listening to music together (two Bluetooth headphones).
| Compatible iPhone, iPad, and iPod touch models | Compatible headphone models |
| --- | --- |
| iPhone 8 and later | AirPods Max |
| iPad Pro 12.9-inch (2nd generation) and later | AirPods Pro (1st generation) and later |
| iPad Pro 11-inch | AirPods (1st generation) and later |
| iPad Pro 10.5-inch | Powerbeats |
| iPad Air (3rd generation) and later | Solo Pro |
| iPad mini (5th generation) and later | Powerbeats Pro |
| iPad (5th generation) and later | Powerbeats3 Wireless |
| iPod touch (7th generation) | Beats Solo3 Wireless |
| | Beats Studio3 Wireless |
| | BeatsX |
| | Beats Flex |
| | Beats Fit Pro |
Further, the use of this function is quite simple. You need to:
First, connect the headphones to your Apple device. In the case of AirPods, it's pretty easy to do. You need to open the case near your Apple device, and the headphones themselves will attach to it.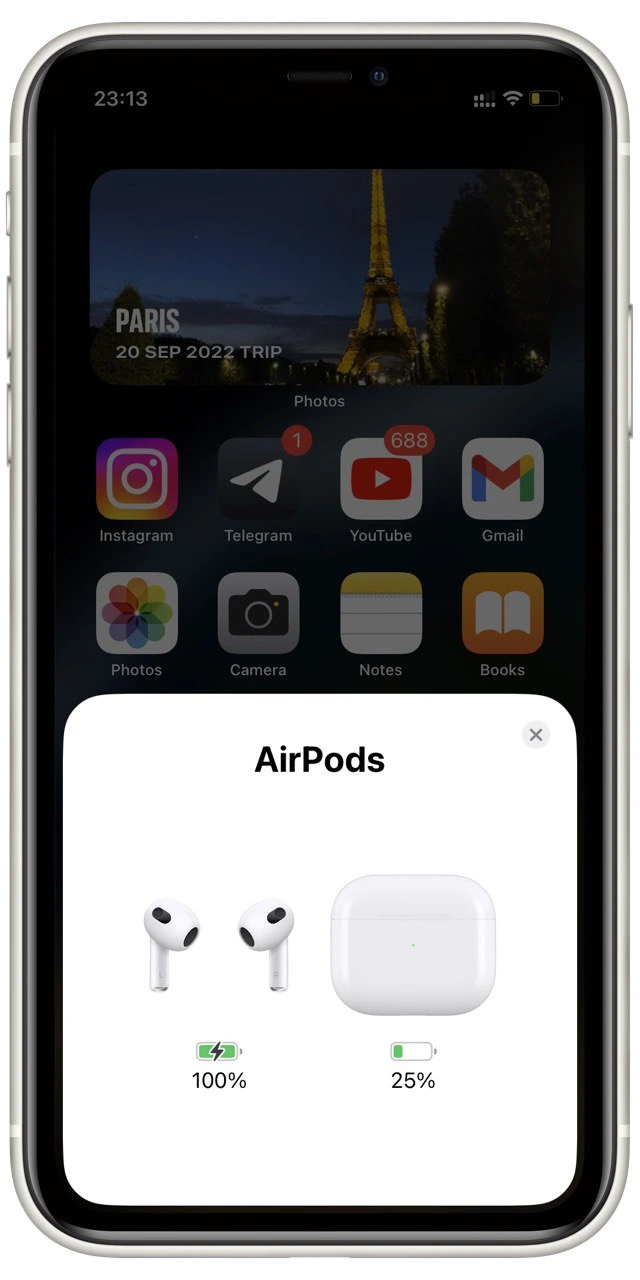 Next, open the control center. To do this, you need the following:

Swipe up from the bottom for iPhone 8 or earlier.
Swipe down from the top right corner for an iPhone X or later.

In the control center, you can find the AirPlay icon next to the track you're playing. (This icon will also be available on your lock screen or in the app playing the way).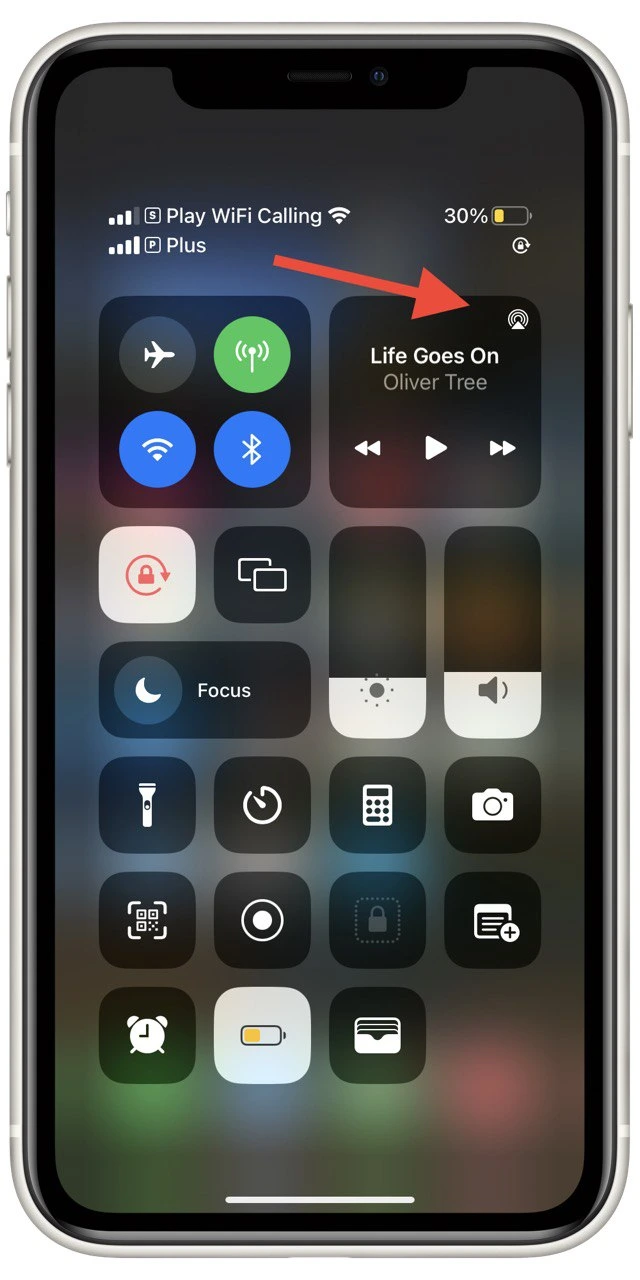 Then you need to click on the Share Audio button.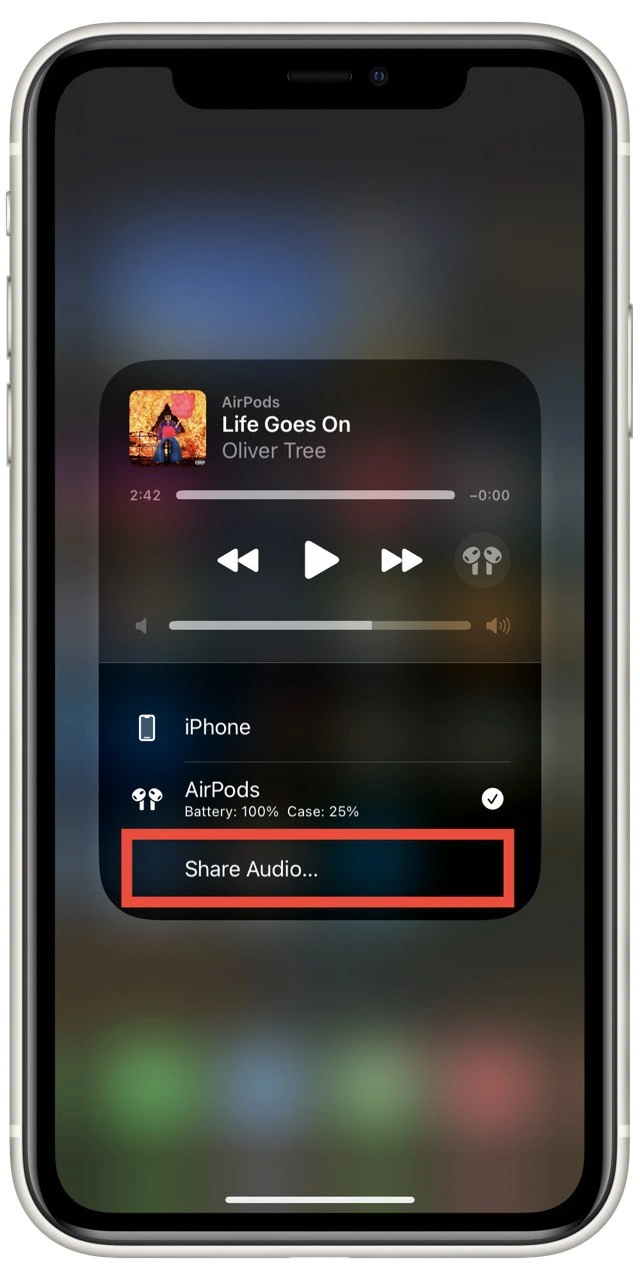 If your friend has AirPods or AirPods Pro, bring them close to your device by holding the AirPods inside the case with the cover open, or if they use AirPods Max, get them close to your device.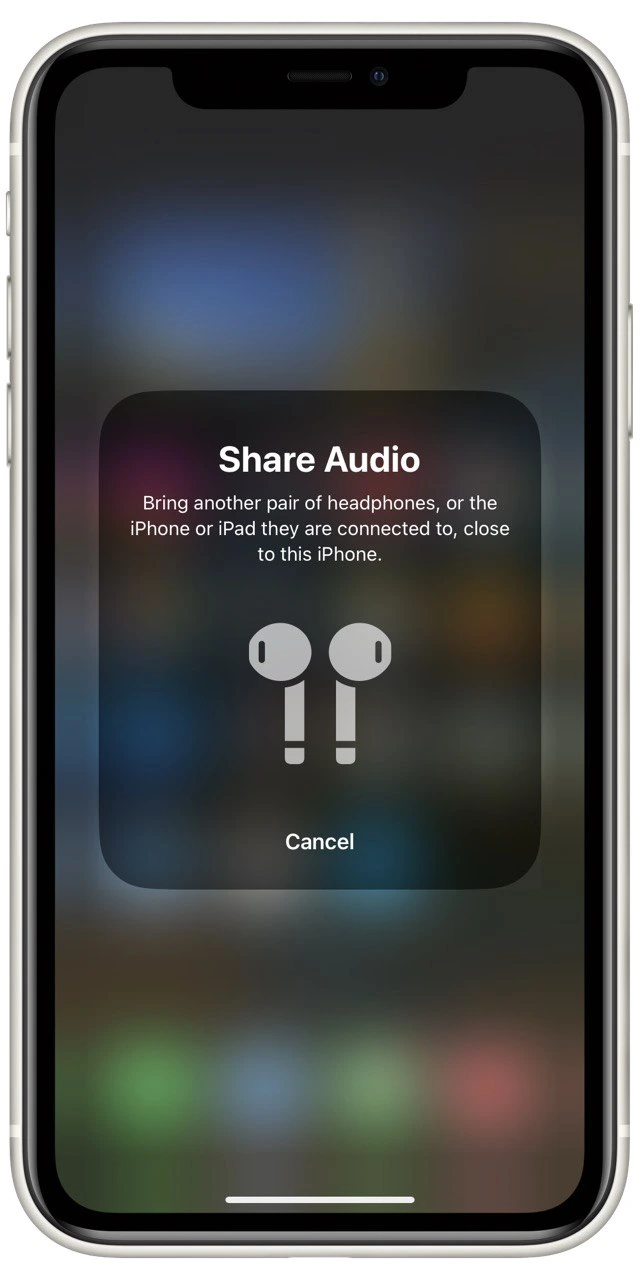 Your friend's headphones will now appear on your device's screen. Just tap on Share Audio to start sharing.
You can use the corresponding buttons in Control Center on your iPhone or iPad to change the volume, play or pause the audio. To increase or decrease the volume, move the slider for one of the pairs of headphones. You can also drag the volume slider at the bottom to control the volume of both headphones.
If you want to stop sharing, touch the AirPlay icon and click on the checkbox next to the headphones to stop sharing.
Can you use Audio Sharing with Apple TV?
If you have an Apple TV at home and want to watch a show or movie with a friend at night, but you don't want to wake up the neighbors, you can connect your headphones to the receiver and thus watch the content in silence the people around you. It's pretty easy to do. You need to:
Press and hold the Home button on the Siri Remote to open the Control Center.
Then select Audio Control.
Swipe down to Headphones, then select the headphones you want to use.
Select Share Audio, then follow the on-screen instructions to pair the second pair of headphones.
The condition for this function is that you have to use the Apple TV with the appropriate headphones. These include AirPods, AirPods Max, and Beats headphones. Third-party headphones may not be supported or may work with problems.
What AirPods should you choose?
A frequent question people ask me is which AirPods they should choose. Because right now, on Apple's website, you can choose from 4 AirPods. You can select AirPods 2nd Generation, AirPods 3rd Generation, AirPods Pro 2nd GenerGenerationAirPods Max. They all differ in their design functionality and price. Let's look at these headphones to see which is best for you.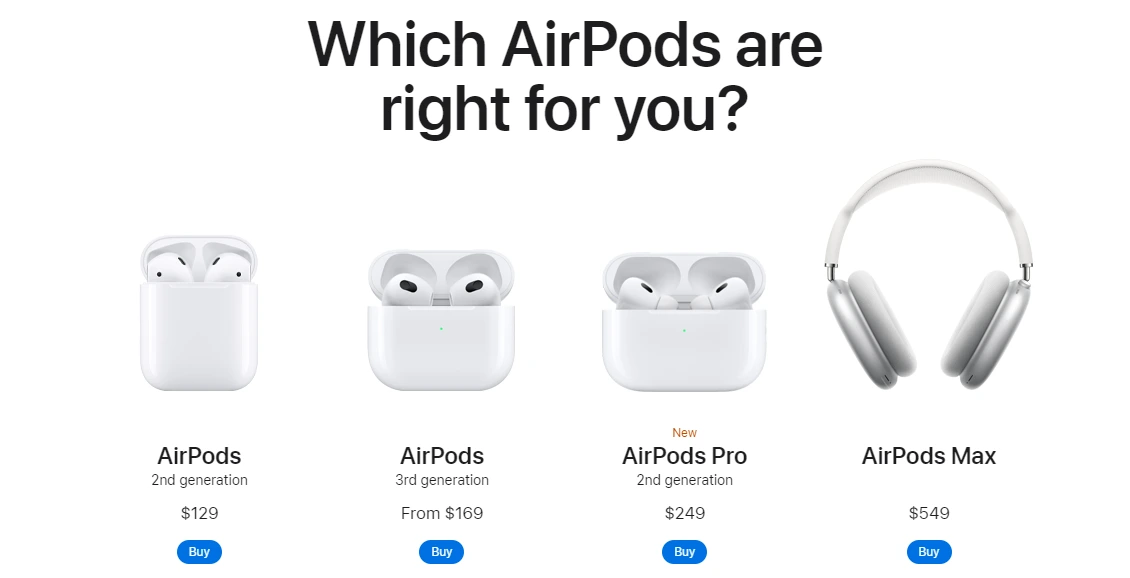 First, let's look at the most expensive and biggest AirPods Max. They are made like regular full-size Bluetooth headphones. You'll have to pay $549 for them. I'd say that's pretty expensive. If you want full-size headphones, this is your only choice if you want a device from Apple. Buying them gives you 20 hours of battery life, surround sound, and active noise cancellation. If you don't necessarily need Apple headphones, I would advise you to look at other models, such as Beats Solo 3.
On the other hand, we have cheaper versions of AirPods Pro in-ear headphones. They also have noise cancellation and surround sound. They work up to 6 hours without recharging and 30 hours with an entire charge case. Also, unlike the classic AirPods, they have silicone earmolds instead of an all-plastic design. They will cost $249.
But if you want to save even more money, you might want to look at the 2nd generGenerationods or the 3rd generGenerationods. They differ in design, and the 3rd generation AirPods have to surround sound. Also, the 3rd generation AirPods have up to 6 hours of battery life, while the 2nd generGenerationonly has 5 hours. They will cost $129 for the 2nd generGenerationods and $169 for the 3rd generGenerationods.
I use the 3rd generGenerationods and think they are the most successful. At a fraction of the cost, they are more comfortable than the 2nd GenerGenerationwill gives you sound as good as the AirPods Pro. I advise you to come to the store and try all of them to find out what will be more comfortable in your ears.