When I started writing this article, the answer was, "No, you can't browse a Facebook Marketplace without an account." But there's a way. But it's not as straightforward.
What's written in all articles about this topic? Go to Facebook Marketplace (facebook.com/makretplace), and you can see items, check them, and search for them, but to buy them or contact the seller, you need an account.
Is that true? Not at all.
As of July 11, 2023, there's no way to access Marketplace directly without an account. When you try to access the Marketplace on the main page this way, you will be redirected to the Login page.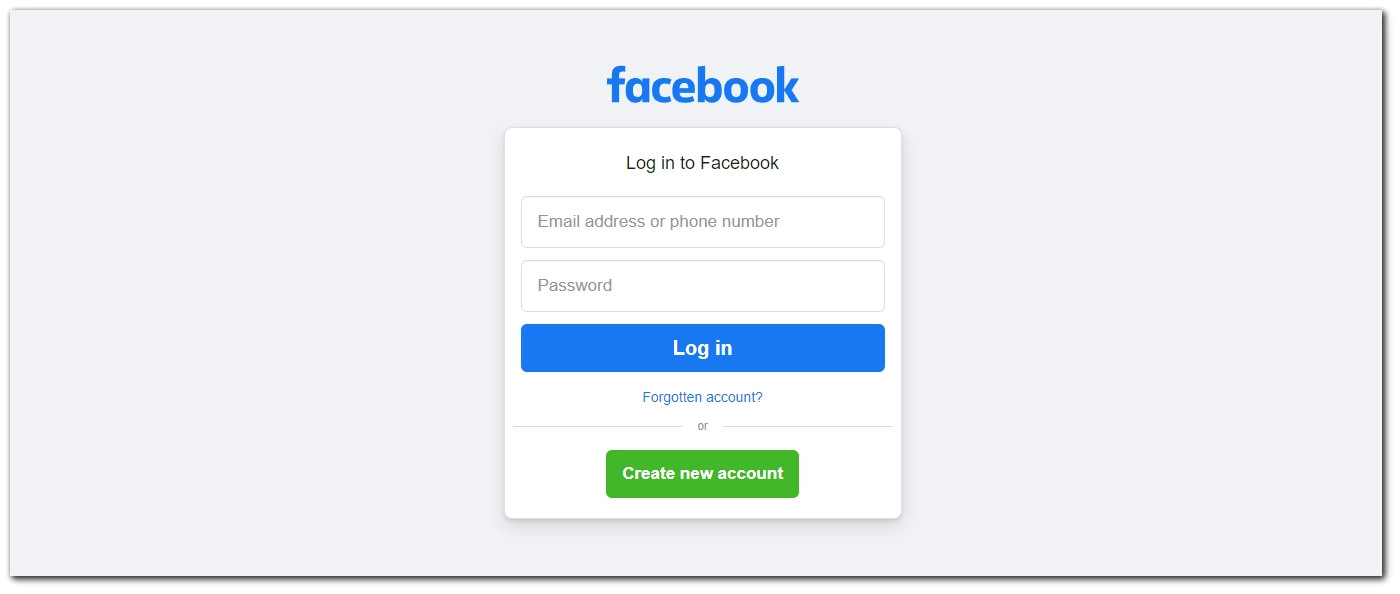 There's a guide on How-To Geek that tells you can do so, it seems such an option was available previously, but now it's not.
I tried getting to Marketplace as described in their guide and used an anonymous VPN to try different locations. And it didn't work; you always get a redirect to the login page.
The only location this worked for is Germany; our colleague got in there without an account, but she constantly gets a pop-up window that requires her to log in first. So even in Germany, you can't use it without a login.
So there's no way? Actually, there is one. And it works.
How to use Facebook Marketplace without signing in
I'm currently in Poland, and the only way to access Facebook Marketplace without an account that I found is to search for a Marketplace location and go directly there.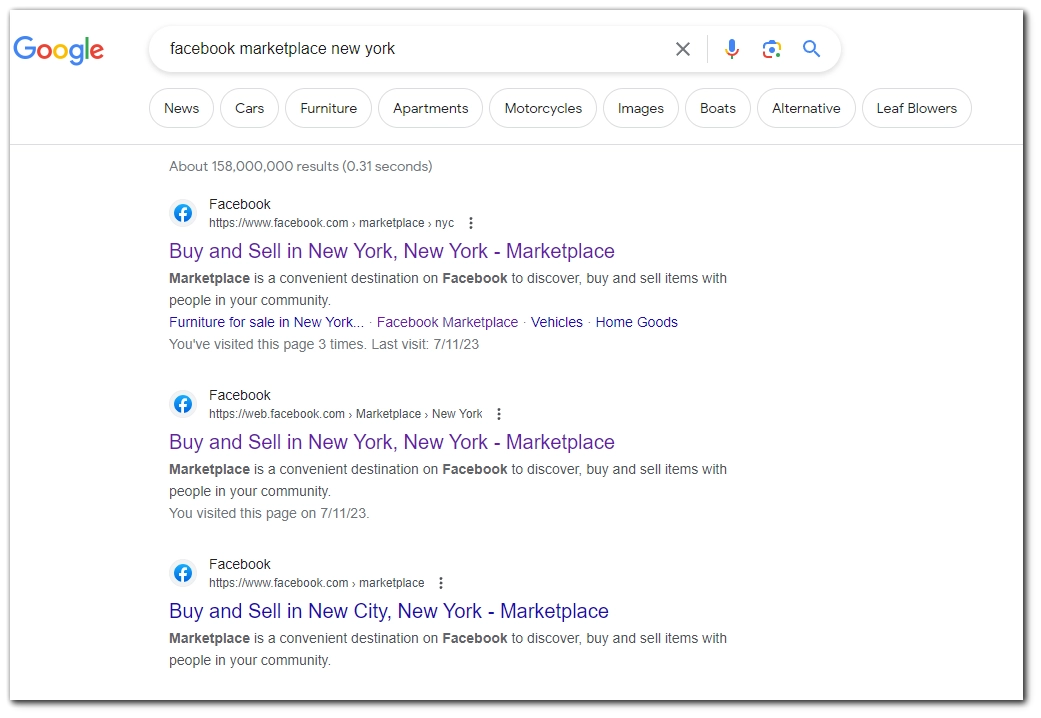 You can go to facebook.com/marketplace/nyc, and the marketplace will open (therefore, you just need to open the marketplace not on its homepage but with the current city in address). Here, you can change location.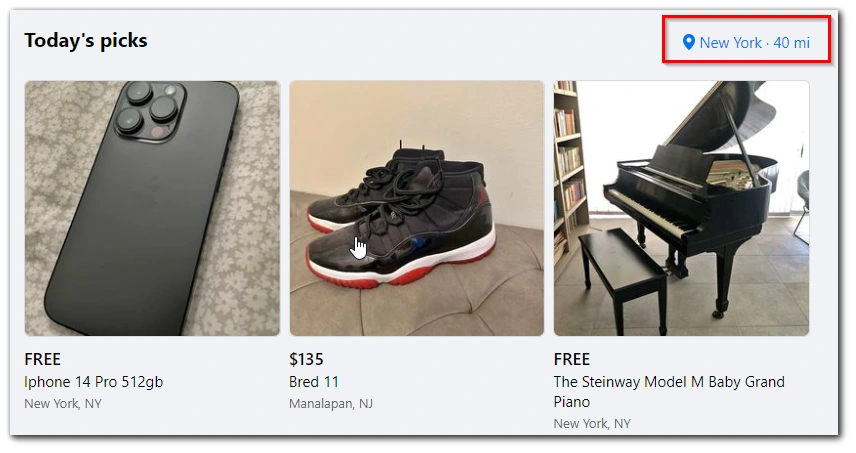 In my case, this method works for Polish locations like Warsaw (but I can also change the location to any other place inside Poland).
It works; I can navigate categories, search, and check item details. So you can do the same way: look for something by category, apply filters, or search by item name. All of these things work.
But you need an account to message the seller or save an item. Or you can ask your buddy to buy something for you.
Sometimes Facebook may load a pop-up window like this:

And sometimes, it gets stuck and keeps refreshing after you press OK. So you need to close the tab (you can copy the URL before) and reopen the page.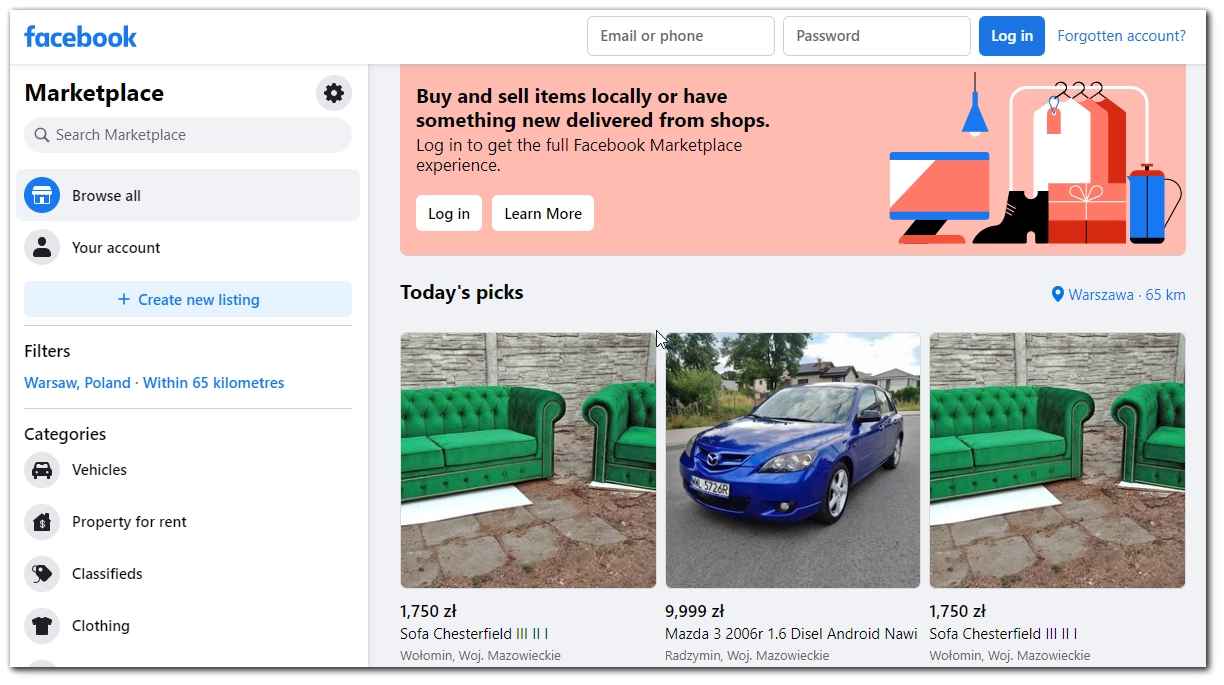 Also, using the method above, you may have a problem when items simply aren't loading on the main page for your location. This happens when I try to open a location outside of Poland.
For example, for me, the New York City marketplace looks like this: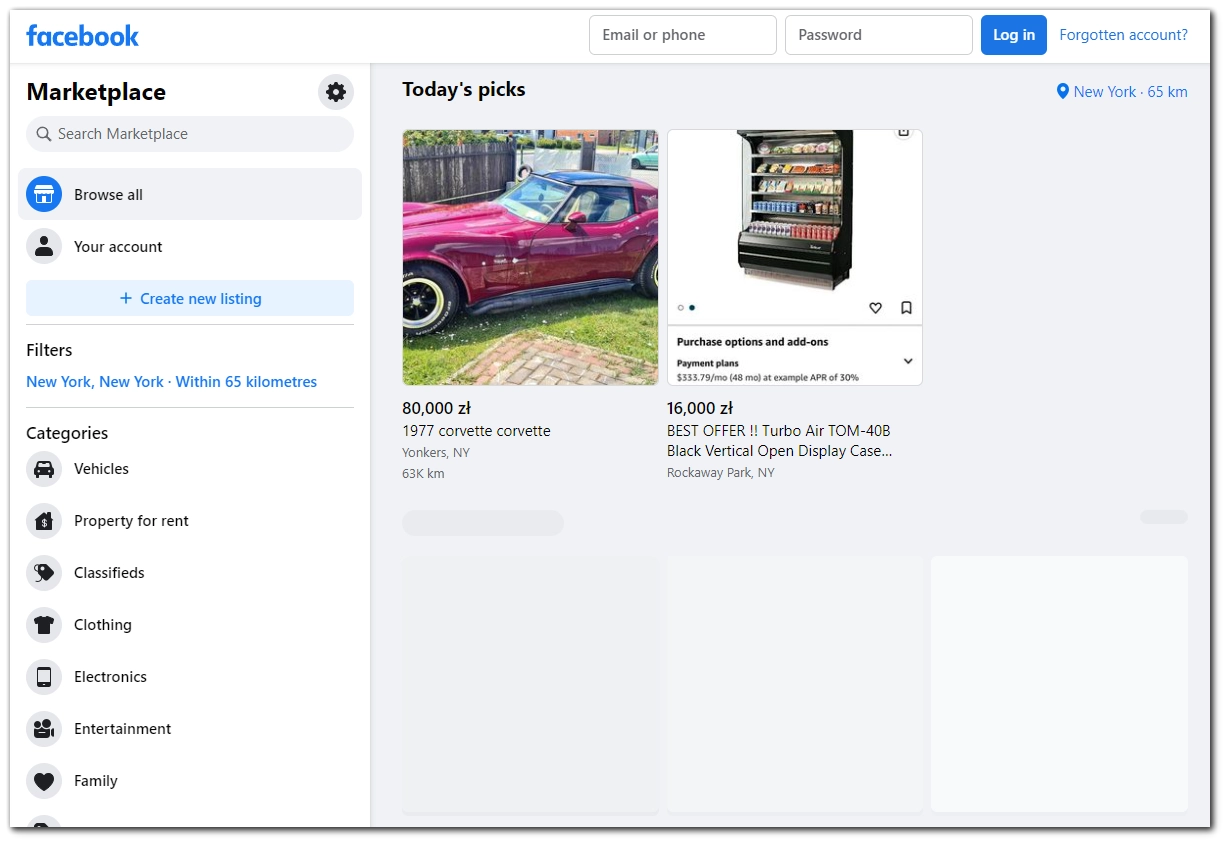 I think that because I'm in Poland now. If you're in the country you want to buy items in, there would be no problems.
But even if you have the same problem as me, you can still use search or navigate by category, and everything works there, no matter your physical location and chosen location on Marketplace. For example, I can see all iPhone 14 listings in Chicago.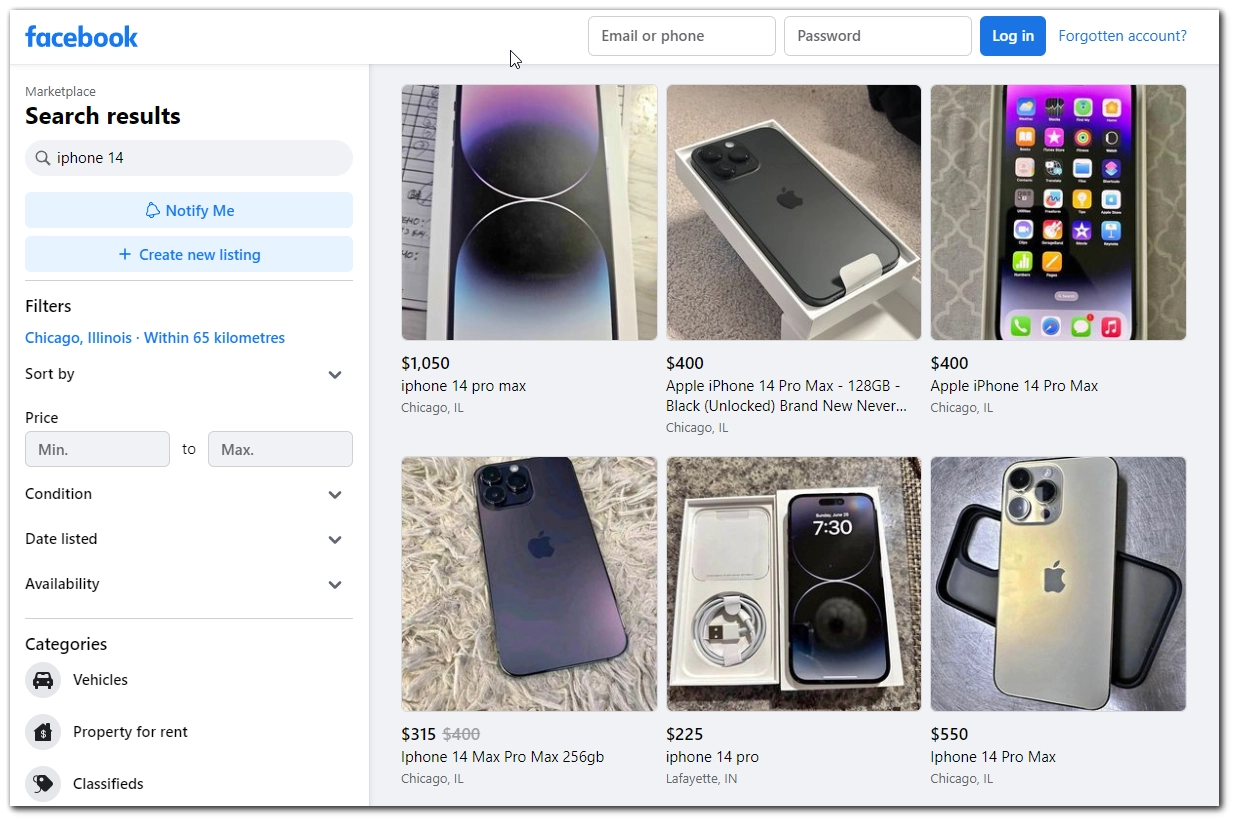 Is there any reason to use Marketplace without signing in?
I doubt that very much. As I see it, there are too many corners to just look at the product, and then if you want to buy, you'll also have to ask someone to do it for you.
Of course, some are convinced that Facebook collects too much data, but I don't think this could be a problem. That's up to you, I don't mind, but it's easier to create a Facebook account and just use it to watch the marketplace without all the hassle of getting to that page without a login.
How to use Facebook just for the Marketplace?
It's really quite simple. Create an account, don't sign up for events, don't add friends, and go into the privacy settings. Just change all the items to Only Me/Friends. Here's what it looks like: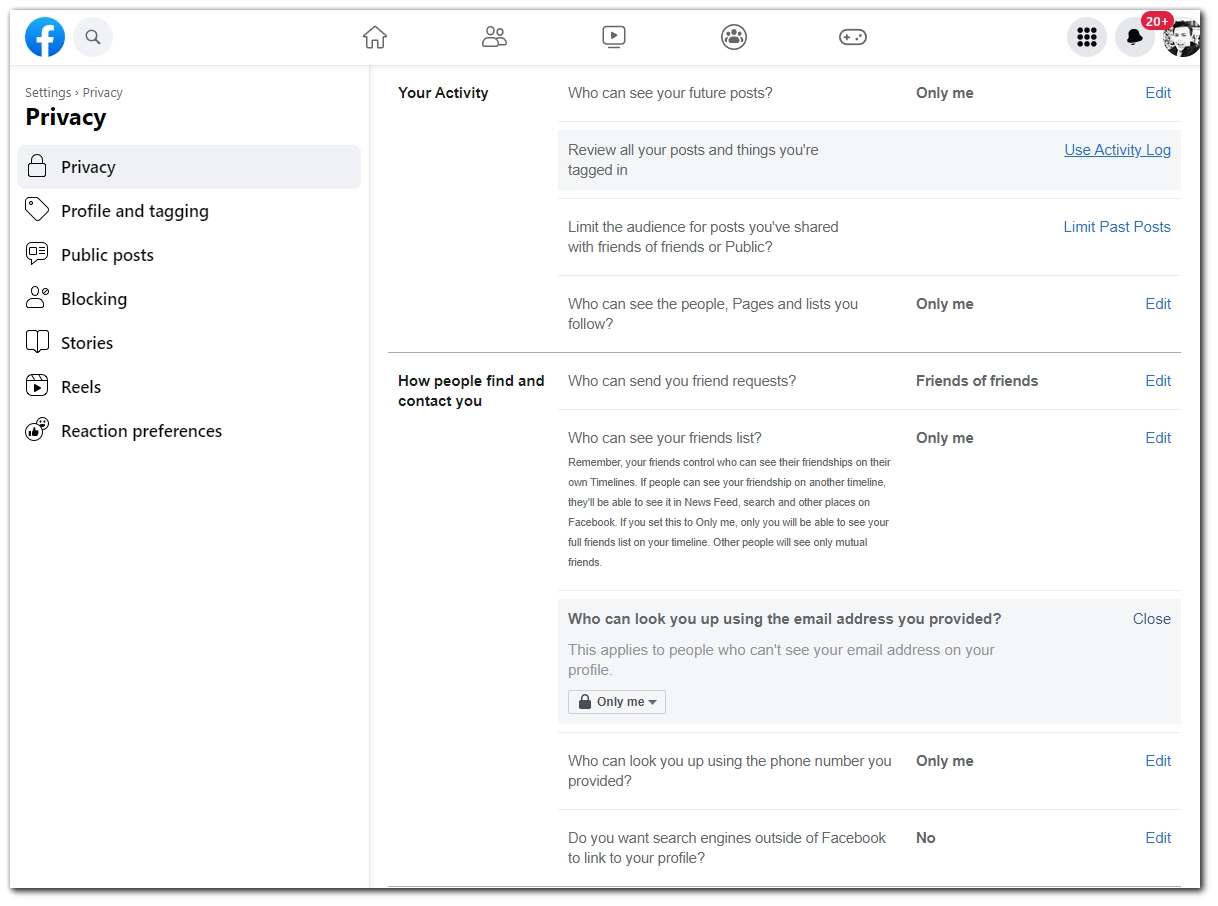 And don't forget to go to Settings -> Notifications -> Email and turn email notifications off. You can leave Marketplace notifications turned on if you wish.