You need to activate your account with an affiliated TV provider for live streaming on ESPN's website or supported devices. Owning an ESPN subscription alone is insufficient without a subscription to an affiliated provider, restricting you to only ESPN.com's video-on-demand clips. Suppose you prefer not to subscribe to a traditional cable provider just for ESPN. In that case, you can opt for network TV services, essentially online equivalents of TV providers, offering access to ESPN.
Do you need a provider to watch ESPN live translations online?
First, you should understand that ESPN and ESPN+ are different. ESPN is a TV channel specializing in sports events, while ESPN+ is a streaming platform where you can watch the same sporting events as video on demand. However, things are a bit more complicated if you are interested in ESPN live events streaming on the web.
To watch them via the website or from any supported device, you must activate your account with one of the affiliated TV providers. Even if you buy an ESPN subscription but don't have a subscription to an affiliated provider, you won't be able to watch ESPN live content. You will be limited to ESPN.com video-on-demand clips only.
If you don't want to sign up for an old-fashioned cable provider for the sake of ESPN, you can subscribe to network TV services, which are essentially the same TV providers but online. These services also offer access to ESPN.
What providers support ESPN live translations
Like I said, if you want to access Live broadcasts on ESPN, you'll need a subscription to an affiliate provider. On the ESPN website, you can check which provider supports ESPN in your region. To do this:
Click on this link.
ESPN will automatically try to locate you and assign a ZIP code. If the assigned ZIP code is incorrect, click "Change my ZIP."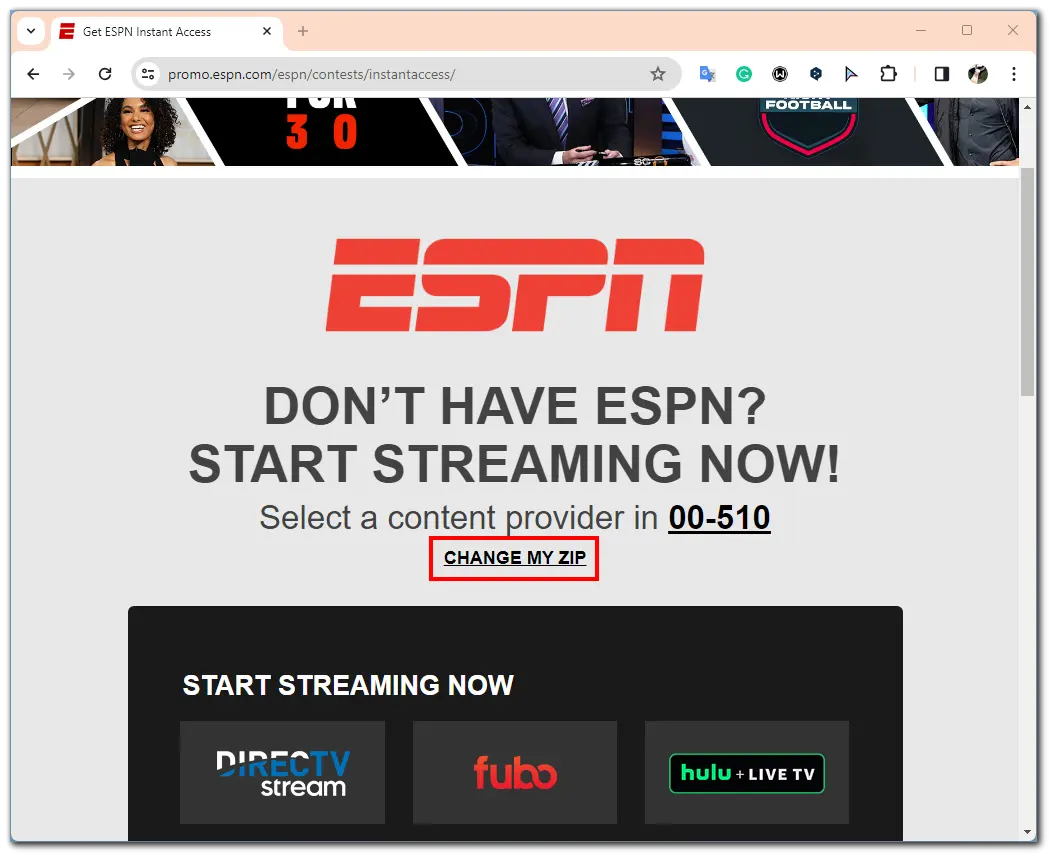 Enter your zip code in the line below and click "Submit."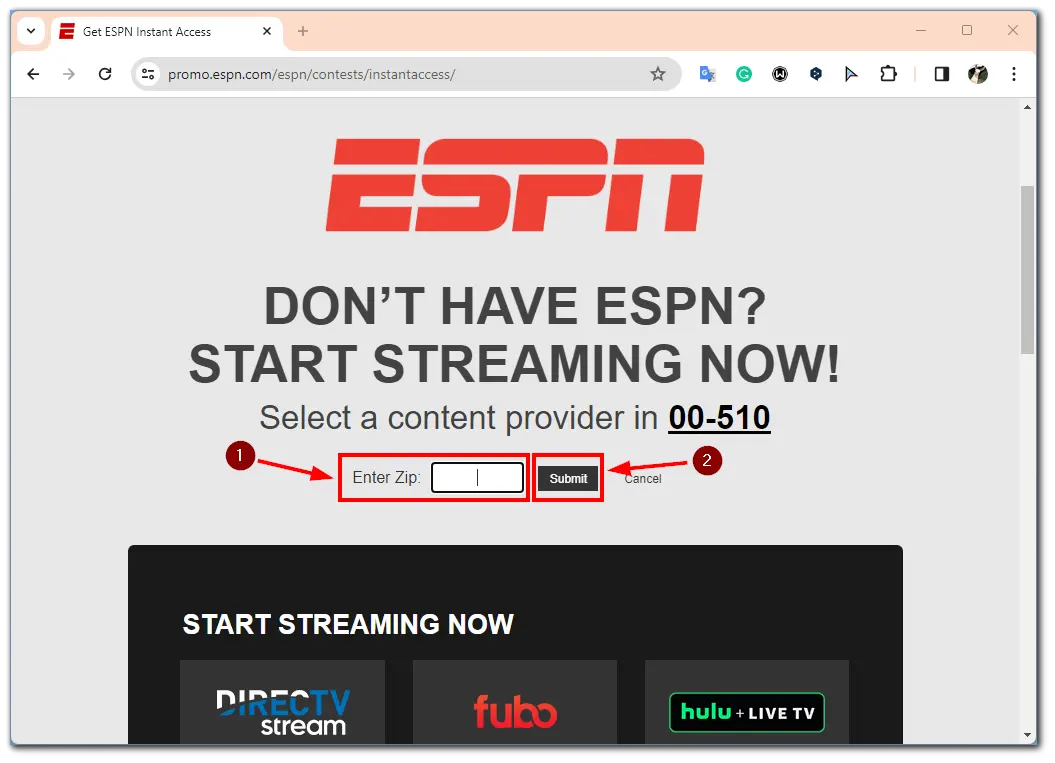 Under "OR, SIGN UP WITH A TV PROVIDER IN YOUR AREA" you will see a provider list that offers ESPN services in your area. You can click on the icon of the provider you are interested in to go to their website and subscribe to them.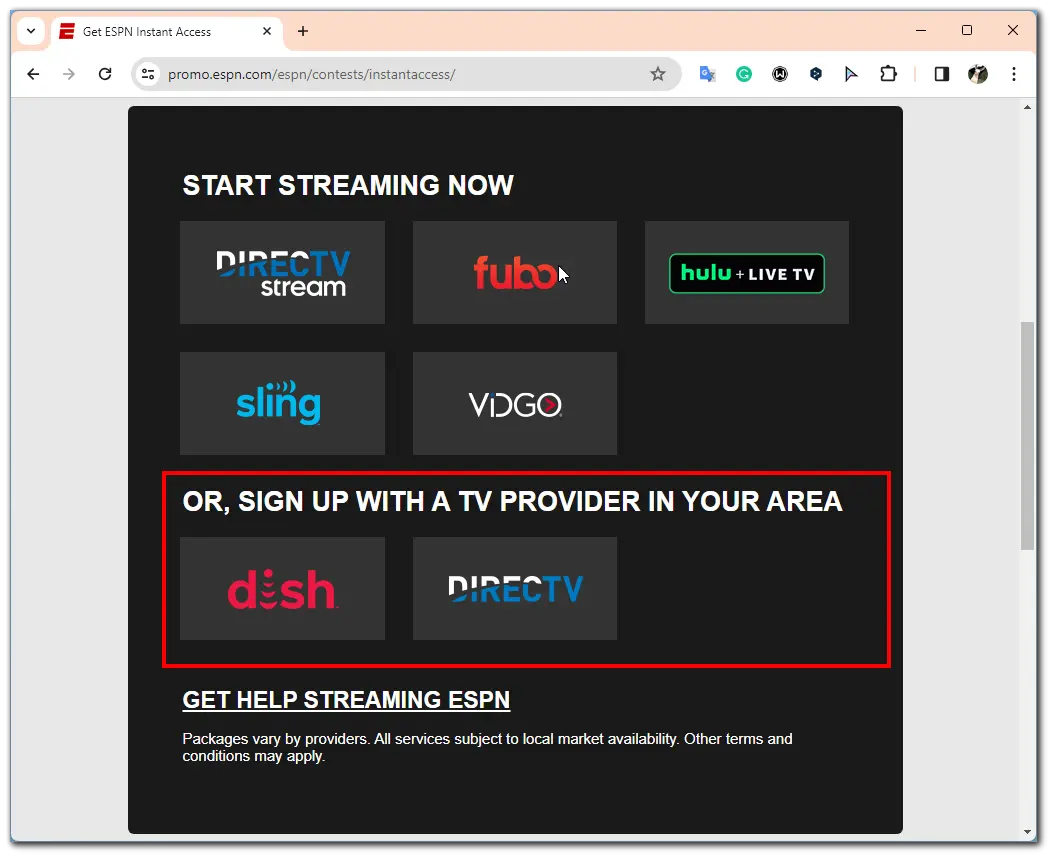 It's also wise to check with your current provider to see if they offer ESPN access. ESPN regularly updates its network of affiliate providers, so there's a chance your provider has already struck a deal with ESPN, even if this information hasn't been updated on the website yet.
What streaming services can let you see ESPN live translations?
For sports fans who wish to watch ESPN live translations but do not have a traditional cable subscription, several network television services offer access to this channel and ESPN's online platform. Here is their brief description: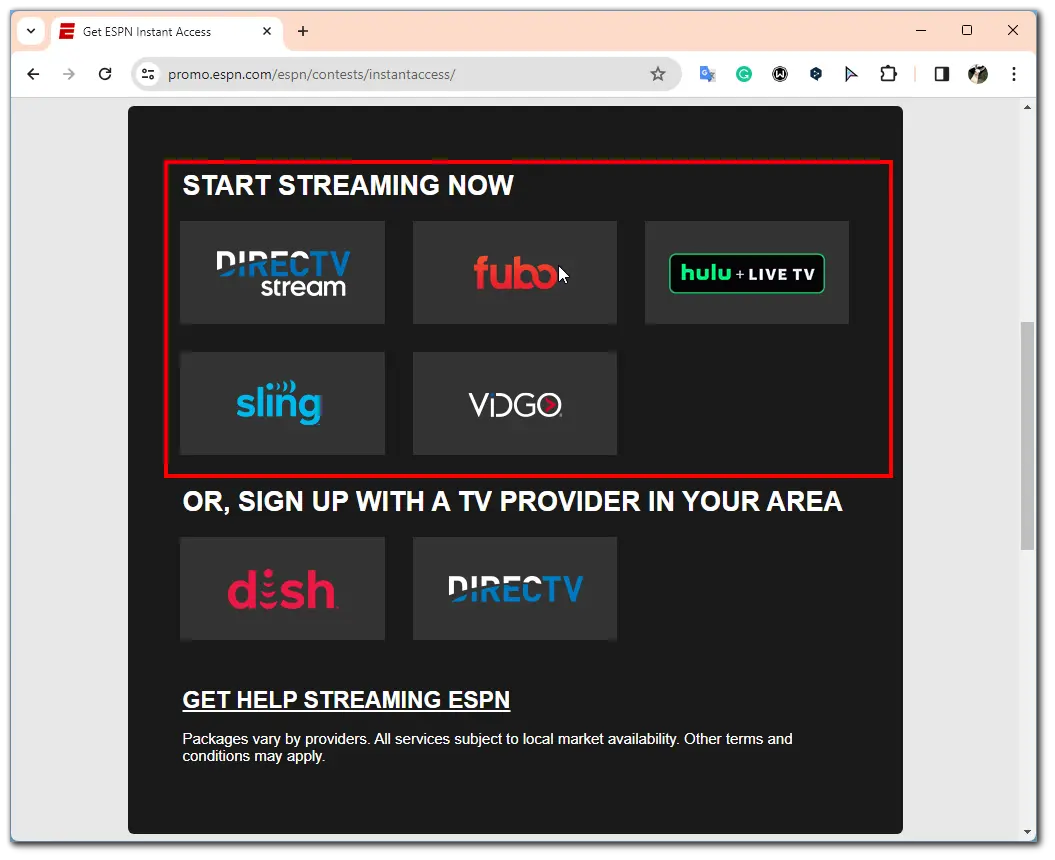 Additionally, there are reports that YouTube TV supports ESPN in its channel offerings. However, it's important to note that this information isn't explicitly confirmed on ESPN's official website. Prospective users should verify this independently to ensure that ESPN is part of YouTube TV's package.