Hisense currently has around 7% market share in the Smart TVs market in the US, placing it in the top-5 TV manufacturers in the US, right behind Samsung, TCL, LG, and Vizio.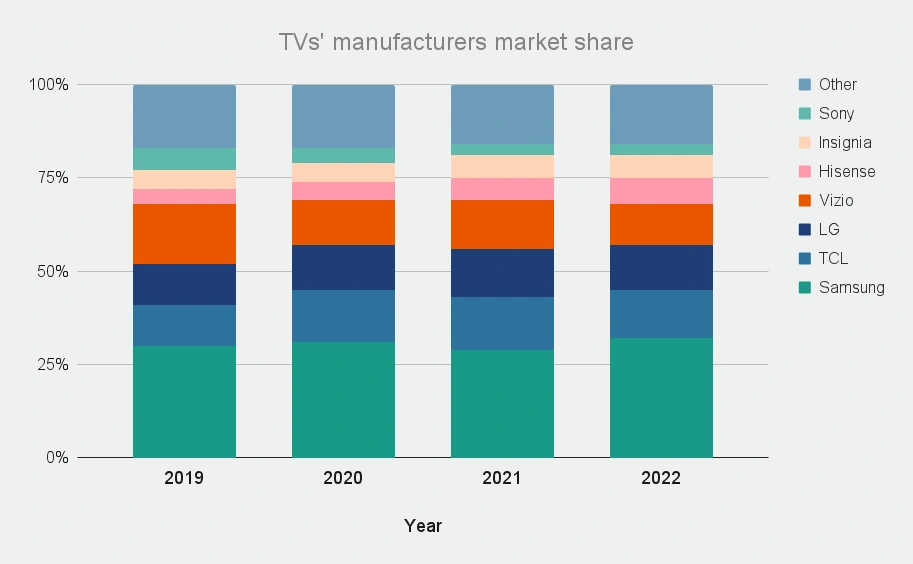 Hisense TVs are made by the Hisense Group, a Chinese corporation that makes TVs, electronics, and home appliances. It was established in 1969 in Qingdao, China, and as of 2022 is the leading TV brand in China; it ranked 1st or 2nd in mainland China, according to different reports (In some reports, it goes right after Xiaomi in China, but in others, it's on the first place) with around 23% market share in mainland China.
In 2022, on the worldwide market, Hisense (10.6%) is also in the top-5, right after Samsung (19.8%), LG (12.2%), and TCL (11.9%). It surpasses Xiaomi (6.7%) and Vizio (6.4%).
So although the brand isn't as well-known in the US as Samsung, LG, or TCL, it has a growing market share in all markets, including the US, China, and worldwide as well.
But the quite low brand awareness in the US leads to constant questions: Who makes Hisense TVs?
And in this article, I will give an answer.
Hisense in brief
Hisense has a rich history that began as an OEM manufacturer, assembling custom TV sets under third-party brands. In the early 2000s, Hisense took a significant step forward by starting to produce TV sets under its own brand. This marked the beginning of the company's journey toward establishing itself as a global consumer electronics brand.
Over the years, Hisense embarked on a series of strategic acquisitions to expand its reach and capabilities. Initially focusing on acquisitions within China, Hisense later expanded its scope to include companies from other continents as well.
One notable acquisition was the TV business of Sharp in North America, which included a manufacturing facility in Mexico.
However, this partnership with Sharp faced challenges, including disputes and lawsuits related to product quality. Consequently, an agreement was reached in 2019 to discontinue the production of Hisense televisions under the Sharp brand.
Another significant acquisition was the TV division of Toshiba.
While the future of the Toshiba brand under Hisense ownership remains uncertain, Toshiba had previously licensed its TV brand to other manufacturers, such as Compal in North America and Vestel in Europe. Toshiba has stated that these licensed manufacturers will continue producing TVs until the license expires, and there is a possibility of renegotiating the terms with Hisense.
The acquisition of Toshiba was likely driven by Hisense's desire to gain access to advanced technology, and the details of the licensing agreements may be negotiated accordingly.
However, such intricacies are typically not widely advertised to consumers, as the buyer may not be aware that Toshiba TVs are no longer manufactured by Toshiba itself but by companies like Vestel and Hisense.
Throughout its history, Hisense has demonstrated a commitment to growth, innovation, and expanding its global presence in the consumer electronics industry.
Is Hisense a Chinese company?
As I said, Hisense is a Chinese company. This brand belongs to the Hisense Group — a multinational appliance and electronics manufacturer headquartered in Qingdao, Shandong Province, China.
As this article is focused on Hisense TVs, I will quickly explain how their business is operated. Hisense Group is a holding company. That means it's used to operate and control other Hisense entities, in full or partially. When it comes to manufacturing, Hisense has 2 big companies, and both of them use the brand Hisense:
Hisense Home Appliances Group. This company develops and manufactures home appliances, including washing machines, air conditioners, refrigerators, and other appliances.
Hisense Home Appliances Group is a public company, and its shares are publicly listed on 2 stock exchanges:
Stock Exchange of Hong Kong (SEHK) under the code HISENSE HA (921).
Shenzhen Stock Exchange (SZSE) under the code HISENSE HA (000921).
And there's a separate company that develops and manufactures TVs:
Hisense Visual Technology Company. It was formerly known as Qingdao Hisense Electric Company. This company controls all the business related to TV technologies, including producing panels, displays, and TVs. That's the company we're talking about in our article. It's listed on:
Shanghai Stock Exchange (SSE) under the code HISENSE HA (600060).
And Hisense has a holding company controlling some of its business entities, like Hisense Visual Technology Co.: Qingdao Hisense Electric Holdings Co. It controls 30% of their TV manufacturing company.
And there are other business entities that are used to operate the Hisense brand and are part of the so-called Hisense Group:
Hisense Company
Hisense Electric Holdings
Hisense International
Hisense Marketing Management
And tens of international entities, like Hisense Czech s.r.o., are created to operate in other countries.
So yes, that's a Chinese company. But in the US, there's a local entity, Hisense USA, a subsidiary of Hisense Group (with 100% shares controlled by Hisense Group). In fact, there are not one but 5 companies registered in the US, and all of them use the same legal address and registered agent name: Yuyang Ren.
You can check the information about them here.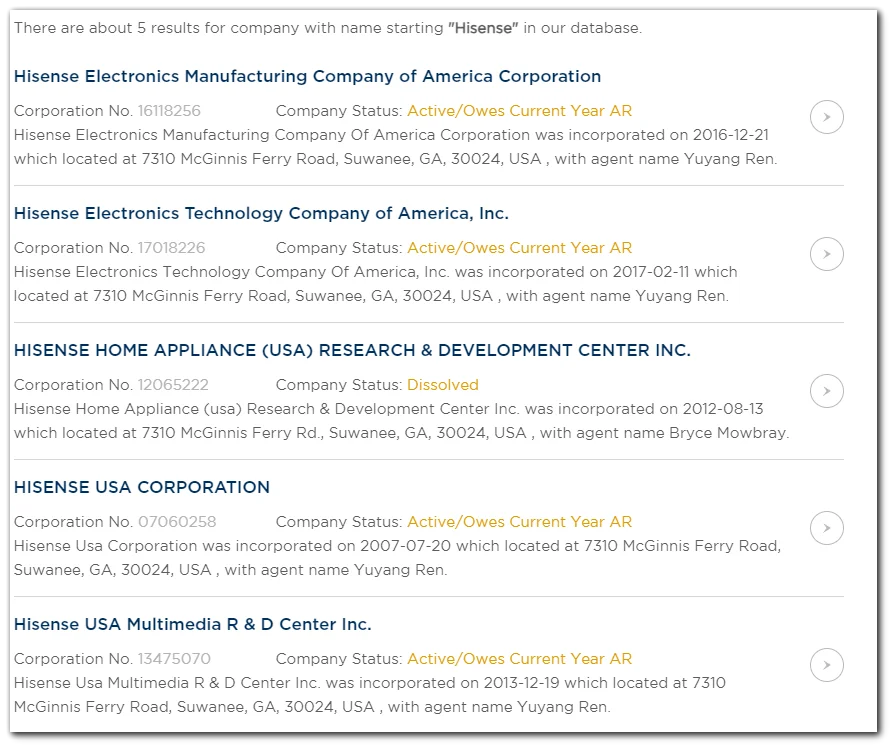 Their legal address (headquarter) is located in 7310 McGinnis Ferry Road, Suwanee, GA, 30024, US.
Who owns Hisense?
Two of Hisense Group's companies are public companies with shares listed on the stock exchange, so that's the wrong way to ask such a question. It's the same as asking: "Who owns Apple?" or "Who owns Microsoft?". The right answer is – no one, there's no one owner, but there are a lot of shareholders with different % of shares owned.
In their article about Hisense TVs, US News wrote, "Hisense is a Chinese appliance and electronics manufacturer controlled by the state-owned Qingdao capital fund." Is this text right? Both yes and no. Why? Because controlled usually means that the company (or investment fund) owns 50% + 1 share, as that's the amount allowing one shareholder to control the company and make all decisions on their own.
Below I will explain who owns Hisense in fact and figures. If you want a plain and simple explanation, just skip slightly; there would be a simple explanation.
Let's take a look on top-10 Hisense Visual Technology Company (HISENSE HA 600060) shareholders (all of them are from mainland China):
| Shareholder | % of shares |
| --- | --- |
| Qingdao Hisense Electric Holdings Co., Ltd. | 30.45% |
| Qingdao State-Owned Assets Supervision & Administration | 16.78% |
| Harvest Fund Management Co., Ltd. | 5.26% |
| Bank of Communications Schroder Fund Management Co., Ltd. | 2.18% |
| Zhong Ou Asset Management Co., Ltd | 1.94% |
| Orient Securities Asset Management Co. Ltd. | 1.72% |
| Zhong Geng Fund Management Co., Ltd. | 1.50% |
| China Southern Asset Management Co., Ltd. | 1.28% |
| GF Fund Management Co., Ltd. | 0.47% |
| Invesco Great Wall Fund Management Co. Ltd. (Invt Mgmt) | 0.46% |
| Hisense Visual Technology Co., Ltd. (Owned by the company) | 0.24% |
| Free-Float | 53.26% |
Hisense Holdings, the biggest shareholder of Hisense Visual Technology, has no effective controller (a shareholder with 50%+1 share). Its ownership structure is as follows:
Hisense Group – 26.79% (The ultimate beneficial owner of Hisense Group is Qingdao State-Owned Assets Supervision & Administration).
Qingdao Xinfeng Information Technology Co. and Shanghai Haifeng Shipping Co., Ltd – 27% (24.36%, and 2.64%, respectively) are parties acting in concert).
Position Incentive Shareholders – 36.82% who hold interests in Hisense Holdings directly.
Qingdao Yuanli Information Consulting Co. Ltd. – 6.33%
Qingdao Hengxin Chuangshi Electronic Technology Co., Ltd – 3.06%
The last three companies are managing shares on behalf of other Position Incentive Shareholders of Hisense Holdings.
Position Incentive Shareholders are the core staff of Hisense Holdings under its incentive plan who hold interests in Hisense Holdings directly or indirectly, that may be Hisense Holdings' key staff, managers, directors, etc.
The official disclosure of Hisense Holdings shareholders is here.
So now we know who owns Hisense TV manufacturer company: almost 31% is controlled by Hisense itself (30.45% through Qingdao Hisense Electric Holdings and 0.24% through the company itself via buy-out of their shares). The state-owned Qingdao State-Owned Assets SA controls 16.78%. Other shares are controlled by different Chinese fund management and investment funds, and around 53% of their shares are in the free-float on Shanghai Stock Exchange.
Here's a simple explanation for those who want me to make it plain and easy to understand.
Now let's return to the question of whether US News was right when writing that the Qindao State-Owned Capital Fund controls Hisense (I assume they meant Quindao State-Owned Assets Supervision & Administration). They're wrong, as this state-owned fund controls only around 17% of Hisense TV manufacturer.
Except for the state fund, the main shareholders of Hisense TV manufacturers are Hisense Holdings and a lot of Chinese investment funds, some of which may be partially or directly owned by the government or state-related structures.
Is Hisense state-owned?
I'll be fair with you; I have a lot of skepticism over fears about Chinese state-owned companies. Of course, that may be some concerns regarding privacy/safety/other things, but I don't think that's a point for them. At least, it sounds more like a plot for a fiction book, not like a thing rooted in reality.
But I don't expect you to share my skepticism. So, here's what you need to know if you're unsure whether Hisense is state-owned.
Below would be a little tangled and hard-to-understand information. If you want, just skip a little bit to the bottom, there, I will explain in plain words. But if you want facts and figures, you can read the text below.
First of all, let's define what is state-ownership. It may be direct (when the government controls a company via a state-owned investment fund/holding company) or indirect (when the government controls another company that, in turn, controls the company we're talking about). And it can be full (when the government controls 50%+1 share and, therefore, is ruling the company) or partial, when the government controls only some % of shares. In this case, the government (via its subsidiary firm/company) acts like an investor.
When I was researching Hisense, I found this article in National Interest (and that's a reputable source) with the title "Government made Hisense TVs," but in 2020 there was a reform in Hisense, and now it's not state-controlled but still has significant state ownership (around 16.70% via Qingdao State-Owned Assets SA). Here's a statement.
Also, 30.45% of Hisense Visual Technology is controlled by Hisense Holdings, But Hisense Electric Holding Co. isn't also fully state-owned; at least 17.2% of shares were offered to minor investors in 2020.
As of 2021, only 26.79% of Hisense Holdings were directly owned by the State-owned Assets Supervision and Administration Commission of the Qingdao Municipal Government (via Hisense Group, the state-owned assets fund is the ultimate beneficial owner). Here's a statement about the ownership and share controls.
Hisense Group and Hisense Electronic Holdings have undertaken a written commitment that, following the mixed ownership reform, there will be no agreement on concerted actions, and they are not acting in a concerted manner.
You can also read more about Hisense changes in state-controlled status in this article in English.
For those who want to read the explanation of the information above in simple language:
Yes, Hisense (when we speak about Hisense TV manufacturer) is state-owned; the government has a stake in its shares. It's around 17% directly. But state-owned DOESN'T mean state-controlled. The state seems to have no control over Hisense TV manufacturers, at least on paper.
Does Samsung own Hisense?
No, it's not controlled or owned by Samsung. Moreover, there are no major shareholders to control Samsung Electronics and Hisense Visual Technology.
However, this question is quite widespread on the Internet, and I don't know why this misbelief is so popular.
But I can assume that despite Hisense was using Samsung panels (and Samsung might also use Hisense-manufactured panels) for their TVs. Despite both companies being large panels and display manufacturers, they might use third-party panels for some TVs.
Are Hisense and LG the same company?
The same misbelief. No, they aren't the same. They are two large TV makers. LG is a South Korean company, and Hisense is a Chinese manufacturer. And they're one of the largest TV and panels market competitors.
The same as with Samsung, I don't know why this misbelief is so widespread. We even receive many emails with this question, where people ask if there is a difference between these two companies.
So no, Hisense and LG aren't the same companies.
But when it comes to this question, it's easier to understand how this misbelief was born. It's simple: Hisense makes its own LCD panels but buys OLED panels from LG. And that's why a lot of people believe their TVs are the same.
But they're not; that's quite common in this industry for one company to buy panels from other manufacturers, as building their own plant to make panels on the new technology is extremely costly. And Hisense/LG isn't the only example of such cooperation, so there's nothing strange there.
Where Hisense TVs are made?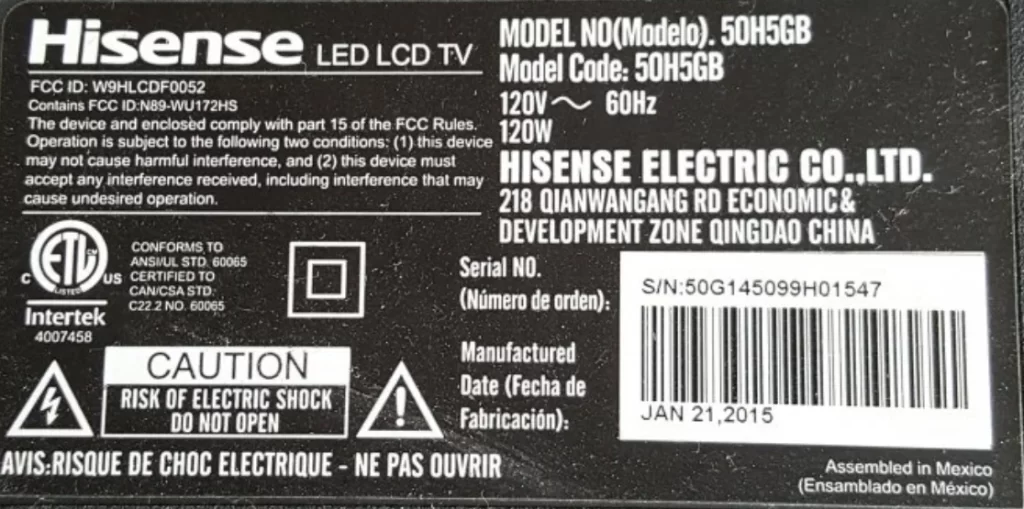 Here's an example of one of the Hisense TVs labels. Here's written:
Development Zone: Qingdao, China.
Asseblem in Mexico
But how to tell where the TV is made?
We need to understand how TVs (or any other electronics) are made. The process consists of 3 major steps:
Development
Parts manufacturing (like panels, TV's body, chips, processor, speakers, etc.)
Assembling
So there's not one place where TVs are made; it's a complicated multi-chained process. For example, Hisense uses parts supplied by LG and Intel in their TVs and parts supplied by other companies.
But most parts for Hisense TVs are manufactured in mainland China. And R&D is made in 12 centers, including Hisense USA Multimedia R&D Center in the US and R&D centers in Qingdao, China.
When it comes to Assembling:
For the United States, Canada, and Mexico, TVs are assembled in Mexico at the former Toshiba plant.
For Europe – TVs are assembled in the Czech Republic; previously, TVs were assembled in Hungary, but due to low demand, the production site in Hungary was closed.
For China, Africa, and Asia-Pacific Region – Hisense has two assembly plants that can produce about 16 million TVs per year. From the Chinese factories, televisions are shipped to many countries.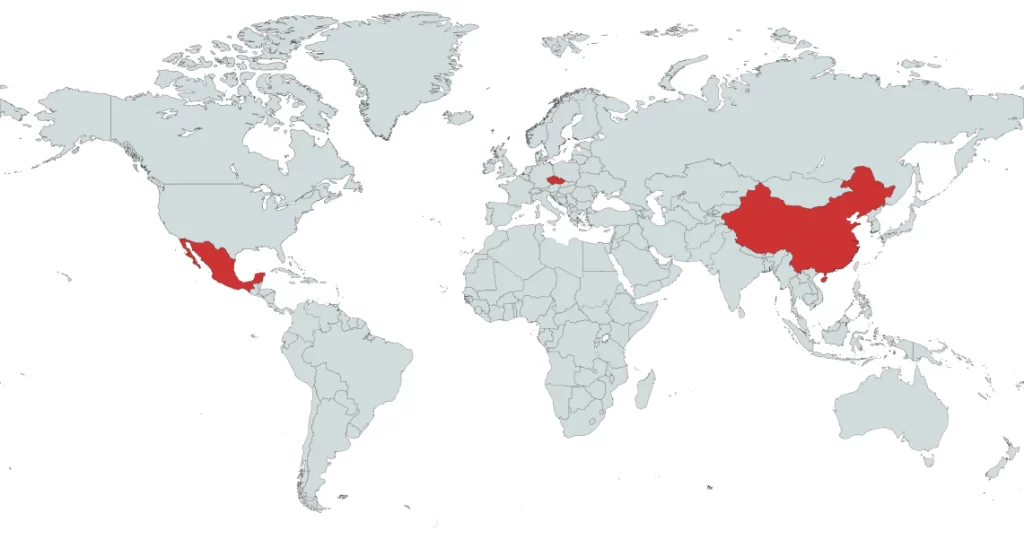 Here's an example of another Hisense TV label, here's written:
Manufacturer Hisense Czech s.r.o
Made in PRC (People's Republic of China)
Assembled in Europe.
Also, the Czech Republic and the address of the Hisense manufacturing plant in Czechia are written.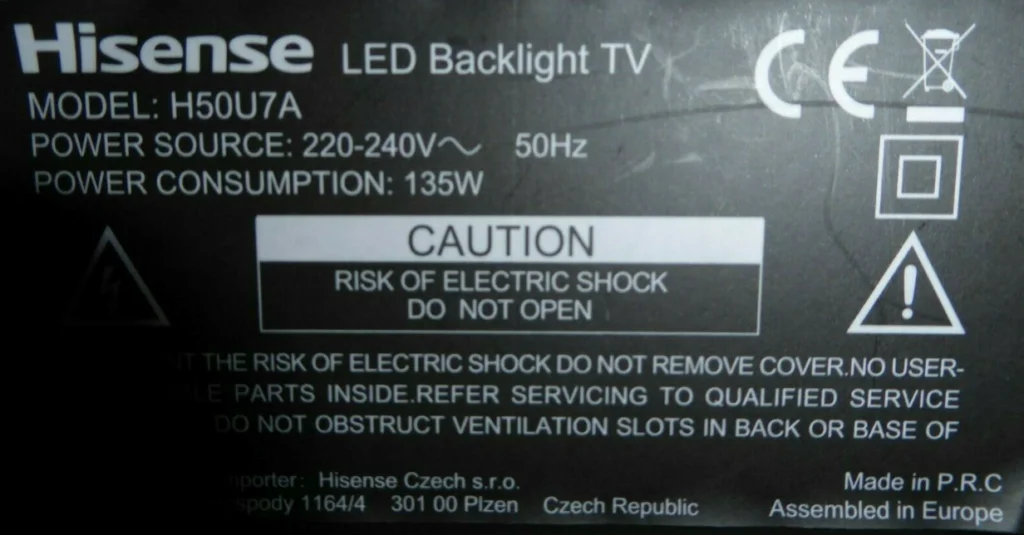 Hisense suppliers (Who makes components for Hisense TVs?)
The TVs' components are manufactured by Hisense itself and supplied by other Chinese manufacturers.
When we talk about screens, some of them are made by Hisense itself, while third-party companies supply others. The only one we know information about is LG, but Hisense doesn't disclose the full list of suppliers.
Although there are only a few major screen manufacturers: Samsung (which ceased production of LED screens in 2021), LG, BOE, and AUO, according to the information from open sources, the main supplier of screens for Hisense TVs, are:
Chi Mei Corporation (InnoLux Corporation)
AUO (AU Optronics)
LG Electronics
TCL
But depending on the country for which the TV is and the TV's specification, the same model may have screens from different manufacturers. This sometimes causes problems when comparing screen quality because screens from different suppliers may have slight differences in their tech specs.
What brands are owned by Hisense?
Since Hisense not only makes TVs but also other home appliances, many brands are owned by Hisense. Hisense owns or licenses the following brands:
Hisense: The main brand of Hisense Group in the field of electrical appliances.
Rongsheng: Offers home appliances specifically for the Chinese market.
Kelon: Kelon Air Conditioning is known for being one of the pioneers in the research, development, production, and popularization of inverter air conditioners in China.
ASKO: A global luxury home appliance brand founded in 1918. ASKO offers a range of kitchen appliances, refrigerators, detergents, and care products.
Gorenje: A European brand founded in 1950, Gorenje was acquired by Hisense in 2018, expanding its presence in the home appliances market.
HITACHI: Qingdao Hisense Hitachi Air Conditioning System Co., Ltd. was established as a joint venture between Hisense Group and Johnson Controls Hitachi Air Conditioning. It specializes in the production of air conditioning systems.
TOSHIBA (Toshiba TVs): Acquired by Hisense in 2017, Toshiba is a renowned brand offering various consumer electronics, including televisions.
York: A brand that specializes in multi-section air conditioners.
SANDEN: Hisense Group completed a transaction with Sanden Holdings in 2021. Sanden Holding Co., Ltd. primarily manufactures and sells automotive compressors, automotive air conditioning systems, and other automotive equipment.
Vidda: A youth fashion brand under Hisense that aims to create creative and fashionable products using advanced technological knowledge.
Juhaohao: Hisense Group's home Internet company, established in 2016, focuses on providing top-notch stage services for families across the country.
Saiwei: Founded in 2002 and headquartered in Qingdao, Saiwei specializes in electronic products, information technology, data applications, and intelligent transportation. Its goal is to become a leading service provider in the country.
Do Hisense TVs worth buying?
Several factors must be considered when deciding whether to buy a Hisense TV. In recent years, the quality of Hisense TVs has improved, especially after the acquisition of the Toshiba division. But, it's worth noting that there is a lack of consistency in the model numbering system across different countries. This can be confusing as TVs in each country have completely different model numbers.
One aspect that some people may find concerning is the advertising approach used by Hisense. They have promoted ULED screens as superior to OLED, which can be difficult to believe. OLED screens are known for their exceptional picture quality, deep blacks, and vibrant colors. While ULED technology offers some advantages, such as better brightness and contrast, OLED is becoming the mainstream industry standard, with brands like LG and Samsung switching to these screens.
But in my opinion, Hisense TVs are an OK choice. If I decide which TV to buy, I'll probably choose Samsung because I prefer this brand. Well, the one great point why it's worth deciding that Samsung or LG is the better choice of apps is that some of the streamings aren't available on Hisense. But if you want to use a media player such as Roku or Fire Stick, then it's no point in taking this as an argument when making a decision.
And yeah, they offer a range of options across various price points, making them accessible to a wide range of consumers. I don't know about a lot of complaints about Hisense TVs, at least no more than regarding any other brand.
So it's up to you. If you're asking for my opinion, I advise Samsung or LG, but that's just my subjective opinion, and its based not on facts but on my perception of TV brands.