In 2023, Samsung company offered a new model of TV QE1C to customers. It isn't easy to learn about this TV from the official website of Samsung, as it always describes the advantages of the TV, its features, and its unique design, but let's have an unbiased look at this TV model. I will tell you about its features and what kind of TV it is.
Features of Samsung QE1C TV
This TV model is a very budget TV model with minimal specifications but with a large screen. The Samsung QE1C is an upgrade to the 2021 QN70Q60A and QN85Q60A.
Let's start with the fact that this TV model is distinguished by its model number. Samsung has not previously released the QE lineup, although Samsung claims it is a QLED TV. You can learn more about Samsung TV model numbers in the article "Decode Samsung TV model number."
As I mentioned before, the UE1 is a 2023 model that gets the body and motherboard from the Q60A model. It should also be noted that this TV will only be offered in the US, Canada, and Mexico with a 70-inch screen, the QN70QE1C model, and an 85-inch screen, the QN85QE1C model.
Everything in the TV is cheapened in terms of specifications, cheap screen, outdated main board. The task of this model is to expand the line of budget Samsung TVs and create competition for Chinese TVs.
Samsung TV Display QN70QE1CAFXZA, QN85QE1CAFXZA
The screen is the most important part of a TV, determining both the picture quality and the price. This Samsung model uses a more affordable screen. Here are the main features:
The maximum frame rate is 60 Hz.
Backlight type EDGE
Color depth 8 bits
The number of displayed shades is 16.7 million.
FRC artificial hue enhancement technology.
Despite the claim that the screen is made on quantum dots, it supports a maximum frequency of only 60 Hz and EDGE backlight type. This means that the backlight is installed at the bottom of the screen, in which case the TV has no local dimming, although Samsung claims Ultimate UHD Dimming, but in reality, it is not.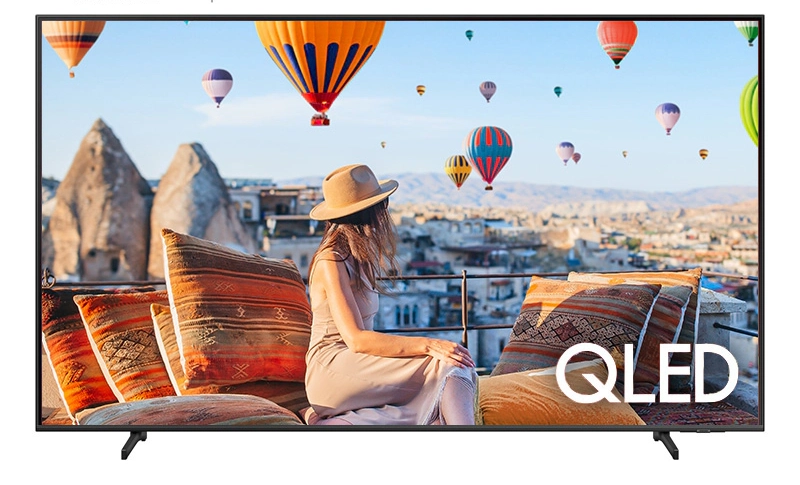 The screen uses 8-bit color depth and employs FRC (Frame Rate Control) technology to simulate additional shades by quickly varying the backlight brightness. However, this screen is not HDR-compliant. According to the HDR specification, only TVs with a 10-bit color depth can be branded as HDR. While Samsung advertises the model as supporting HDR, stating, "See everything in the best light and watch the details shine with Quantum HDR that goes beyond leading standards," it's crucial to note that the TV doesn't meet the HDR compliance criteria. Thus, when they say it "goes beyond standards," it indeed does—by not adhering to them. The TV can accept and process HDR content but cannot display it to its full potential.
Processor in Samsung TV QN70QE1CAFXZA, QN85QE1CAFXZA
Quantum Processor Lite: Quantum is Samsung's commercial name for processors. It's a simple processor. Lite in the name tells us that the processor is less potent than most Samsung TVs. It may have less memory or lower frequency cores. This TV may take a little longer to open menus and launch applications, and possible image freezes in dynamic, high-resolution scenes. As a rule, modern processors can easily cope with screen freezes.
Ports in Samsung TV QN70QE1CAFXZA, QN85QE1CAFXZA
Of course, I'm most interested in HDMI ports; there are 3 of them in the TV set of 2.0 standard. These are obsolete ports; such ports should support HDCP 2.2, but there is no HDCP specification on Samsung's site, although the TV may have HDCP 2.3.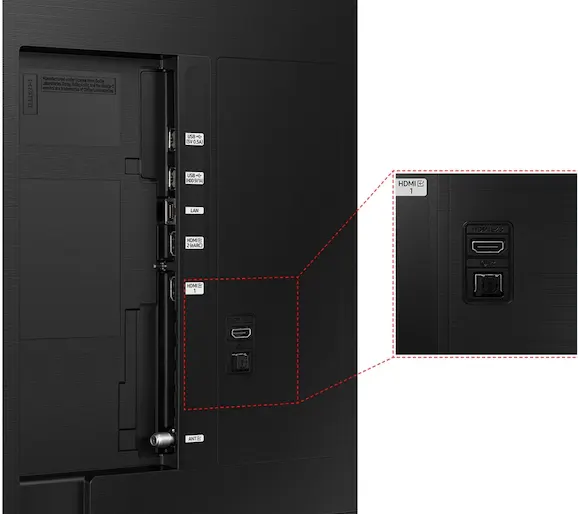 The ALLM (automatic game console connection detection) feature is supported programmatically. One of the ports supports ARC (reverse audio channel)
USB – two standard 2.0 ports.
Optical audio output
LAN
WiFi
Bluetooth version 5.2
Samsung QN70QE1CAFXZA, QN85QE1CAFXZA Operating System
Tizen 7.0 OS is the 2023 version; naturally, since this is a new version of the OS, you will get advanced OS features such as:
Game Bar 3.0
Gaming Hub
Hue Sync (Philips lighting control)
Multi-View
Alexa
As well as other OS features, details can be found in the user manual.
Summary The Samsung QN70QE1CAFXZA QN85QE1CAFXZA whether to buy this TV
This TV, in essence, is a large budget-friendly option; it's hard to find a more affordable one of this size. While it boasts a large screen, clarity regarding its manufacturer is essential. The display isn't from Samsung, as they primarily produce OLED screens. The available screen sizes are 70 and 85 inches, typically manufactured by some Chinese companies. Historically, such models from Samsung had frequent malfunctions, especially with the bottom backlight failing. This would cause the bottom of the screen to overheat, leading to visible backlight issues. Given this history, I'd recommend investing in an extended protection plan. Samsung offers a four-year plan at $500. However, weigh your options: considering a Neo QLED series TV might be a better choice for that price.