Okay, if you want to shop on eBay for used clothing or other goods, that's a great way to save money. The only thing you need to know is how to understand the condition of the listing you're going to buy. For this, eBay has different abbreviations that will let you know the condition of an item you gonna buy.
EUC is one of them; it stands for "Excellent Used Condition."
The condition description will let you know a lot about the item you wanna buy, whether it was used, and if yes, what's its condition. That will help you purchase the right item and don't get a surprise out of the box.
EUC isn't the only abbreviation used to describe the condition of the items; there are others as well:
NWT – New With Tag
NWOT – New Without Tag
VGUC – Very Good Used Condition
GUC – Good Used Condition
PLAY – Significant fading or stains
What does EUC mean?
As I said, EUC stands for "Excellent Used Condition".
That's a term for sellers to describe that the item is in near-to-perfect condition, like with minimal signs it was worn before.
Here's how it can be used: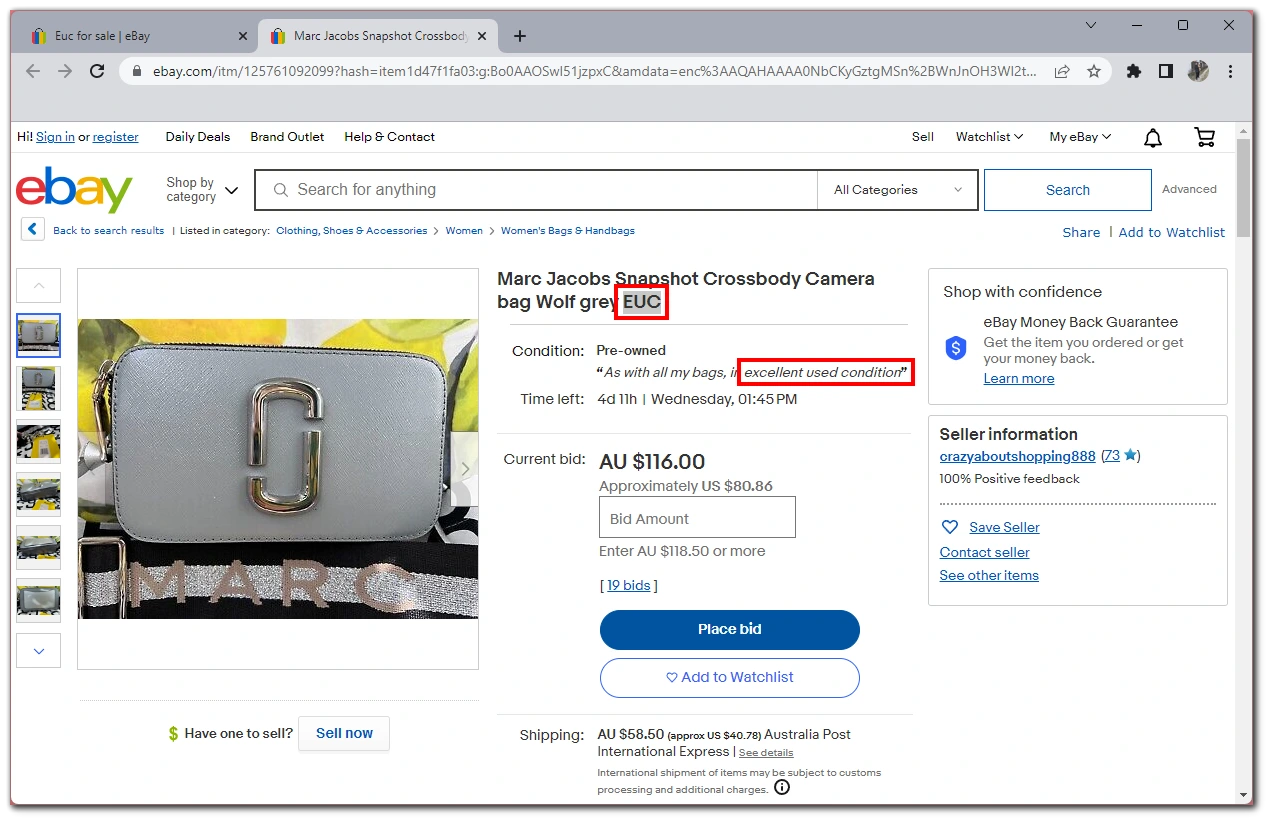 When you know what stands behind EUC, you can easily understand the condition of an item and skip everything you're not interested in. Like, for example, you wanna buy something that looks like a new item.
In this case, you can look only for items with NWT, NWOT, and EUC in the listing title.
Of course, no one can't guarantee that the item will be exactly excellent-used; it may be something between excellent used and good used or even beyond. But usually, sellers are fair when describing items, so in most cases, EUC means what it should mean, no flaws, slight signs of previous use.
Of course, EUC items are more expensive than items in worse conditions, like VGUC or GUC, but you're paying for the item that will look almost like the new one, so it's worth it.
How to use EUC on eBay to choose the right items
If you want the item to look like a new one, you can miss everything before EUC and look only for NWT, NWOT, and EUC.
The items with tags (or new without ones) are great, and that would be the new item. But you will pay more for them. If you want to save money, EUC is the perfect balance between the item's appearance and price. It will look almost like a new one but usually would be 20%-25% cheaper than the new one.
There's no way to choose EUC as an official condition from the list on eBay, so you need to look for this tag in the title. To avoid new items, you can select only pre-owned to be included in the listings.
Also, look at the seller before trusting this tag; reputable sellers are more likely to precisely use tags, while the new sellers may be wrong when using abbreviations like EUC.
How to identify a good item on eBay
When shopping for used clothing items on eBay, you need to know some tips:
Read the description carefully: Don't be careless; always read the description. Usually, you would need all the information: condition, flaws, and imperfections. Pay attention to the measurements and size of the item to ensure it will fit you.
Check the photos: eBay sellers should provide a lot of photos of the item from different angles to get a good sense of its condition. Check them carefully to find all flaws. Always pay attention to details and ask the seller if you wanna get more info or a couple of new photos.
Check the seller's reviews: there's a feedback system on eBay, so you can review the previous feedback to understand what kind of buyer is offering an item. If the comments and ratings are good, that's great. If not – better to avoid them.
Check the return policy: Check the seller's return policy. If there's no return one, or it's very strict, I suggest trying another seller and avoiding that one.
Research the brand: If you're looking for a specific brand, do some research to understand its typical quality, fit, and sizing.
Of course, that's just a brief tip, but in fact, a lot of people even don't follow them. But trust me, they will help you, so better to remember them.
And don't forget – photos don't show you the real, 100% clear picture, so that may be always some surprises in the places that weren't shown in the pictures.
eBay abbreviations in detail
As I said, there are many of them. Here's the list:
NWT: "New with Tags": A new item that has never been worn or used and still has its original tags.
NWOT: "New without Tags": An item is new and never used without original tags.
VGUC: "Very Good Condition": An item in good condition but may have a few noticeable signs of wear and tear, such as light discoloration or small holes.
GUC: "Good Used Condition": An item in good condition but may show some signs of wear and tear. This could include slight discoloration, minor fraying, or small holes.
PLAY – Significant fading or stains, at least more significant than on a GUC item.
Preloved: This term is used to describe an item that has been previously loved and worn (a lot) but is still in good condition. This term is often used as an alternative to used or pre-owned.
Flaws: This term is used to describe any imperfections in the item, such as holes, stains, or tears. Usually, sellers include a description of the flaws and show them in photos to help you understand what the condition is.