TikTok has gained enormous popularity in recent years. Creators broadcast short videos to entertain viewers. Users who want to donate to their favorite creators can send gifts. To do this, you need to purchase coins, for which you can then buy gifts during the streams.
There is a wide selection of gifts at TikTok. You're sure to find one that fits your preferences, including an affordable price. Although TikTok periodically updates the assortment of gifts and also changes the prices, you can always find the cheapest of them.
Let's dive in and look at the top 3 cheapest TikTok Gifts categories available today.
1. TikTok Gifts for 1 coin
There are many gifts available today that cost just 1 coin. Here's the whole list:
Rose

Perhaps the most popular 1-coin gift is often given at the streams. You can find it right in the first place after you open the gift list.

TikTok
TGIF
Ice Cream Gone
Weights
Football
April

The name of the gift changes according to the month.

GG
Mini Speaker
Tennis
Coffee
All of these gifts are often at the top of the list. That's why it won't be hard for you to find them. Of course, I wish TikTok would make the gift search more accessible and streamline it. But for now, this is what we have.
2. TikTok Gifts for 5-30 coins
Gifts for 5-30 coins are also quite popular among viewers. Let's look at the whole list of 5-30-coins gifts that TikTok offers today:
Finger Heart – 5 coins
Mic – 5 coins
Panda – 5 coins
Hand Wave – 9 coins
Lollipop – 10 coins
Gamepad – 10 coins
Heart – 10 coins
Perfume – 20 coins
Doughnut – 30 coins
Mirror – 30 coins
Almost all of these gifts are in the first half of the list in the TikTok app. For this reason, they are also relatively easy to find.
3. TikTok Gifts up to 100 coins
And the last category I chose refers to the remaining gifts under 100 coins. If converted to real money, 100 coins are no more than $2. According to this, in general, it is a deservedly cheap category. Plus, TikTok even offers a 130-coin pack for $2.49.
So here's a complete list of those gifts that are available today:
Hi April – 88 coins
Hat and Mustache – 99 coins
Cap – 99 coins
Paper Crane – 99 coins
Little Crown – 99 coins
Hand Hearts – 100 coins
Confetti – 100 coins
These are by far the cheapest TikTok gifts. Therefore, don't waste time and hurry up to buy coins to please your idols with these gifts.
Are TikTok coins cheaper on a desktop?
When purchasing TikTok coins, saving up to 24% is possible by using the desktop website rather than the mobile app. This is because app stores charge a commission fee for in-app purchases made through their payment systems.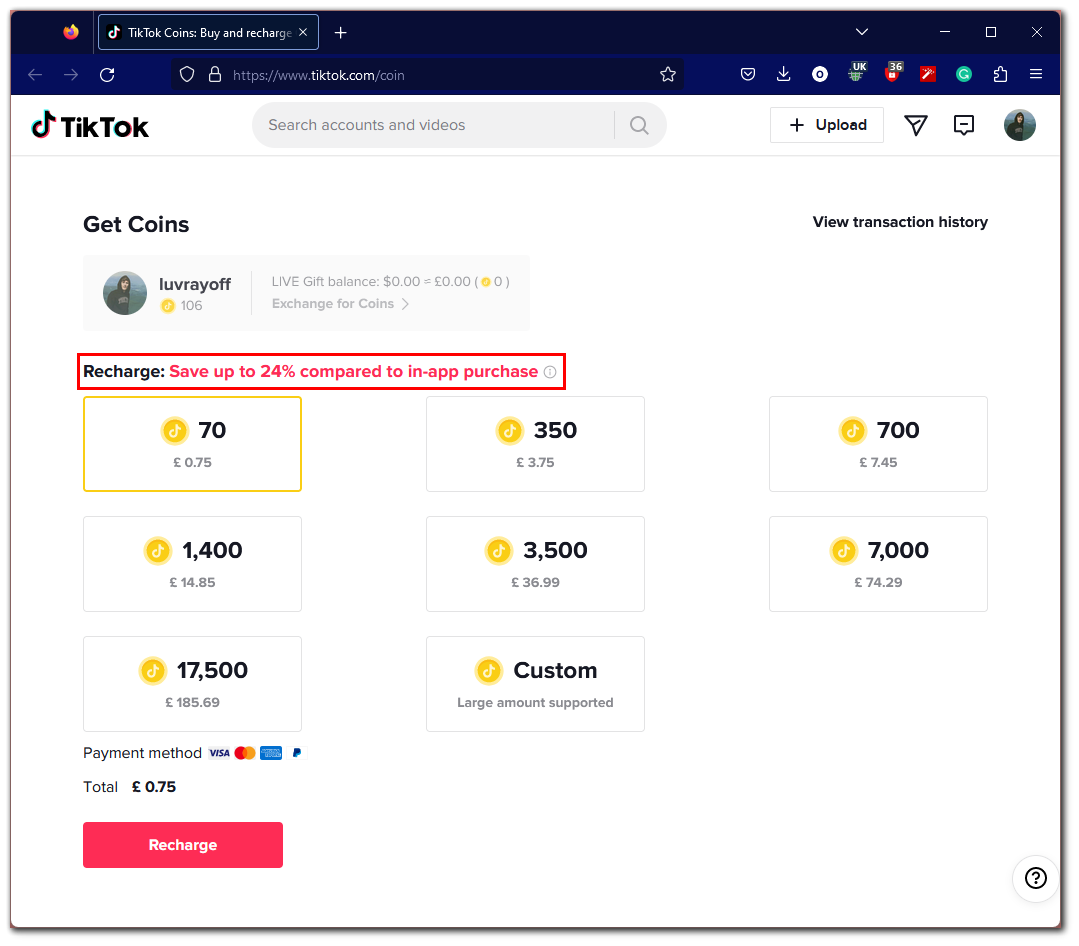 As a large company, TikTok is subject to a 30% commission fee on in-app purchases from the Apple App Store and Google Play Store. Rather than absorbing this cost, TikTok passes it on to customers by charging higher prices within the app.
However, because the TikTok website doesn't have to go through an app store, payments made through the desktop website are not subject to commission fees, unlike those made through mobile app storefronts. This means purchasing TikTok coins on the website can be a more cost-effective option for users.