There are only two ways to watch Paramount Plus without commercials. The first and only legal way to get rid of ads on Paramount Plus is to buy a Premium subscription.
As you probably know, Paramount Plus has two plans: Paramount+ Essential and Paramount+ with SHOWTIME (Premium). So when you upgrade to Premium, you can watch the streaming service without ads. But there is one nuance. Live TV streams will still have commercials.
As for the second method, there are many third-party ad-blocking software and browser extensions. However, in most cases, they work poorly or not at all. Moreover, services like Paramount Plus can detect ad blockers and ask you to turn them off.
How to upgrade your Paramount Plus subscription
As I said above, the only legal and working way to remove ads on Paramount Plus is to upgrade your Essential subscription plan to Premium. It costs $11.99/month, but you get a few extra goodies with it in addition to getting rid of the ads.
Here's how to switch (upgrade) your subscription plan:
On website
Go to paramountplus.com and sign in to your account if needed.
Then click on your profile icon at the top right corner and select Account.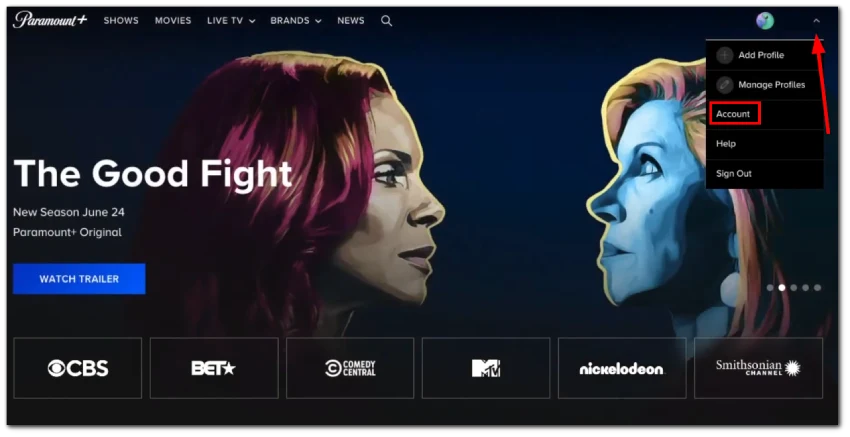 After that, click Edit Plan.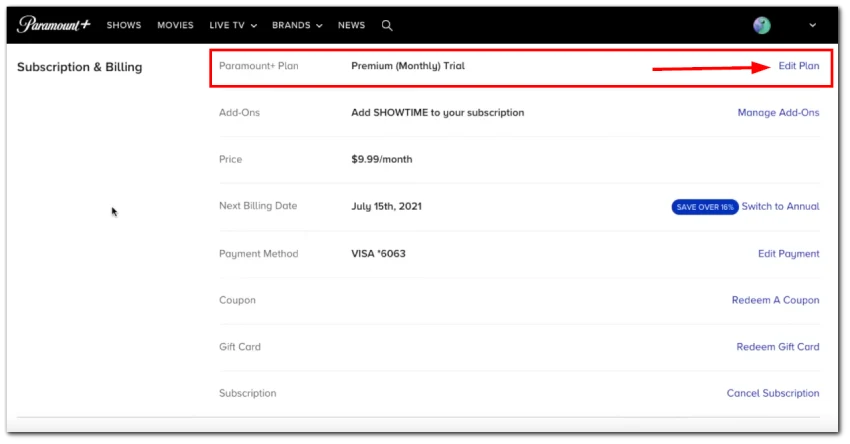 Select the Premium plan and click on the Switch Plan button.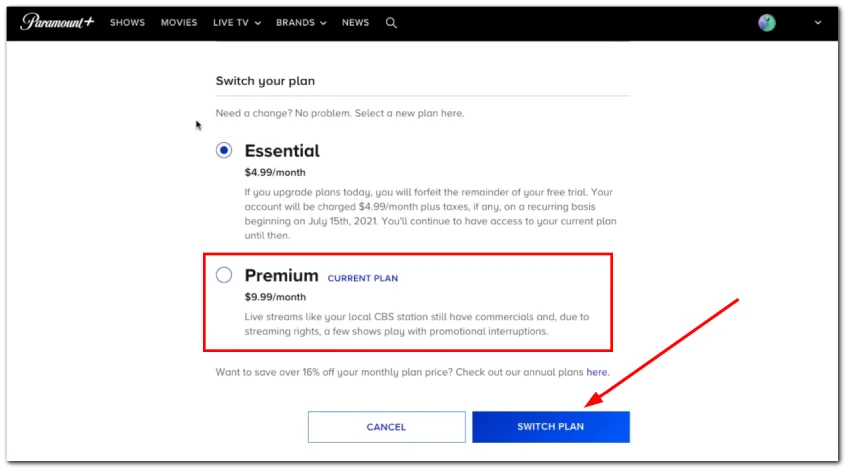 Finally, follow the instructions provided by Paramount Plus to upgrade your plan.
On mobile app
Open the Paramount Plus app and go to the More tab.
Then select Account.
Next, choose the Premium plan and tap Switch Plan at the bottom.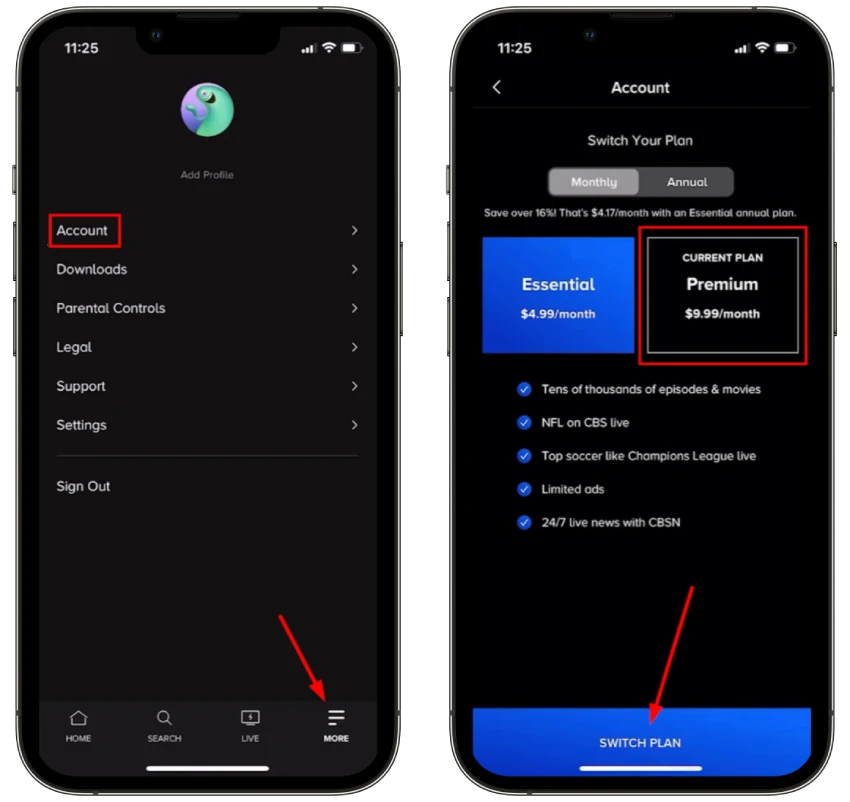 Streaming devices
If you initially subscribed to Paramount+ via your Apple TV, Android TV, Fire TV, or Roku device, follow these steps to modify your subscription:
Open Paramount Plus.
Navigate to Settings and select My Account.
Choose Manage Account.
Pick Paramount+ with SHOWTIME (Premium) plan.
Confirm your new subscription plan.
Unfortunately, upgrading your Paramount Plus subscription on Smart TV and game consoles (Xbox, PS) is impossible. Therefore, you will need to follow the steps above to switch plans via the website or app.
If you signed up for Paramount Plus through Amazon, you have nothing to worry about. You won't have any ads (except for Live TV) because only the Paramount Plus Premium Plan is available on Amazon.
What are third-party ways to eliminate ads on Paramount Plus?
You can try using an ad blocker. It is available as an extension for browsers. But you should know Paramount Plus does not officially support ad blockers. That's why its website can identify them and ask you to turn them off. Otherwise, you may be prevented from accessing content.
What's more, ad blockers may simply not work. In other words, you can enable it for the Paramount Plus website, but ads will still play.
Some third-party developers may offer special programs for money that supposedly block ads on various streaming services. This is most likely a scam. Therefore, I do not recommend using them.
As for the Skipper browser extension, things are mixed here too. According to the description from the developers, it is designed not only for Paramount Plus but also for other streaming services. Its main task is automatically skipping commercials, switching episodes, and skipping intros.
While it may automatically skip ads, that doesn't mean it removes them altogether. It just clicks the Skip button for you. And that's it.
Is it possible to get rid of Paramount Plus ads completely?
The straightforward answer is no. You cannot completely get rid of ads on Paramount Plus, even with a Premium subscription. While the majority of the content on Paramount Plus can be streamed ad-free with a Premium subscription, there are exceptions:
Promotional Interruptions: Some shows have brief promotional breaks informing you about other shows on Paramount+. These cannot be skipped and are part of the streaming experience.
Live TV: If you're watching live TV on Paramount Plus, you will still encounter commercials as they are part of the live broadcast.
Therefore, while a Premium subscription can significantly reduce the number of ads, it won't altogether disable them.