Keeping records in today's world has become quite simple. Dozens of special apps have been created for this purpose. Among them is Microsoft Excel. One of the convenient tools of this program is the creation of pivot tables. However, many users don't know that such tables can be updated from time to time, so your data always remains up to date.
What you need to update a Pivot Table in Excel
Office and accounting work in today's world has long moved into the digital space. It's quite convenient when all the information that you need is stored in several documents on your PC and you can manage it as you want.
For this purpose, a whole bunch of different office apps have been created. In fact, such apps give you a very wide range of different possibilities. With different programs, users can create and edit text documents, make presentations, make work calls, and of course create spreadsheets with data.
Microsoft Excel is a program known to anyone who has done any kind of office work on a computer at least once in their life. This program helps you save and structure and analyze data with the help of various tables.
Now there are more and more different analogs of Excel, including online services such as Google Sheets. However, Microsoft Excel is still the most popular program for storing data. This is so because Excel has quite a few handy features and flexible customization that allows its users to customize the data table to their individual needs. This is quite convenient.
One such feature that may become indispensable to you if you have too many records piled up and need to analyze and properly structure them is the ability to create a Pivot Table. It's quite a handy feature that can simplify your work. However, not all users know that such a table must be refreshed from time to time, in order not to lose the relevance of the data in it. In fact, refreshing takes you just a few minutes to do it.
Why do you need a Pivot Table in Excel
Many users aren't at all aware of the capabilities of a Pivot Table and why they might need it. In fact, Pivot Table is a universal tool for data processing. This table is designed to summarize data in other tables.
Such a table can automatically sort, calculate or average data from the data that is recorded in the table to which the Pivot Table is assigned. This tool is used mainly for data visualization such as business analysis.
In fact, it's a separate table that displays the results of pre-programmed algorithms to process data from your desired table. This tool will be especially useful if you need to analyze a large amount of data.
What to do to manually refresh the Pivot Table in Excel
As the data in the table to which the Pivot Table is linked may update from time to time, users need to refresh their Pivot Table from time to time. Doing this in Excel is actually quite easy. In order to manually refresh the data in your Pivot Table, you need to:
Open Excel and select the document you want to edit.
After that, you need to select the sheet where your table is located.
To update the data in the table you just need to right–click on it and select Refresh.

You can also do this with the PivotTable button at the top of the screen.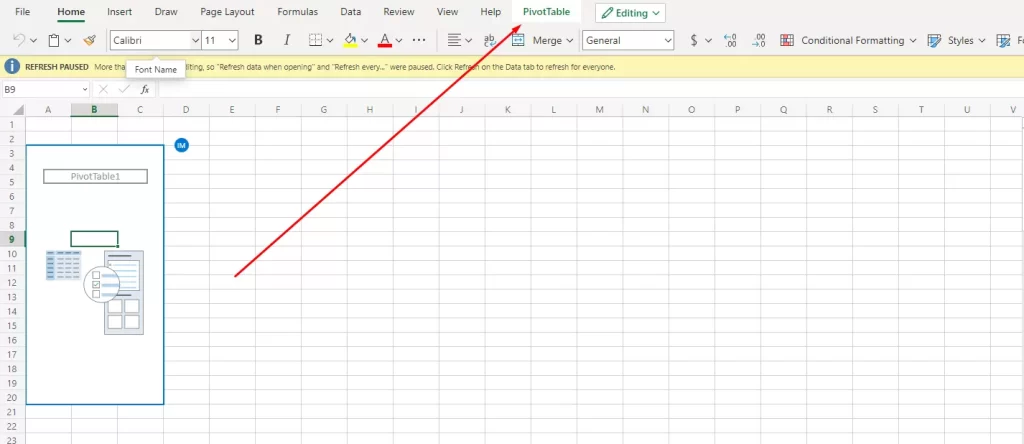 When you're taken to the Pivot Tables editing panel, you need to click Refresh All or just Refresh to update one particular table.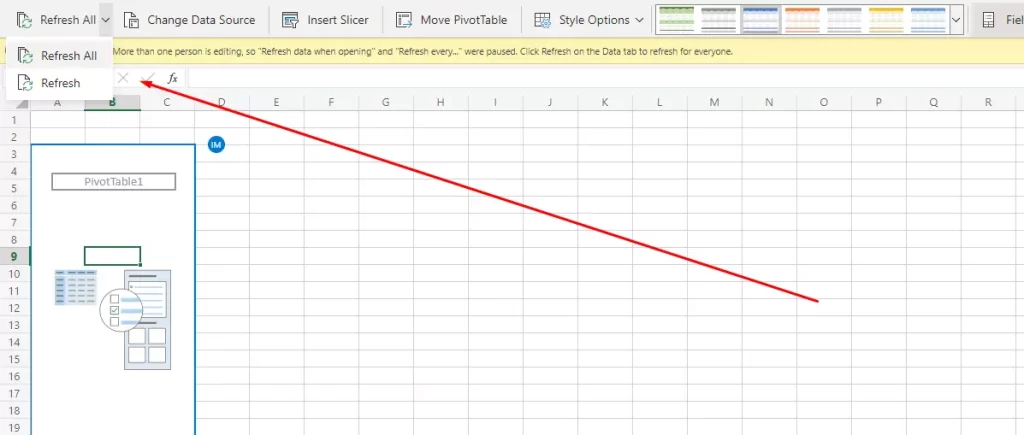 As you can see updating a Pivot Table in Excel is pretty simple and it won't take you long to do it, just a couple of clicks.
How to set up auto-refresh of a Pivot Table
In addition, you always have the option to set the Pivot Table to update automatically. This can be very handy if your main table is constantly being updated with different data, and going in and updating the Pivot Table every time after the addition to the table can be quite distracting.
In that case, you can use these instructions:
First, you need to open the document where the Pivot Table is located and click on it.
After that, in the top edit line, you need to find the PivotTable item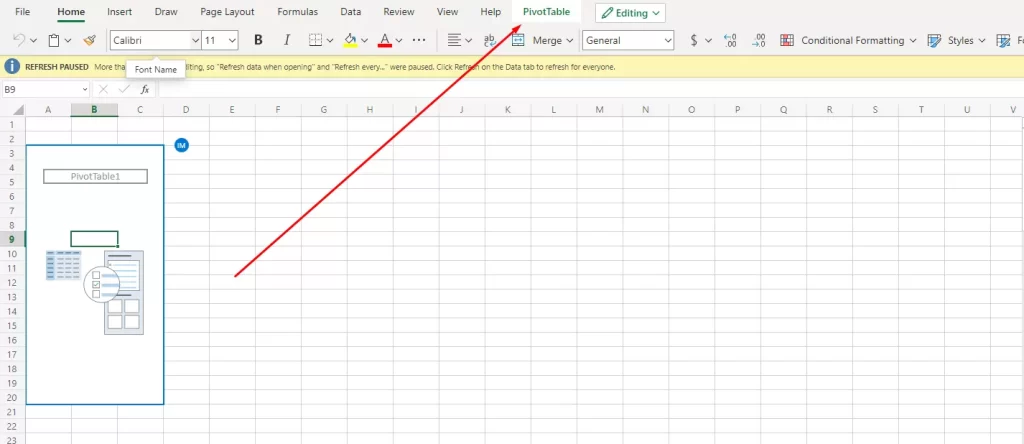 Then select the Settings item.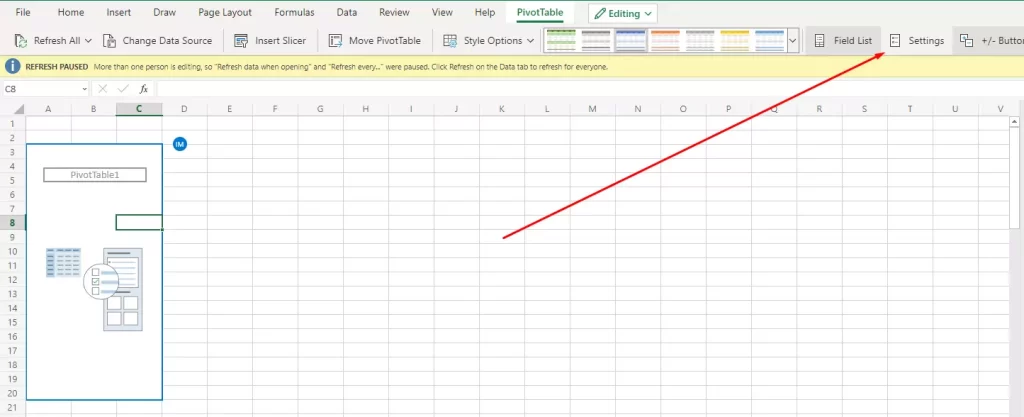 Here you need to scroll down the list and check the Refresh data on the file open checkbox.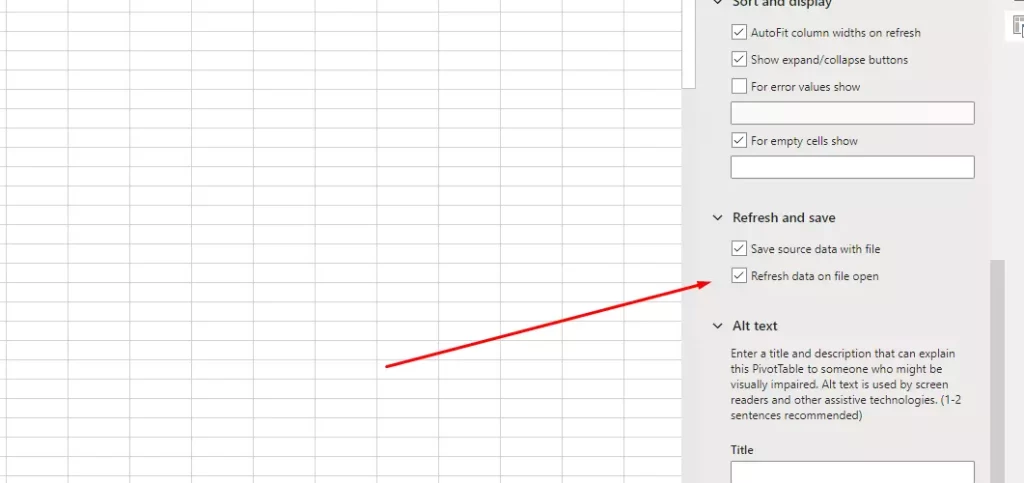 This will allow your Pivot Table to refresh every time the file is opened. This way you can always keep your data up to date.