Probably the most popular of Apple's services is iMessage. This service allows owners of Apple devices to communicate freely using the internal messenger, which by default is built into the Messages application. Most users choose it for its ease of use and many exciting features. For example, Apple recently added the ability to edit and delete messages. However, not everyone knows you can even play games directly in Messenger.
To do this, you need to install a particular addon that allows you to challenge your friends directly in Messenger. There are a lot of exciting mini-games you can play. I would say that one of the most fascinating is 8 Balls. It allows you to play a game of billiards right in your messenger against your friend. Let me explain how to install this addon and how to use it.
How to add 8 Ball Pool to your iMessage
As I mentioned above, to play 8 Ball in iMessage, you need to install a particular extension for your iMessage. You can do this directly from the Messages app. This will give you access to a whole collection of mini-games. Let's take a closer look at how you can install the addon and send a message to your friend in the game. To do this, you will need the following:
Log in to any chat room and click on the AppStore icon to open the tools menu.
In the tools menu, select AppStore.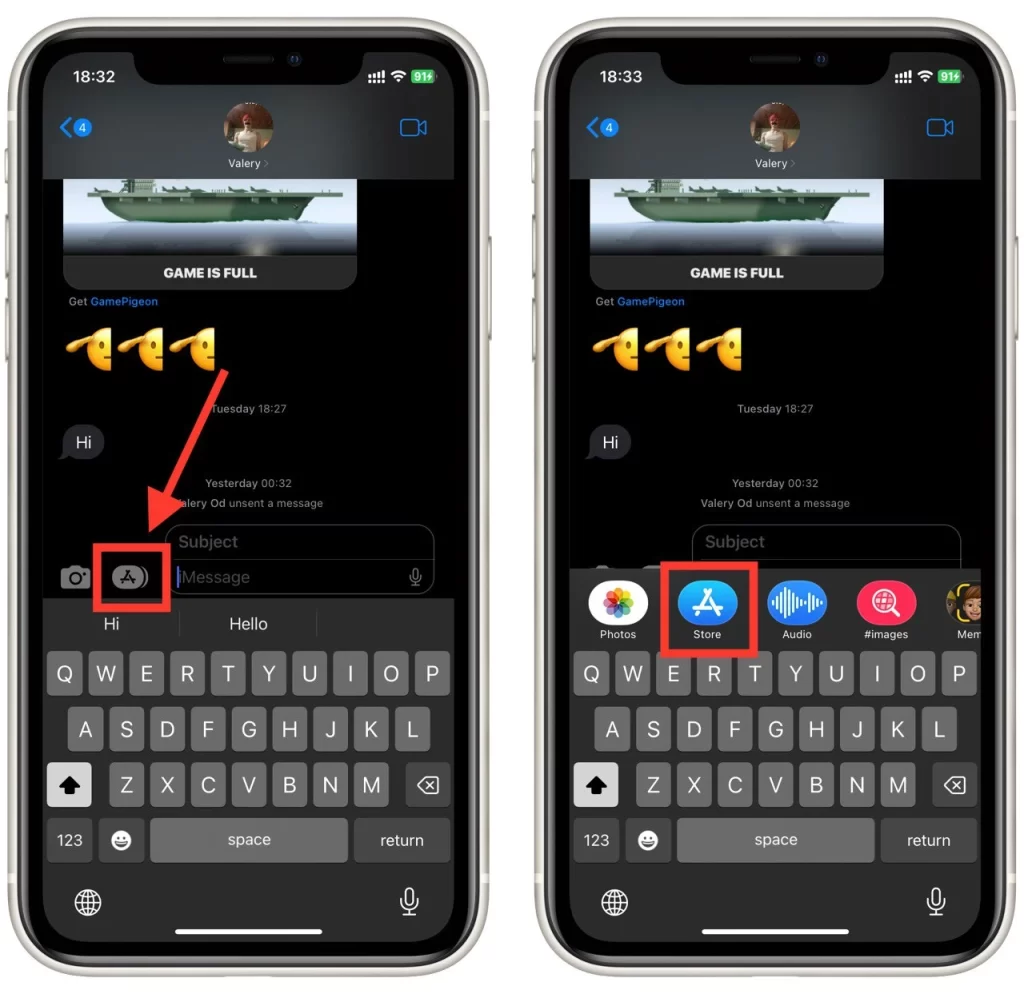 A list with all the Addons will open in front of you. It's primarily sticker packs, but you need to scroll below and find the GamePigeon app.
Click Get to install it.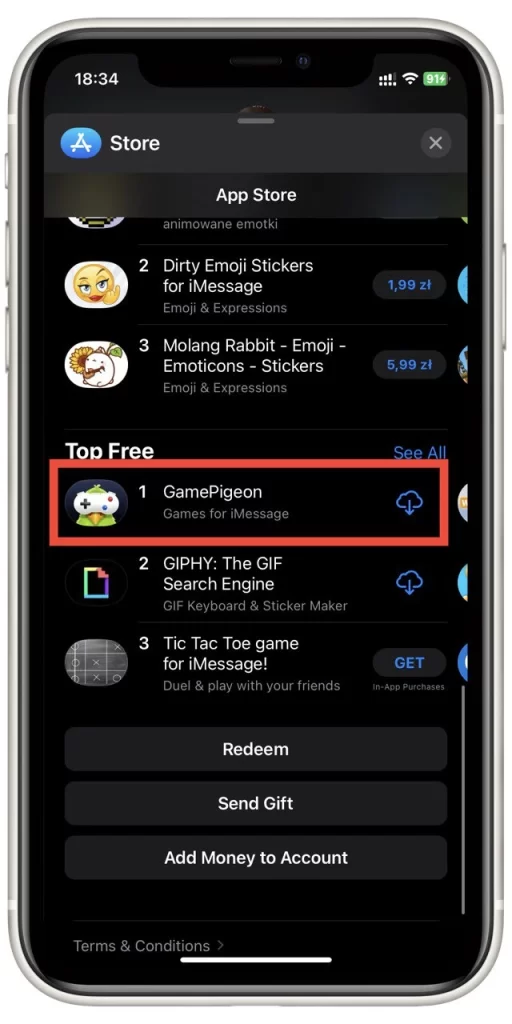 After that, open the Tools Menu and click on the GamePigeon icon.
You will see a mini-game selection menu in front of you. Find 8 Balls here and click on them. This will send a challenge to your friend.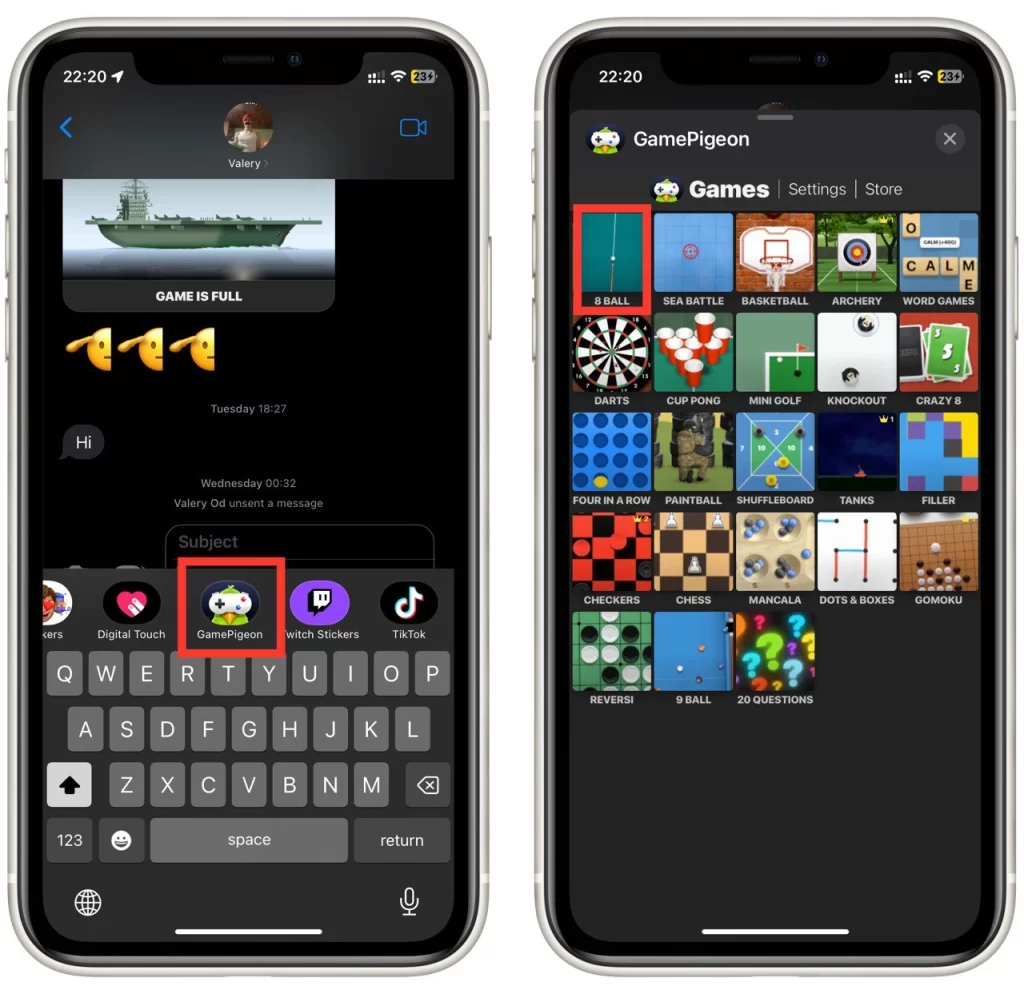 Note that your friend must accept the challenge and take the first turn. Your opponent will also need to install GamePigeon to play. The first time they click on your challenge, they will be prompted to download the addon. Also, note that you can only play with other participants' iMessage. This means you can't challenge someone who doesn't have iMessage working or is disabled.
What are 8 Ball Pool rules?
Let's understand the rules of 8 Balls so you can immediately understand how to play this mini-game. This is a two-person game where you will have a field of 15 balls. Your task is to score balls in one of the six holes located in the corners and on the sides of the field. Each player moves in turn; if you score a ball, you can immediately get an extra shot and score another.
Note that you cannot score random balls. You must be on the white ball to hit the other balls and score them that way. The first player must score one of the balls and then gets his color. There are two types of balls: striped and fully colored. One player should only score with a specific coloring. You need to score a total of 7 of these balls. After that, you can try to score a black ball number 8 to finish the game.
Please note that you will automatically lose the game if you score number 8 before you score your other balls. Also, you are not allowed to hit the white ball that you are hitting. If you score it, your opponent can choose any convenient place on the field for it the next time you hit it.
How to win in 8 Ball Pool
Let me give you some tips on how to play 8 Ball so you can win more often. First, I can tell you that the advantage often goes to whoever shoots first. So it would be best if you asked your opponent to challenge you. That way, you will make the first move.
Also, my advice is to keep the ball pointing. This way, you can aim easier and hit balls quickly, but remember that your opponent can also take advantage of this. Note that you don't have to make your move right after your opponent's move. You can postpone it until you have more time to think better about how and where to hit.
You can also find a box at the bottom to help you adjust where on the ball you hit. This will help you if you need to jump in front of you or spin a white ball. And of course, you should assess the situation and if you realize that you can't score any ball, try to make sure that your opponent also has not had many options and can't score from the first strike.