While Uber predominantly operates as a cashless service, you can still pay cash for your ride. Initially, this option was only available in a small number of cities. Fortunately, it now works almost all over the world.
So how to do it? Everything is simple. First of all, you need to put cash as the default payment. You can do it by going to your Uber account, selecting "Wallet," and tapping on your Personal trip profile. Next, you only need to select your default payment method.
Now, when you order a ride, Uber will offer you drivers who accept cash.
In addition, Uber has another interesting feature called Uber Cash. Although "cash" is in the title, you still don't pay with paper money. But then, how does it work?
In short, you need to put some money in your Uber account before the ride. And after it, the required amount will be automatically deducted.
Let's check out how to set it all up in more detail.
How to make cash payment as a default on Uber
If you want to pay cash for every ride, just set it up as a default payment method. Here's how:
Open Uber on your smartphone and go to the Account tab.
Then tap Wallet, and in the Trip profiles section, select Personal.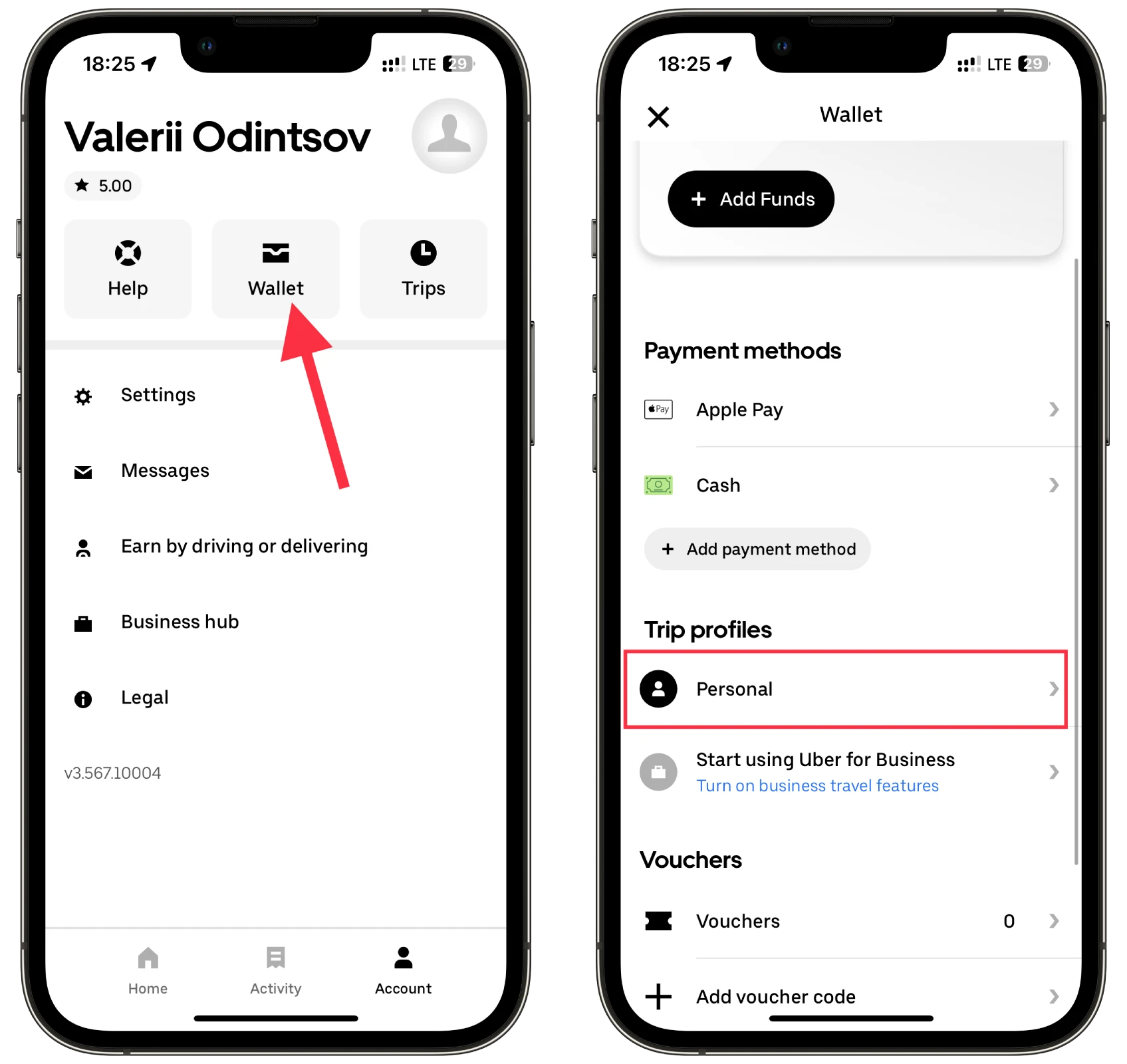 Finally, tap Default payment and choose Cash.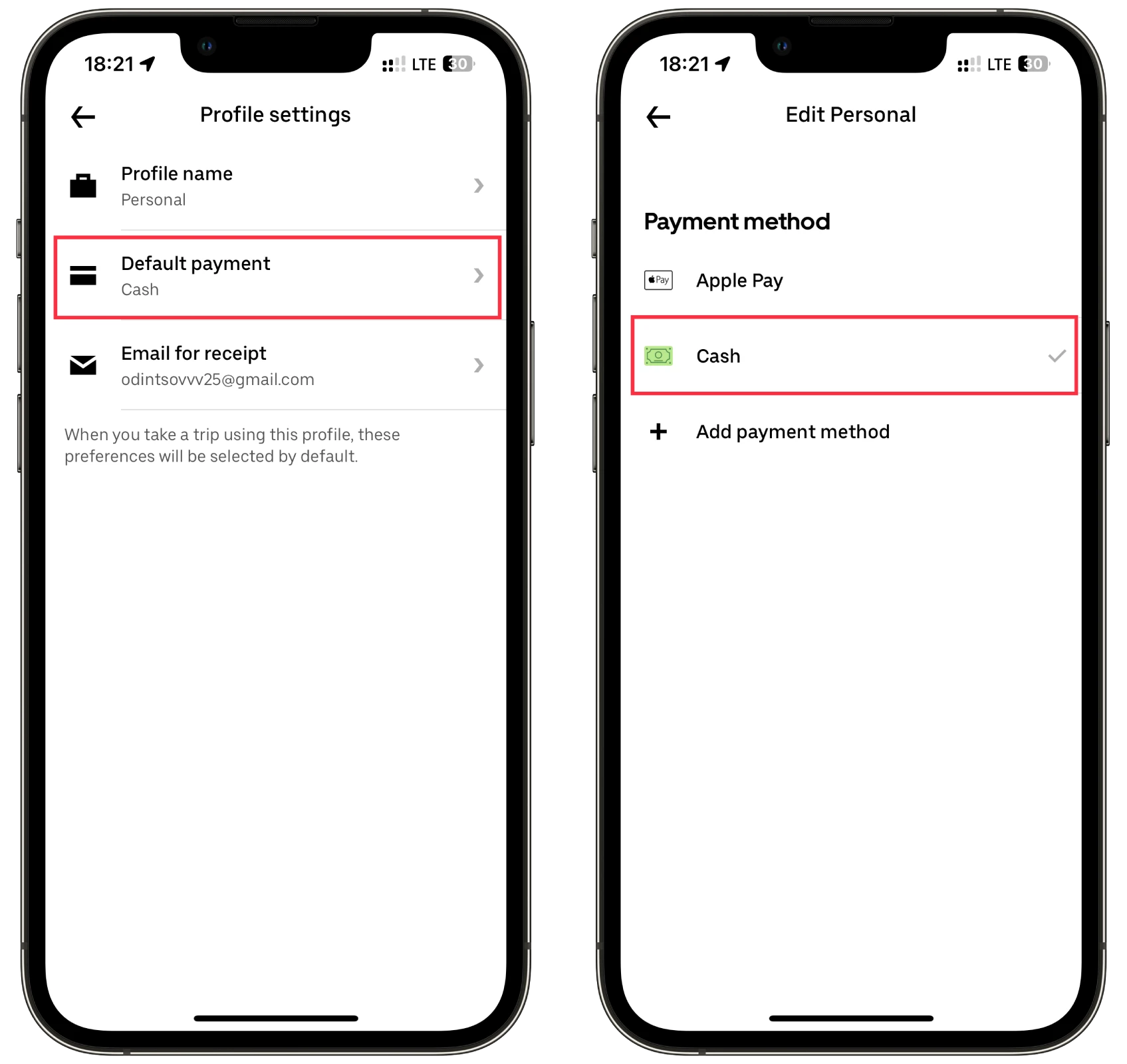 Remember that you won't be able to pay in cash unless you have set your payment method as cash. Moreover, if you have your credit card (Apple Pay, Google Pay) as your default payment method but want to pay in cash, it won't be allowed.
Should I pay cash to an Uber driver?
While paying with a credit card, Uber charges the amount automatically. If you choose to pay cash, you must pay a driver once you arrive at the destination.
Also, if you have a dispute about the price, it's always better to contact support rather than argue with the driver. Uber customer service will help you to resolve the problem.
As I already said, you can't pay in cash if you've chosen another payment method. So keep that in mind.
What is Uber Cash?
Don't confuse paying cash with Uber Cash because they are different features. While paying cash is just an option that allows you to pay with paper money. Uber Cash is a virtual wallet with money that you can use to pay for various Uber services, including rides, Uber Eats orders, and other Uber offerings. It essentially functions as a prepaid account within the Uber ecosystem.
This feature allows users to consolidate their funds and simplify the payment process. Instead of managing different payment methods for each transaction, users can pre-load a specific amount of money into their Uber Cash balance and utilize it for future payments.
This can be particularly convenient for those who want to set a budget for their Uber expenses. But before adding funds, you need to link your credit or debit card.
How to add a credit or debit card on Uber
If you want to add your credit or debit card as a payment method to your Uber account, do the following:
Open Uber and go to the Account tab.
Go to Wallet and tap Add payment method.
Tap Credit or debit card.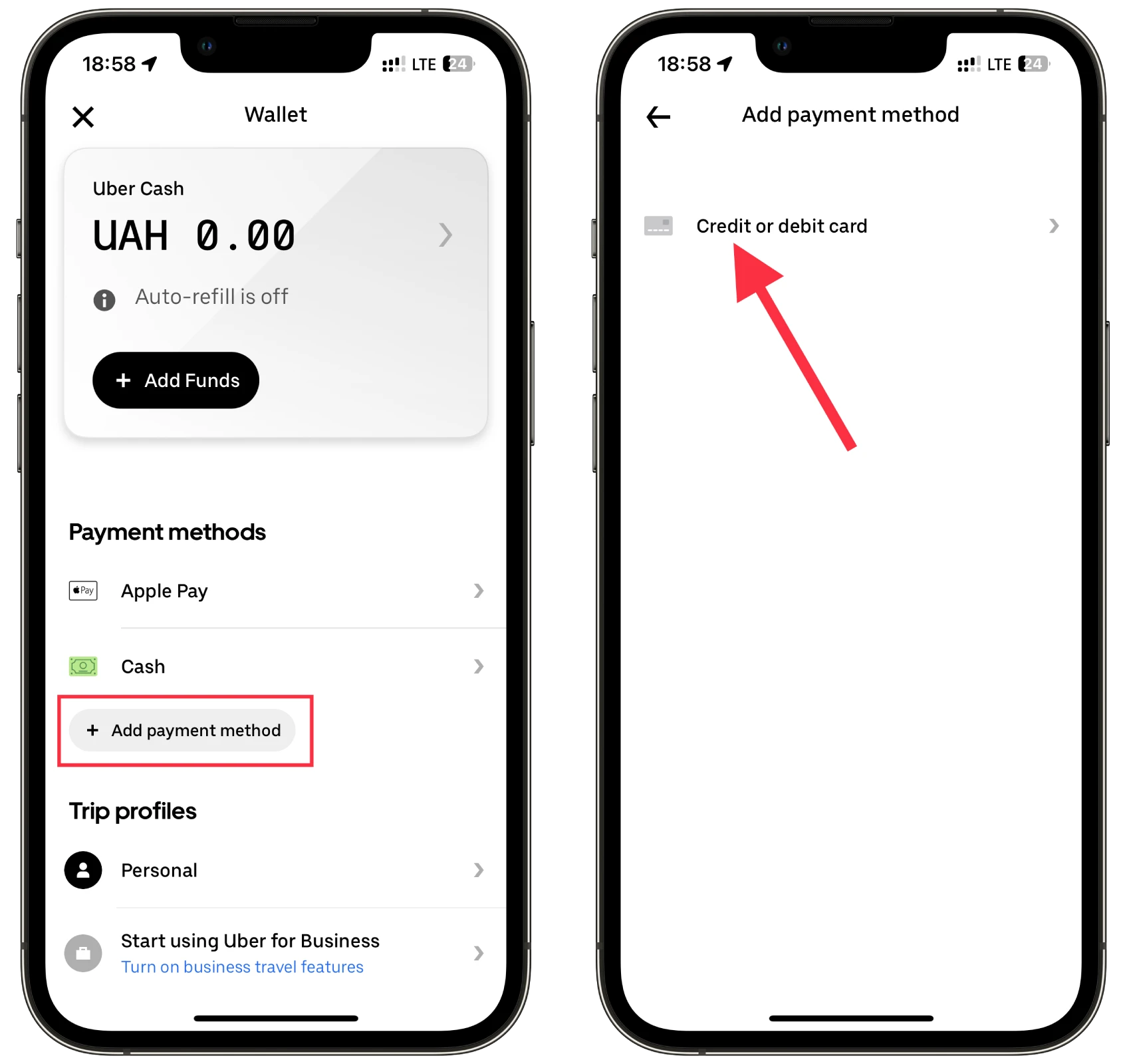 After that, add your password and tap Next.
Finally, enter your card data and tap Save.
Now, you can add funds to your Uber account.
How to add funds to Uber Cash
Follow these steps:
Open Uber and go to the Account tab.
Then open Wallet and tap Add Funds.
Now choose whether it will be a One-time purchase or Auto-refill.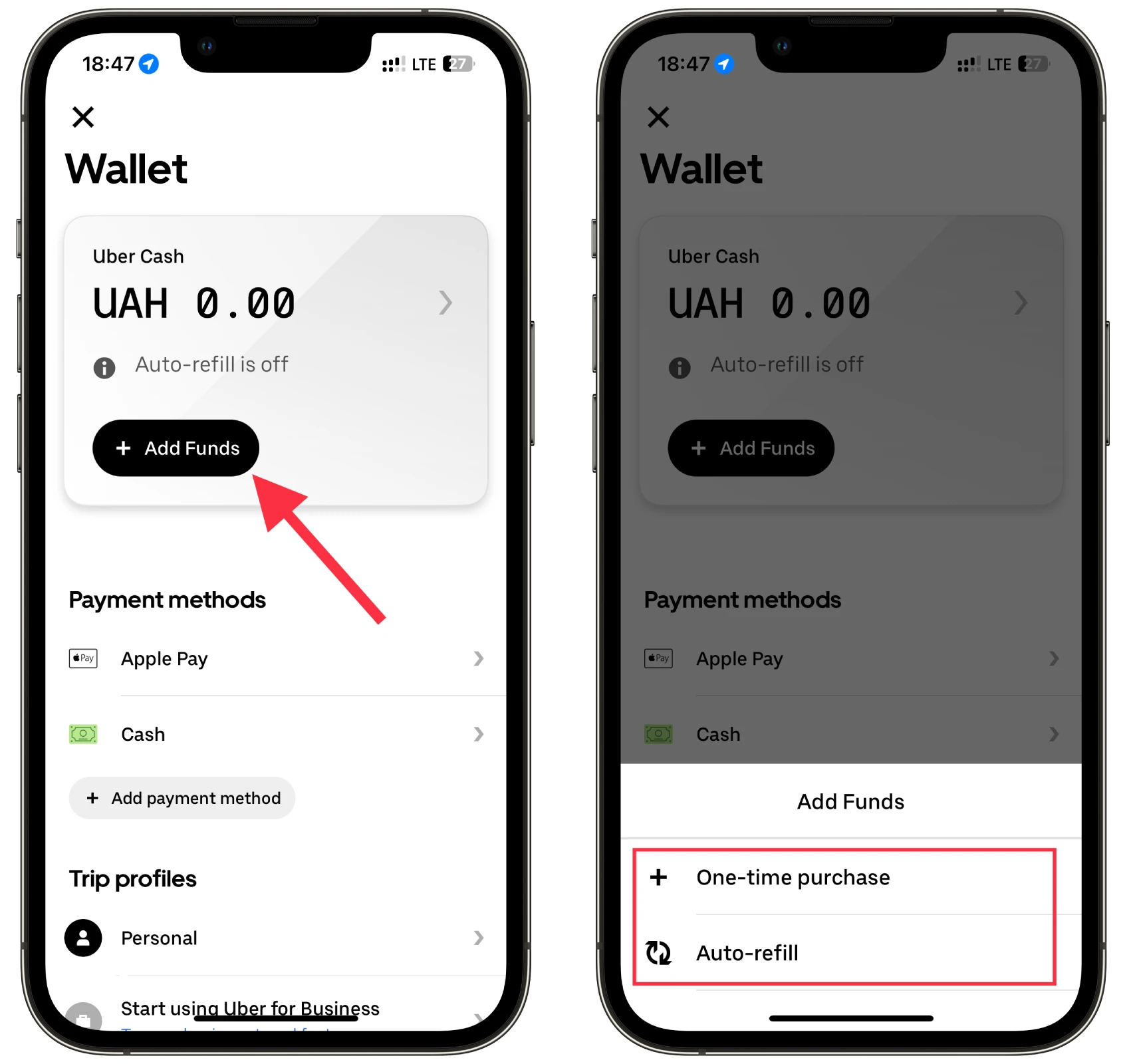 If you've selected a One-time purchase:

Tap Select payment and check the one you want to use.
After that, choose the amount and tap Add funds.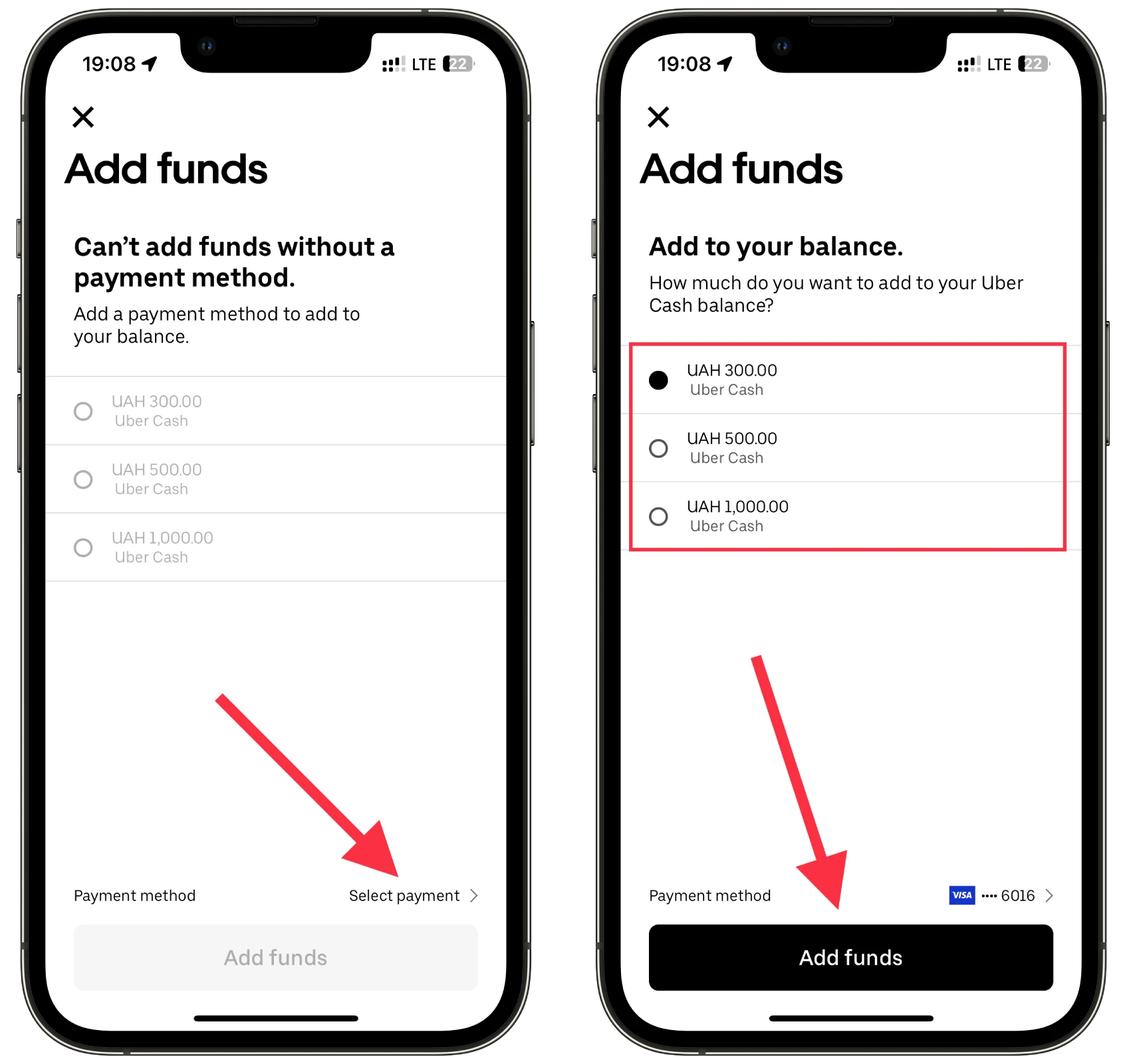 If you want to turn on Auto-refill:

Select the amount of money Uber will automatically add to your balance each time it drops below a certain amount and tap Update.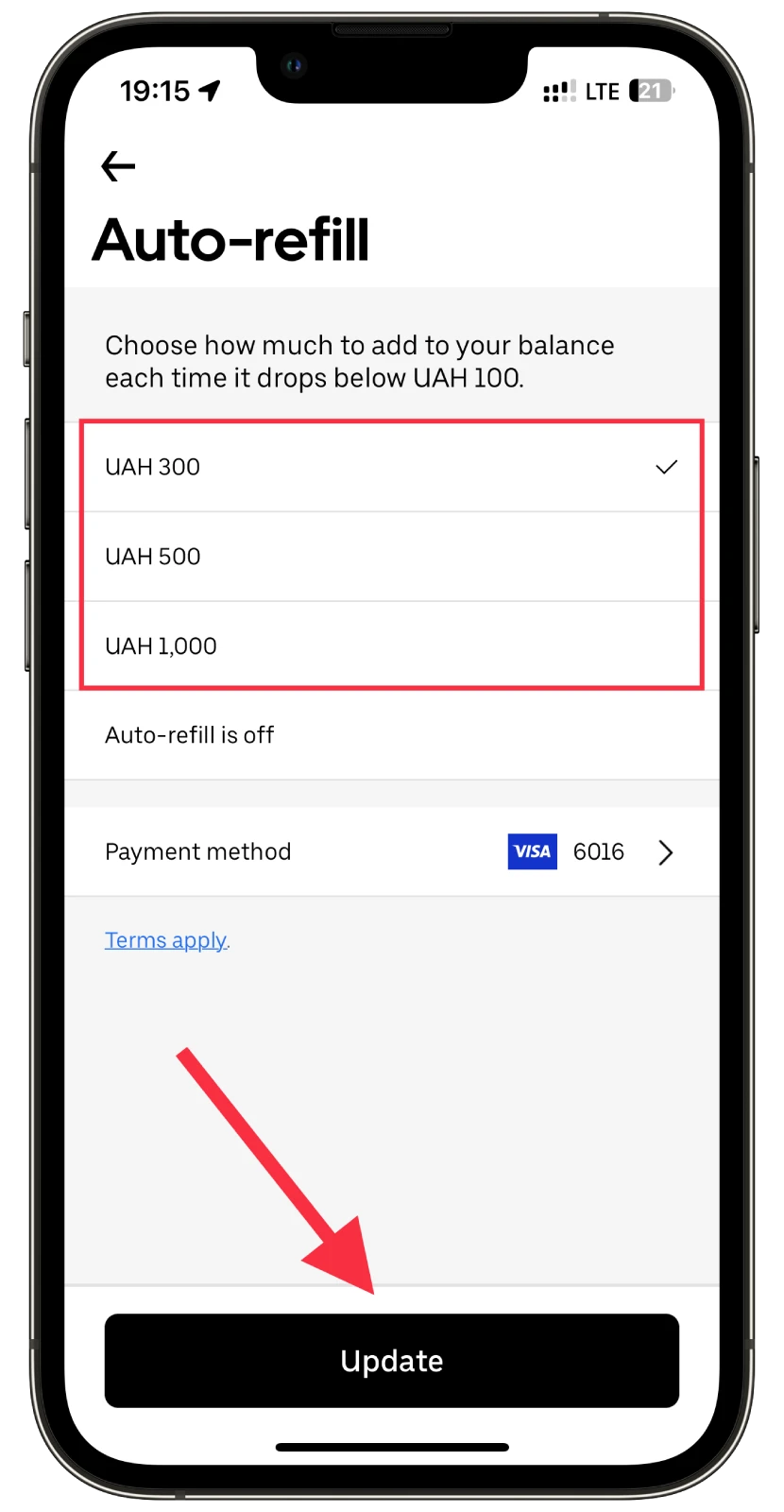 It's important to note that Uber Cash is separate from other payment methods, such as credit or debit cards, mobile wallets, or Uber Gift Cards. Users can choose to utilize Uber Cash exclusively or combine it with other payment options based on preference and availability.
What payment methods does Uber accept?
Uber accepts various payment methods, and the availability of these options may vary based on your location. Here are some of the commonly accepted payment methods by Uber:
Credit and Debit Cards: Visa, Mastercard, American Express, etc.
Mobile Wallets: Apple Pay, Google Pay, and Samsung Pay, depending on your device and location.
Uber Cash
PayPal
Uber Gift Cards: These gift cards can be purchased online or in retail stores to pay for rides and other services. Redeem the gift card code in your Uber app to add the credits to your account.
It's important to note that the availability of these payment methods may vary based on your location and the specific regulations and partnerships Uber has in place. When using the Uber app, you can explore the "Payment methods" section to view the accepted payment methods in your area and add or manage your preferred payment options.
Can I tip an Uber driver?
Yes, you can tip an Uber driver. Uber provides a built-in tipping feature in its app, allowing riders to show appreciation and reward drivers for their service by adding a tip at the end of the trip. Tipping is optional, but it is a common practice and a way to acknowledge good service.
It's important to note that your tip goes directly to the driver, as Uber does not deduct any portion of the tip for itself. The full amount you tip is passed on to the driver as an additional earnings bonus.
Tipping is a way to recognize and support drivers for their service, and it can positively impact their earnings. It's worth considering that drivers rely on tips as part of their income, so if you received exceptional service or want to express your gratitude, providing a tip is a meaningful gesture.