Can't get into TikTok using the regular method? This app allows you to sign in to your account in various ways.
TikTok log in in account in 5 different ways
TikTok has long established itself as one of the most popular apps for creating short videos and watching them. Just like any other app, TikTok allows you to access it not only through your username or email but also through Facebook, Instagram, and Google Account. This is very convenient, especially if you have problems with logging in. For example, you forgot your user name or the phone number from which you registered.
This way, you can always access your TikTok profile from any device without having to remember your data (although it's recommended). It should also work autofill if you from the browser and synchronized passwords.
The app is available for free and you can download it from Google Play Store if you're an Android user or from the app store if you're an iOS user.
How to log in TikTok account via phone number
This method is the easiest because you don't need to remember passwords, etc. All you need is to know your own phone number and enter it when you enter TikTok:
First of all, open TikTok app
It will bring you to the home screen of the TikTok app
Then tap on Me written in the lower right corner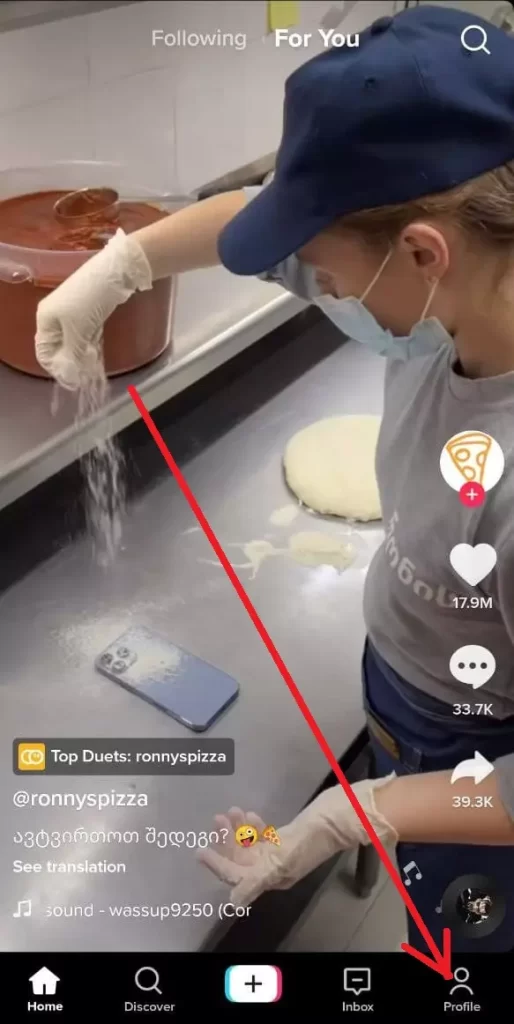 Select Sign up after that
It will pop up a new screen
To login Tiktok Account, select Log In written next to Already have an account?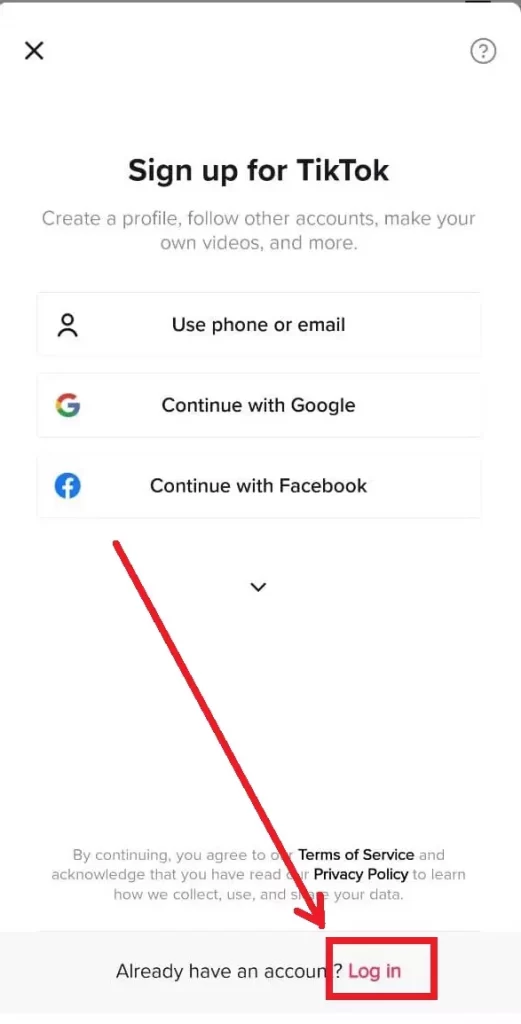 Select Use Phone or Email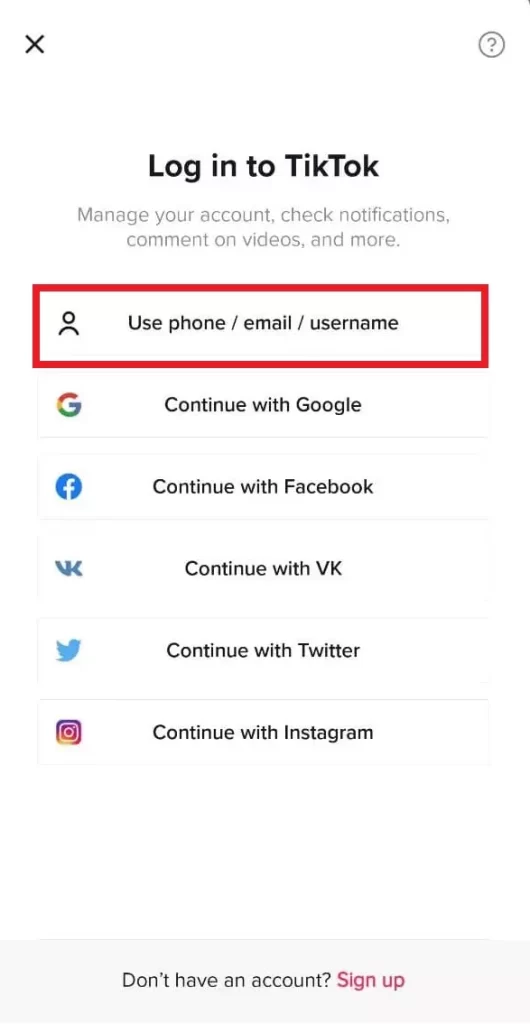 Select Log in with Phone Number and enter your Phone Number (pay attention to country code while entering your phone number)
After this, tap on Send code
Then Enter your password or select Log in with verification code
In the event you select Log in with verification code, you will receive an OTP; you have to enter this OTP to Login TikTok Account
Now, you have successfully logged in
How to log in TikTok account via your Username
If you remember your user name, the process won't be too difficult either:
To login to the TikTok account open the app
Tap on the Me icon in the lower right corner
Then select Sign up
Select Login
Select Use Phone/Email/username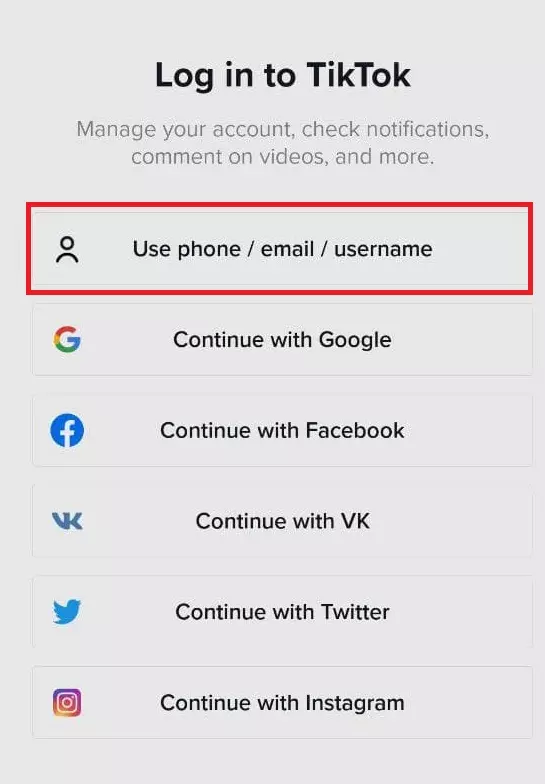 After that enter the username and password that you have created while signing up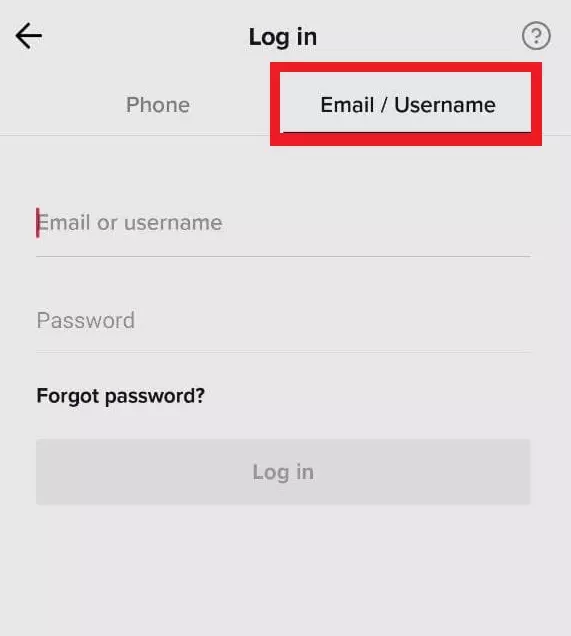 In case you forget your password. Tap on Forgot password?


And enter your Email id, then tap on the Reset button
Now you will get a link to reset your password on your email id from the TikTok server
Next, open the Gmail app on your mobile or login to your Gmail account in your browser using the credentials and open the email you have received from the TikTok team
Open the password reset link and set your password
Then again open the TikTok app, Tap on Me, select Sign up, select Use Phone/Email/Username, after selecting Login
Enter your Email or username and password
Now, you have successfully logged in
How to log in TikTok account via Facebook
If you use Facebook, it's best to use this option so you don't have to remember different passwords:
Open the TikTok app on your Mobile
Then select Me given in the lower right corner of the app
Select Sign up, then select Log in written next to the Already have an account
Then select Continue with Facebook
It will open the Facebook Homepage
Enter your Facebook credentials and select Login
Then TikTok will ask you to access your Facebook account personal information like username etc.
Confirm by selecting Allow that…
Now, you have successfully logged in to your TikTok Account
How to log in TikTok account via Instagram
And if you often use Instagram, it's just as easy to sign in to TikTok with it:
Open TikTok app
Select Me and then select Sign up
In the new window select Log in written in red color
Select Continue with Instagram
Enter your Instagram credentials and log in
Allow the permission, the app asks for or you can also use Facebook here (as Instagram also gives you the option to Login with Facebook)
Now, you have successfully logged in to your TikTok Account
How to log in TikTok account via Google Account
If you have an Android device, chances are good that you have a Google Account, so you can also use that as an option to sign in to TikTok:
To Login TikTok Login with Google Account, you must have a Gmail account, if you don't have then create one first
Then open the TikTok App
Select Me from the home screen
Then select Sign Up
After that select Login which is given at the bottom of the home screen
Then select Continue with Google
A new window will pop up, It will show the list of emails IDs you have logged in to your mobile
Select the Email Id you want to log in with
Now you can start posting your videos on TikTok
As you can see, TikTok is easy enough to get into, especially if you use these different methods. In any case, if you can't log in, you can always write to support and they can help you reset your password.