Many people connect their Windows 10 computer or laptop with an HDMI cable for various purposes. Since HDMI supports uncompressed streaming media, so you can view clear images and hear clear audio. People use this to present information on the big screen so the whole audience can see it, but more often people use an HDMI cable and their computer or laptop to watch their favorite TV show or movie on the big screen at home.
This is usually used by owners of TVs without a Smart TV function. In general, people who use an HDMI cable in this way are more likely to encounter some technical problems. One of the problems you may encounter when you connect your laptop to the TV with an HDMI cable is the lack of sound on the TV. That is, the sound is played on the laptop or computer speakers, but not on the TV. It can also happen that there is no audio on the computer or laptop as well. Despite this, there are several ways to solve this situation.
Why is audio not working through HDMI
A lot of people do have trouble connecting their computers and laptops using an HDMI cable to their TVs. There may indeed be many reasons for this. However, it's important that there are no problems with sound playback at all because the sound on the TV is much better and of higher quality than on the same laptop. Therefore, it makes sense to set up the sound on the TV through the HDMI cable.
To solve this problem, you'll need to spend some of your time to get to the bottom of the causes. Since different devices may have different causes, you need to analyze the situation yourself and understand at what stage the failure occurred, in case you have no sound at all, you should learn how to fix HDMI no sound on a laptop. You will need to follow some steps in the Settings menu to solve this problem.
Read also:
Why is there no sound on your TV when connecting to a PC through HDMI Windows 10
Using this method of viewing video content is popular with a large number of people. It's so popular because the HDMI cable allows you to turn an ordinary TV into a Smart TV. Of course, you can't download apps of different streaming services, but you can use your computer or laptop to enter the account of the streaming service and choose what you want to watch. Then connect your PC to the TV using a cable and start enjoying watching.
Most often, people who have difficulty connecting the PC using a cable HDMI get into a situation where there is no sound in Windows. You need to extensively understand the situation and how to fix the problem with sound in Windows. However, most often it happens that the laptop or computer works and the sound plays, but as soon as you connect the HDMI cable, the illustration repeats on the TV, and there is no sound at all.
It also happens that the HDMI cable is already in the port, but the devices don't recognize it. In that case, you will need to determine what type of failure has occurred in order to fix the PC that doesn't connect to the TV through HDMI. There are ways to deal with this most common problem.
However, the most basic and simple thing you should do in the beginning is to check your HDMI cable. Maybe the problem is in it and all you need to do is replace it rather than adjust your PC. If possible, try a different HDMI cable, or see if the sound will be transmitted through the same cable, but from a different device than your current laptop or computer.
How to configure your Windows 10 playback device
Once you have checked the HDMI cable and made sure that there are absolutely no problems with it you need to look into the settings of your computer or laptop. However, before you do that, try to reboot your PC as well. If these attempts don't work you may also solve this problem by making the HDMI output the default sound output. To do this, follow the steps below:
The first step is to right-click on the speaker icon in the Windows notification area, and select 'Sounds'. Only this will work if you connect an HDMI cable.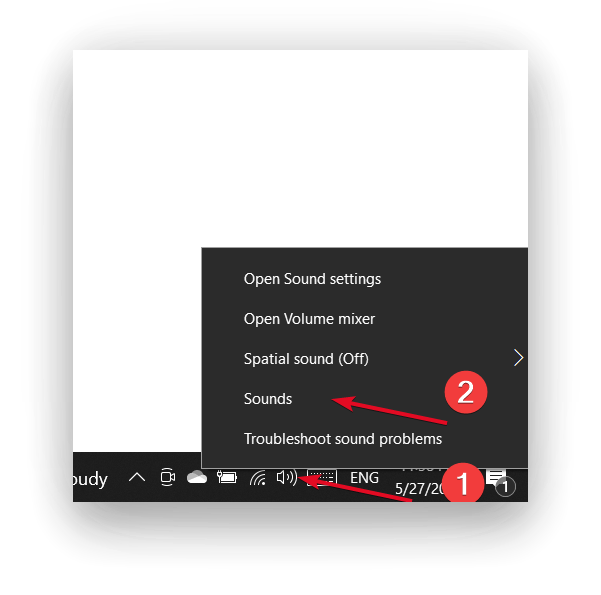 Then a new window will open in front of you, you need to first select 'Playback' in the top panel.
Then select the TV and confirm your actions.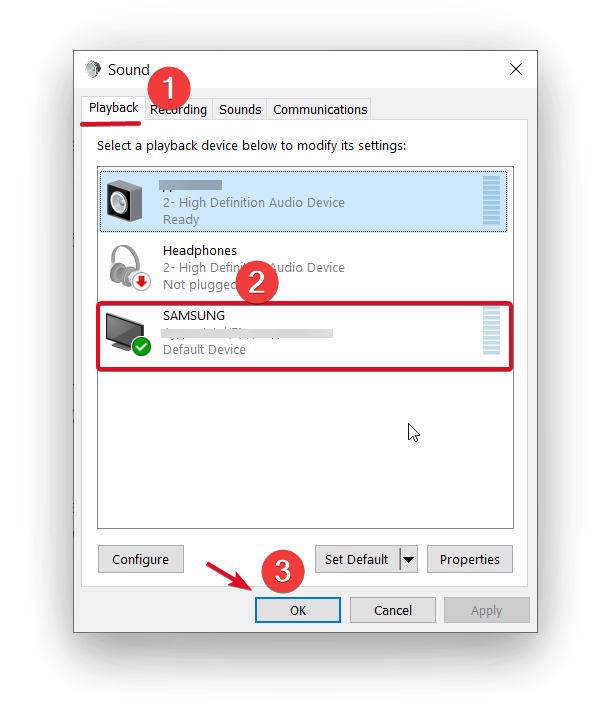 Most likely, these three steps will be enough to solve the problem. With these steps you should have gotten the device you want to use by default, in this case, it's the TV. Now try all the connection steps again with the HDMI cable. If the situation is still the same, you should continue to solve the problem. The next step in solving this problem is to update drivers for HDMI audio.
Read also:
How to update drivers for HDMI audio on Windows 10
Another reason for no sound on the TV after connecting with an HDMI cable could be that you don't have the HDMI audio output drivers installed or updated. However, the video card drivers are installed. This can happen if you manually set which components to install when installing the drivers. To do this, you need to do the following steps:
The first step you need to take is to go to Windows Device Manager. To do this, click on Win+R.
Then in the search line type devmgmt.msc.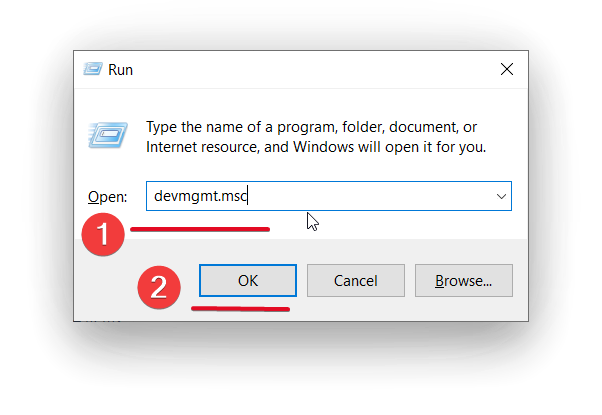 Then a new 'Device Manager' window will open. You need to select 'Sound, video, and game controllers.
After that select 'High Definition Audio Device'.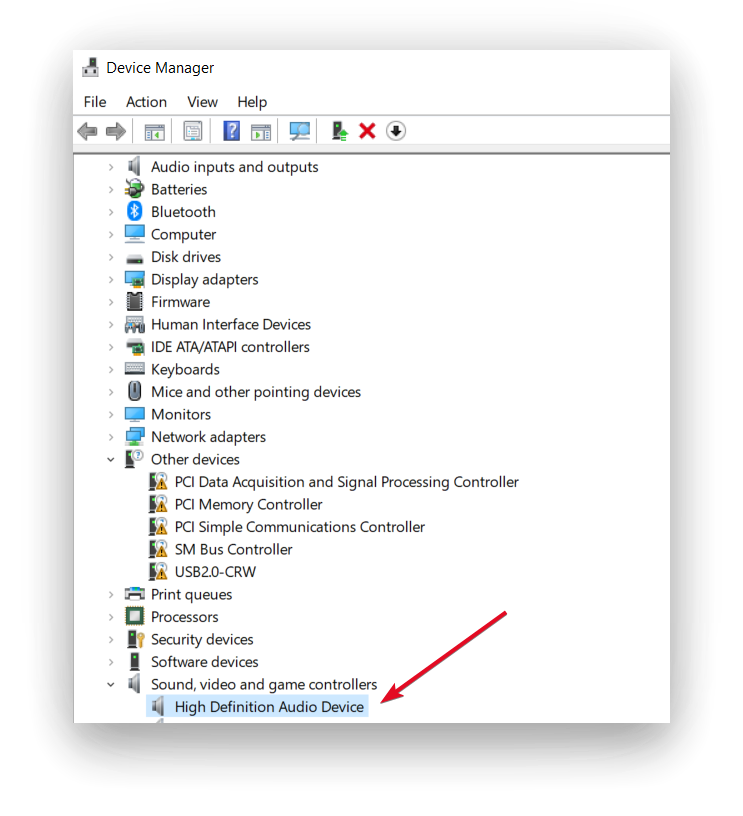 The next step is to select 'Driver' in the new window, then click on the 'Update driver button.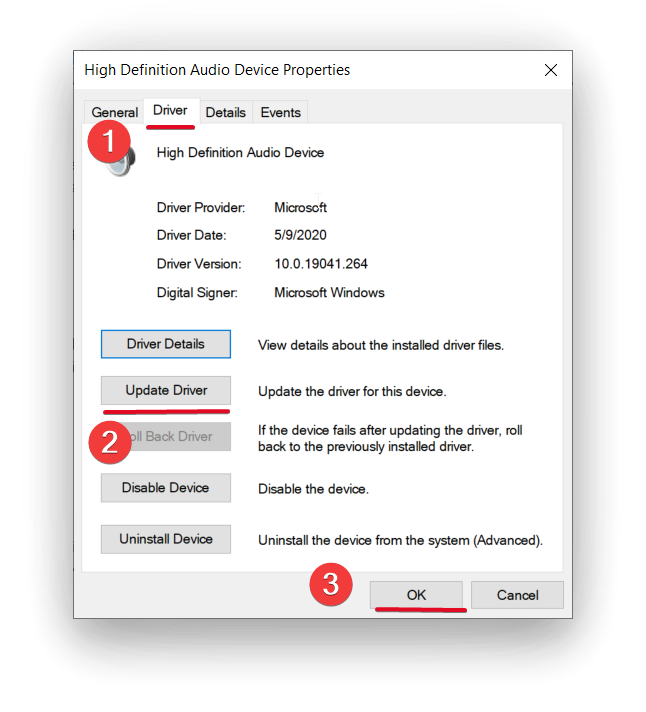 If after these steps your situation hasn't changed and you still can't watch video content on the big screen with an HDMI cable, try to figure it out some more. Check your TV settings, make sure everything is connected, and then try another cable as well. If none of these methods can help you, you should contact a service center.
If you decided to use another computer or laptop and are trying to connect your Mac to the TV and have the same problem, you should figure out how to get sound play through HDMI on Mac. Following a few steps, you will be able to figure out and solve the problem of how to connect HDMI from a Mac.