To determine the manufacturing origins of LG's range of TVs, monitors, and home appliances, one can start by examining the product label and packaging. Typically, these elements will feature indicators of the product's country of manufacture, often phrased as "Made in" or "Manufactured in." Additionally, the product's serial number can be useful for tracing its manufacturing location.
To offer thorough support, we have compiled a complete list of serial number codes for monitors and home appliances, creating an extensive guide to assist you in this process. With this resource at your disposal, you can effortlessly decipher the codes and accurately determine the country where your LG product was manufactured.
How do I know where an LG appliance was made?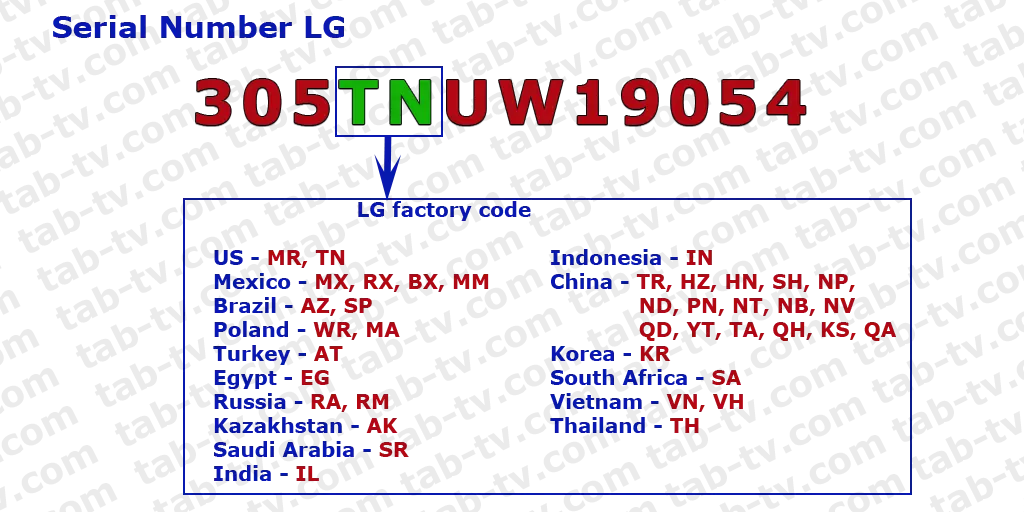 Every refrigerator, washing machine, TV, monitor, and other appliance manufactured has a serial number. The serial number contains a factory code that allows you to identify which assembly line the product quickly came from. Here's what the serial number looks like, and here's how to find the factory code.
LG factories by country and their codes.
Country
Factory code
City
US
MR
San Diego (closed)
US
TN
Clarksville, Tennessee
Mexico
MX
Mexicali
Mexico
RX,BX
Reynosa
Mexico
MM
Monterey
Brazil
AZ
Manaus
Brazil
SP
Taubate
Poland
WR
Wroclaw
Poland
MA
Mlawa
Turkey
AT
Istanbul
Egypt
EG
Ismalia
Russia
RA (RM)
Moscow
Kazakhstan
AK
Almaty
Saudi Arabia
SR
Riyadh
India
IL
New Delhi (Pune, Noida)
South Africa
SA
Johannesburg (closed)
Vietnam
VN
Hanoi
Vietnam
VH, VC
HaiPhong
Thailand
TH
Bangkok
Indonesia
IN
Jakarta (Cibitung, Tanggerang)
China
TR
Taizhou
China
HZ
Huizhou
China
HN
Hangzhou
China
SH
Shanghai
China
NP, ND, PN, NT, NB, NV
Nanjing
China
QD
Qingdao
China
YT
Yantai
China
TA
Tianjin
China
QH
Qinhuangdao
China
KS
Kunshan (closed)
China
QA
Qingdao (closed)
Korea
KR
Pyeongtaek
Gumi_TV
Gumi_Solar
Changwon1
Changwon2
Incheon
Pyeongtaek Chiller
USA, San Diego: LG phones, tablets, and related products were manufactured at this plant. The plant was closed after LG got out of the mobile phone business. MR Plant Code. This is the code you may have seen on LG phones.
USA, Clarksville, Tennessee: This plant makes LG washers and dryers—plant code TN.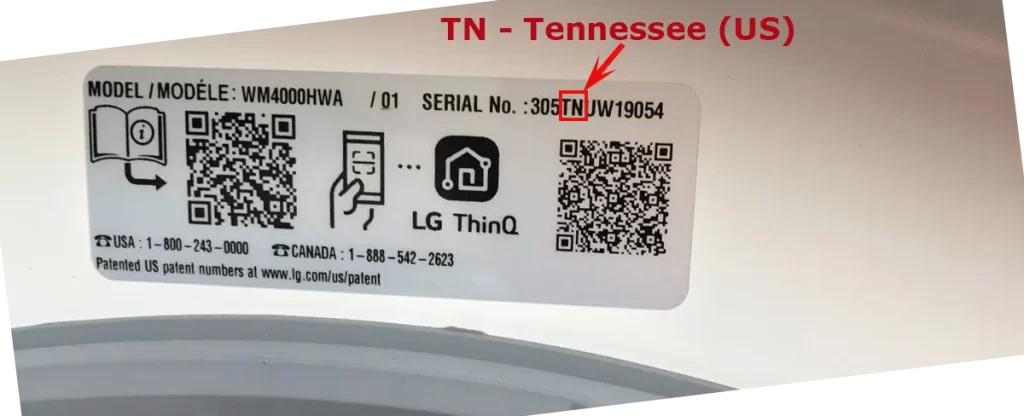 Mexico, LG Electronics Mexicali: this plant manufactures televisions and previously produced LG cell phones. Plant code MX
Mexico, Reynosa: this plant assembles televisions. Plant code RX, after the launch of the new line, another code, BX, is used.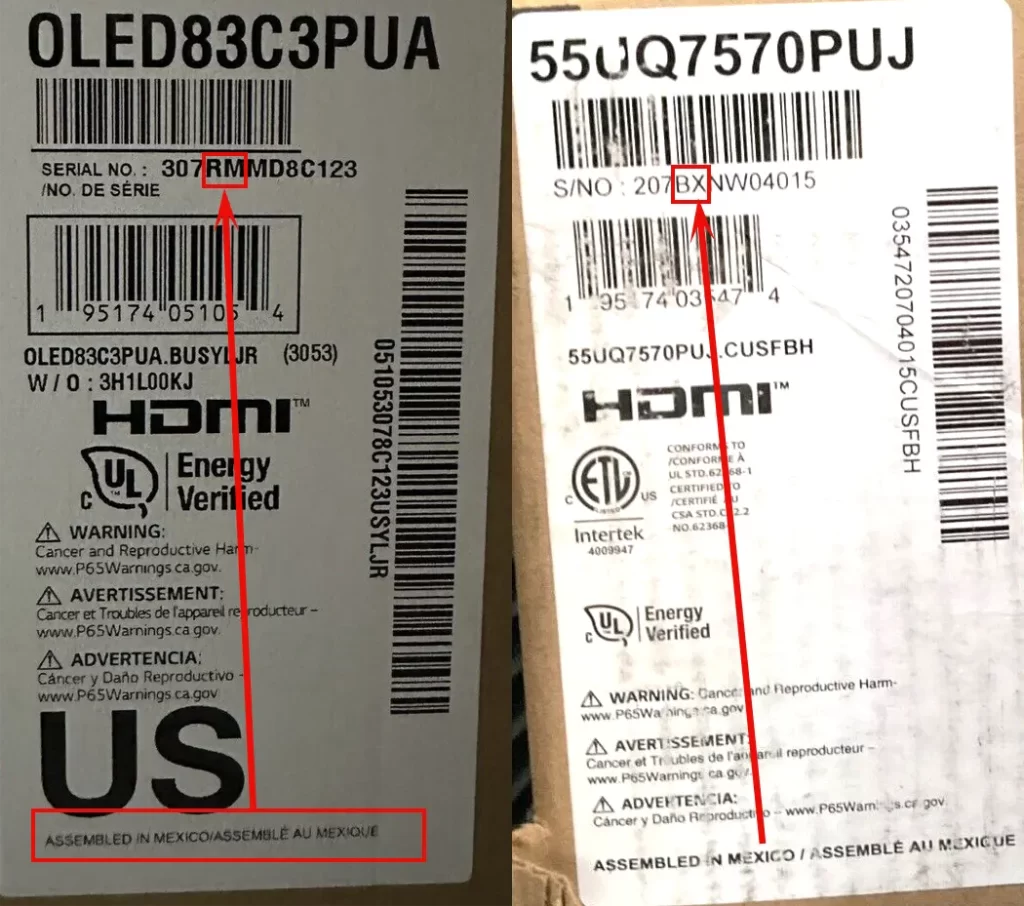 Mexico, LG Electronics Monterrey: This plant manufactures refrigerators, plant code MM
Plants in Brazil, Manaus, and Reynosa: Manaus produces televisions, air conditioners, microwave ovens, and monitors; Reynosa produces telephones and laptops, and the telephone line is closed. It is expected that the two plants will be merged into one. Code plant AZ and SP.
Plants in Poland, Wroclaw, and Mlawa: The LG Energy Solution battery factory, LG Electronics refrigerator and washing machine factories, LG Display, and LG Innotek factories are concentrated in Poland. Approximately 9,000 LG Group managers and employees work in Poland. Factory code WR, MA
Plants in Turkey: LG's factory in Turkey manufactures air conditioners. Factory code AT
Egypt, LG plant: Egypt is a relatively small production facility focused on Africa and the Middle East. Washing machines and televisions are produced in Egypt. There are plans to expand the plant and start assembling refrigerators. Factory code RA, RM.
Russia, LG plant: Refrigerators, washing machines, and TVs were produced in Russia. Now, the plant is out of operation due to international sanctions. 
Kazakhstan, LG plant: TV sets are produced at this plant; after the plant's closure in Russia, it is considered to move the production to this country. Factory code AK.
Saudi Arabia, LG plant: This plant produces premium air conditioners. Factory code SR.
India, LG plant: India produces the whole segment of home appliances and TVs, mainly for the local market. Factory code IL.
South Africa, LG plant: There was a TV manufacturing plant in South Africa; during the riots, it was looted and burned down by the local population in 2021. LG does not intend to open any more production facilities in South Africa. Factory code SA.
Vietnam, LG plant: LG Electronics manufactures home appliances such as washing machines, vacuum cleaners, and refrigerators. There is also an LCD factory in Vietnam. Vietnam is seen as a replacement for China, and LG plans to establish a global production base in Vietnam. Factory codes in Vietnam VN, VH, VW.
Thailand, LG plant: LG produces household appliances, air conditioners, and refrigerators. Factory code TH.
Indonesia, LG factories: Two factories in Indonesia produce televisions, monitors and refrigerators. Factory code IN.

China, LG factories: There are many factories in China, mainly producing components, displays and motors, and electronics for home appliances. However, LG is gradually withdrawing from China.  Factory code TR, HZ, HN, SH, NP, ND, PN, NT, NB, NV, QD, YT, TA, QH, KS, QA
Korea, LG factories: Korea also has many factories that mainly produce components and premium home appliances, refrigerators, washing machines, OLED panels, and air conditioners. Factory code KR
LG Research and Development Divisions
You may encounter appliances or monitors with other factory codes. LG has small pilot plants where new models, such as washing machines, are manufactured. After they go on sale, feedback and repair cases are collected, this information is analyzed, and work is done to correct any defects found during use. Here are the codes for these factories and their locations.
MR – San Diego USA (closed)
TH – Chicago USA
RD – Beijing China
SI – Bangalore India
RM – Ruza Russia (closed)
VM – Vietnam
EH, SE – Amsterdam Netherlands
ST – Korea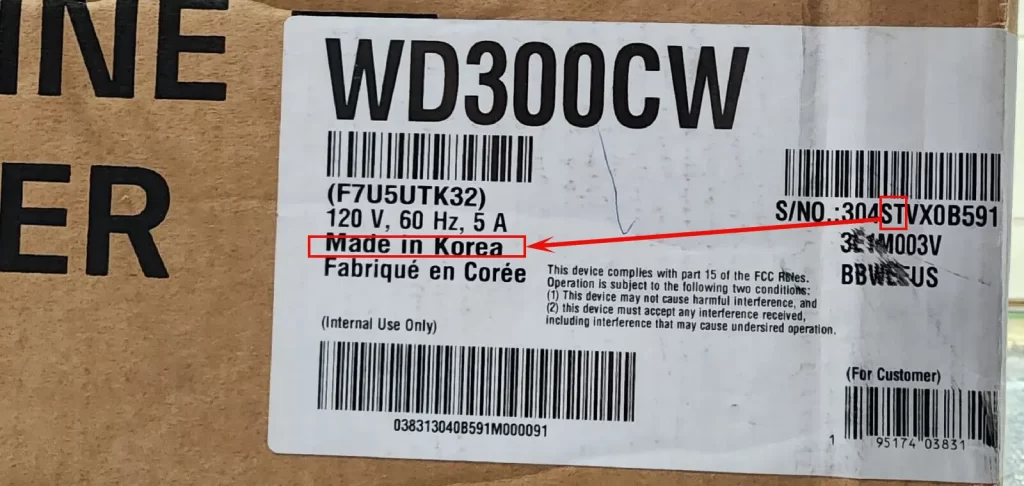 Where LG home appliances and electronics are made
LG home appliances and electronic devices are produced at factories of the same name, and factories are built with cheap labor or low production costs. The second incentive for opening a factory is high import duties; factories are built where it is profitable. LG can choose to pay import duties or build factories.
For example, in the United States, a factory has been opened to produce household appliances, washing machines, and dryers. The factory is maximally automated, and the number of workers is minimal, but you do not have to pay taxes for importing washing machines from abroad. It is more profitable to open a factory in the US than to import washing machines, which is what LG has done. If you are interested in whether LG TVs and monitors are produced in the USA, the answer is no, and they have never been produced; components for monitors and TVs in China, Vietnam, and Korea, assembly of TVs in Mexico, monitors in Mexico, China, and Indonesia.
Europe, TVs, and home appliances are made in Poland, an EU country, as it is domestic production and there are no import taxes.
High-tech home appliances, including refrigerators and components, such as OLED displays for TVs, are produced in Korea.
Production is open in other countries mainly because of cheap labor. Separately, China's components and appliances are mass-produced there; it just so happens that 20 years ago, China was beautiful because of cheap labor and stability, but now it is not.
The serial number on my LG device does not match.
The first thing you might think in this case is, wow, a fake! Of course, it's not impossible, but it could still be an LG product; it's just that it's manufactured by an OEM such as Foxconn. This is quite common; a company specializes strictly in laptops, for example. They develop the technology and design and then custom-make a laptop under a different brand.