The first thing I want to say is that there is no need to delete your account on Tinder. You can pause searching for a partner and just temporarily hide your account.
For this, you need to open your Tinder settings, scroll down to the Enable Discovery option and turn it off. Once done, your profile will be hidden from the card stack. But people you have already liked before may still see you and match with you.
If you want to quit Tinder altogether, you can delete your account. It's also easy to do. Go to the settings menu, scroll to the very bottom, and select Delete account. Here you will see an offer to pause your account. This is not a separate option, but turning off Discovery. So don't get confused.
You need to select Delete my account and confirm the deletion. Optionally, you can also pick a reason why you are leaving Tinder.
For a more detailed guide, check it out below.
How to pause your Tinder account
If you want to pause your Tinder account temporarily, you can follow these steps:
Go to your Tinder profile page and tap the gear icon at the top right to open Settings.
After that, scroll down to the Enable Discovery feature and turn it off.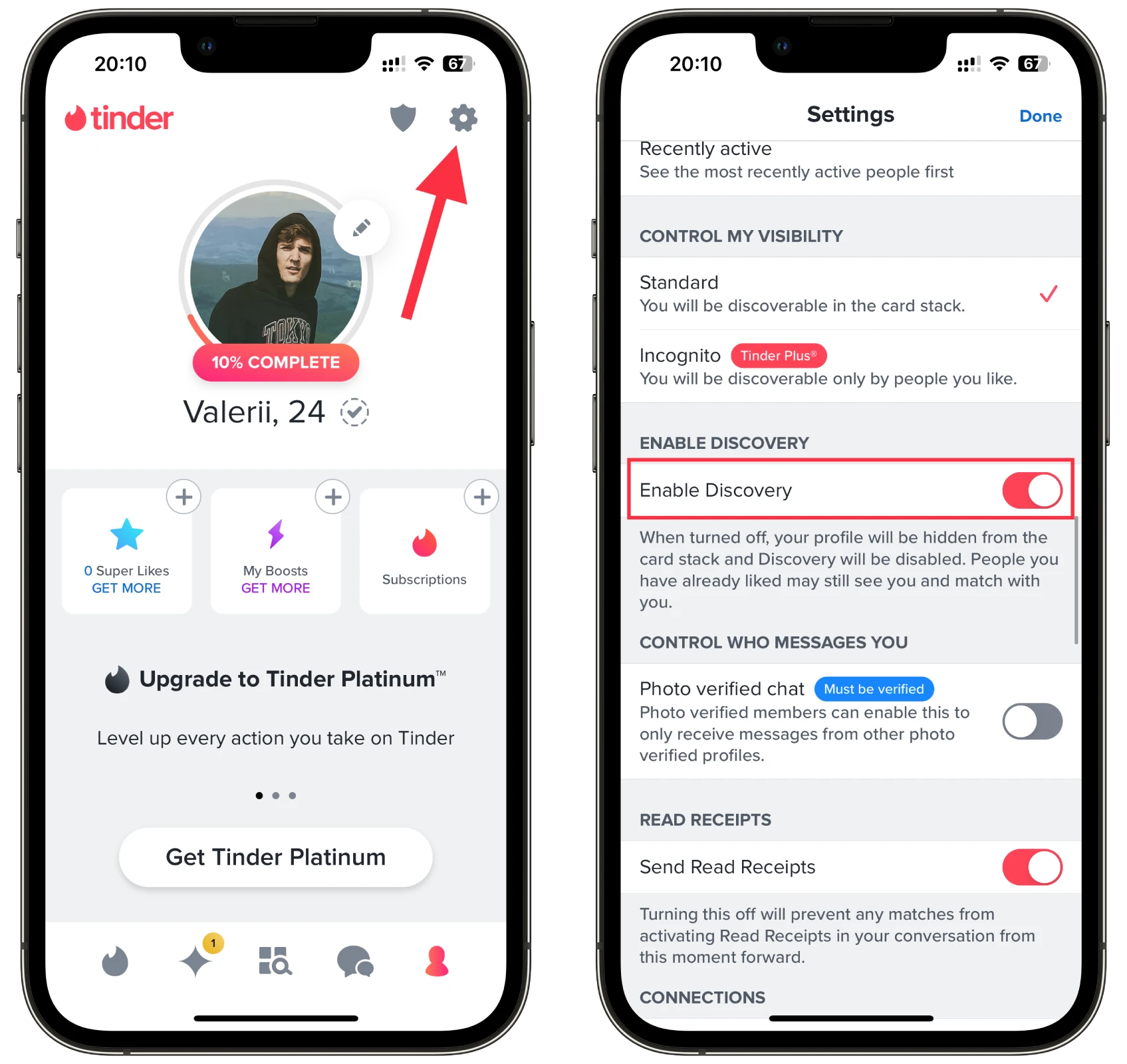 As I said at the beginning, this way, you won't be visible in the feed. However, those you have liked before the pause will see you and be able to match with you. So keep that in mind.
How to delete your Tinder account
To delete your account on Tinder, do the following:
Navigate to the Tinder settings and scroll to the very bottom of the page.
Then tap Delete account and select Delete my account (NOT Pause My Account).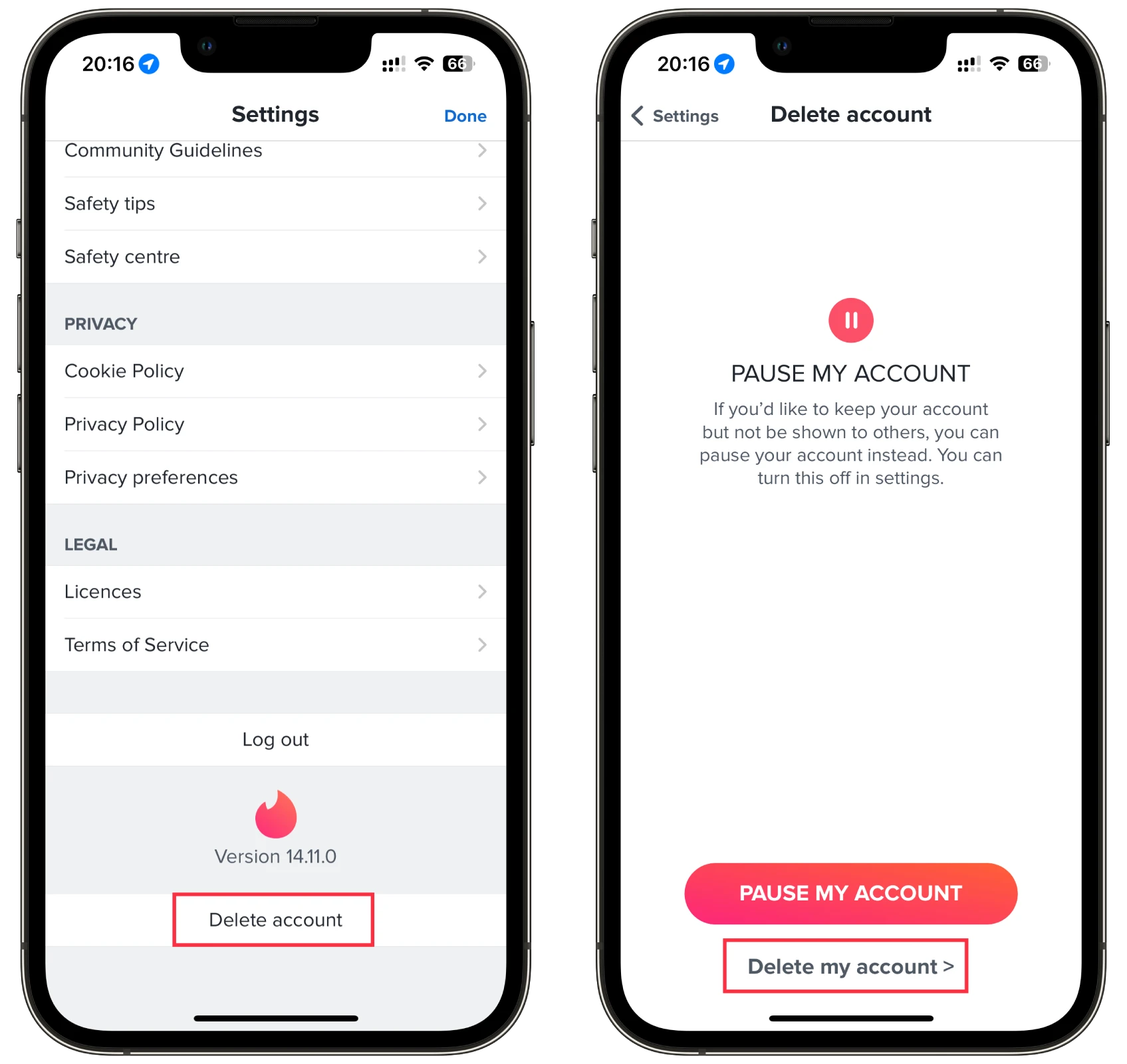 If you wish, you can select why you're quitting Tinder or skip it.
Finally, confirm the deletion by tapping Delete my account.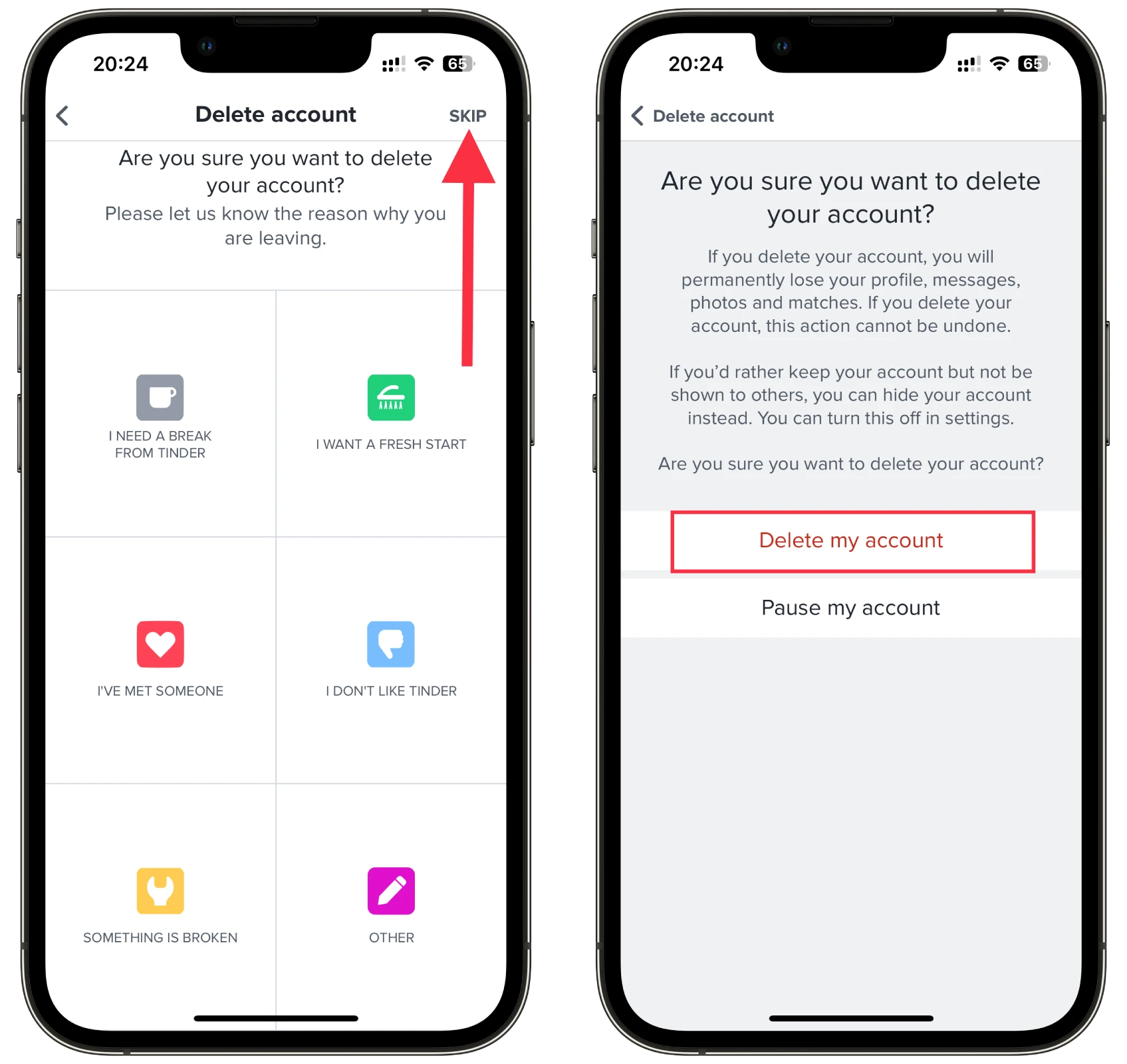 It's funny that while deleting an account, Tinder wants you to stay and change your mind later, offering to pause your account instead almost during every step.
Is my Tinder subscription automatically canceled when I delete my account?
No, deleting your Tinder account does not automatically cancel any active subscriptions you may have. It only removes your profile from the app and prevents others from seeing it.
If you have a Tinder Plus or Tinder Gold subscription, it is important to cancel it separately to avoid being charged for future subscription periods.
Why won't Tinder let me delete my account?
If you're experiencing difficulties deleting your Tinder account, there could be a few reasons you're encountering issues. Here are some common issues and their possible solutions:
Temporary Suspension: If your account has been temporarily suspended or flagged for violating Tinder's terms of service, you may be unable to delete it immediately. Contact Tinder's customer support for assistance in resolving any suspension issues before attempting to delete your account.
Technical Issues: Occasionally, technical issues on Tinder's end may disrupt the account deletion process. In such cases, it's best to wait for some time and try again later.
If none of the above solutions work, the best course of action is to reach out to Tinder's customer support for personalized assistance.
What happens to an inactive Tinder account?
If your Tinder account has been inactive for 2 years, it will automatically be closed. This means all your data will be deleted from the servers, and your account will disappear completely. So you can no longer log in, and the only way you can get back on Tinder is to create a new account.
Tinder should warn you by email before deleting your account after two years of inactivity.