Facebook is the kind of social network that has many tools for audiences who just use it for simple communication and entertainment, as well as for audiences whose main goal is to promote themselves. That's why Facebook is so popular and every year its audience is expanding more and more.
Since Facebook has many tools that people like to use, there are times when some people have questions. This is normal considering that this social network is updated often. One of the topics that are actively discussed in Facebook polls. So if you also need to understand how to delete a poll in Facebook Messenger, you should read the information below.
What does it take to delete a poll in Facebook Messenger using an iPhone?
It's actually pretty easy to figure out how to delete a poll in Messenger using your iPhone, this method will be a bit similar if you're using a PC. So, to delete a poll in Facebook Messenger, you will need to delete the dialog completely. That is, you can't delete a poll as a single message. To delete a poll in Facebook Messenger using an iPhone, follow these steps:
Open the Facebook Messenger app.
Then click the desired chat.
Next, select 'Delete' from the list of actions.
After that, confirm your actions.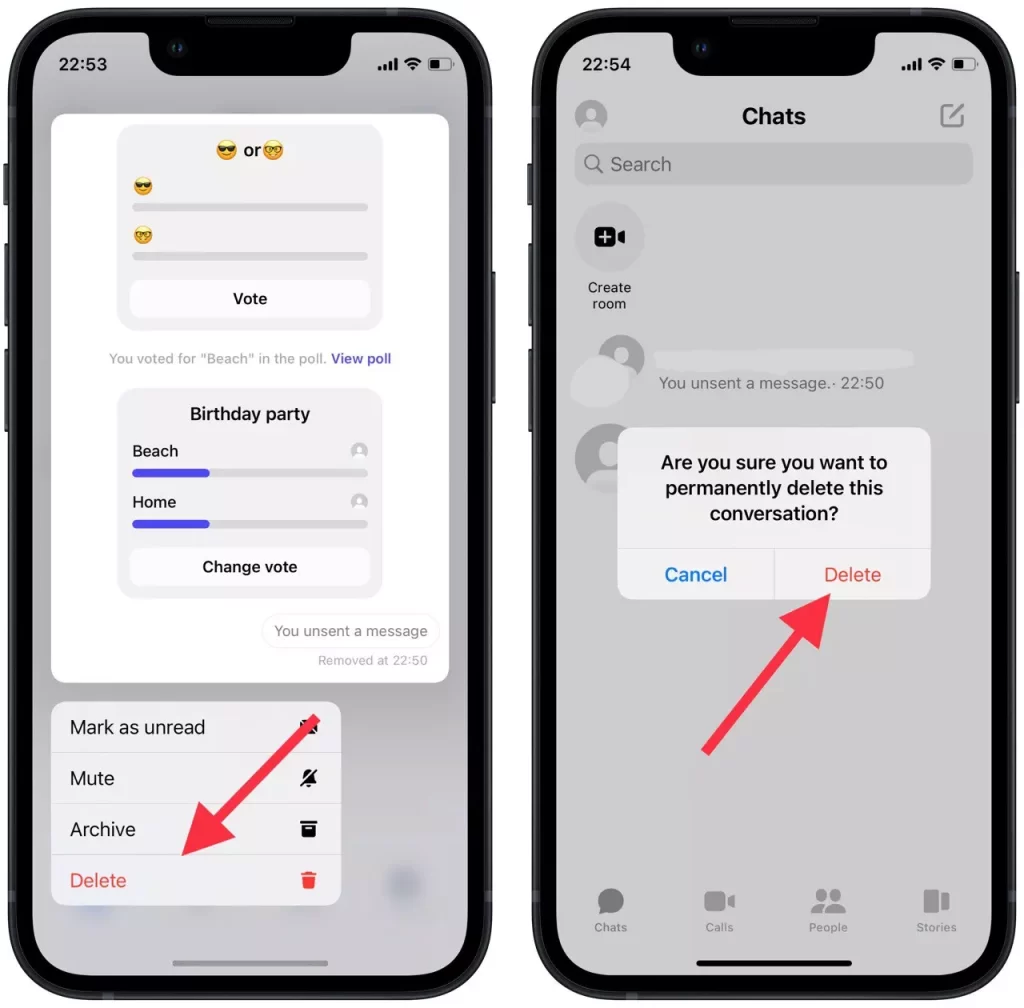 These are the only steps you need to take in order to delete a poll you no longer need. If you need to do this from your PC, note the following steps.
What does it take to delete a poll in Facebook Messenger using a PC?
Now that you have seen what steps are needed to delete a poll using an iPhone you can see that the steps using a PC are similar. So to delete a poll in Facebook Messenger using a PC you need to:
Open Facebook Messenger in the browser on your PC.
Then you need to click on the three dots of the desired chat.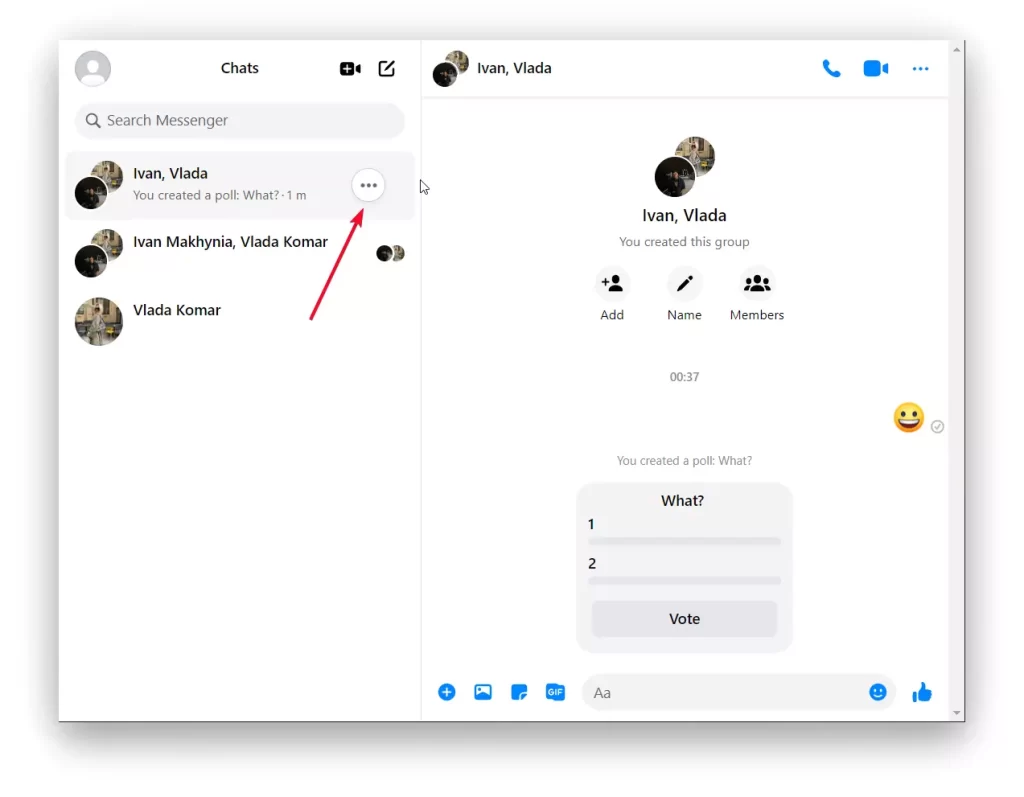 Next, select 'Delete' from the list of actions.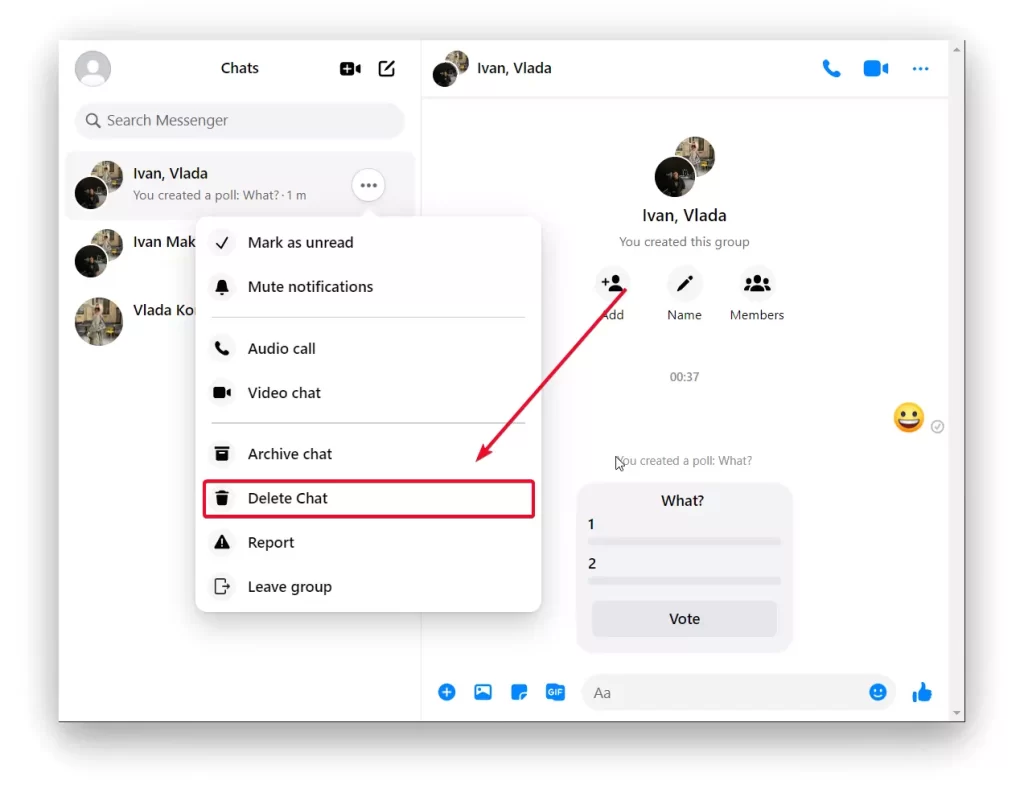 After that, confirm your actions.
Also, if you accidentally make a mistake when creating a poll, you can only delete it by deleting the chat. If you need to, create a new poll and use this tool further for development and entertainment. Polls are a good tool for developing your personal brand and having a good time with your friends. Don't waste time with questions, just give short answer choices and get them in a short time.
Are there any other ways to delete a Facebook poll?
In my opinion, the polls feature on Facebook is very poorly done, in terms of functionality. Obviously, polls are an important thing in marketing and entertainment. However, if you only consider the functionality of using polls on Facebook, it's done poorly, given that it's a Meta product.
In almost every messenger, it's possible to delete something, but not in Facebook Messenger. So when a user makes a mistake, they can't delete the survey.
Along with this, at the time of writing the article on my Mac, the function to even create a poll has disappeared. For about a year, Facebook polls stop then work again in groups, pages, and chats. Therefore, I believe that another feature that Facebook has is not working properly and does not give its user a comfortable user experience. And with that said, there is no other way to remove a survey on Facebook Messenger.
What is a Facebook Messenger poll?
Facebook polls are a unique way to interact with your audience. In fact, they're nothing new to us all. A poll is created in such a way that you ask a question and answer options, that is, this feature fulfills its expected purpose. Facebook allows its users to create polls in Massanger, in groups, on their pages, in stories, and even in an event post. Either way, it's a unique tool for interacting with your audience of friends and followers.
Group polls and polls in event posts are considered especially valuable for development. If you need to create a poll on Facebook Event you can find out how it works. So that you can communicate with your friends in this way. Statistically, people take part in polls in small numbers in the comments, but when they have options in front of them, they will click with great pleasure. So you shouldn't forget about such a tool.
What happened to the poll option on Facebook Messenger?
In fact, Facebook makes adjustments to this social network quite often. This includes such a tool as polls. Back in 2016, Facebook presented polls but rather got rid of this feature. This was implemented due to the fact that at that time there was a program on which the idea to modernize Messenger and optimize the work.
After which a few years passed and this company decided to bring back this feature, but in fact what is worth knowing about, the reason for this was that the absence of polls caused a strong reaction from the public. Fortunately for many, the ability to create polls is back.
After polls returned to this social network, many users, including most SMM professionals began to use this tool as a promotional tool. Since Facebook has long been more than just a social network in which people only share their lives. Today, every developing company has a Facebook page with a linked site.
That's why so many reactions were caused by the absence of polls, as the public has lost one of its powerful tools for promotion. If you aren't yet familiar with this field and haven't thought about how to use Facebook polls for marketing, you will be interested to learn about it.
In addition, you should learn more about how to properly create a poll in Facebook Messenger so that you don't have to delete it later on. Because once you understand this function you will be able to do much more, both to have fun with your friends and to promote your personal brand if you need it.
What are the benefits of Facebook polls?
In fact, there are quite a few reasons to use Facebook polls. One of the most important reasons is to increase engagement. This is very important in order to grow your page or group. A poll increases engagement and then it works so that the Facebook algorithm gives preference to content with a high level of engagement. Another important thing is that a poll helps you communicate with your audience.
If you just write a question, you won't get many responses in the comments, and people will be too lazy to write a detailed opinion. With the polls it works differently, more people will want to participate. If you don't know how to create a Facebook poll in a group, it's helpful to create more interaction with your audience.
Another advantage of a poll is that you can get a true opinion from your audience or potential customers. That is, if you create a poll in a group, you can add answer options and get results that can affect the further work and development of your brand. Also conduct research, the organization of which doesn't need to be complicated, you don't need to allocate finances and a team of people who will take care of it, you can just involve the SMM specialist.