Let's start with a short introduction. HelloFresh is a food subscription service that provides everything you need to cook healthy meals for your family. And it can be useful enough if you don't have enough time to do everything on your own.
As a HelloFresh subscriber, you don't have to stress so much about planning your weekly dinner menu and hauling all the ingredients home from the grocery store.
The company just handles everything but cooking, giving you simple recipes and fresh ingredients delivered in an insulated styrofoam shipping box once a week.
It's simple enough. You have about 20 different meal kits each week from which you can build your menu.
As for prices, although they are higher than the competition, they are still flexible enough to meet any request. For example, for 2 people, 2 recipes per week (4 total servings) would cost $57.95, with $12 per serving + $10 for delivery.
The most popular choice (if their website is to be believed) is a meal kit for 2 people 3 times a week. That would cost $10 per serving + $10 for delivery.
Also, depending on your plan – you can choose more sophisticated servings. CNET reviewer David Watsky said that the plenty of recipes is a strong point of this meal-kit delivery service and his general impression was quite positive.
There's a simple price calculator, so you can experiment with different combinations on their website in case you want to find the best price ratio.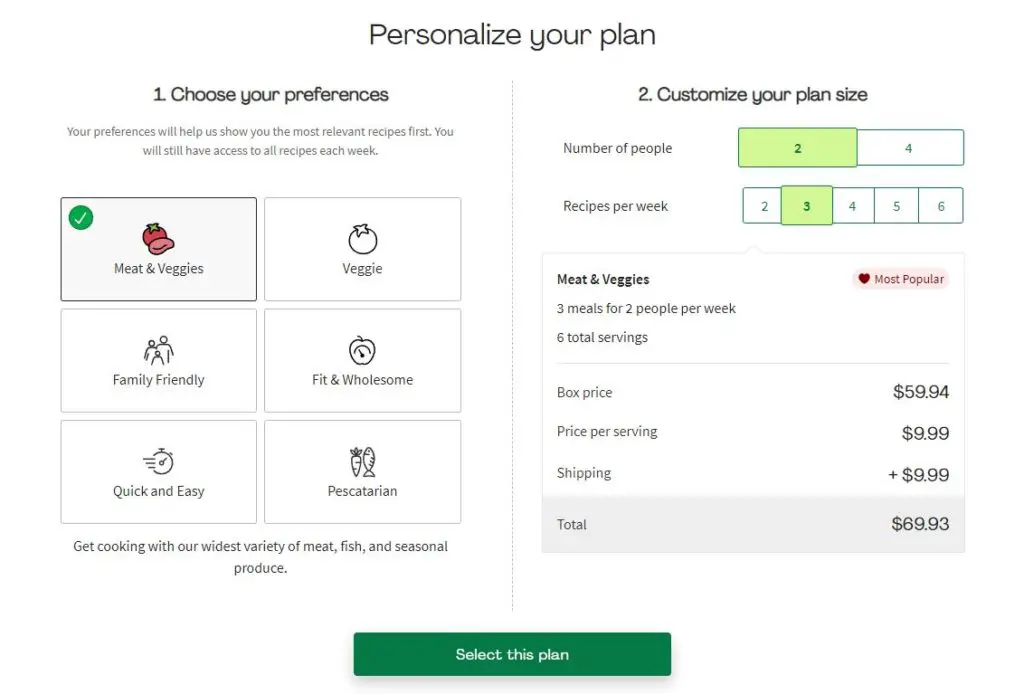 However, if you're reading this article, you're probably about to cancel your Hellofresh account and wish to delete it.
And… Frankly, not everything is so simple I wish it to be.
I mean, if you want to delete your account, you probably have deliveries planned. And you can easily cancel them, but what to do if you want to delete your account completely? In this case, things would be much more complicated.
However, let's go step by step.
How to cancel Hellofresh delivery in case you don't need it
The simplest thing you can do in case you don't want to be a Hellofresh customer anymore is just to cancel Hellofresh delivery.
However, keep in mind you should do this 5 days before the day delivery is planned for. If you don't cancel it in time – you would be charged for the meal kits that are in progress (you can read a little bit more about Hellofresh cancelation policy here).
If you want to cancel your HelloFresh delivery, you have to follow these steps:
First of all, navigate to the HelloFresh official website and sign in to your account.
Then, click on your name in the top right corner of the webpage.
Select "Account Settings" in the drop-down menu.
After that, scroll to the bottom of the "Plan" settings page and click on the "Cancel Plan" option.
You will receive a pop-up message warning you to cancel. Just click "Cancel Anyway".
Choose the reason for deactivating your HelloFresh account.
Finally, following the prompts, click "Cancel Anyway" again.
Once you have completed these steps, you will be shown a message that your deliveries were canceled with the last delivery date (in case you've canceled after 11:59 PM 5 days prior to your next delivery).
How to delete or deactivate your Hellofresh account
Well, you just followed the steps above and canceled your deliveries. That's great, as you won't be charged anymore, so you can just find another service or start cooking on your own. However, your account is still active.
That's great if you want to return to Hellofresh in the future, but bad for people who completely don't want to use this service.
To be frank, I don't see anything wrong with the account remaining active when you cancel delivery. I wouldn't even pay attention to that. However, many of my friends disagree with me and insist that the account should be deleted completely.
Hellofresh doesn't offer a straightforward way to delete your account. For example, if you try to find the solution in their FAQ, here's what you will see (spoiler: nothing).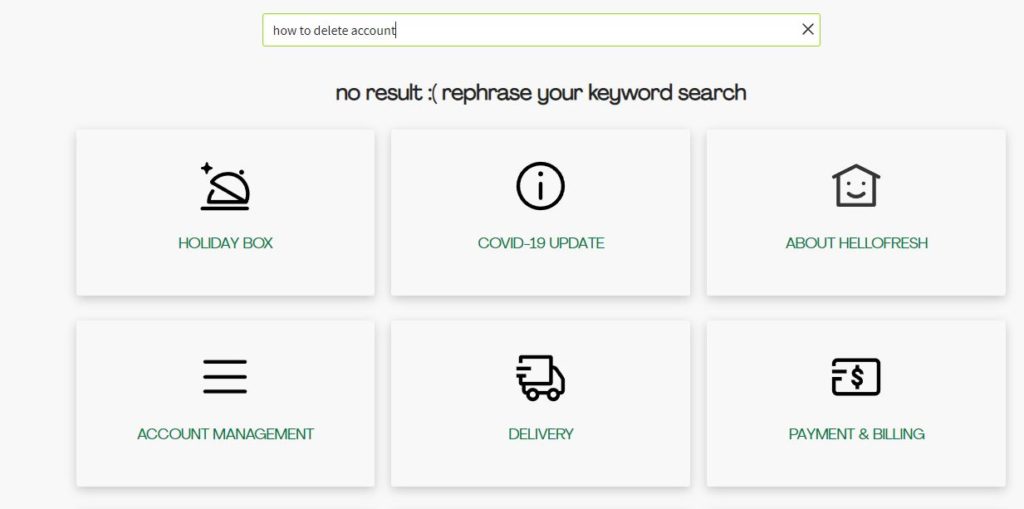 However, there is a solution. I would be fair, it was found by Vladislav in his article for Splaitor. He reached the support team and they said that you need to contact customer service to delete your account.
Here's how you can delete it:
Contact them via live chat and provide information about why you want to delete your account.
Write them e-mail on hello@hellofresh.com with the subject: "Delete my account".
You can also call them on (646) 846-3663 and ask to delete your account. However, I don't suggest you to make a call, as that's the worst way to delete your account, as it would take much more efforts.
So, yes, you can delete your Hellofresh account, but you will need to reach customer service.
Hellofresh subscription options and prices
HelloFresh offers three basic subscription plans: Classic Box, Family Box, and Veggie Box.
The Classic Box plan offers meat or fish dishes and side dishes for two people per meal. The price for a three-course meal is $70, including delivery. Delivery for four recipes a week is $86. Five meals a week will cost $100, or $9 per person per meal.
The Classic Box plan is unique in that you can pre-select your meals each week through your online account. If you like surprises, HelloFresh is happy to select weekly recipes for you.
The Family Box plan provides healthy, balanced meals with meat or fish for up to four people. Two meals a week per 2 people will cost you $58 including delivery. Delivery for three meals a week costs $70, or $10 per meal per person.
The Veggie Box plan offers delicious, nutritious vegetarian meals for two or four people. Three meals a week for two people costs $70. Three meals a week for four people costs $112. All meals in the family and Veggie Box plans are pre-selected.