In Instagram Direct Message, you can leave reactions in the form of emojis on your interlocutor's message. After the update, you can choose between normal reactions, hearts, and regular emojis. However, you can also change the emoji bar and customize it.
It only takes a couple of steps to customize this feature. As a result, this update will allow you to send messages to Facebook from Instagram and adds some Messenger features to Instagram.
What to do to change emoji reactions in Instagram DMs using iPhone?
The new feature in Instagram Direct Message is quite handy because it allows you to respond in a chat quickly. This way, you can convey your emotion to your interlocutor while not wasting a lot of time. However, for this function to help you save time, you need to change the list of emoji reactions in Instagram DMs. This will allow you to click on the necessary emoji because it's quick access. To change emoji reactions in Instagram DMs on your iPhone, you need the following:
The first step to changing emoji reactions in Instagram DMs is to open the app on your iPhone.
Then you need to click on the Direct Message icon.
Next, select the chat you want and tap the message so you'll see a list of emoji reactions. You need to click the + icon.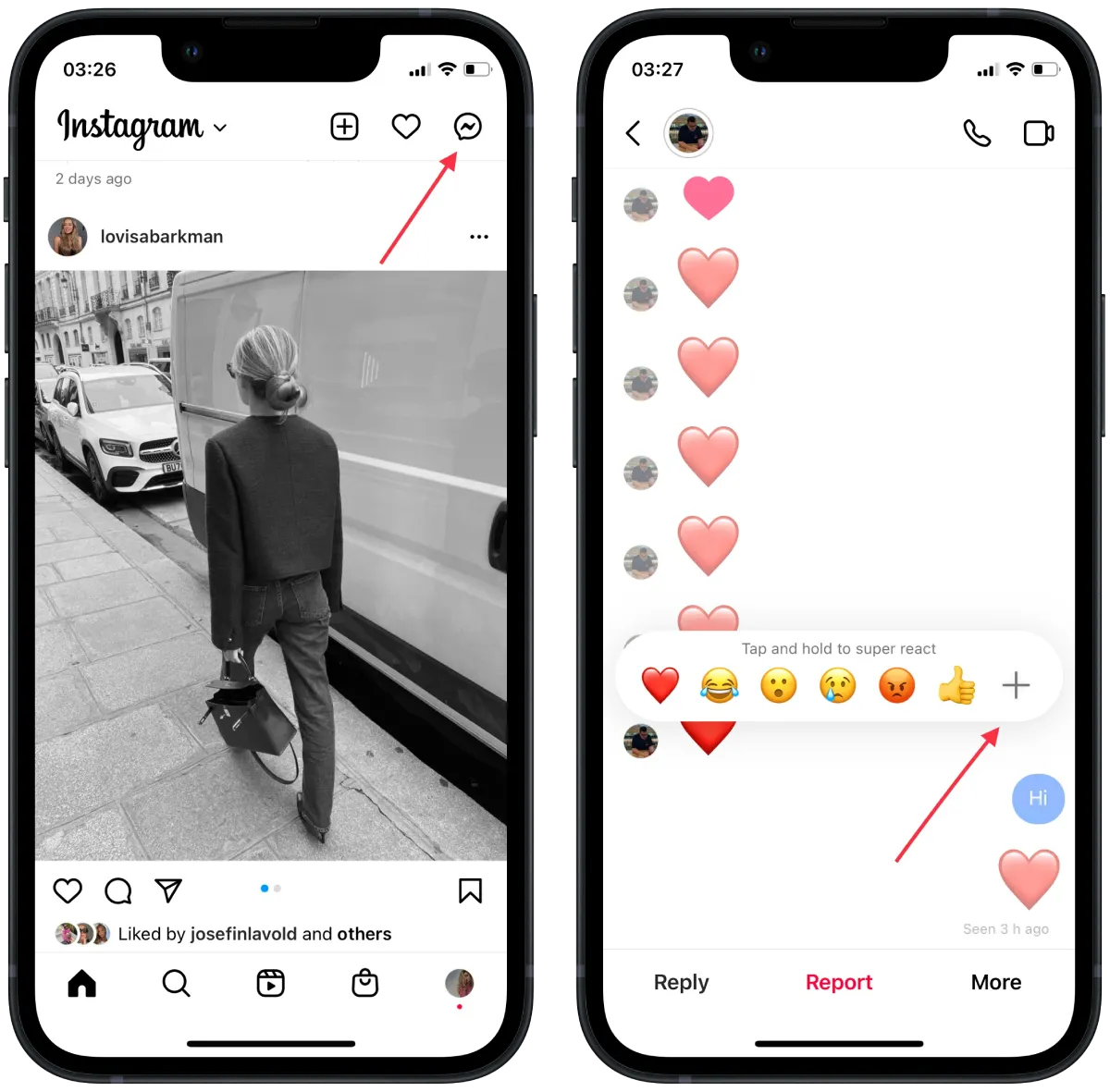 Then select the emoji you want.
Here you can customize all six quick response emojis, including the default heart emoji. If you want to return to the original configuration, tap the 'Reset' button. When you're done configuring, tap the 'Done' button.
What to do to change emoji reactions in Instagram DMs using Mac?
Sending emoji reactions in Instagram Direct using a Mac is much different than using an iPhone or iPad. After clicking on the message, you will only see a panel with all the possible emojis. You won't see a column of 6 emojis of your choice in front of you. Using the Mac, you will see a panel with all the emoticons, which will be divided into Recent, Popular, and All emojis. You won't be able to edit or change emoji responses in Instagram DMs using a Mac. To select emoji reaction using Mac, you need to follow these steps:
The first step is to open Instagram and sign in to your account.
After that, select the Direct Message icon in the upper right corner to open your chats.
Then click on the desired chat, and then right off the message, click on the emoji icon to open the list.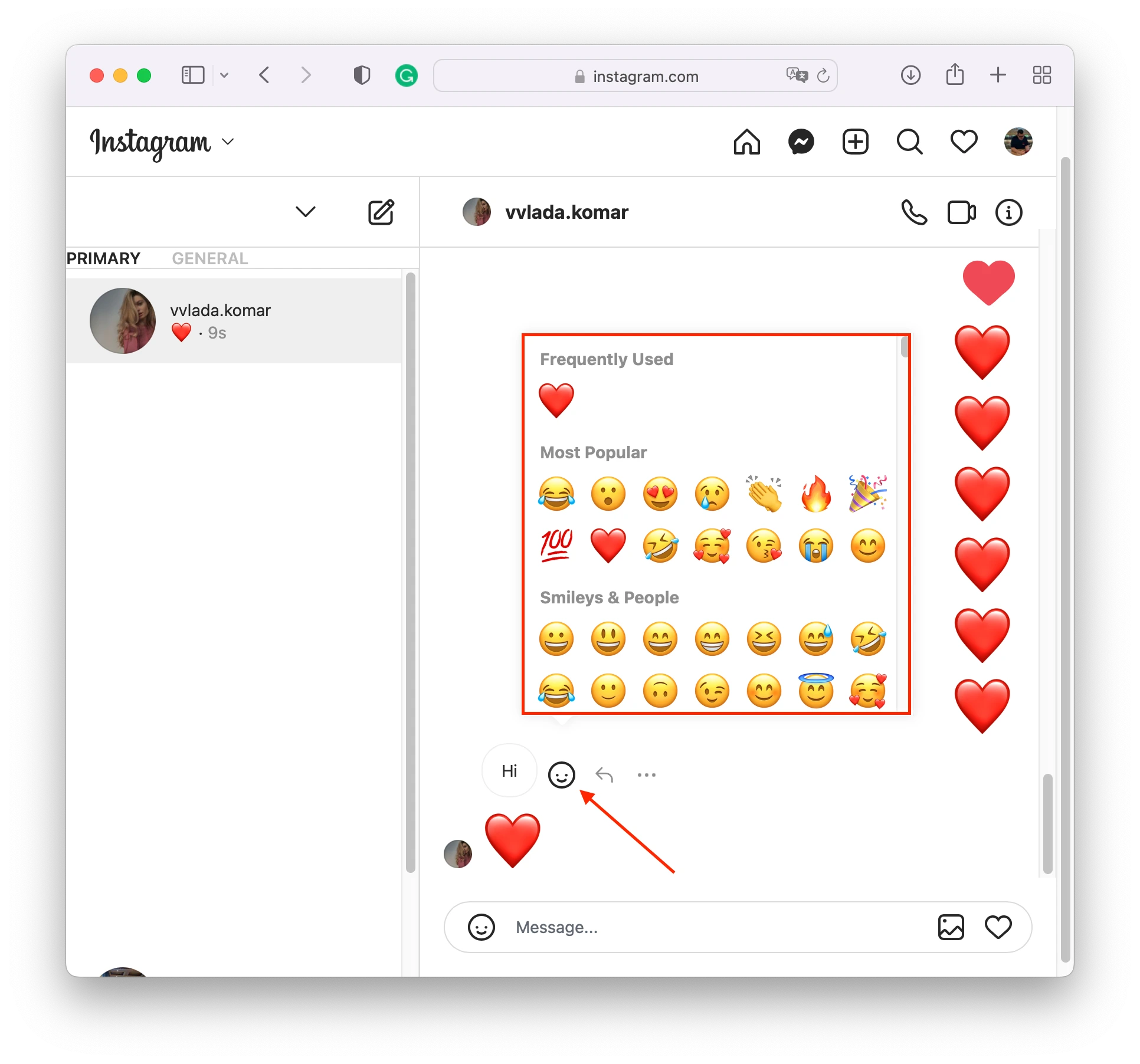 To have the emoji reaction you need in front of you quickly, you can use them once. After that, they will appear at the very top in the Recent section. Thus using others, the previous ones will disappear from this list. This is the only way you can manage your emoji reaction list with your browser.x
Why can't the emoji reaction in Instagram DMs be changed?
There may be many reasons why this feature may be missing from the Direct. Sometimes there are emojis, but they look like before the update. So you cannot change them but only use the old ones. There are also times when this feature is absent. As a result, there is no possibility to put a reaction in the form of an emoji, and you will have to type in the message.
One of the most common reasons why people cannot change the emoji reaction in Instagram DM on the iPhone is the un-updated app. To solve this situation, you need to open the app store and update Instagram. After that, try to change the reaction in Instagram Direct again.
You can also open the Instagram app and the settings section update. At the top, you may have an 'Update Messaging' button. After which click on the 'Update' button. Orient yourself so that the Instagram DM icon in the top right corner of the app turns into the Messenger icon. After the update, you can customize the emoji response in any Instagram chat.
Using a PC or laptop in the browser can also be a situation where there is no this feature at all. For this purpose try to use another browser. Also, the situation can be corrected if you clear the cache in the browser settings.
How to use your avatar instead of an emoji reaction in Instagram DMs?
You can use not only reactions during a chat, Instagram has avatars for the Meta universe. Users can now create a virtual persona to be their face on Meta's social networks. Avatars are designed to duplicate the owner's personality, including their clothing and accessories. This way you can leave reactions not with standard emoji, but with your own avatar.
In the editor, you can choose your skin color, face shape, hairstyle and hair color, eyes, clothes, and physique. You can even turn on the camera to be guided, so to speak, by the original when creating. With their help, the user will be able to communicate in virtual reality in the future. For now, it's only proposed to apply them among stickers.
In order to create your avatar on Instagram, follow these steps:
The first step is to click on the burger icon in the upper right corner of Instagram.
Then select the Settings section.
Then in the new window, you need to select the Account section.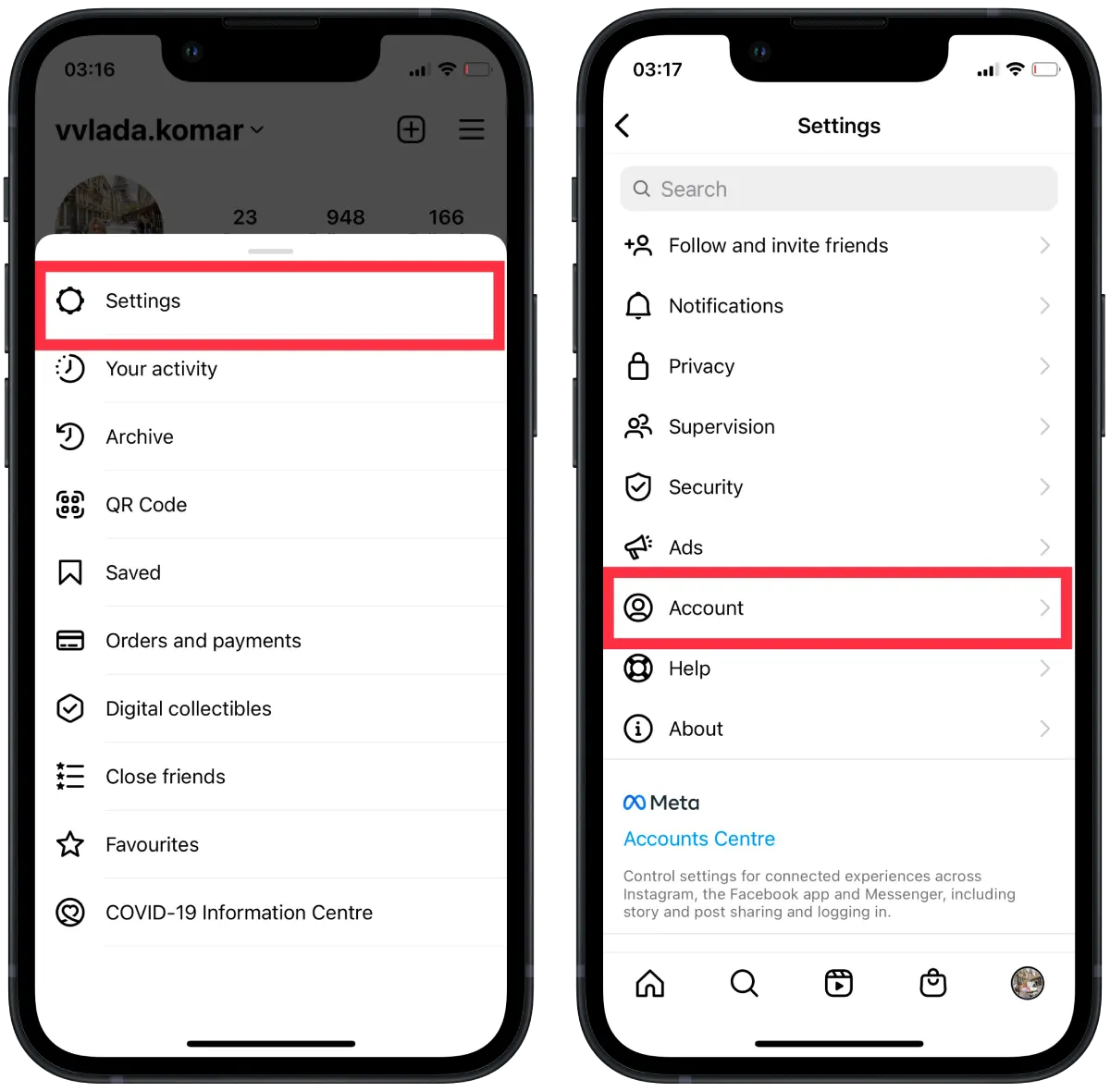 After that to start creating click on Avatar.
The next step is to select your skin color, and hair color, and go through each item until you create your avatar.
After creating your avatar, click on Done and select Save Changes.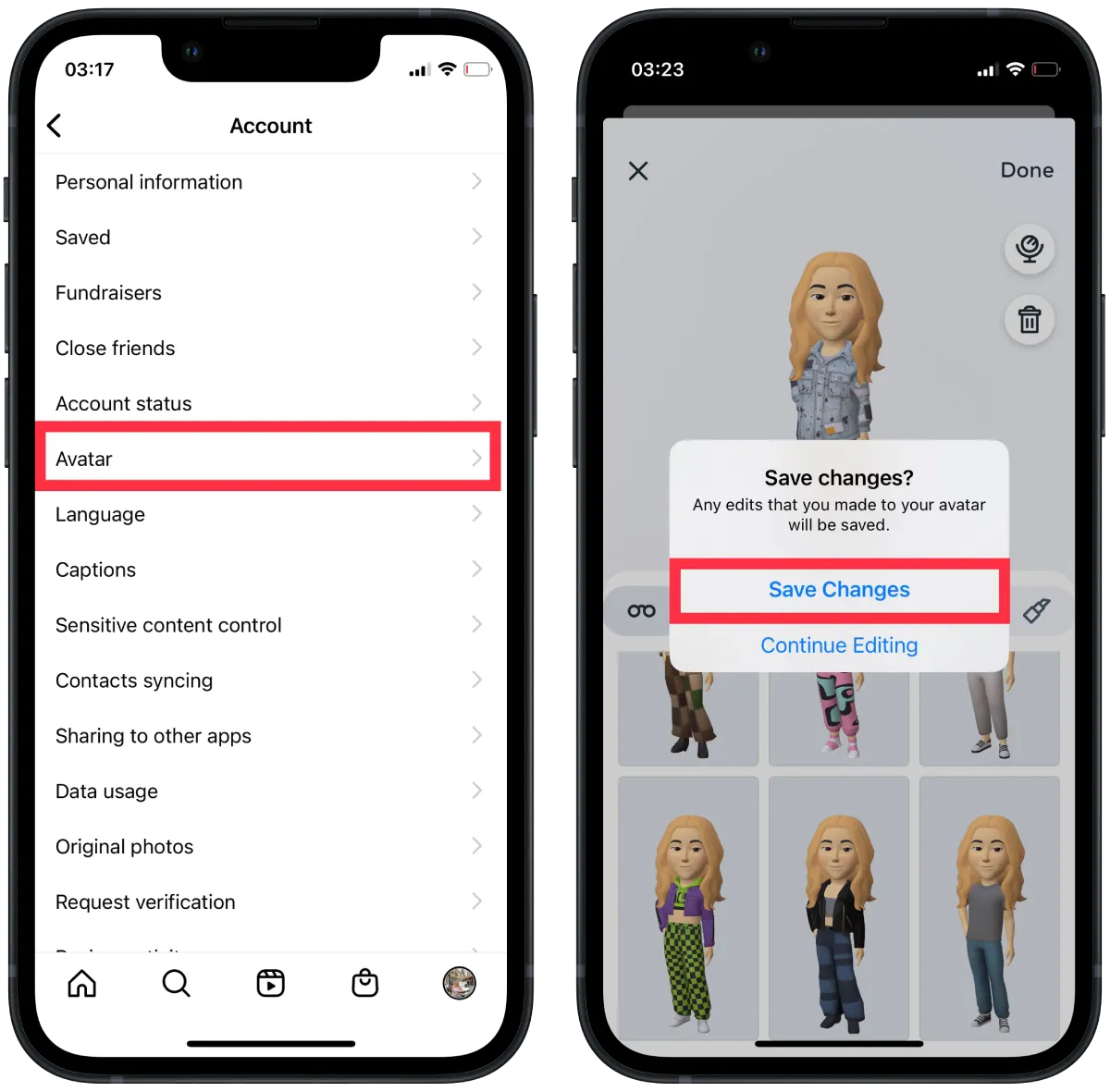 After these steps, your avatar is ready. The amazing thing is that you can even add wrinkles to yourself and draw a mole. And you can also choose a figure, and add piercings and glasses. Customizing your avatar is a fun thing to do.
In order to use your avatar on Instagram, follow these steps:
The first step is to open a chat room on Instagram.
Next, click the sticker icon in the bottom right corner.
Then select Avatar from the list.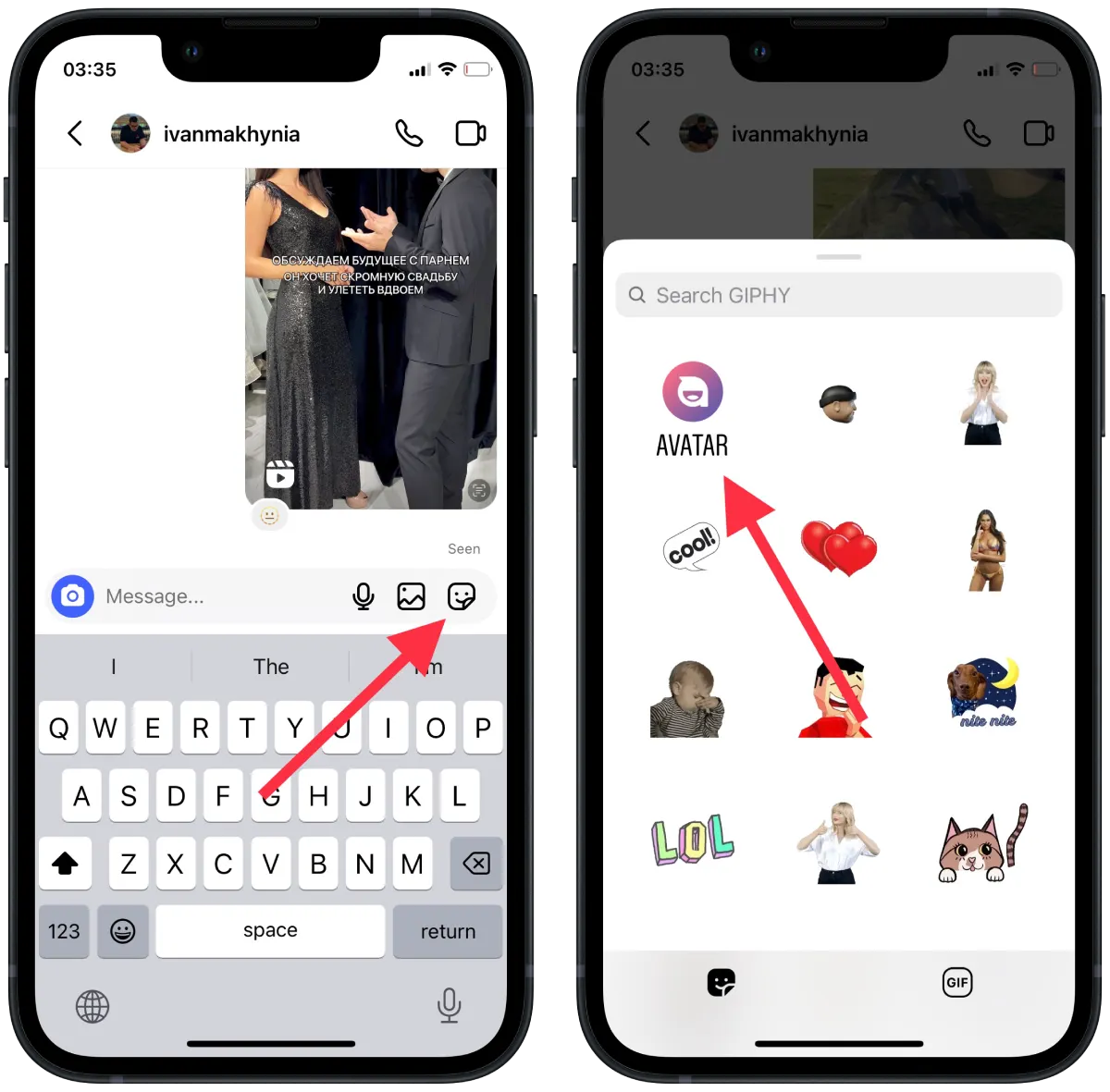 After that, a large list of avatar reactions will open in front of you.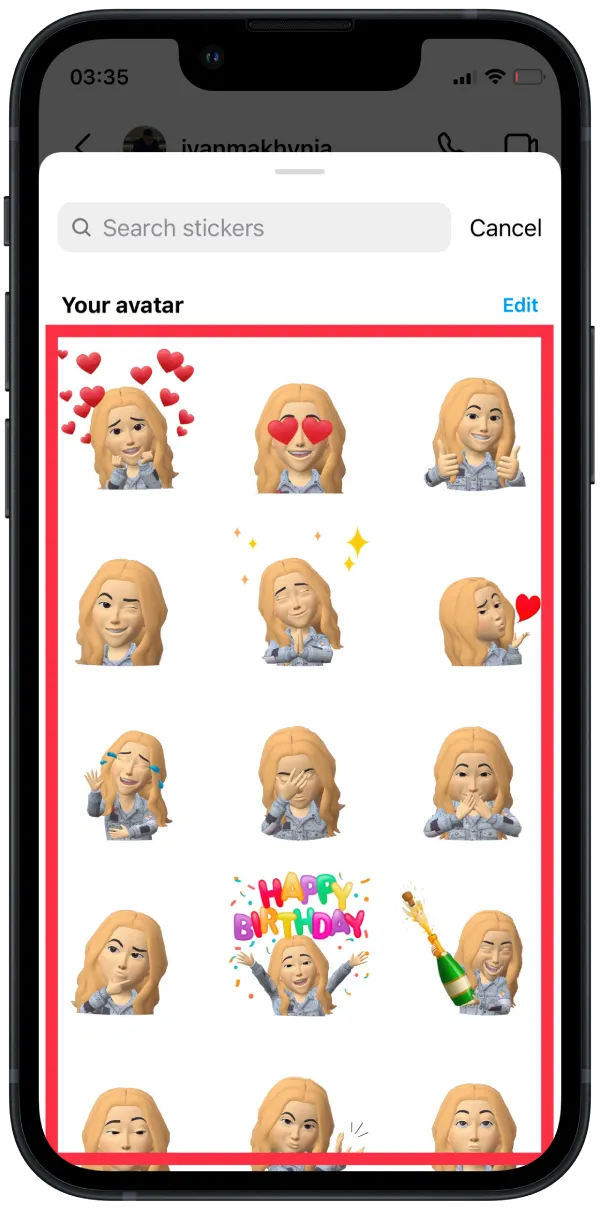 3D avatars are similar to Memoji, launched by Apple in 2018, and Bitmoji on Snapchat. Unlike previous avatar apps, Instagram skipped the option to define gender. Instead, there are simply customization options that reflect gender. It's like an advanced version of The Sims.
That said, you can diversify the chatting experience and reply to messages to your avatars, so your contact can practically see you.