Many of the regular users of laptops or Windows PCs have definitely encountered MS Office and its applications. OutLook is one of the mail services that allows you to organize correspondence and exchange emails. But did you know that this service allows you to create your own e-card for correspondence?
Is there an option to make a vCard via MS Outlook
Microsoft products are very diverse. They are divided into business apps, office apps for users, interactive programs, tools for working on the Internet, development tools, etc. Currently, the majority of corporate customers and private consumers use Microsoft products.
Microsoft Outlook is a personal information manager that has the functions of an email client. It is a complete organizer and contains the functions of a calendar, a task scheduler, an address book, a contact manager, etc.
This program has a special place in Microsoft Office because it allows you to organize the whole cycle of work on documents in the workplace. Some users only use Outlook as an email tool, but it has a much wider functionality. Since the program is oriented on the use in corporate networks, it belongs to the category of "workgroup management", i.e. it is a tool for organizing group work. It should be emphasized that the full use of all functions of Outlook is possible only when working in a network under the Windows operating system and if you have the Microsoft Exchange Server application.
A business card in Outlook and Outlook Online is similar to a business card in that it stores contact information and is useful for exchanging contacts. A business card isn't just used for business. You can use vCards to store your personal contacts. So, if you want to create a vCard in Microsoft Outlook, here is how to do this.
How to create a vCard in Microsoft Outlook
If you want to create a vCard in Microsoft Outlook, you have to follow these simple steps:
First of all, open the Outlook and go to the bottom of the navigation pane.
Then, click on the "People" or "Contacts" icon.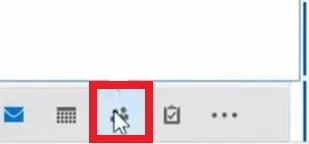 After that, click on the "Home" tab and select "People" in the "Current View" section.

Next, click on the "New Contact" option.
In the "Contact" window, enter the full name, email address, and other information for the contact. It appears on the business card as you enter the information.
Finally, navigate to the "Contact" tab and click on the "Save & Close" option.
Once you have completed these steps, the contact will be added to your contacts list and will be available on any device you use to access your Outlook email.
How to create a vCard in Outlook Online
If you want to create a vCard in Outlook Online, you have to follow these simple steps:
Navigate to the "View Switcher" and select "People".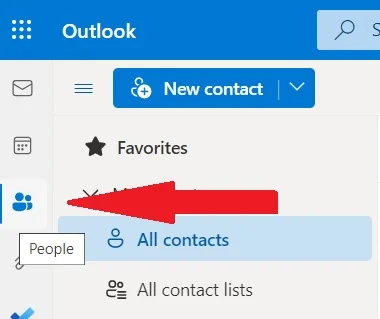 Click on the "New Contact" option.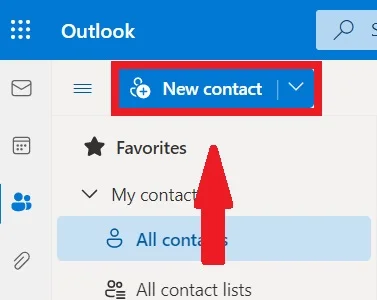 Then, type in the first name, last name, email and other information about the contact. You can also click on the "Add a photo" option to display an image of the person in th vCard.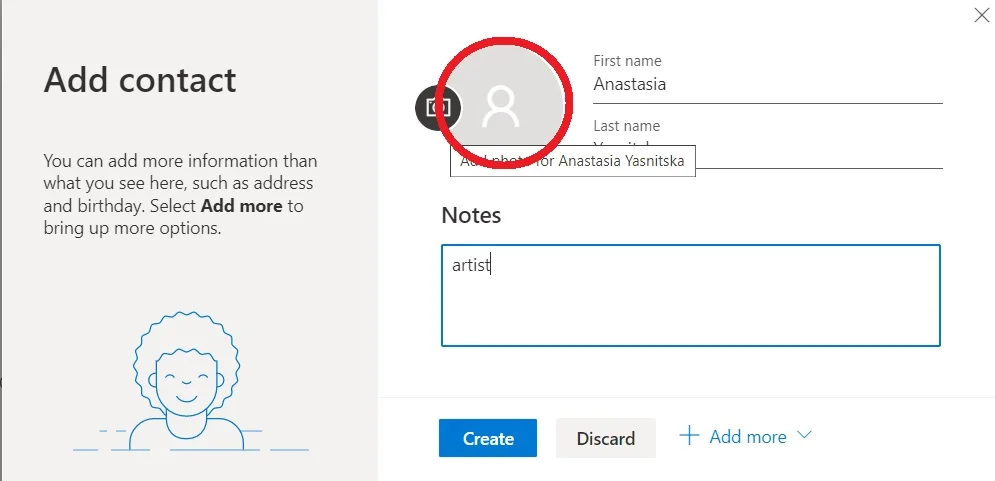 Finally, click on the "Create" button to make the new vCard.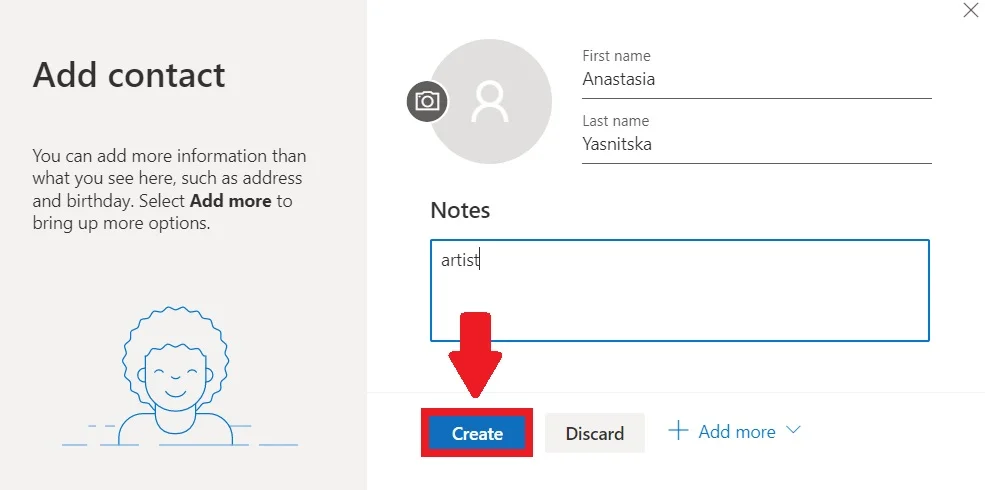 Once you have completed these steps, the vCard will be created in Outlook Online.
Is Microsoft Outlook only used by commercial organizations
The answer is no. This program is also popular among ordinary users. For example, it can remind you of important dates in the life of your family and friends, with which it is desirable to congratulate them in time, as well as prompting addresses and phone numbers of friends.
Microsoft Outlook is closely integrated with other applications of the Microsoft Office suite. You can use it to organize your work with documents developed in other Microsoft Office programs so that you can automatically track deadlines and stages of work, synchronize versions of documents and match documents with tasks, people, and deadlines.
Also, do not forget that in addition to the importance of working contacts and sharing them in the business environment can also be useful for your advertising. No matter at what stage you are an expert – to promote your business or to accumulate connections – it is extremely useful not to forget to let your partners and colleagues know about you. It's very easy and fast to do this with your vCard.
Now you know more about how you can use vCard in MS Office Outlook, and that not only can you correspond via e-mail, but you can also use various other features and tools of the application. Since Outlook is improving with every year, its functionality is also expanding and developers are bringing something new.
Try to experiment, use different variants of tasks – the new versions of Outlook offer a high degree of variability for one or another task. This information will make it easier for you to navigate the interface and remember the sequence of actions better.