The release of the Steam Deck has created a buzz among gamers worldwide. With its powerful specifications, versatile functionality, and positive reviews, many wonders if it's worth investing in this handheld gaming device. Let's look together at all the advantages and disadvantages of Steam Deck so you can decide for yourself whether you need it.
What are the tech specs of the Steam Deck?
The specifications of the Steam Deck do not impress with their performance, but for such a compact device, the Steam Deck remains quite powerful. The most important advantage is the custom processor, which AMD developed with Valve. Another big advantage is the Steam OS, but we will talk about it later. Let me show you all the detailed specifications below:
| Component | Specifications |
| --- | --- |
| CPU | Custom AMD APU with a quad-core Zen 2 CPU |
| GPU | AMD RDNA 2 architecture |
| RAM | 16 GB LPDDR5 RAM |
| Display | 7-inch LCD touchscreen display with 1280×800 resolution |
| Storage Options | 64GB eMMC (base model), 256GB NVMe SSD (mid-tier model), 512GB NVMe SSD (high-end model) |
| Expandable Storage | microSD card slot (UHS-I supports SD, SDXC and SDHC) |
| Connectivity | USB-C with DisplayPort 1.4 support, Bluetooth 5.0, Wi-Fi 6 (802.11ax) |
| Audio | Stereo speakers, 3.5mm headphone jack |
| Controls | D-pad, thumbsticks, A/B/X/Y buttons, L1/L2/R1/R2 triggers, L3/R3 clickable analog thumbsticks, trackpads, gyroscope |
| Battery Life | 40 watt-hour battery, estimated 2-8 hours of gameplay depending on usage |
| Operating System | SteamOS, based on Linux |
| Dimensions | 298mm x 117mm x 49mm (11.7in x 4.6in x 1.9in) |
| Weight | Approximately 669 grams (1.47 pounds) |

The Steam Deck features a custom AMD APU with a quad-core Zen 2 CPU, delivering powerful performance. Its AMD RDNA 2 GPU supports high-quality graphics, including real-time ray tracing. With 16 GB of LPDDR5 RAM, the device ensures smooth multitasking and responsive gameplay. The 7-inch LCD touchscreen display offers immersive visuals. Storage options include 64 GB eMMC (base model), 256 GB NVMe SSD (mid-tier), and 512 GB NVMe SSD (high-end). Controls include D-pad, thumbsticks, buttons, triggers, trackpads, and gyroscopes. The Steam Deck's hardware specifications make it a powerful handheld gaming device suitable for various games.
It's also worth noting that the 512GB version differs in that it has a faster SSD and anti-glare etched glass.
What is the price of a Steam Deck?
Let's discuss one of the main advantages of Steam Deck – its price. Valves decided to make the price of their portable console as low as possible so that almost everyone could afford Steam Deck.
The base model of the Steam Deck, which comes with 64 GB of eMMC storage, is priced at $399 USD. This model offers the essential features and functionality of the device, making it an entry-level option for gamers.
The mid-tier model of the Steam Deck includes 256 GB of NVMe SSD storage and is priced at $529 USD. This model provides additional storage space for games, allowing users to store more titles on the device.
The high-end model of the Steam Deck offers the most storage capacity, with 512 GB of NVMe SSD storage, and is priced at $649 USD. This model is suitable for gamers who require ample storage for their game library and want the convenience of having numerous games readily available on the device.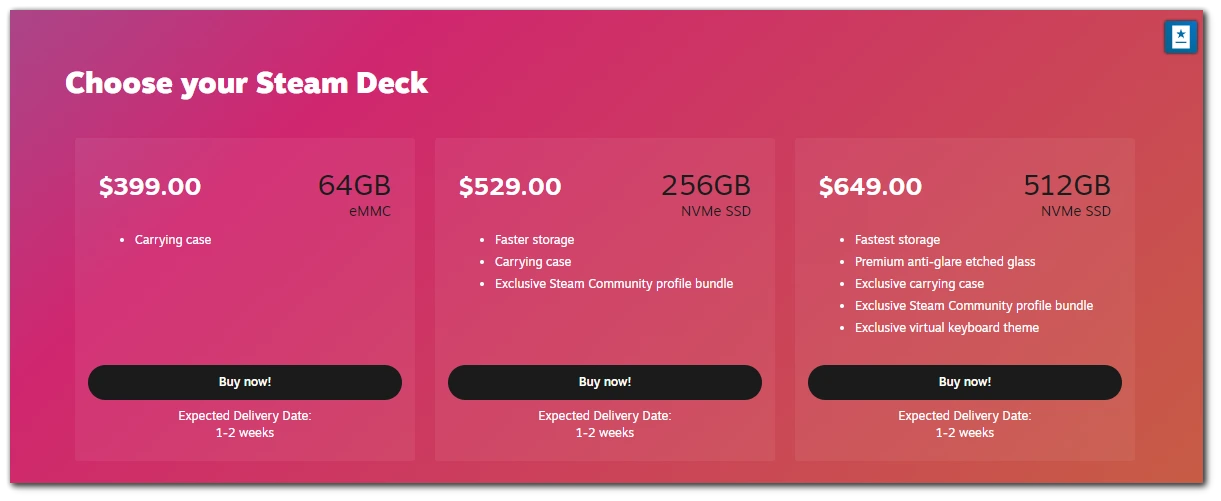 It's important to note that these prices are subject to change and may vary depending on factors such as region and taxes. Additionally, the availability of different models and pricing options may vary based on demand and stock availability. You can buy yourself a Steam Deck directly through your Steam profile.
The pricing of the Steam Deck reflects its position as a high-performance, handheld gaming device that aims to provide a PC gaming experience on the go. While the price may be higher than other handheld gaming options, it is relatively competitive compared to gaming laptops or building a comparable gaming PC.
What is Steam OS?
On the Steam Deck, SteamOS is the operating system that powers the device. SteamOS is based on Linux and has been customized and optimized by Valve, the company behind the Steam Deck. SteamOS on the Steam Deck provides a dedicated gaming environment to deliver a seamless and user-friendly gaming experience for gamers. The operating system integrates with the Steam platform, allowing users to access their Steam library and play their favorite games directly on the device.
This is the main reason why many users choose Steam Deck. The thing is that Valve managed to make your Steam Deck run a lot of games, even AAA class, at rather low power. You can be sure that your Steam Deck will run such games as Cyberpunk 2077 or Elden Ring.
The support from Valve also helps with this. They are constantly working with game developers to help them optimize games for Steam Deck. You can even find a notice on the game's page stating that it works well on Steam Deck.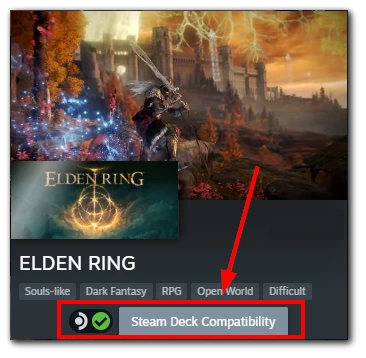 Of course, you may put the Windows operating system on your Steam Deck, but in this case, the performance of various games will drop considerably. The advantage of this solution is that you will be able to install games that are not in Steam's library. I don't recommend you to do this, though.
What disadvantages does Steam Deck have?
While the Steam Deck offers impressive features and capabilities, it's important to consider some potential disadvantages. Here are a few areas that may pose challenges or limitations for users:
Battery Life: The battery life of the Steam Deck may be a concern for some users, especially those who plan on extended gaming sessions while on the go. The estimated battery life ranges from 2 to 8 hours, depending on game intensity, screen brightness factors, and the power mode you turn on. You can also improve battery life in some games by limiting the framerate to 30. Actual tests show that at 30fps, you'll have even more than 2 hours on almost any game; however, if you raise the FPS to 60, the runtime can drop to as low as 80-90 minutes on a single charge.
Size and Weight: While the Steam Deck offers portability, its larger size and weight than traditional handheld gaming consoles might be a consideration for some users. The device's dimensions and weight could impact comfort during extended gaming sessions, particularly for users with smaller hands or those who prefer lighter devices.
Software Compatibility: Although the Steam Deck aims to provide compatibility with a vast library of games from the Steam platform, not all PC games may be fully optimized or supported. Certain games may require additional tweaks or adjustments to run optimally on the Steam Deck, and some older or niche titles may not be compatible. Users should consider the possibility of encountering compatibility issues with specific games they wish to play.
It's worth noting that some of these disadvantages are subjective and may not significantly impact all users. Furthermore, as the Steam Deck evolves and Valve addresses potential concerns, some drawbacks may be mitigated or improved over time.
Who needs Steam Deck?
The Steam Deck is designed to cater to specific users who can benefit from its unique features and capabilities. Here are some groups of people who may find the Steam Deck particularly appealing:
PC gamers on the go: PC gamers who want to take their gaming experiences outside of their traditional gaming setups can greatly benefit from the Steam Deck. It allows them to play their extensive library of PC games on a portable device without compromising performance. Whether traveling, commuting, or simply gaming in different locations, the Steam Deck provides a convenient solution for PC gaming on the go.
Console gamers looking for portability: Console gamers who enjoy the convenience of gaming consoles but desire a portable gaming experience can find the Steam Deck appealing. It offers the familiarity of a handheld console with the added advantage of playing PC games. For those who want to access a wider range of games and experiences beyond traditional consoles, the Steam Deck provides a bridge between console gaming and PC gaming.
Indie game enthusiasts: The Steam Deck's extensive compatibility with the vast library of games on the Steam platform makes it an attractive option for fans of indie games. Indie games often offer unique and innovative experiences, and the Steam Deck allows players to enjoy these titles on a handheld device. Indie game enthusiasts who appreciate the diversity and creativity in the indie gaming scene can find the Steam Deck a perfect companion.
PC gaming enthusiasts with limited space: For gamers who have limited space at home or prefer a more compact gaming setup, the Steam Deck offers a viable solution. Instead of investing in a bulky gaming PC or a large gaming laptop, the Steam Deck provides a compact form factor that combines the power of a PC gaming experience with the convenience of a handheld device. It's ideal for those who want to save space while enjoying a robust gaming experience.
Steam platform enthusiasts: Users who are deeply integrated into the Steam ecosystem, with an extensive collection of games, achievements, and friends on the platform, can greatly benefit from the Steam Deck. It allows them to seamlessly access their existing Steam library and enjoy their favorite games on the go without repurchasing or transferring licenses. For Steam enthusiasts who want to extend their gaming experiences beyond the confines of their desktops, the Steam Deck provides a dedicated and optimized platform.
Overall, the Steam Deck is tailored to meet the needs of PC gamers seeking a portable and powerful gaming experience. Whether you're a PC gaming enthusiast looking for a portable solution, a console gamer wanting to explore the gaming world, an indie game lover, or a Steam platform enthusiast, the Steam Deck offers a unique and appealing option to fulfill your gaming desires.
Should you buy a Steam Dec?
There is no definite answer to this question. I can advise you to buy Steam Deck if you are already using the Steam ecosystem and have many PC games you don't have time to play in your spare time. With Steam Dec, you will have more opportunities to play your favorite games. For example, you can play on your way to work or school while traveling or lying in bed if you're tired of sitting at your computer.
I can also recommend Steam Deck if you need a portable device that you can take with you. When traveling, you can buy a Steam Deck dock and connect it to a TV or external monitor. Also, cross-platform games will run better on it than on the Nintendo Switch, which was almost the only option for handheld gameplay in the past.
However, if you use a Playstation or Xbox and your entire game library is tied to those consoles, it doesn't make much sense for you to use a Steam Deck. In this case, you'll have to re-buy all your games and not be able to synchronize your progress between your different devices. Try to use Remote Play, which works well with a stable internet connection.