While drafting an article on signal issues in HDMI ports of Samsung TVs, I stumbled upon an intriguing question: Why do TVs typically feature no more than four HDMI ports? Seven years ago, having one or two was the norm, and premium models might boast three or four. Today, the standard is three or four HDMI ports, but why hasn't this number increased? The answer to this is quite simple.
How do HDMI ports work on your TV?
It's essential to understand that HDMI ports on TVs and other devices are more than mere connectors. These physical ports are integrated into a single controller that interacts with the TV's operating system to switch signals from the appropriate port.
If there's a need to install additional HDMI ports, it would require either a different controller or resolving compatibility issues between two controllers. This process is about adding more ports and necessitating the TV's operating system modifications. Such alterations would inevitably escalate the cost of the TV, potentially affecting its competitiveness with other brands.
An HDMI controller is not just a circuit switcher for ports; it's a microprocessor with firmware to decode HDMI signals sent to the TV. It's designed strictly according to certain standards, making upgrading HDMI ports from an older version to a newer one impossible.
Moreover, the majority of TV users find four HDMI ports sufficient. Manufacturers aiming to reduce production costs, especially for budget series, to maintain competitive pricing limit the number of ports, saving approximately $30-$50 per unit.
I need more HDMI ports on my TV.

If the number of HDMI ports on your TV is insufficient, there's no need to swap HDMI cables constantly. For instance, if you have a soundbar, a Roku device, an Xbox, and a PS5 connected via HDMI and wish to connect additional devices like a laptop and a video surveillance system, you'll need more ports. Acquiring an HDMI splitter can resolve the port limitation issue in such situations.
How to choose a suitable HDMI splitter?
When choosing the suitable splitter, you need to pay attention to many nuances, such as:
Which HDMI standard do you need? 1.4 is outdated, and 2.2 is the newest.
HDCP support: This is important for watching copyrighted movies if you plan to connect a streaming device through the splitter.
Resolution support: if you have a UHD TV, you need a splitter that supports 4K video.
Video frequency: if you have a 120Hz TV, then, of course, look for a splitter that supports 4K 120Hz.
Splitter function: this is also important; some splitters have one input and multiple outputs to which the signal is broadcast in parallel. Such splitters are designed to duplicate video on multiple TVs.
If you need to connect more devices, then you need a splitter, four inputs, and one output.
Does using HDMI switches affect signal quality?
Using an HDMI splitter can potentially degrade signal quality. While the digital nature of HDMI generally preserves the quality of the picture, issues such as image artifacts, flickering, or waves can still occur, particularly with lower-quality splitters. Numerous users have reported that inexpensive splitters tend to overheat when handling high-resolution and high-frequency signals, leading to disruptions in their functionality.
Consider the following related factors as well:
Cable Length: The length of the cable can affect signal quality. For instance, I once attempted to connect a monitor to a computer 25 meters away using a $250 cable, but the image had waves, indicating synchronization issues. Surprisingly, a modified, inexpensive cable worked better.
Power Supply: Some HDMI switches need external power supplies. It's crucial to ensure they receive adequate power as they are sensitive to power quality, and the power supplies should not produce harmonics.
Compatibility: The switcher must be compatible with all devices, like TVs and game consoles. For example, if you have a PS5 and a 120Hz game, and your TV supports 120Hz, you will need a 120Hz splitter; a 60Hz switcher won't display a picture.
HDCP Compliance: Compliance with HDCP (High-bandwidth Digital Content Protection) is vital for content-protected media. Verify that your HDMI switcher supports the correct HDCP version for your devices.
HDR and High Refresh Rate Support: If you use HDR content or high refresh rate displays, your HDMI switcher should support these features.
Audio Return Channel (ARC): If you intend to use ARC features, choose a switch that supports ARC.
EDID Management: EDID (Extended Display Identification Data) management can be beneficial, allowing users to control how the switch communicates display capabilities to connected sources.
Remote Control: Evaluate whether a remote control is included and if it would be convenient for your setup, allowing easier switching between inputs.
Example of splitter models to increase the ports on the TV
Here is an example of a splitter model that can connect more devices to your TV. I will be looking at HDMI splitters that support UHD resolution. They are more expensive but technically newer.
Mrocioa 5 in 1 Out 8K HDMI ARC Audio Switch, 4K@120Hz eARC Audio Switch HDMI 2.1 Splitter with Remote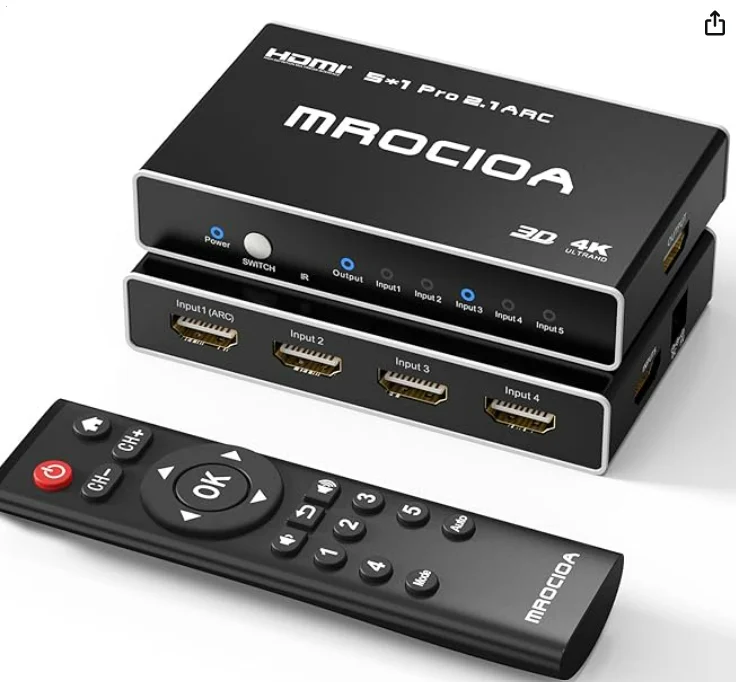 | Features | Information |
| --- | --- |
| Video format | 8K@60hz/ 4K@120hz/ 4K@60hz/ 1080P@120hz/ 1080p@60hz/ 720P. |
| Audio format | Support LPCM/ Dolby Atmos/ DTS:X/ Auro-3D |
| ARC Support | Full function ARC. |
| Resolution adjustment | Default output 8k@60hz. Press Mode key: 8k@60hz –> 4k@60hz –> 1080P. If your display effect is not good, you can adjust it through MODE KEY. |
| Better compatibility | Powerful performance. Compatible with more HDMI cables. |
| HDR Support | HDR10+/ Dolby Vision/ HLG |
| Device Support | PS5/ PS4 Pro/ PS4 / PS3/ XBOX SERIES X(S)/ XBOX ONE X(S)/ XBOX/ APPLE TV 4K/ FIRE TV 4K/ Nintendo Switch/ DVD Blure ray/ laptop/ PC. |
| 4-way Switch Mode | This remote control can control player playback/pause/prev/next functions. It can control the volume of Sony/Samsung TV and audio system. It can on/off your TV and device. |
| Iphone Control | The name and icon of the device will be directly displayed on the app, which is great progress. Directly control Mrocioa 8k 5 Port HDMI switch with your iPhone. Don't worry about not finding the remote control. It can replace the remote control of APP TV/FIRE TV. |
| Powerful IR Remote | This remote control can control player playback/pause/prev/next functions. It can control the volume of Sony/Samsung TV and audio system. It can turn on/off your TV and device. |
| Gaming Mode | ALLM/ VRR/ FreeSync/ G-Sync |
| Auto switch | 1. Keep in mind all devices don't support auto-switch. 2. Xbox and PlayStation can use auto-switch. 3. Apple TV and Fire TV don't support auto switch. 4. If your device doesn't support auto switch, use the manual switch function instead. |
HDMI Switch 4k@60hz Splitter, GANA Aluminum Bidirectional HDMI Switcher 2 in 1 Out
It is a cheaper splitter that supports 4K at 60Hz. it does not require external power.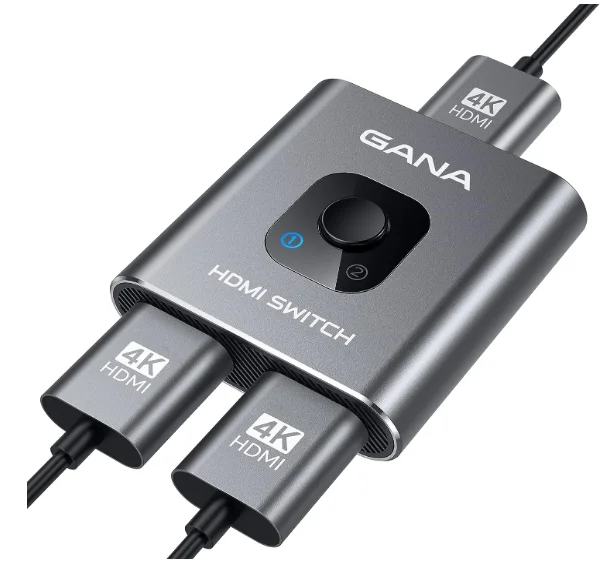 This splitter is suitable for connecting two sources to one HDMI port if you have a TV or monitor with a maximum frequency of 60Hz.