Discord has become one of the most popular platforms among players from around the world. With such a large number of subscribers, you have chances to meet users who are cheaters or users who violate Discord rules and regulations.
What do you need to report on Discord on desktop, iPhone, or Android
Discord is considered one of the most popular apps for video or audio calls. You can also chat, stream, create your own servers, and more. However, it's not uncommon for a simple misunderstanding or a different opinion to lead to a more serious argument. This often happens in the online world, where you can't see how your words affect other people.
Discord has a reporting feature that allows you to report users who post offensive or inappropriate content on the platform. Reporting users has become common practice on all social media platforms, including Discord, to preserve the integrity of these platforms. Although reporting a user or posting is a simple process, it can be challenging for users who aren't technically proficient.
If you encounter an unpleasant situation on Discord and want to report someone's inappropriate comments or behavior, here's how to do it.
How to report someone on Discord using desktop
The desktop Discord apps don't have a built-in reporting feature like the mobile apps. Instead, you need to visit the Discord "Submit a request" page, which can be accessed by clicking the "Submit a request" button in the upper right corner of support.discord.com. This is the most common way to report someone on Discord.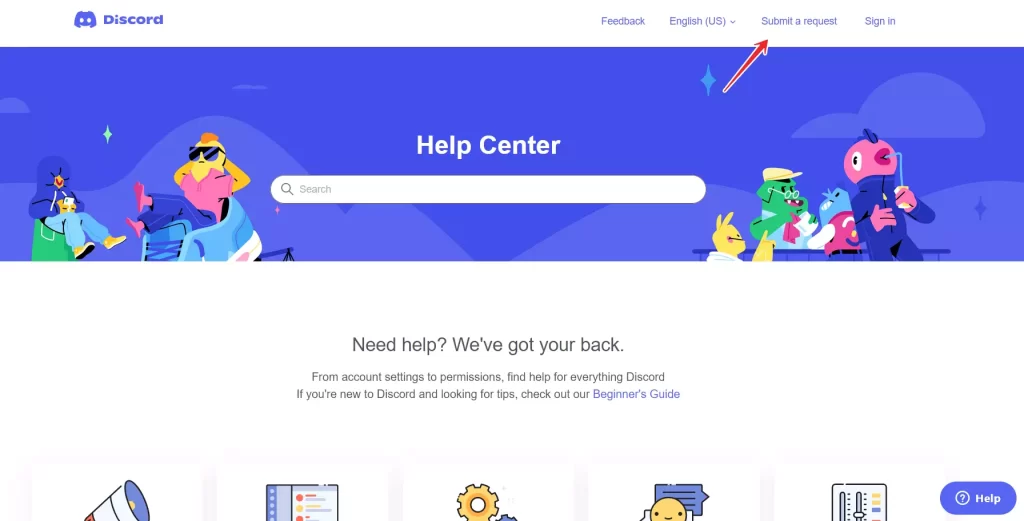 On this page, select "Trust & Safety" in the "What can we help you with?" box, then enter your email address. Under "How can we help?", there are three appropriate options for reporting people: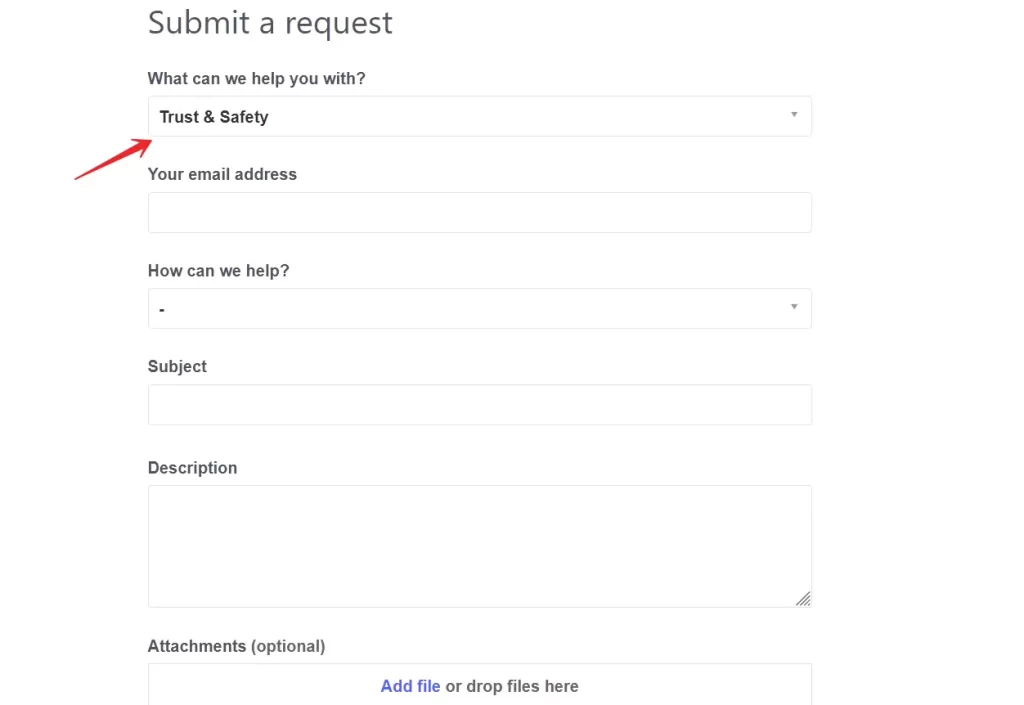 Report abuse or harassment. Used to report cyberbullying, explicit content/behavior, hacking, malware, fraud, deception, violent extremism, etc.
Report spam. Used to report a user or bot sending spam, a server promoting spam, etc.
Report another issue. Any other reports, including reports of underage users, self-harm or new accounts created by a banned user.
Depending on what you choose, you will see different options in the "What would you like to report?" field below it. In addition, the "How?" and "Where is the content located?" fields will appear under some of the options to provide full context.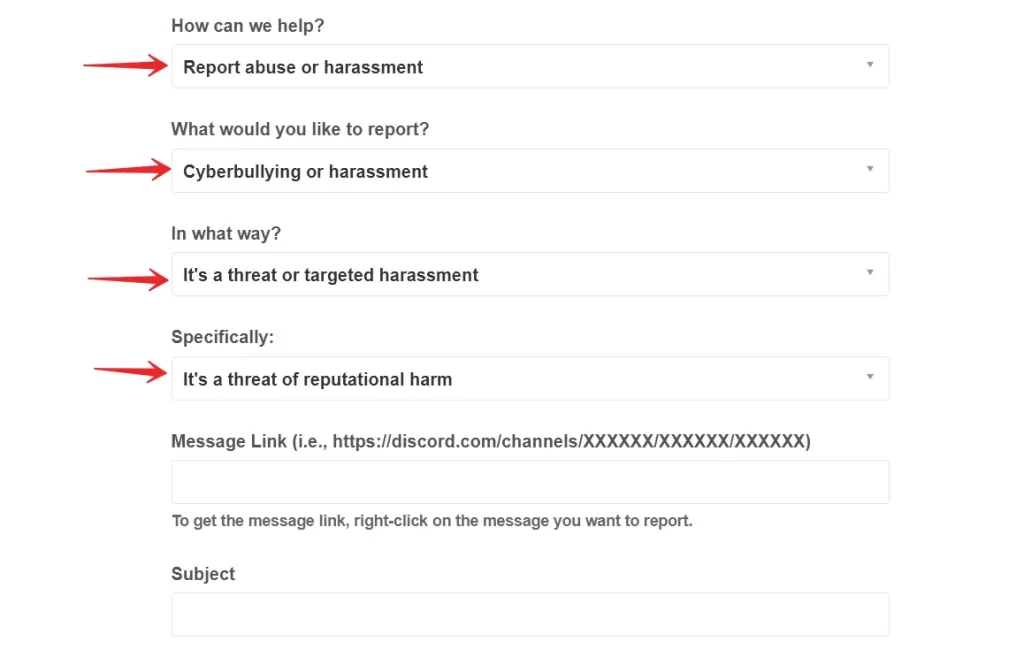 Fill in the fields to best describe the situation you are reporting. For most reports, you will be asked to provide a link to the offending message. To get it, simply right-click on the message in Discord and select "Copy Message Link". Then click inside the box and press "Ctrl + V" (Windows) or "Cmd + V" (Mac) to paste the link.
Finally, you have to click on the "Submit" button and just wait for the answer to your email.
How to report someone on Discord using iPhone
You can make a report about a user in Discord very easily on your iPhone and other iOS devices such as the iPad. The complaint process is easier than on a desktop computer, where you have to enter certain identification codes. Fortunately, iPhones make the process of complaining about Discord users easier. However, the speed of the process doesn't mean that you have to report every inappropriate message. It's advisable to verify that a particular user is violating Discord's rules.
So, if you want to report someone on Discord on your iOS device, you have to follow these steps:
First of all, open the Discord app on your smartphone.
After that, go to the message you want to report.
Tap on the top of the message and hold.
Select "Report" at the bottom of the screen from the pop-up menu.
How to report someone on Discord using Android device
If you want to report someone on Discord using your Android device, you have to follow these steps:
At first, open the Discord app on your smartphone or tablet.
Tap on the profile icon in the bottom right corner of the screen and go to the "Settings" menu.
Scroll down and find the "App Settings" tab. Tap on it.
Select "Behavior".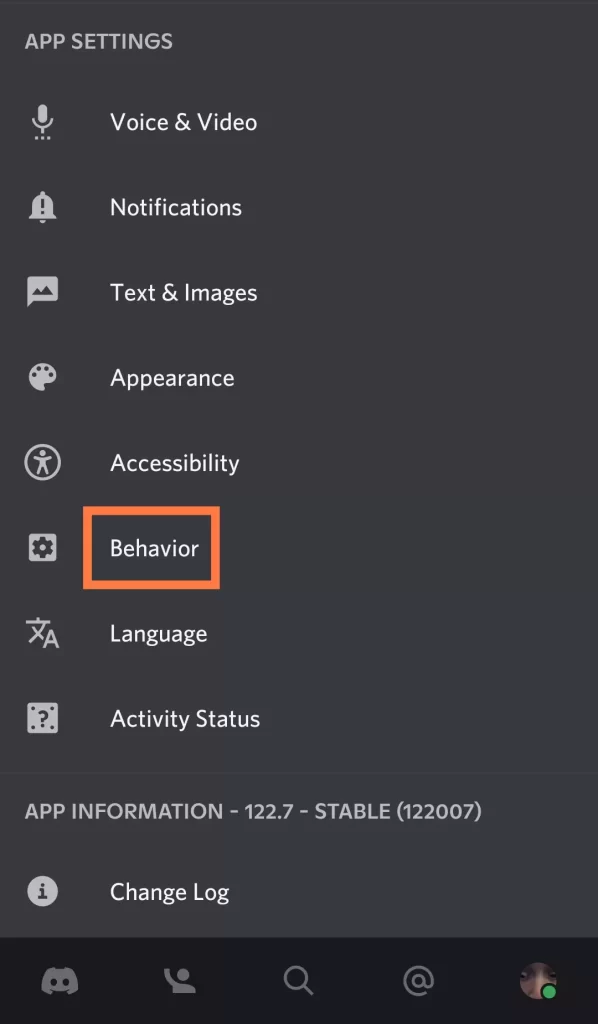 Switch the "Developer Mode" option to the "ON" position.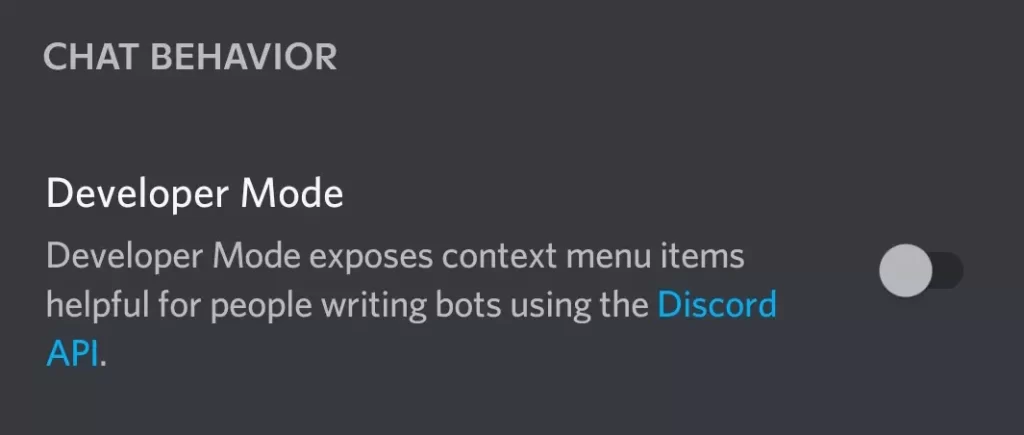 Go to the message you want to report.
Tap on the user's image to open their profile.
Copy a user's ID.
After that, tap and hold the message.
Tap "Share".
Select "Copy to clipboard".
Put "User ID" and "Message ID" in the "Description" field in the "Trust and Safety Center" menu, and then describe your problem.
Once you send a message, the Discord team will review it as soon as possible. Of course, since there are moderators on every server where you participate in discussions, you can always report hate speech or a similar problem to them. Some problems are solved by talking to the user first if they have written something that doesn't comply with the rules.
How to delete a report from Discord
If you decide that the message you reported doesn't actually violate Discord guidelines, or if you accidentally reported someone on iOS, you can ask the Discord team to clear the report by talking directly to a member of the support team. Go to the Discord Twitter page and send a private message explaining your situation. You'll need to include your email address associated with the account along with your message, and Discord can then go into its report queue and delete the ones you sent.
Keep in mind that sending false reports also violates Discord's terms of service, so you could face penalties for doing so. Act quickly, and the Discord team will do it too, it only took them a few minutes and the problem was resolved almost immediately.