Is it possible to configure the "front page of the Internet" so that it is most convenient to find the most hotly discussed topics?
What does Reddit's pop-up 'Open in App' mean
Reddit has long been considered the "front page of the Internet" and is the site of almost all the heated discussions, where subcultures and memes are born. But over time, its interface has changed, and users have had to reacquaint themselves with it. Many people were upset by this, so now there are two Reddits: the official modernized Reddit and the old Reddit, where everything remains the same.
For those who are new to Reddit and are just getting familiar with the interface, they will at first be confused by the many options and navigation. However, this is only at first. In fact, Reddit's interface is quite simple and easy to remember.
Those who work mostly from a mobile device will be greeted by a pop-up window that prompts you to download the Reddit app to your device and scroll through the feed through it.
If you don't want to have to open the pop-up window every time you visit the web browser version of Reddit, the good news is. The cancel pop-up option is available to any user. You'll find out how to do it below.
In addition, you will find out if you can filter and block subreddits.
Is it possible to remove and turn off the pop-up window
So, before you turn off the constantly popping-up window offering to install the application on your mobile device, you need to keep in mind that the browser remembers your choice and enters it in its cache. That is if you open Reddit in another browser, or through a link from a third party, you will still have the same pop-up window. The same can happen with a private window in the browser. Or, provided you have cleaned the cache on your browser.
Open Reddit on the mobile browser of your choice.
Now tap the hamburger icon on the top-right.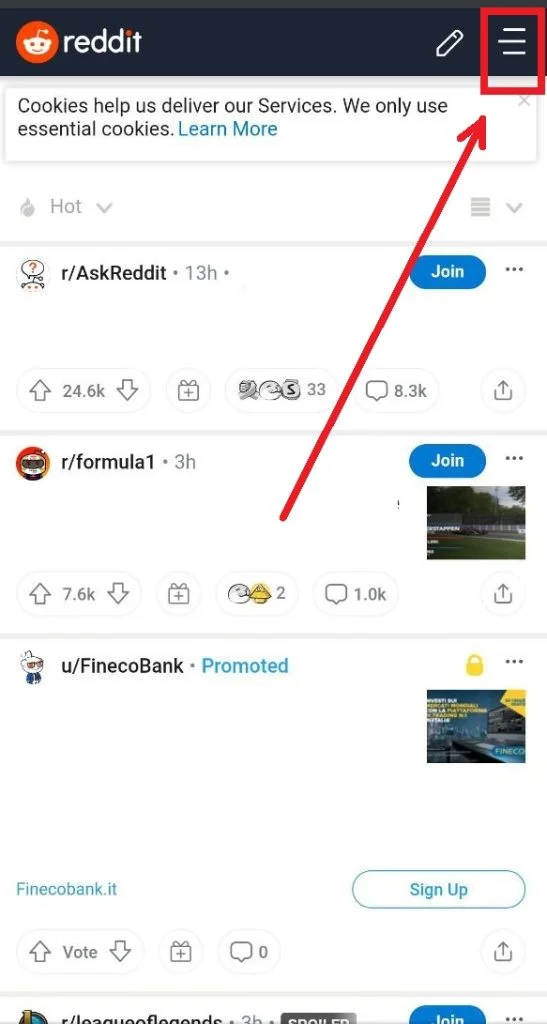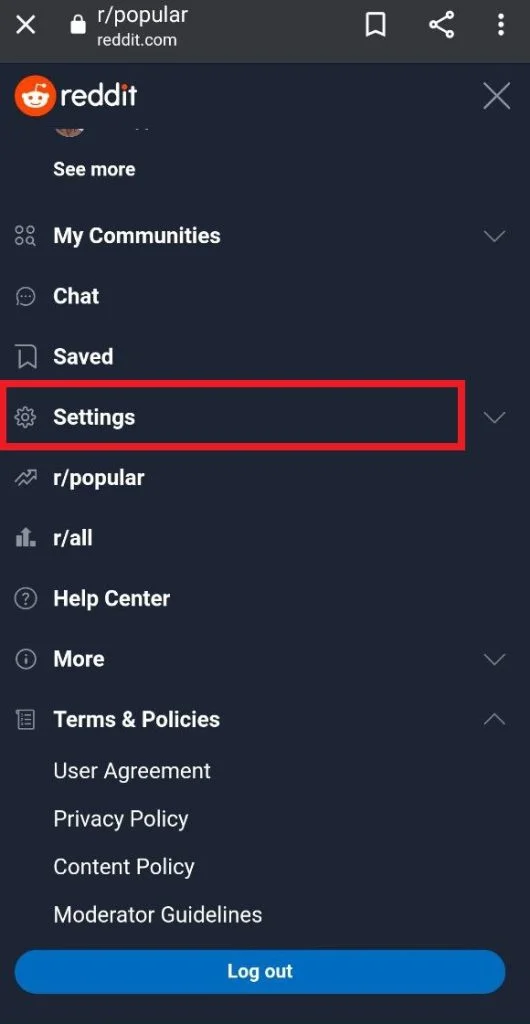 Now uncheck Ask to Open In App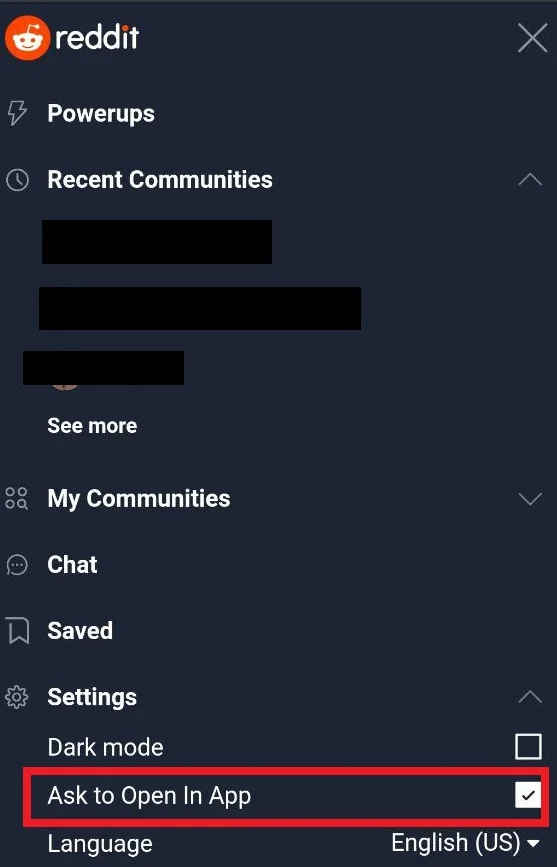 As you can see, that's all you have to do for the site to stop forcing you to go and use the app. This is just one of the few unpleasant nuances that can be easily eliminated.
Although, there is one nuance that can make even an advanced Reddit user sweat a little.
Is there a way to block subreddits
Reddit is a place where a lot of people gather to discuss quite different topics (subreddits), and some of these discussions may get into your feed because they're gaining enough popularity. However, not all subreddits may be of interest to you, and some you would like to avoid. So how do you filter out subreddits? And is it possible?
As you know, Reddit made it easy to filter and lock subreddits until 2018, i.e. before the major redesign of the site. Users who did not like the new design can still use the old version of the site, which still has the option to filter and block unwanted subreddits from the r/all feed. But what about those who are more comfortable using the new interface?
Via mobile app
One of the easiest ways, which may not work for everyone, but will still save you from downloading third-party applications and extensions. The most simple way, of course, is to subscribe to Reddit Premium. A monthly subscription costs $5.99 and gives you not only the option to block unwanted subreddits but also to use Reddit Gold (a currency that allows you to interact with other users and their content).
Via third-party extensions
For those who don't want to spend money on Reddit, there is an option to download an extension. One of these is the Reddit Enhancement Suite. The app is available for Chrome, Microsoft Edge, Mozilla Firefox, Opera, and Safari.
Google Chrome was used as a sample. Here's how you can install this extension for the subreddit block:
Open your browser. Go to https://www.reddit.com.
Click on the RES extension button. A drop-down menu will appear. (If you're in Chrome you click the button that looks like a puzzle piece then click the three-dot icon next to the RES extension)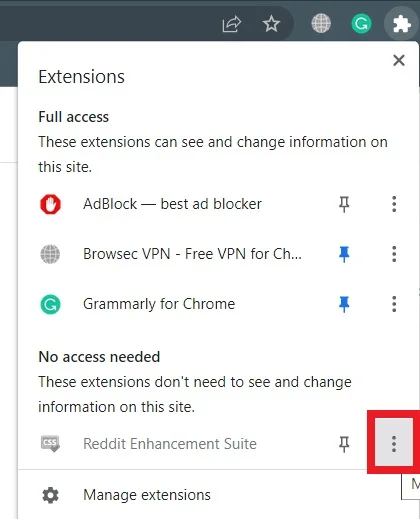 Click on the Options. Depending on the version you might see a cog icon. Click on it.
Reddit's Enhancement Suite page will open up. Click on the filter edit tab in the menu on the left side underneath the Subreddits category.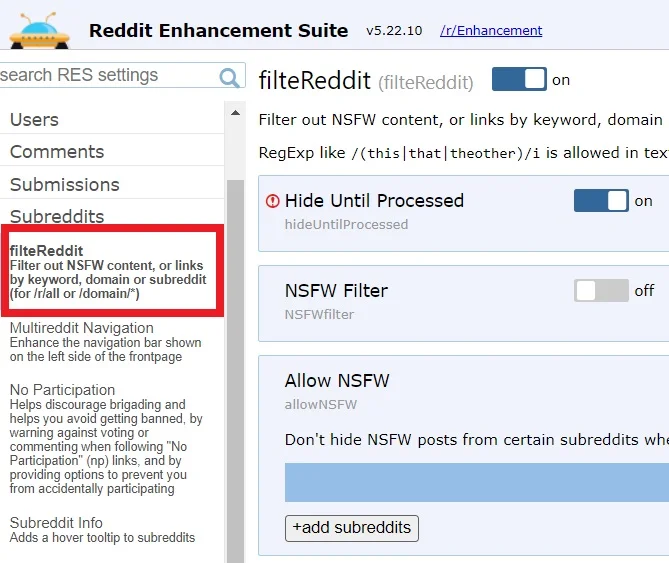 Toggle the filteReddit (filteReddit) option on.

Scroll down the page and customize your blocked Subreddit settings.
Check the +add filter button in the lower-left corner of the box titled Subreddits.

Enter the subreddit you'd like to see no more.
Now you know more about Reddit and how to customize it to suit you and your goals and make your workspace more convenient.