Snapchat stickers are digital images or graphics that you can add to your photos to express a mood, add color, or make a statement. Users can use built-in stickers and create their own.
You can delete a sticker from your snapshot if you mistakenly add it. At the same time, you can delete your created stickers from the gallery. However, you can't manage or delete the built-in stickers from the gallery.
How to remove stickers from snap?
If you want to delete a sticker from snap after you've added it, you have to follow these steps:
First of all, tap and hold the sticker you to remove from the screen;
Move the sticker to the right side, where the trash icon should appear;
Slide away the unwanted sticker into the trash can.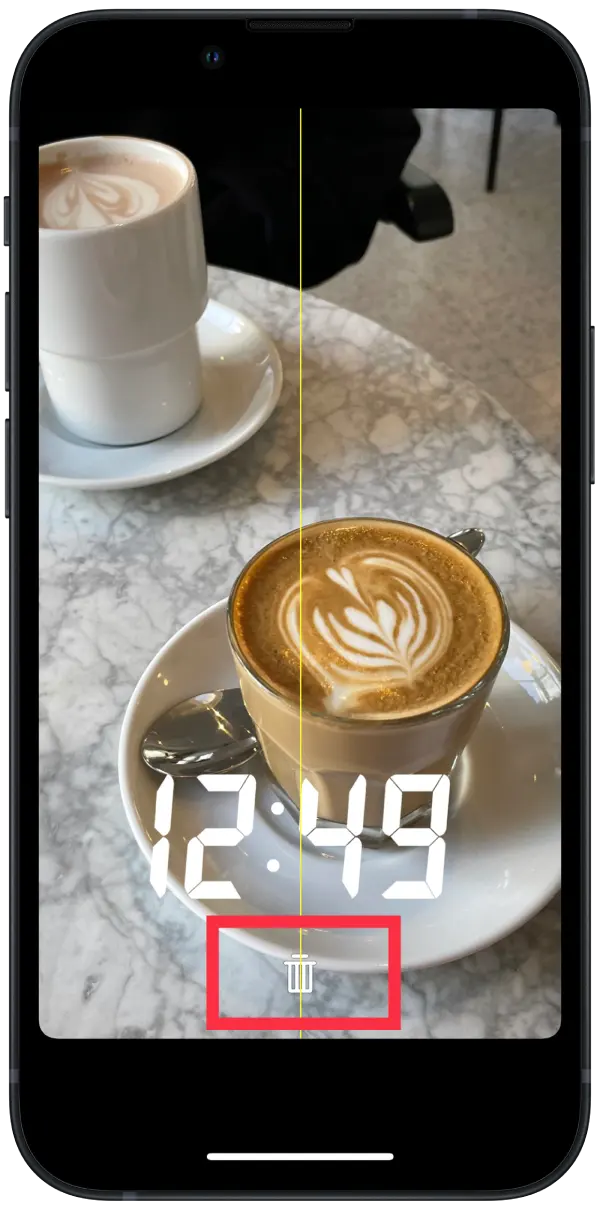 Once you've completed these steps, the sticker will disappear from your screen. But you can find and use it again at any time. If you've added multiple stickers to your snap, you'll need to remove each one individually in this way.
How to delete your own stickers from Snapchat?
Snapchat has a feature to create your own stickers. Once created, they are all stored in the same tab. To remove your own stickers from Snapchat from this tab, you need to follow these steps:
First of all, open the Snapchat app;
Make a snap of anything you want to access the sticker gallery;
Tap on the sticker icon to the right of the screen;
Select the scissors icon;
Tap and hold the sticker you want to delete, and drag the sticker to the trash icon.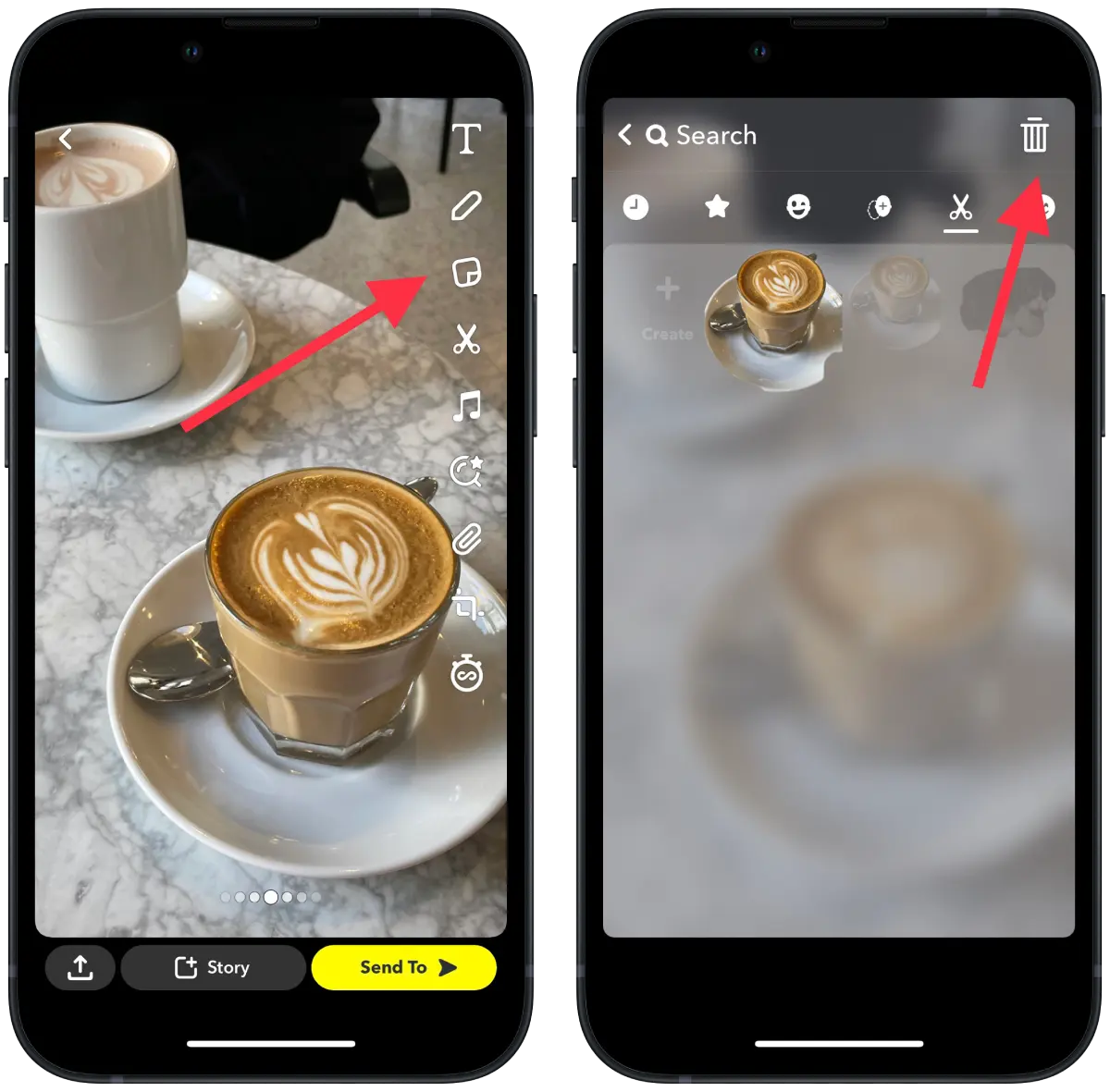 Be careful not to remove a sticker accidentally you did not intend to remove. If you do, you will not be able to get it back. You will have to create a new one.
How to create new stickers on Snapchat?
Snapchat allows you to create custom stickers using your own photos or graphics. Here's how to create new stickers on Snapchat:
Take a photo or choose an image from your camera roll that you want to turn into a sticker.
Use the scissors to cut out the part of the image you want to turn into a sticker.
After you cut the sticker, it will appear on the screen.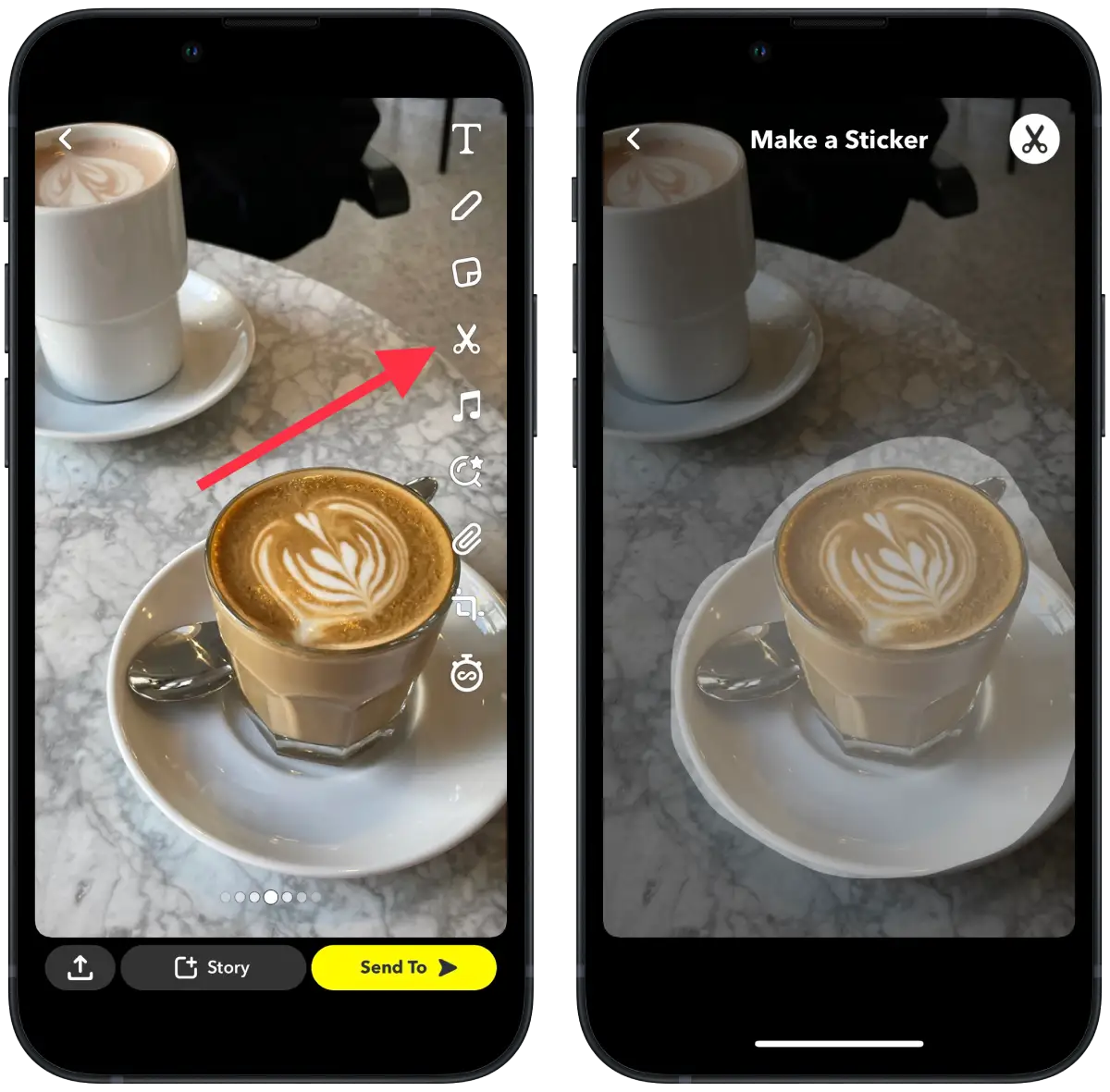 Keep in mind that Snapchat has specific guidelines for creating stickers. Stickers must be original and not infringe on any trademarks or copyrights. They must also not contain any offensive content. Additionally, Snapchat may review, approve, or reject any new stickers submitted for public use in the sticker library.
Tip for creating original stickers on Snapchat
If you want to create original and unique stickers on Snapchat, here are some tips to keep in mind:
Use your own photos
Instead of using pre-made graphics or images, try using your own photos as the basis for your stickers. You could take photos of your friends, pets, or even everyday objects to turn into stickers.
Add your own text
Consider adding your own text to your stickers to make them more personalized. You could add a funny caption, a motivational quote, or even your own name or initials.
Experiment with filters and effects
Snapchat offers a wide range of filters and effects to apply to your photos and stickers. Try playing around with different effects to see what works best for your sticker.
This will help you make your snaps more original among others. But also, if you don't have enough high-quality photos to create stickers, you can use pictures from services.
What services can you download pictures and photos for stickers?
There are several services where you can find pictures to use as stickers on Snapchat. Here are a few options:
Unsplash
Unsplash is a website that offers high-quality free images that you can use for free. You can search for images based on a keyword or browse popular categories such as nature, travel, and food. Once you find an image you like, you can download it and use it as the basis for your Snapchat sticker.
Pinterest
Pinterest can be a good resource for finding images to use as the basis for your Snapchat stickers. It's important always to check each image's copyright status and ensure you have permission to use it.
Canva
Canva is a graphic design platform that offers a wide range of templates, graphics, and images that you can use to create custom designs, including Snapchat stickers. You can browse Canva's library of images and graphics or upload your own photos to use as the basis for your sticker.