There are many social networks. Each of them is aimed at a different audience and has different goals. Some networks focus on young people who want to communicate and exchange funny videos or messages on social networks. There are networks where people can communicate about their work, and employers can find employees.
But are there social networks for families? In this segment, there is an app called Life360 geared toward use within the family. It allows you to track the location of your loved ones and call them to visit you or invite them to another location.
What is Life360
Life360 is a mobile app that allows you to share locations, make group messages and call for help on the road. The app has four main functions: location sharing, circles, places, and premium.
Location sharing is the primary function of the app. It allows you to discover your location and see the locations of other users. Users can choose to share or not their location with any particular circle at any specific time.
When you first launch the app, it will ask you to select the location of your home. It will default offer you your current location, but you can choose any other.
How do you change your home location?
Since the app is designed to put GPS pins in different locations, it allows you to change your home location easily. However, it's not exactly an intuitive procedure. You may not immediately understand how to do it. All you have to do is :
First, you need to go to the "Places" menu. It displays the home and all the other pins you have set on your map. It will appear as a building icon.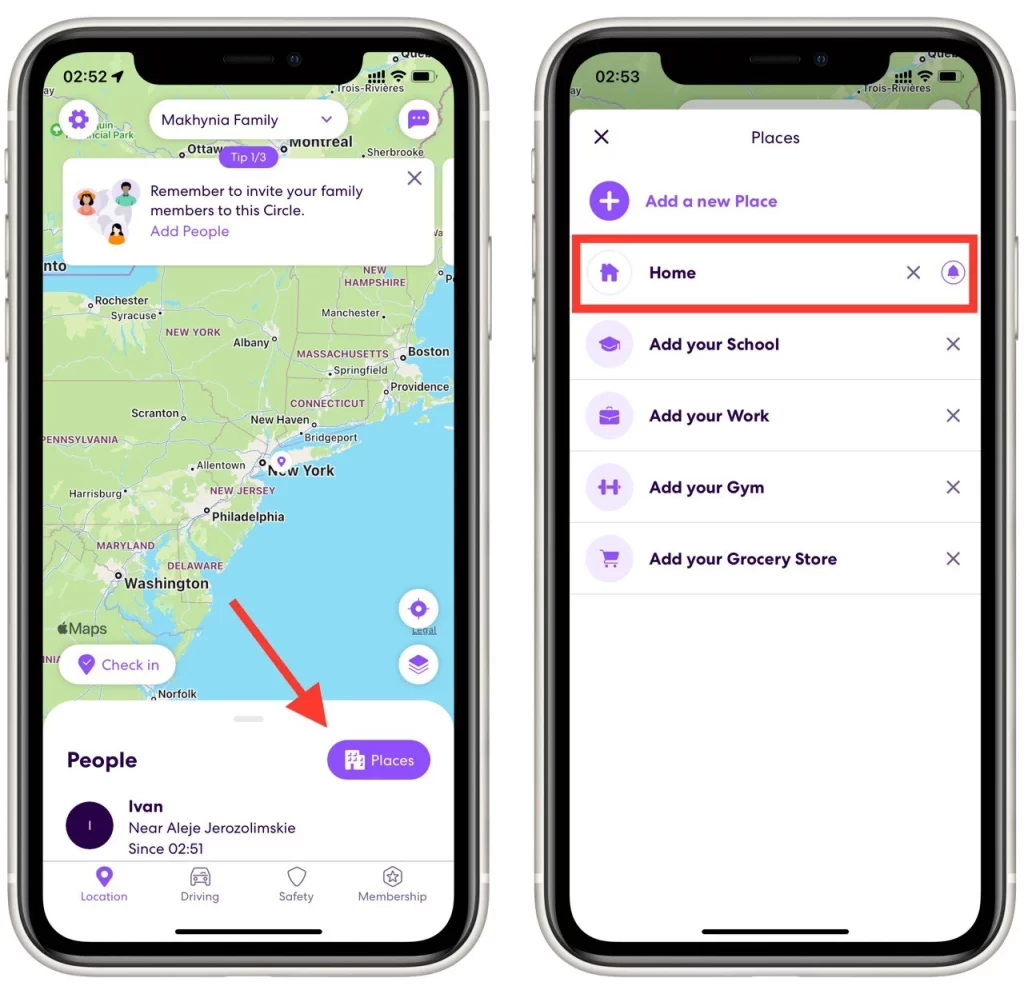 Your home usually appears at the top of the screen. You need to click on it, which will open the Settings menu. You will then have three options available to you:

Delete Place – This will remove the pin completely from the map. You will then need to set up a new home location
Change the Label – Click "Home" under "Location Details" and rename the location as you wish
Change Location – Select an address under "Location Info" and enter a new address for your home

Once you are finished, click Save in the upper right corner of the screen, and your information will be updated.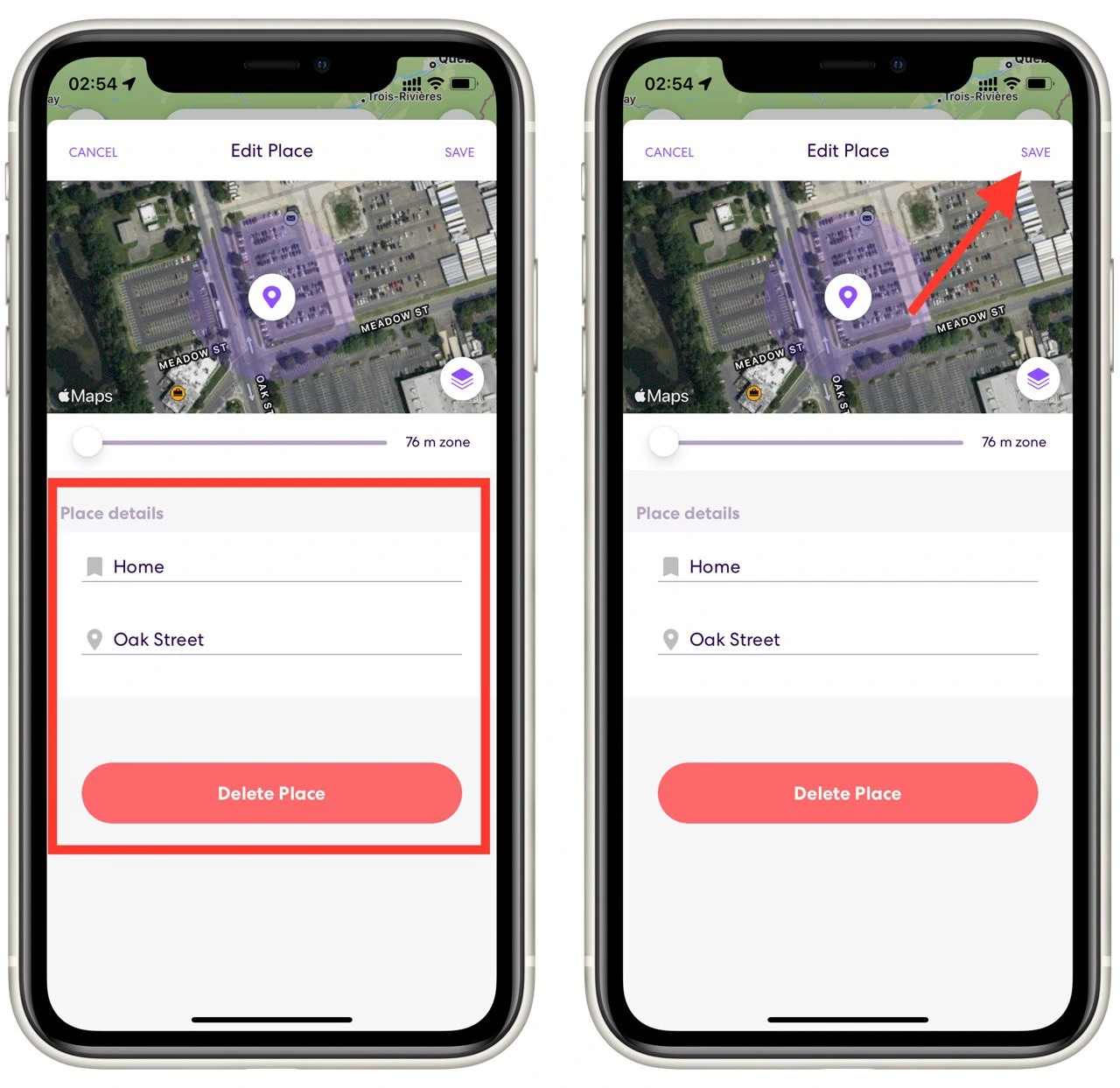 This way, you can edit any saved locations you have added to Life 360. Note that the app uses Apple Maps to locate locations. So, if you want to add a bookmark to a location not marked on Apple Maps, you will need to enter that location's address or exact coordinates manually.
How to hide your home location and stop tracing your location
There's no way to hide your home's location in the Life360 app. You can only delete that tag. If you don't want your loved ones to know your new address, don't change it. Leave your old location and don't change it when you move.
The app also allows you to stop tracking your location. This is useful when you don't want anyone to know where you are and what you are doing. You can enable or disable location tracking of your device within the app at any time. To do this, you need to
Go to Settings using the gear icon in the top left corner of your app.
Next, you need to find Location Sharing.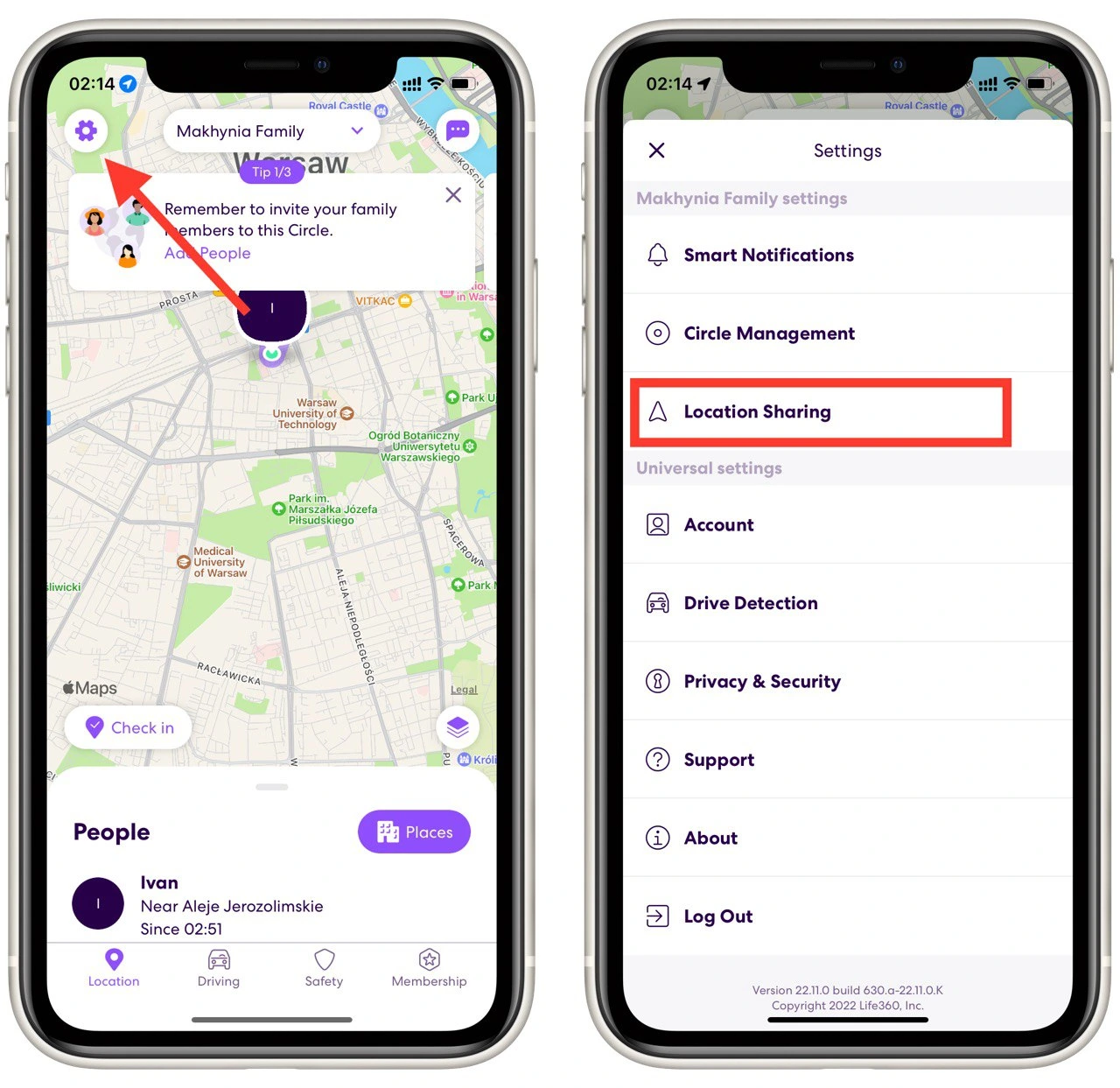 In the Location Sharing tab, find your device in the list and disable location sharing.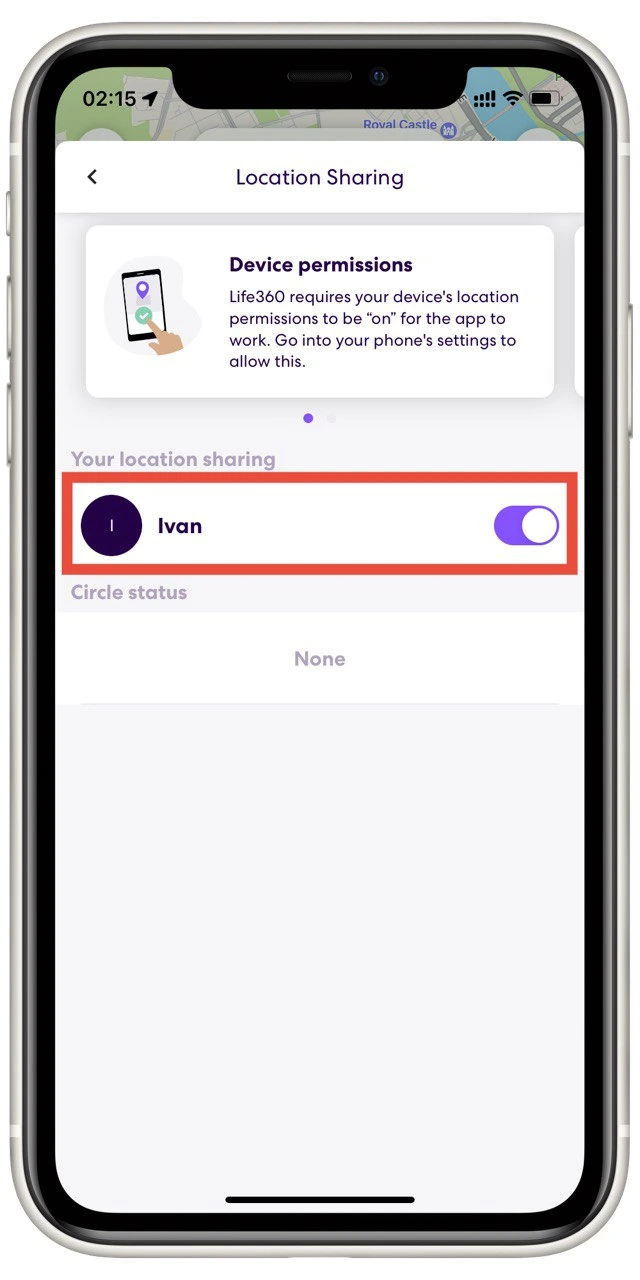 The map will then show your last recorded location, and family members will not be able to see that the tracking has stopped. You can also disable this feature if you turn off the geolocation services on your smartphone. The instructions will vary from device to device, but you can usually do this directly in the Device Settings using the Location tab.
How to add people to your family in Life 360
For other users to share your location and get to know yours, you'll first need to create your own family in Life 360. After that, you'll need to add new members. It's easy to do:
At the top, click on the button with your family name.
On the right side, click on the button with the person silhouette and a plus sign.
You will see a code to add family members. Tell it to the people you want to add so they can join.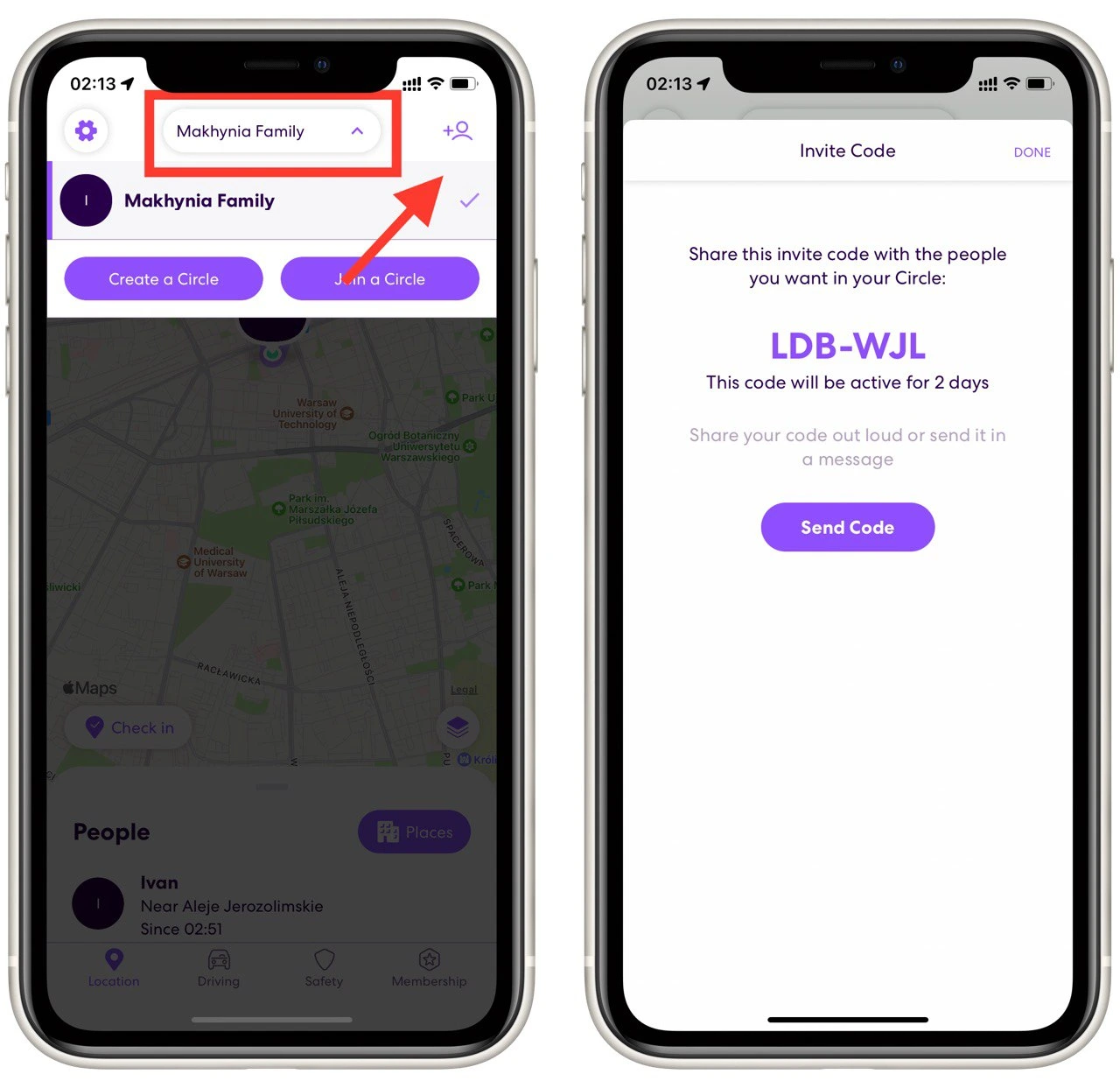 Note that any Life 360 user can join your family with this code. It will be active for two days, then lose its status, and you need to generate a new code. Also, right in this menu is a Send Code button that will help you automatically send the code to the most popular messengers or social networks.