In addition to monetization, bloggers in TikTok also earn from gifts that users give them during broadcasts or videos. This way, you won't make much, but a funny animation is played during the gift presentation, which can diversify the stream.
If you're interested in making a nice gift for your favorite blogger, you can pay attention to Fantasy Castle. This is one of the most expensive and valuable gifts in TikTok. Choose carefully who to give it to.
How much real money do you need to spend on a Fantasy Castle gift on TikTok?
TikTok has a somewhat confusing monetization system. To "donate" to your favorite blogger, you first need to buy unique coins on TikTok. Moreover, these coins are bought in packs. You can only purchase a certain number of coins for a name, such as 100 or 300, but not 120 or 270. These coins can be spent on gifts. However, the prices of these are pretty high.
For example, the Fantasy Castle for which you are reading this article is worth 20,000 coins. That's approximately $350. As you understand, the amount is not insignificant, but it is one of the most expensive gifts in TikTok.
It is also worth noting that right now (October 8), you will not find a fantasy castle on the list of gifts. The thing is that the developers change the gifts from time to time. For now, the Fantasy Castle is unavailable, but it will soon be sold again in TikTok.
How much does the creator get from the Castle gift?
Another question that will interest you is, how much actual money will the creator of the video or host of the stream be for your gift? The answer to this question will be disappointing because the creator gets quite a bit from your gift.
For every gift, the blogger gets diamonds, which can be converted into real money. TikTok doesn't publish data on how much each gift is worth in diamonds. However, based on how many diamonds bloggers get, we can say that they are worth about half the value of coins.
In addition, when withdrawing money, TikTok charges another 50% commission. So if you give a gift for $100, it will be worth only $50 in diamonds. And if the blogger decides to cash them out, he'll only get $25. It turns out that the blogger only gets 25% of your donation.
How to send a Castle gift in TikTok
There are two types of gifs in TikTok: you can send gifts to video or live streaming users. These two sets of gifts are entirely different. Most gifts and Fantasy Castle are available for gifting through live streaming. To give a gift via live streaming, you need to:
In the TikTok app, go to live stream.
At the bottom left, select the gift icon.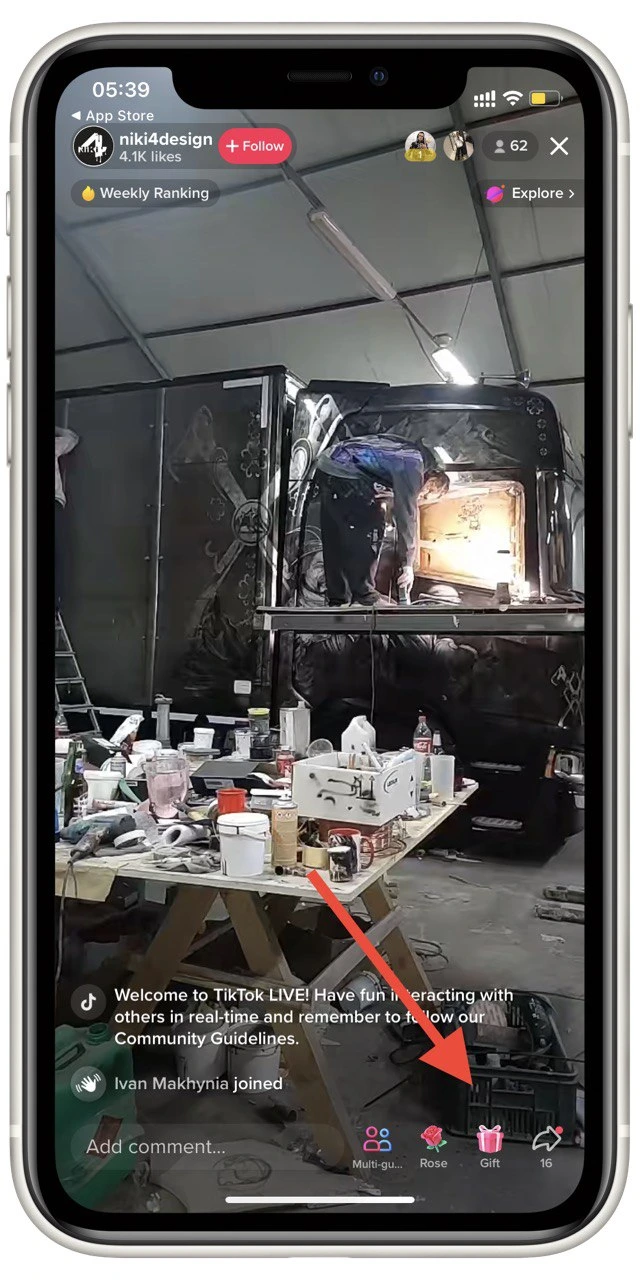 A gifts menu will open in front of you. Find the right one and select it.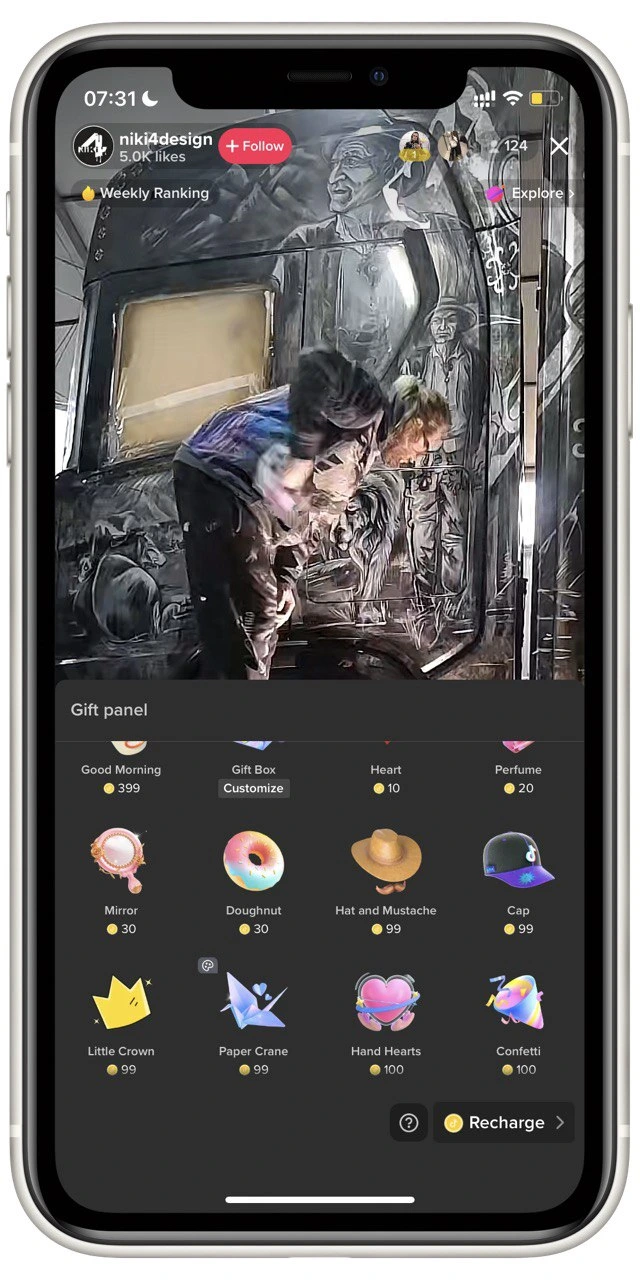 If you need to buy more coins, use the Recharge button.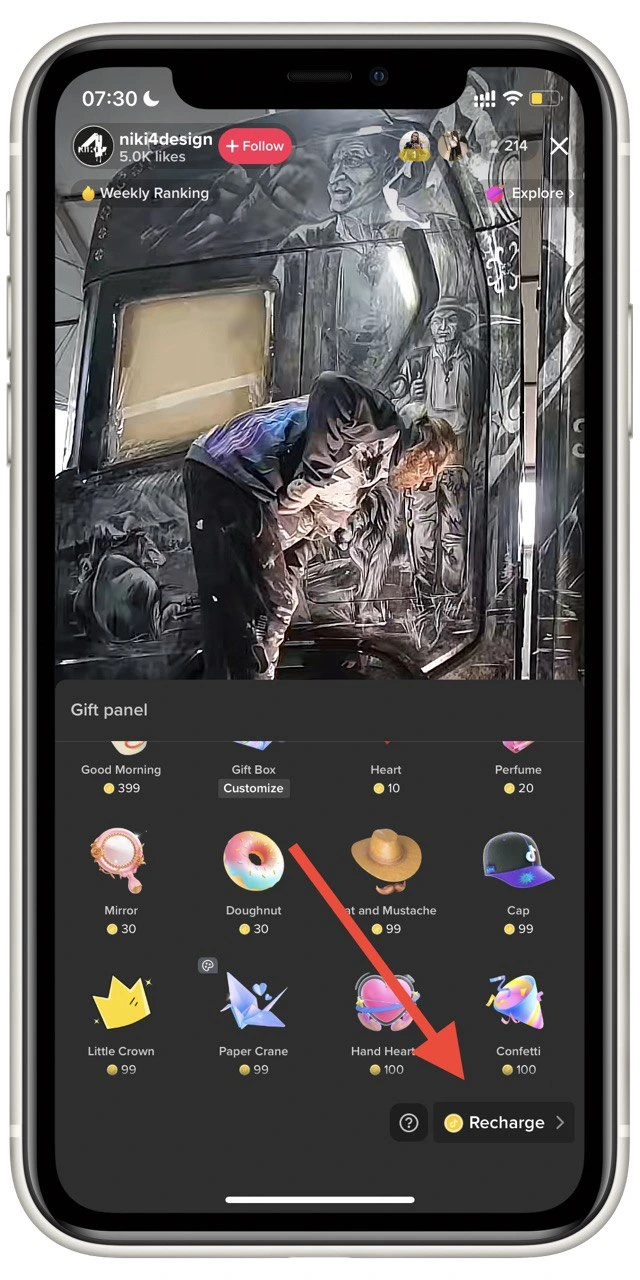 If you want to get gifts, you first have to promote your account. To be able to get the gifts for the video, you need to have at least 1000 subscribers. And to get the gifts during live broadcasts, you need to have an account with at least 100000 subscribers.