If you are considering choosing a new graphics card when upgrading your PC, you are probably very confused about the many offers and graphics cards on the market. One of the current generation's best and most affordable graphics cards is the 3060 and its upgraded version, 3060Ti.
But which of the two models is better to choose, and how do they differ? Let me describe their features and benefits so you can decide which graphics card is better RTX 3060 or RTX 3060Ti.
Short specs comparison GeForce RTX 3060 vs 3060Ti
I propose to start with a short general review of the technical specifications of both graphics cards. Below you will find more detailed information about all the parameters of each of them. This table will only contain general data.
| Tech Specs | GeForce RTX 3060 | GeForce RTX 3060Ti |
| --- | --- | --- |
| FROM | 12GB GDDR6 | 8GB GDDR6 |
| Boost Clock Speed | 1.78GHz | 1.67GHz |
| RT Cores | 28 | 38 |
| CUDA Cores | 3584 | 4864 |
| TDP | 200W | 200W |
| Transistors | 13.25 billion | 17.40 billion |
| Memory Bus | 196-bit | 256-bit |
| Interface | PCle 4.0 | PCle 4.0 |
| Price (October 2022) | $460 | $590 |
As you can see from the table, the two graphics cards differ in literally every parameter. At first glance, RTX 3060Ti does not always have the advantage. Let's take a closer look.
What specs has a GeForce RTX 3060
RTX 3060 is one of the budget graphics cards in the RTX 3000 line. Only the 3050 will be weaker than this graphics card. Therefore, Nvidia is positioning this graphics card as an option for those who want to save money. However, if you start to understand its technical features, you can know that it is not as simple as it seems at first glance.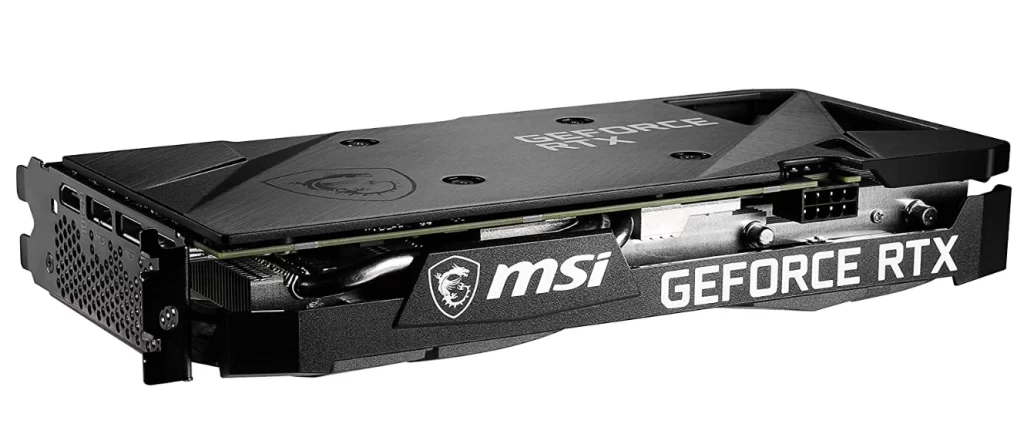 The RTX 3060 has as much as 12 GB of memory GDDR6, which is more than its more powerful brother 3060Ti. Moreover, it runs at a higher clock frequency, which reaches as much as 1.7 GHz and 3584 CUDA cores. The TDP is also relatively low so you can use this card with a cheaper and less powerful power supply. I would say that these numbers are more than impressive for a budget graphics card.
Other than that, this is a video card from Nvidia. This means that compared with AMD's competitors, it has DLSS and Ray-Tracing technologies, making it much more productive than the closest analogs from other companies.
Despite its impressive performance, I still want to pay attention to the fact that this graphics card is more suitable for playing in 1080p. Of course, you can play games on it in 2K. But in this case, it will not show such a remarkable performance. Besides, it is perfect for video editing or processing photos.
What specs has a GeForce RTX 3060Ti
An exciting device is the RTX 3060Ti graphics card. This is one of the few cases where Nvidia has released an upgrade for its budget graphics card. It is more affordable than the more expensive 3070.

You will notice a strange peculiarity if you have studied the table above. The more powerful RTX 3060 Ti has less VRAM than the regular 3060 and runs at a lower clock speed. However, in practice, the video card has much more CUDA cores. This gives a lot more performance to the graphics card in real-world tasks.
When gaming, the 3060Ti with DLSS shows much better performance in 2K than its smaller model. Nothing to say about 1080p. There the graphics card shows just great results for its price. So this graphics card is probably the best upgrade for 1080p gamers.
What is the price of GeForce RTX 3060 and 3060Ti?
If we talk about the price of these graphics cards, the difference between them is noticeable for budget video cards – more than a hundred dollars. However, the more expensive video card cost is still much cheaper than the same 3070.
So at the end of October 2022, the price of the RTX 3060 is about $460. This is the price I found today on Amazon for an MSI model with two coolers. From the experience of my acquaintances, two coolers for the regular 3060 are more than enough.
In the case of the RTX 3060Ti, then the price goes up to $590. This is a significant price increase, but you get a very nice performance boost for the extra money. I also take this price from Amazon for the model with two coolers from MSI. However, in the case of RTX 3060Ti, I would still recommend looking at more expensive models (about $650) with three coolers since two coolers might not be enough for its cooling.
What GPU is better to buy, GeForce RTX 3060 or 3060Ti
So if you still can't decide which graphics card you should choose, then I can advise you to pay attention to 2 things: your budget and goals. It is on these two parameters that your choice of future graphics card will depend.
If you want to play 2K with RTX turned on or to edit complicated videos, I would advise you to spend a bit more to get a significant performance boost and get yourself an RTX 3060Ti. If your aim is just to play 1080p Fortnite at night and you don't know what RTX is and you don't want to get acquainted with this technology, then just take a regular 3060, so you can save some money and its power will be more than enough for comfortable gaming.
If I had to choose a graphics card tomorrow I would have to save some money and take the 3060Ti, because it has pretty good potential and looks like a bargain compared to the high prices of more powerful graphics cards.