The dark mode feature is appearing in more and more apps. Some people like it visually, while others use it to reduce eye strain. Either way, it's not superfluous in any app.
Unsurprisingly, you can enable dark mode in the Snapchat app on your iPhone. But, unfortunately, there is no way to enable it on Android smartphones at the time of writing.
The company is still testing this feature on Androids and, for some reason, is in no hurry to implement it. However, there's still a workaround to turn on the dark theme on this OS.
So let's take a closer look at how to enable it on iPhone and Android.
How to turn on dark mode on Snapchat on your iPhone
Snapchat has two ways of using the dark theme on your iPhone. You can turn it on permanently or have it sync with your smartphone theme. So to enable it, follow these steps:
First, open Snapchat on your iPhone and sign in to your account if needed.
Then go to your profile page and tap on the gear icon at the top right corner of the screen to open Settings.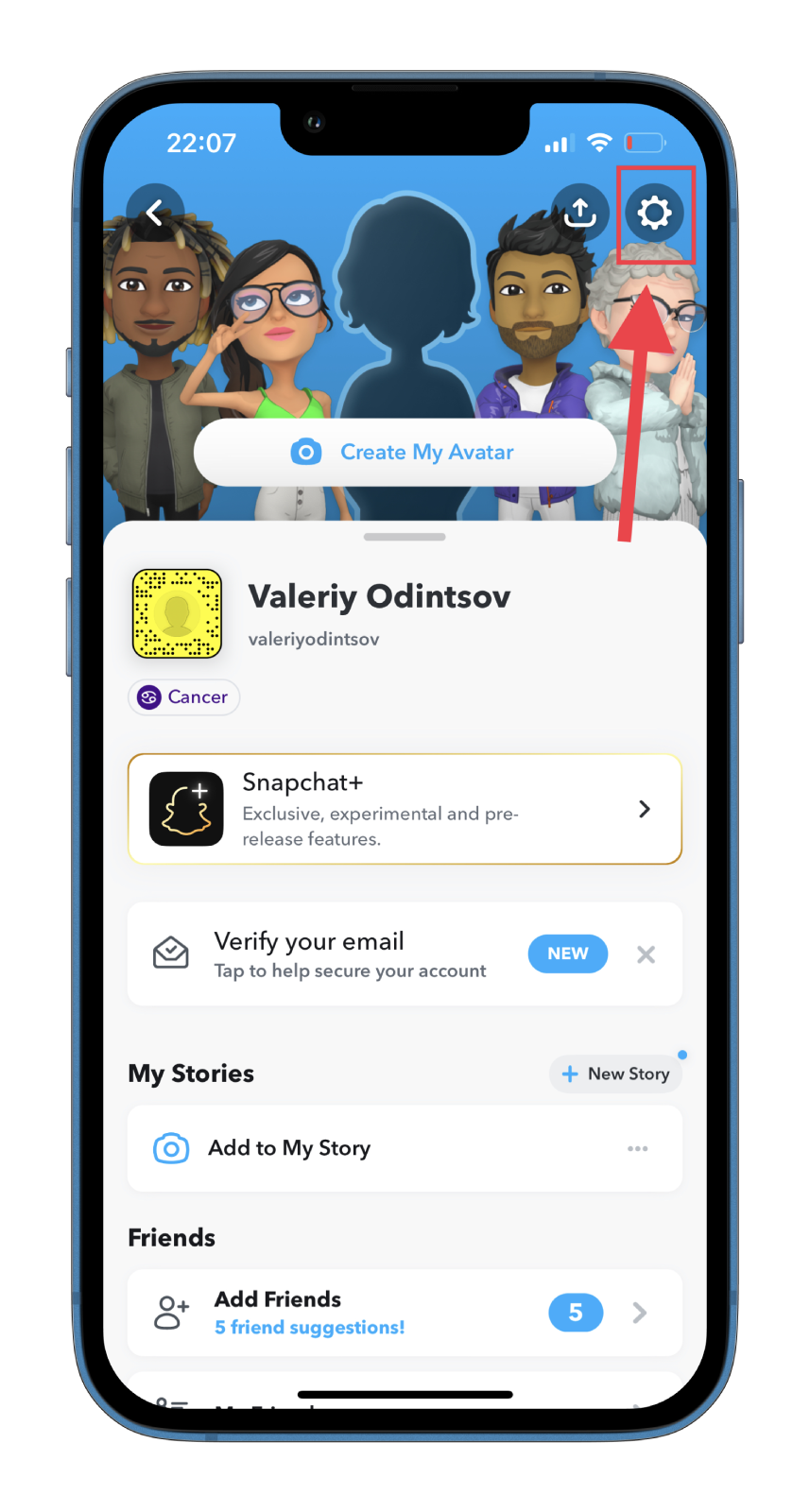 After that, scroll down and select App Appearance.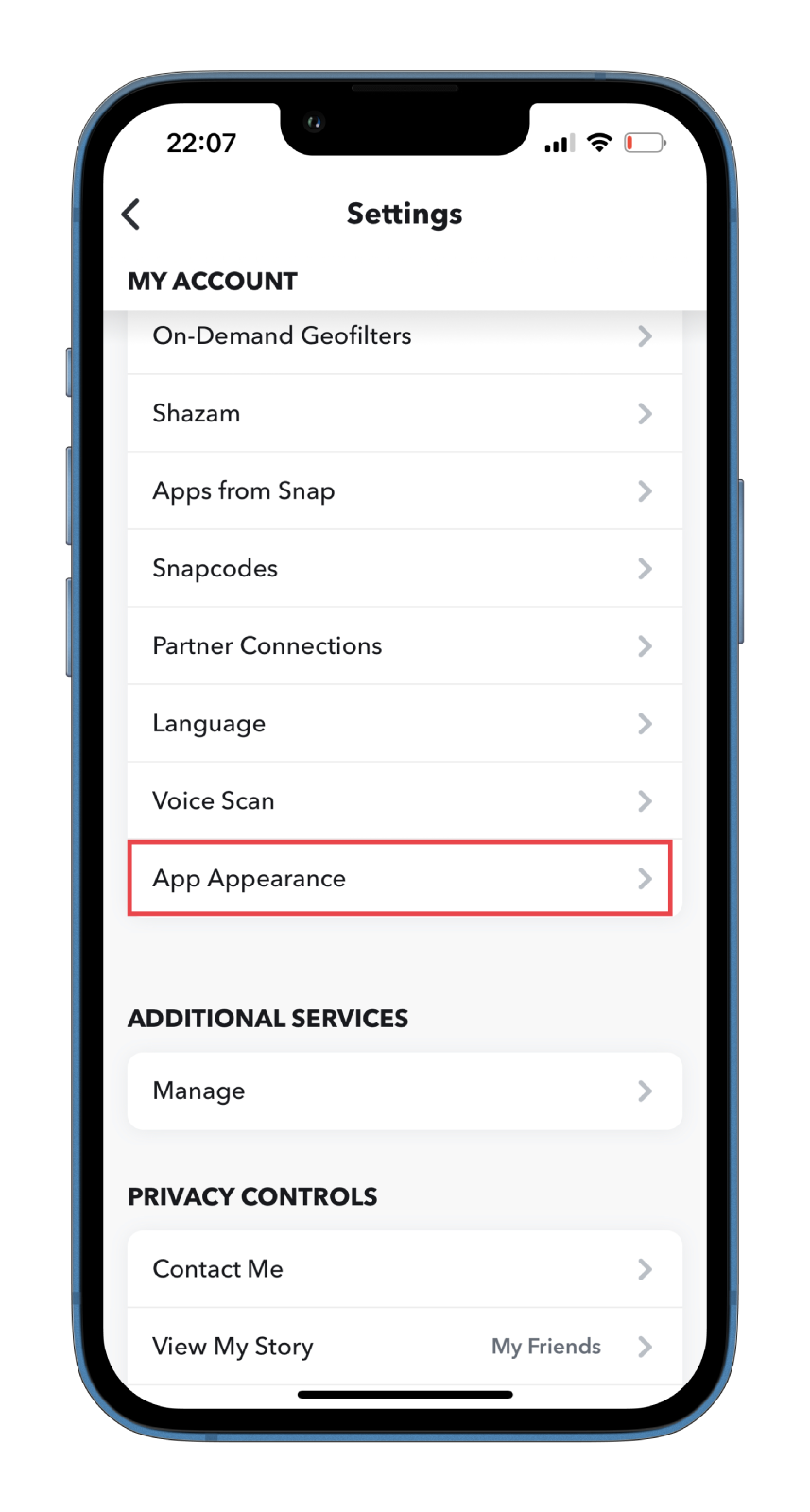 Finally, choose Match System to match your iOS appearance settings or check Always Dark to use a dark app appearance.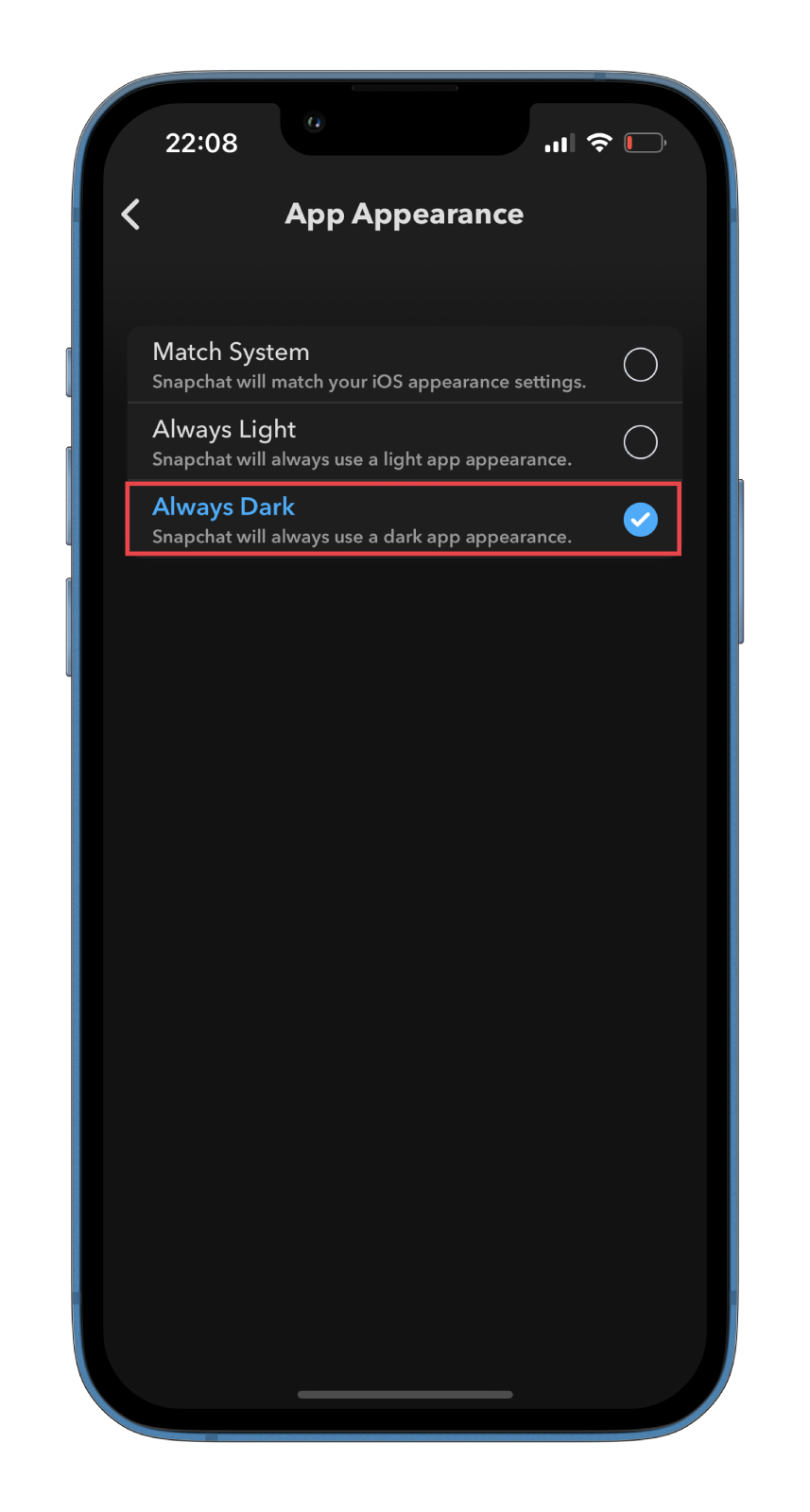 Once you have completed these steps, Snapchat will instantly switch from the light to dark theme. If you want to return to the default light mode, go back to the dark mode settings using the steps above and tap on the Always Light option.
How to turn on dark mode on Snapchat on your Android device
As mentioned above, the Snapchat app for Android doesn't support a dark theme. However, there is a workaround you can try to use the app in Dark Mode by forcing a system darker color scheme on apps that don't support this mode.
There's also another catch to all of this. The workaround will only work on versions of the Snapchat app released before early 2020. Therefore, you will have to upgrade to an older app version. Unfortunately, you will lose many of Snapchat's new features, but it will be an essential sacrifice to get a dark theme.
You should also know that Oppo, Realme, and OnePlus users can force dark mode on Snapchat without resorting to the workaround described below. To do this, open Settings and go to Display & Brightness. Next, select Dark Mode and check the Dark mode for third-party apps (beta) checkbox.
How to force dark mode on Android
So follow these instructions to force dark mode on unsupported apps on your Android device:
Open Settings on your smartphone and select About phone.
Then scroll down and tap on the Build number repeatedly 5-10 times until you activate Developer Mode.
Go back to the previous section and tap System.
After that, select Developer options.
Enable the Override force-dark option.
Now, uninstall the current Snapchat app from your Android smartphone and visit an APK repository such as APK Mirror to download Snapchat v.10.72.0.0.
Next, open this file and allow installation from this source.
Finally, tap Install and open the Snapchat app.
Once you're done, Snapchat should show up in dark mode. So sign in to your account and enjoy.
Also, it's better to disable automatic Snapchat updates in Play Store. Find Snapchat in your Play Store library and tap on the three dots button to do this. Then uncheck Enable auto update checkbox.
The method of enabling dark mode in Snapchat on Android is quite tedious. But for now, it is the only way. Users can only wait for the next app update and hope the long-awaited dark theme appears there.
Read Also:
How much does dark mode increase battery life?
Google conducted a study to determine whether its apps with dark themes help conserve power on smartphones with OLED displays. The study compared the Google Pixel, released in 2016 and equipped with an AMOLED screen, and the iPhone 7 of the same year with an LCD screen.
The effect exceeded all expectations. According to the results, the dark mode in the YouTube app can save from 15 to 63% of the device's battery life. However, only with the OLED screen.
The dark theme helps to save charge significantly. This isn't a myth or speculation at all. But other ways to save battery power shouldn't be ignored, either.