A personal brand is necessary for various professionals, representatives of creative professions, and media personalities. The process of its creation isn't simple and requires a lot of time and effort. However, thanks to the advent of YouTube and social networks, it has become much more manageable.
YouTube isn't just a popular video hosting service but also a promotional tool with an audience of billions. This means you can promote your personal brand, do reviews, and so on with this service. The more fans you have, the greater your reach and the more popular your brand will be.
But how can you create and make it popular on YouTube? Let's get to the bottom of this.
What is a personal brand?
A personal brand is a recognizable image formed in the public perception of a particular person. A personal brand includes knowledge, skills, unique solid qualities, style, special chips, ideas, and positions on some issues.
The key characteristics of a personal brand are reputation and reach. It's not necessary to have a huge reach. It is essential to spread your influence directly to your target audience and to have weight in the professional community.
Reputation is fundamentally essential. You can build it for years and, in one moment, ruin it with an unfortunate statement or a wrong action. Then the great reach will play a negative role, the audience will start to leave, and it's not easy to restore the reputation.
Who needs a personal brand and why?
A personal brand is necessary for actors, singers, and representatives of other creative professions. For media personalities, the audience's mood is important. They need to maintain a positive image. Otherwise, their career could be over.
There is high competition among photographers and artists, but the owner of a solid personal brand will always find its audience.
It is also helpful for entrepreneurs to develop a personal brand – its presence contributes to successful promotion and good sales. Thanks to the right image of the company owner, the competitiveness of business projects increases.
Experts need a personal brand to be heard and trusted by their audiences. This applies to doctors, marketers, designers, financial consultants, fitness trainers, coaches, and other professionals. This is essential if you plan to sell courses.
The same goes for teachers – the more people know you in a good light, the more clients come. If there is more demand, you can increase the cost of your services.
How to create and make your personal brand popular on YouTube
This process consists of many steps. Let's look at each of them in more detail.
Sign up and create a YouTube channel
To sign up, click the Sign in button in the upper right corner of the YouTube home page. Sign in with your Google account.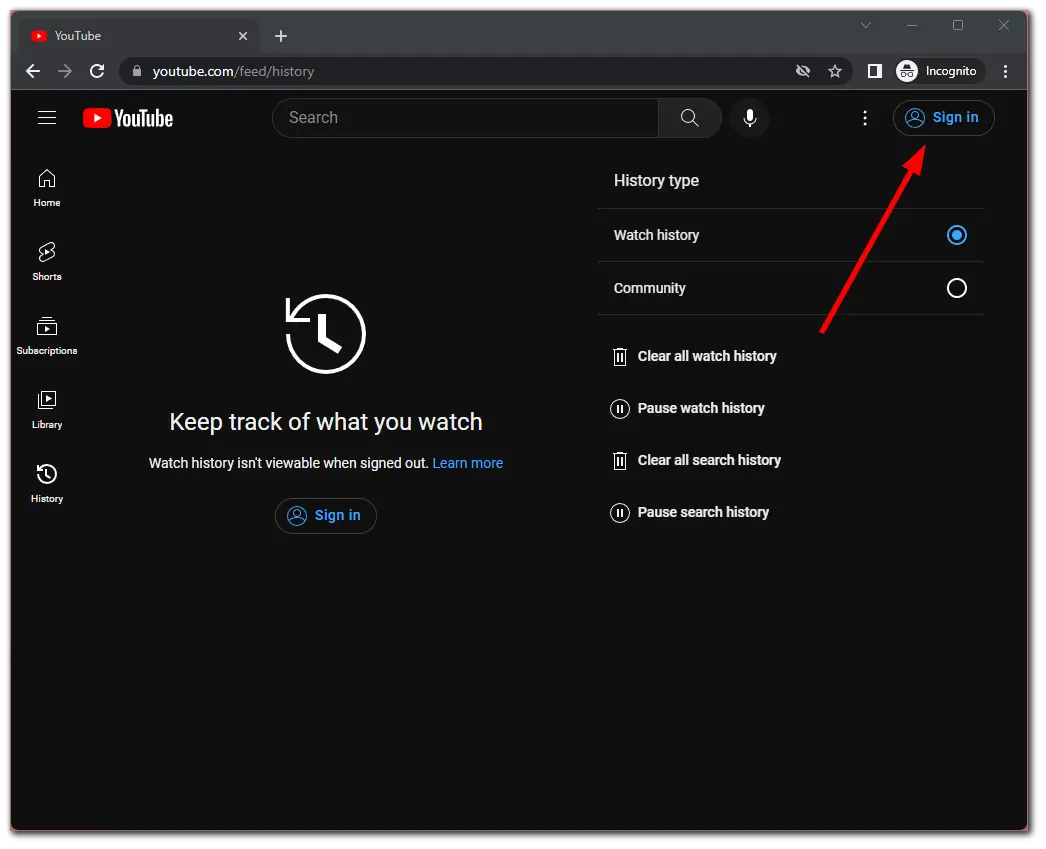 If you don't have one, select Create account on the open tab. Then enter your account information: your name, phone number, and email address. And you can enter any email account you want – you don't have to have Gmail.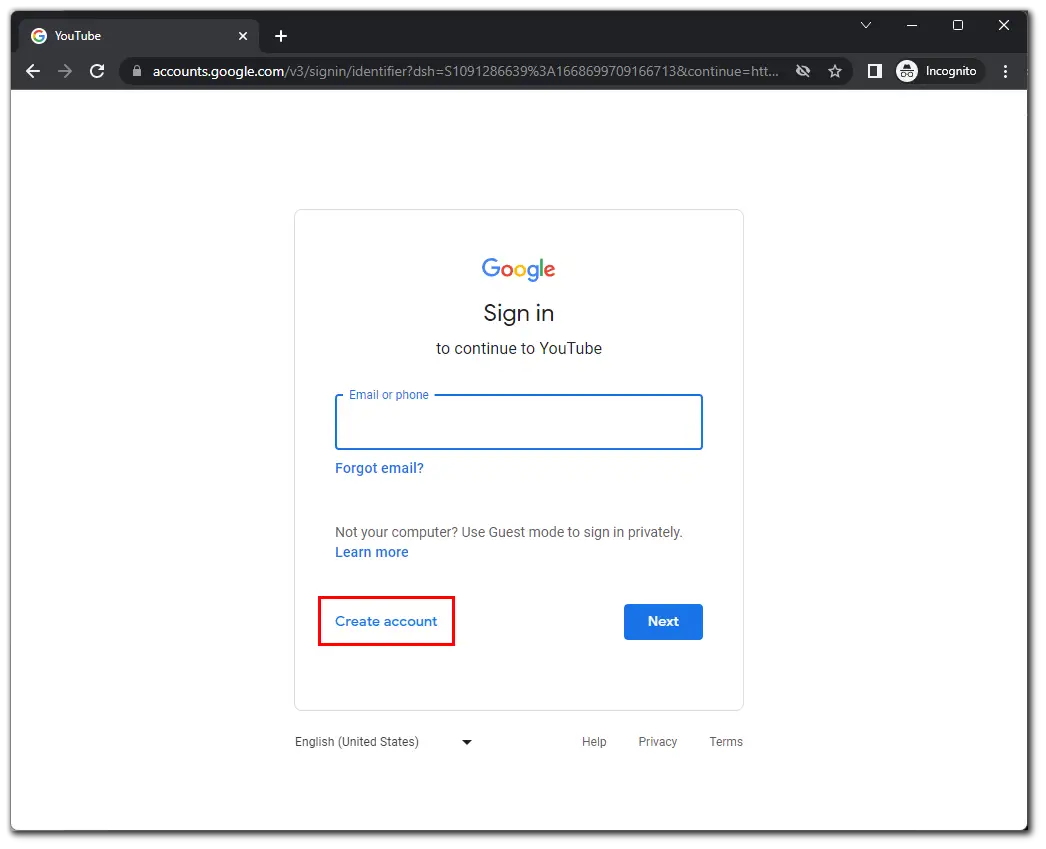 Remember that the name given when registering the account will be used as the channel's name. Consider whether you will promote your business on YouTube through a personal or company brand.
The registration procedure is completed by confirming that you agree to the service's privacy policy and terms of use. After registering the account, the channel will be created automatically.
Set up your YouTube channel and its settings
There's nothing complicated about setting customizing your YouTube channel. Here's what you should do:
Click on your profile icon in the upper right corner and select Your channel from the drop-down menu.
On your channel's main page, tap the Customize channel button.
Put your photo, logo, or a picture on the avatar that reflects the essence of the channel.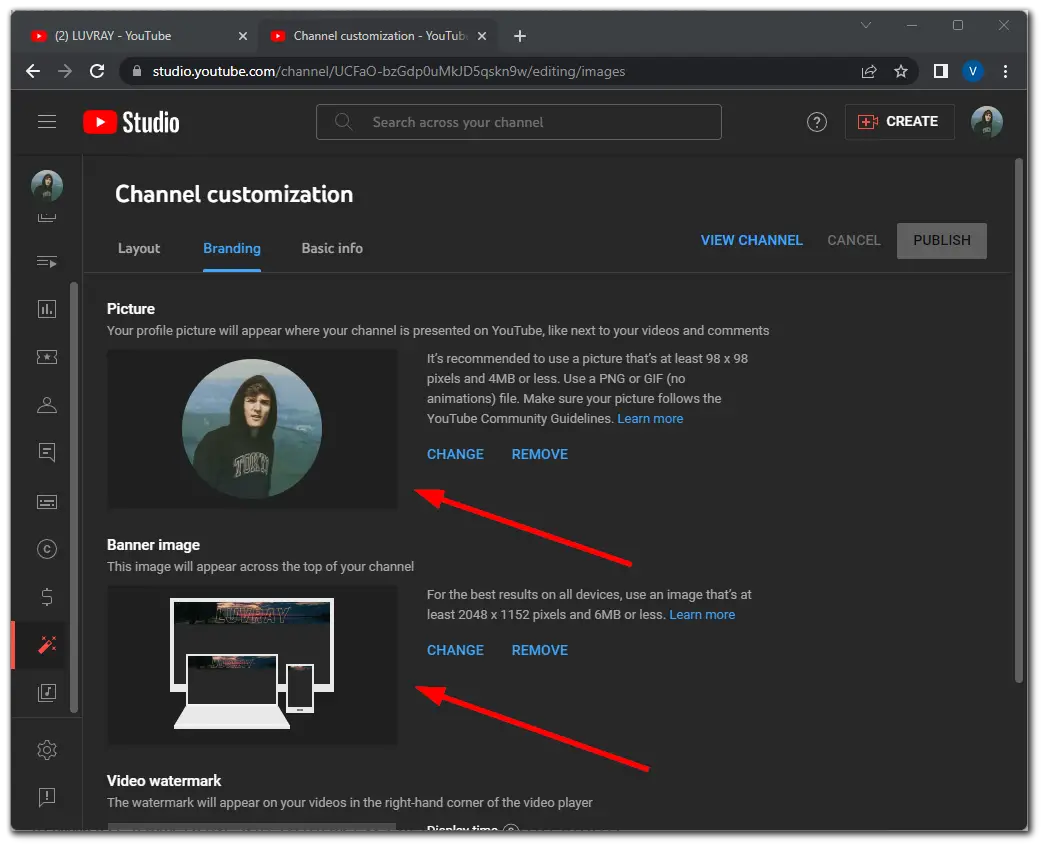 A banner gives your channel a finished look and lets your audience know the essence of your profile before they even watch the video. You can use it to write about how often your videos are released or to describe the channel's theme and add a call to action. Choose an image size of 2048×1152 px.
In the About section, tell in simple terms who you are and what your channel is about. Include your contacts and links to your website and social networks. The length of the description is up to 1,000 characters. The first 200 characters will be reflected under the channel name in the search query, so put the key idea in them.
Go to the Basic info tab.
Enter the description and add links.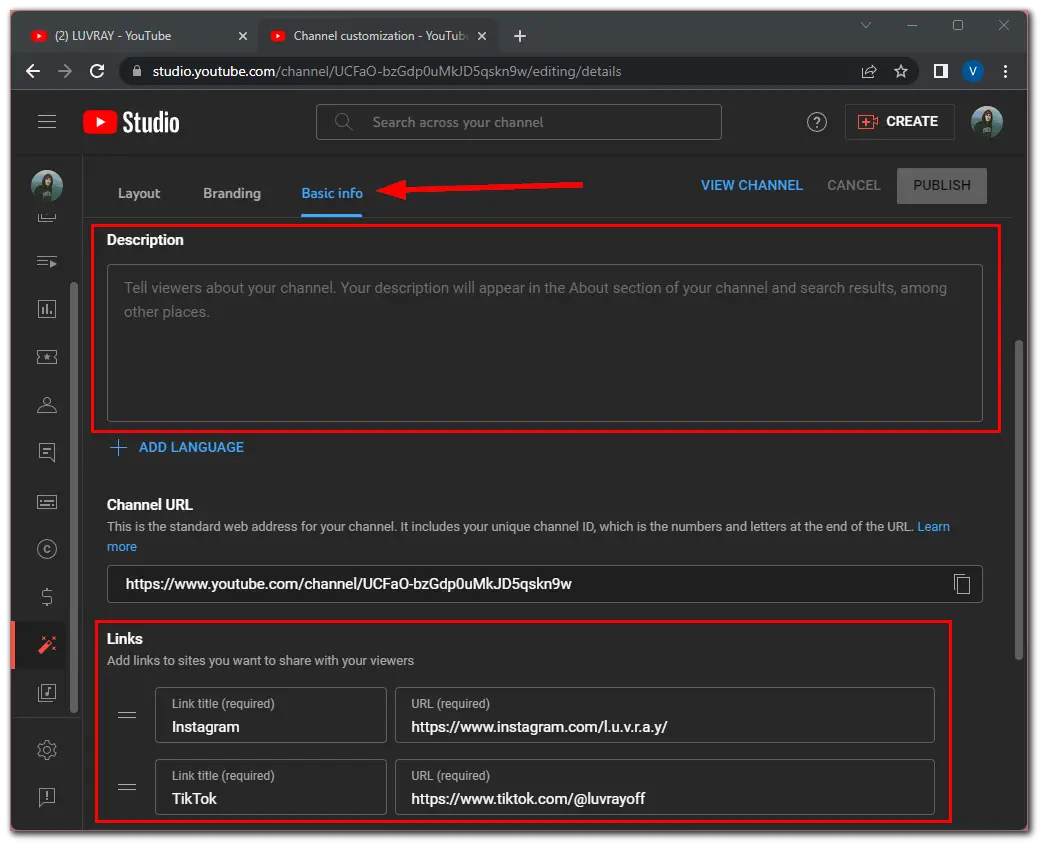 A trailer is a video on the channel's main page that starts automatically when you first visit it. It can be a video intro, announcement, or teaser. To add it, follow these steps:
Go to the Layout tab.
Click Add next to the trailer suggestion.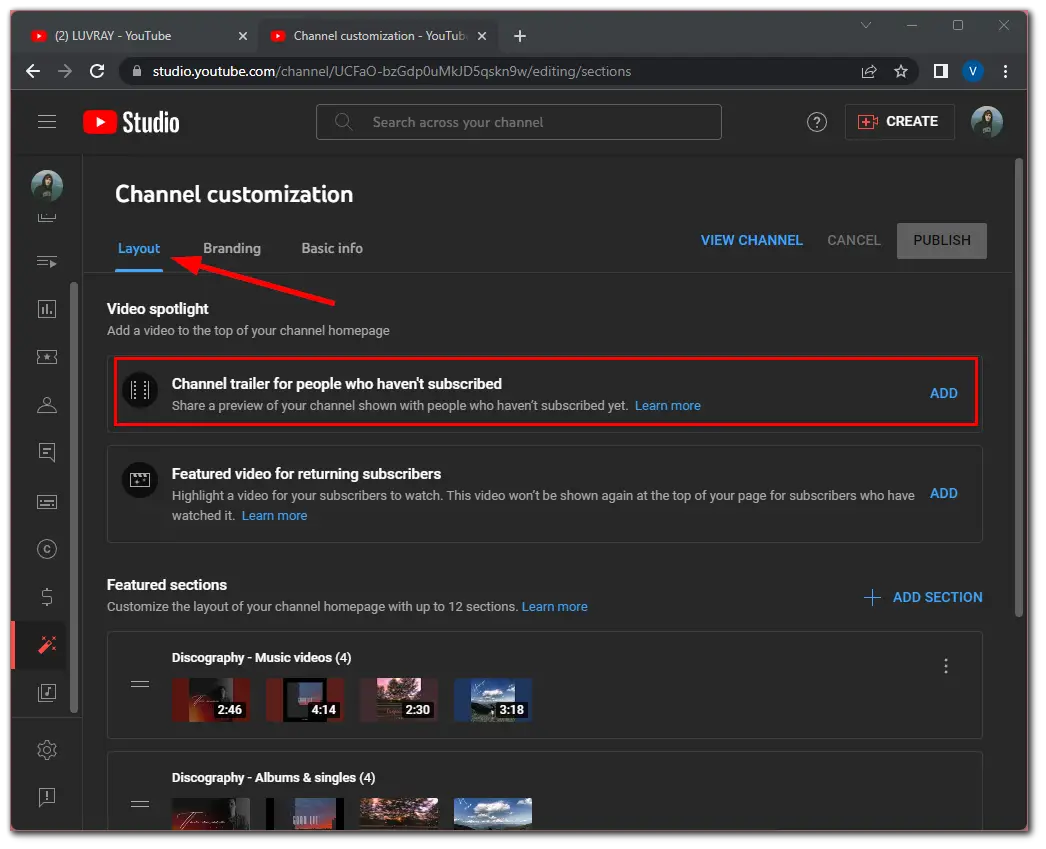 Create content
Think through the idea and structure of your video. You must clearly understand how your video will be helpful to the audience and how to present the material in an interesting way.
Provide quality video footage and sound. If it's not a vlog, background noise, a shaky picture, or too dark or overlit images can kill the users' desire to watch even the most exciting content.
Don't make your video too long. If you can explain the idea in 15 minutes, do not stretch the video for an hour. Long videos are watched, too. But not every niche needs them. You can dilute the short videos with webinar videos and see how users react.
Shoot regularly. Find a frequency you're comfortable with, such as once a week. If videos are released less frequently, then fuel interest in the channel with trailers and announcements on social networks.
Listen to your audience. The number of views, the ratio of likes to dislikes, and audience engagement will tell you if you're going in the right direction. Look at the comments, where you can find constructive criticism and ideas for development.
Design your content
The preview is the cover of the video. Each video has its preview, but it's best to keep a consistent style. Covers with an element of mystery appeal to viewers, but don't flirt – they should match your company's style and appeal to your target audience.
The title and description should attract attention and reveal the essence of the video. The description can include hashtags, useful links, a call to action, or links to social networks. If your video is long, add timecodes.
In addition, it's recommended to divide videos of different directions into thematic playlists. This will make it easier to navigate the channel.
How to promote your YouTube channel
Optimization. Put hashtags in the description, use keywords, and periodically update the information on older videos to get them up in searches.
Promotion from famous bloggers. This is costly but can attract followers if the audience of the opinion leader is close to yours. For example, an online cosmetics store should cooperate with beauty bloggers and grocery delivery services – with lifestyle bloggers.
Mutual promotion. Agree with a channel of a related subject and an equal number of followers on mutual recommendations in clips or joint projects.
Commercial inserts. A short video about your channel will appear inside other users' videos. But don't overuse it – intrusive advertising causes rejection. This can be set up in Google Ads.
Don't forget to study regularly what's going on in your competitors' channels. Take their ideas to heart, but don't copy them. Conduct engaging live interviews with your audience. Be honest with your followers and be guided first and foremost by your love for what you do and your desire to do good. That way, you'll earn your audience's trust and increase their loyalty.